Pre-Workout Elite is a premium pre-workout supplement released by Kaged in September 2023. It's part of Kaged's new Elite Series supplement line.
Fans of Kaged will immediately notice that this is essentially a light rebrand of the Pre-Kaged Elite Pre-Workout that Kaged released in 2022.
Compared to Pre-Kaged Elite, only minor changes were made to the Pre-Workout Elite ingredients: the removal of L-Carnitine Tartrate and the addition of MAX Catalyst (a trademarked version of black pepper extract).
True to Kaged's mission to deliver effective supplements that can be used by athletes, Elite Pre-Workout does not contain any banned substances and is a safe pre-workout for athletes. I recommend it to anyone that wants a strong pre-workout without any illicit ingredients that tastes delicious
Strong + Clean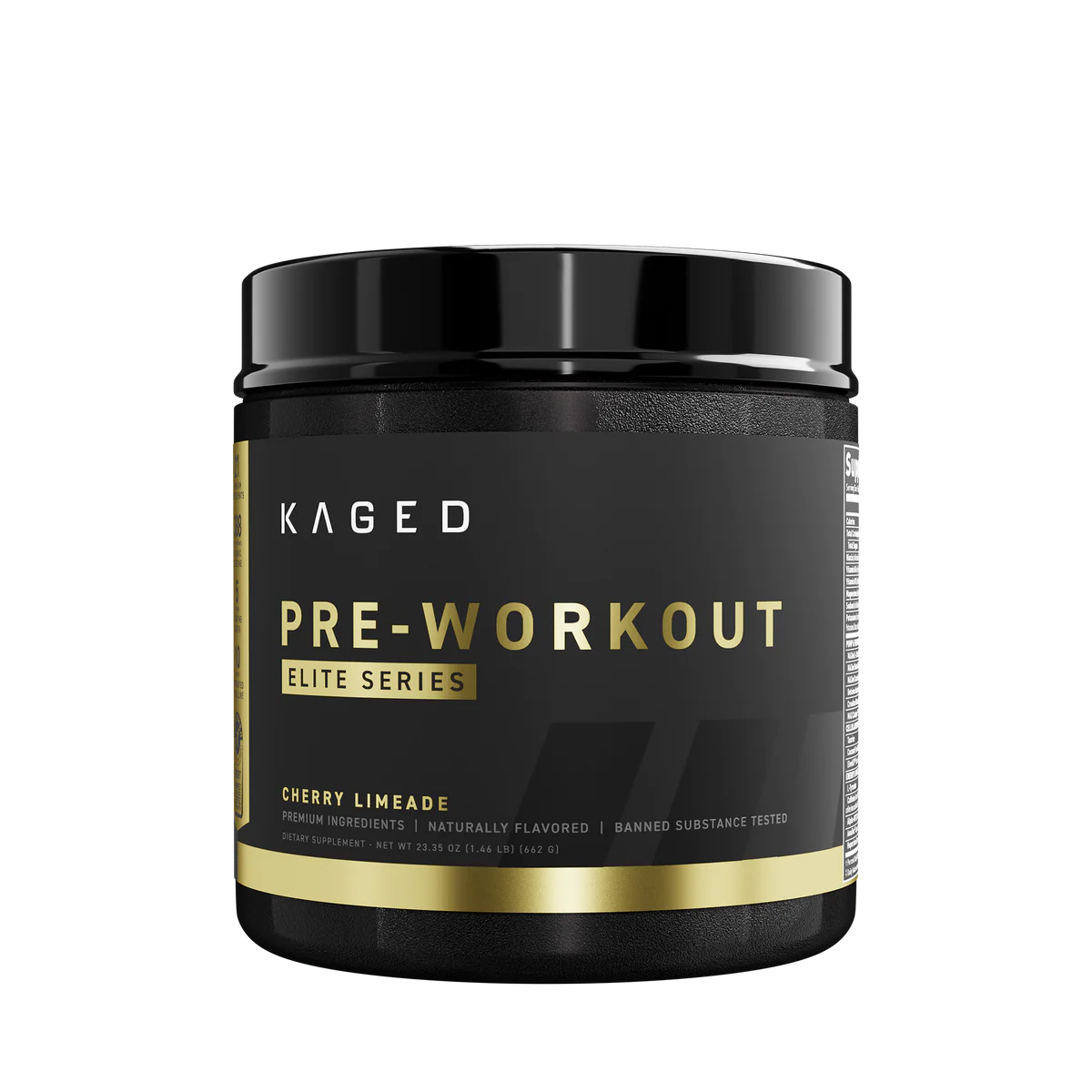 Pre-Workout Elite - Kaged
A powerful punch of clean energy without any banned substances.
L-Citrulline: 10,000 mg
Caffeine Anhydrous: 388 mg
Servings: 20
Flavors: strawberry lemonade, cherry limeade, fruit punch
Shop Kaged
Lift Vault earns a commission if you click this link and make a purchase at no extra cost to you.
Where to Buy Kaged Elite Pre-Workout
You can buy Kaged Elite Pre-Workout directly from Kaged's website and at GNC.
Pre-Kaged Elite vs Pre-Workout Elite
The main difference between Pre-Kaged Elite Pre-Workout and Pre-Workout Elite is that Pre-Workout Elite has the ingredients L-carnitine tartrate and MAX Catalyst. These are very minor tweaks, so the two products are effectively the same.
In terms of effects, Pre-Workout Elite hits exactly the same as Pre-Kaged Elite and that's a good thing. It delivers strong, clean energy that lasts for several hours. It also combines a laundry list of proven ingredients to help with power and pumps: l-citrulline, creatine monohydrate, and ElevATP.
I'd recommend picking up whichever one you can get a better deal on.
My Experience
I really enjoyed Kaged's Pre-Workout Elite. It's a great pre-workout when I want something strong but without any illicit stimulants. If you're looking to take a break from DMAA pre-workout or DMHA pre-workout, Pre-Workout Elite is a great alternative.
If you're looking for a clean pre-workout that still delivers strong energy and focus, check this one out.
Effects
The main effects of Pre-Workout Elite are increased energy and focus. I train first thing in the morning and it definitely helps kickstart my workouts. The energy lasts for a good four to five hours, plenty of time for a long training session and leaving a nice post-workout boost.
The pumps are decent too, with the 10 grams of L-citrulline providing great vasodilation. You can definitely work your way into a nasty pump with this pre-workout.
Scoop Size
Pre-Workout Elite has a colossal 33 grams scoop size. The scooper provided in the tub is perfectly sized, so a flat scoop will get you an even 33 gram dosage.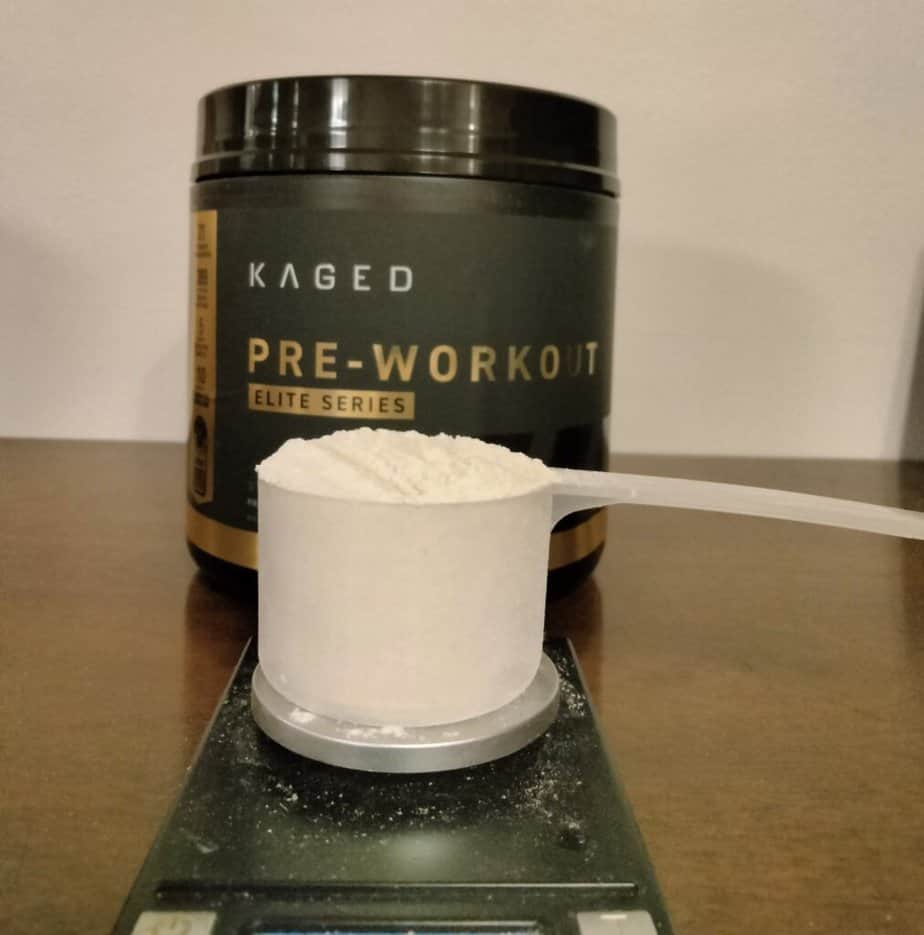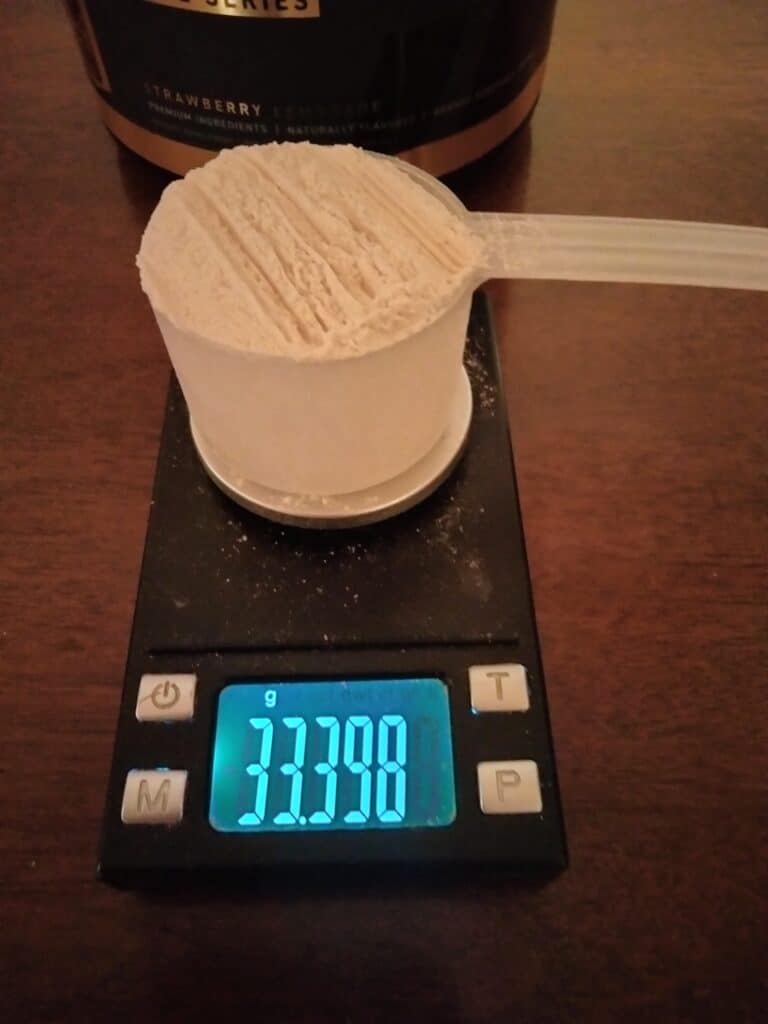 Flavor
I tried the strawberry lemonade flavor, which is delicious. If you're looking for one of the best tasting pre-workouts, this is it!
Ingredients
Pre-Workout Elite follows the trend of "overloaded" pre-workout supplements, delivering dosages of many ingredients that exceed typical amounts.
Notable examples include the 10 grams of L-citrulline and 2.5 grams of L-trysoine, both of which are more than twice as much as what you'll find in common pre-workout supplements.
L-citrulline – 10,000 mg
Beta-alanine – 3,200 mg
Creatine Monohydrate – 3,000 mg
L-Tyrosine – 2,500 mg
Creatine Nitrate – 2,000 mg
Taurine – 2,000 mg
Coconut Fruit Water Powder – 500 mg
Caffeine – 388 mg
Alpha GPC – 300 mg
ElevATP – 150 mg
AmaTea – 100 mg
Huperzine (1% Huperzine A) – 10 mg
MAX Catalyst – 4 mg
Kaged Pre-Workout Elite Review
Summary
Pre-Workout Elite is a great choice for anyone seeking a high-caffeine pre-workout without any illicit substances. 
Pros
Strong energy
Delicious flavors
No illicit ingredients
Cons
Only 20 servings
Expensive