Time to get jacked with the factory, Nitro Surge is bringing you one of the best-formulated Amazon pre-workouts.
I really enjoyed the trademarked ingredients in this product, it was a unique take on their daily driver Nitro Surge formulation. I recommend this product to those sensitive to stimulants, or high caffeine, as this pre-workout presents a very mellow approach with improved performance.
Thank you, Jacked Factory, for sending this full product for review!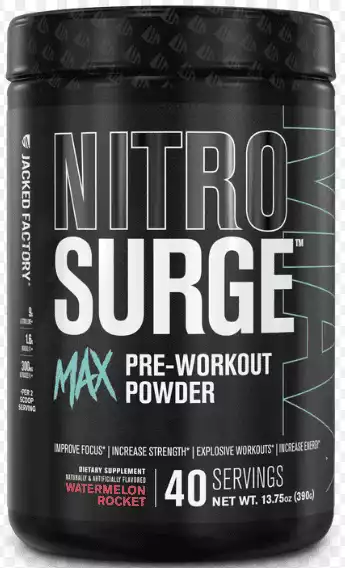 Nitrosurge Max - Jacked Factory
Nitrosurge Max is a solid pick for those seeking a higher-caffeine pre-workout without any illicit stimulants. All ingredients here are above-board and dosed to the max.
Servings: 20
L-Citrulline: 9,000 mg
Caffeine Anhydrous: 350 mg
L-Tyrosine: 2,000 mg
Shop Jacked Factory
Lift Vault earns a commission if you click this link and make a purchase at no extra cost to you.
Where to Nitro Surge Max by Jacked Factory
You can buy Nitro Surge Max by Jacked Factory from the following retailer:
Experience
This product is not formulated with beta-alanine, nor are there any particular ingredients that make much of an appearance for 35 minutes. I could feel some energy before making it to the gym, and once I was there, I started to notice the sustained focus. This was a mellow focus due to the effects of l-theanine and inositol in the nooLVL. While training, I steadily progressed with energy and focus. Disappointingly, the effects were a very mild, nootropic feeling.
The endurance and stamina were good. I did get some decent pumps, nothing too vascular or very noticeable later. Lastly, I felt there was an improvement in my physical energy, as I could push harder, although not as long.
Side Effects
I didn't experience any effects that were negative while using this product.
Flavor
"Electric Blue Raspberry" was the flavor I was sent for review. The flavor was deliciously tangy similar to a blue Pixie Stick. The flavor was a tasty 9/10. The suggested amount of water for two scoops is 12 to 16 ounces, and I enjoyed it most around 12 ounces of water, as it was a little less sweet than other raspberry flavors I've had.
Dose/Scoop Size
The serving size is 19.2 grams for a whole serving, which is on the upper end for an average-size serving. The total serving amount comes to an almost flat-level scoop. If you shake a product very well, which you should do, it will cause some aeration, so the powder might be more fluffy and measure differently.
With each serving of this pre-workout, I used the two-scoop serving size, which hit well enough to review it adequately to whom this is marketed. We are given 40 half servings, or 20 full servings in the container, which is average for the market standard. The mixability was good, with a small amount of sediment toward the end of the cup, but a swirl and swallow took care of it.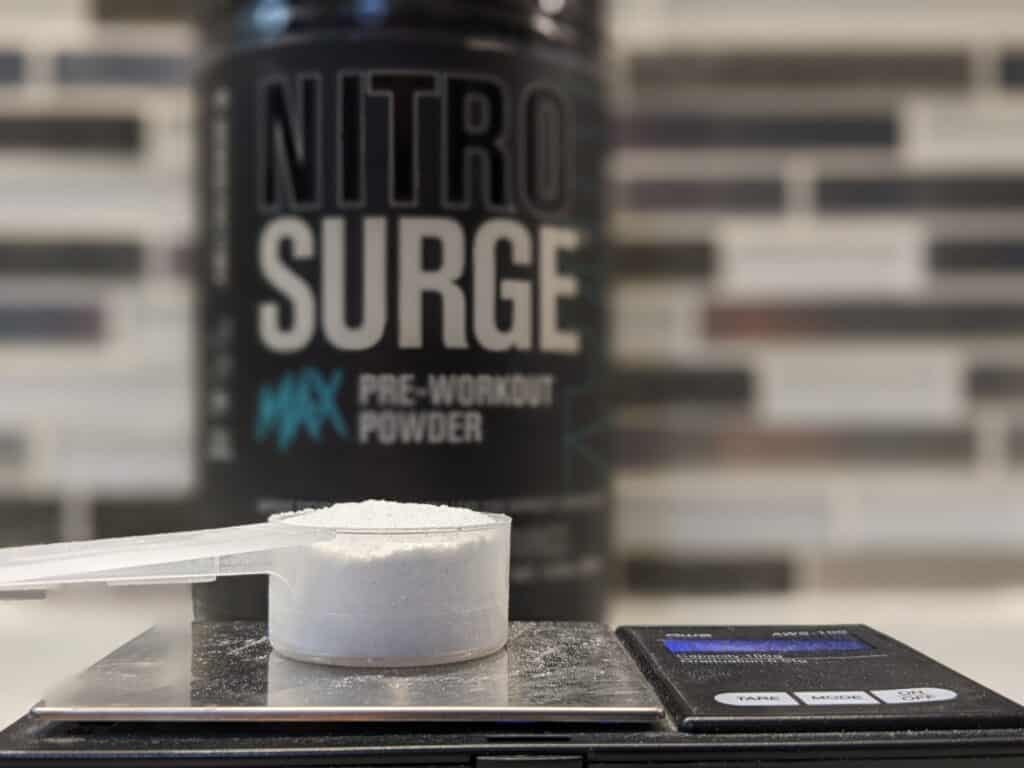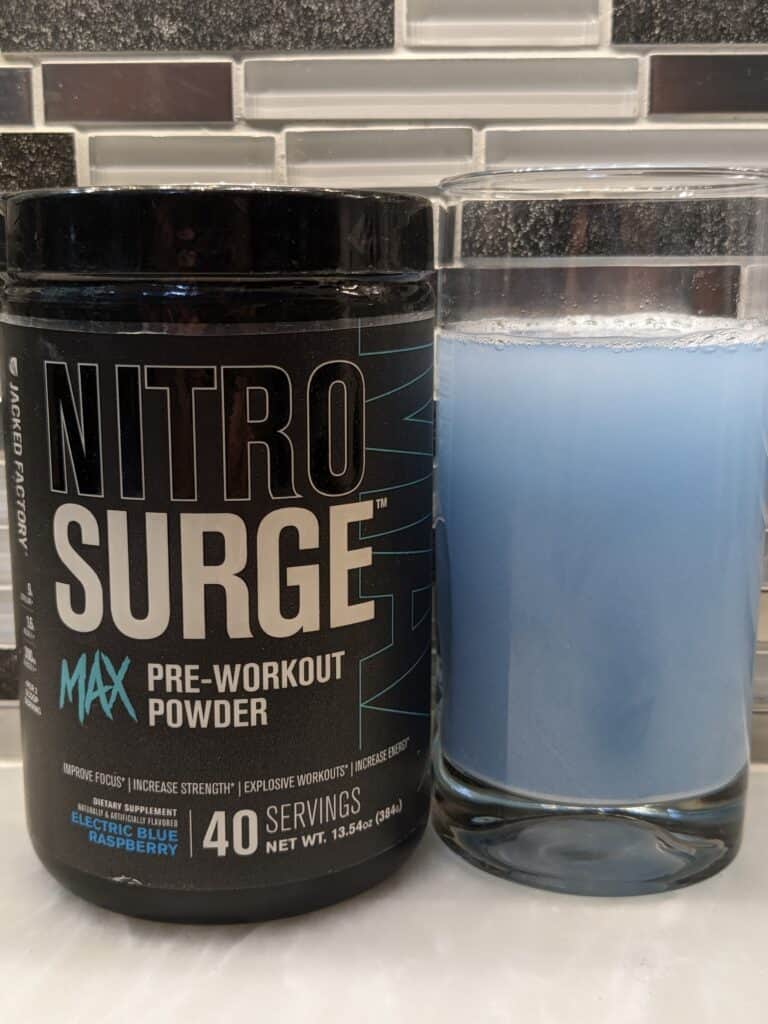 Ingredients
This isn't the first version of Nitro Surge, and Jacked Factory isn't a new company either. They have reformulated products many times, which has worked well for them as they strive for quality. Nitro Surge is a daily driver in which the stimulants are natural and not as strong of a dosage.
The dosages and the servingsare enough to give a variety of users a performance increase during training without too much caffeine or other hard stimulants. My only comment is that I wish it included beta-alanine and that l-theanine wasn't in this formulation, as it isn't warranted.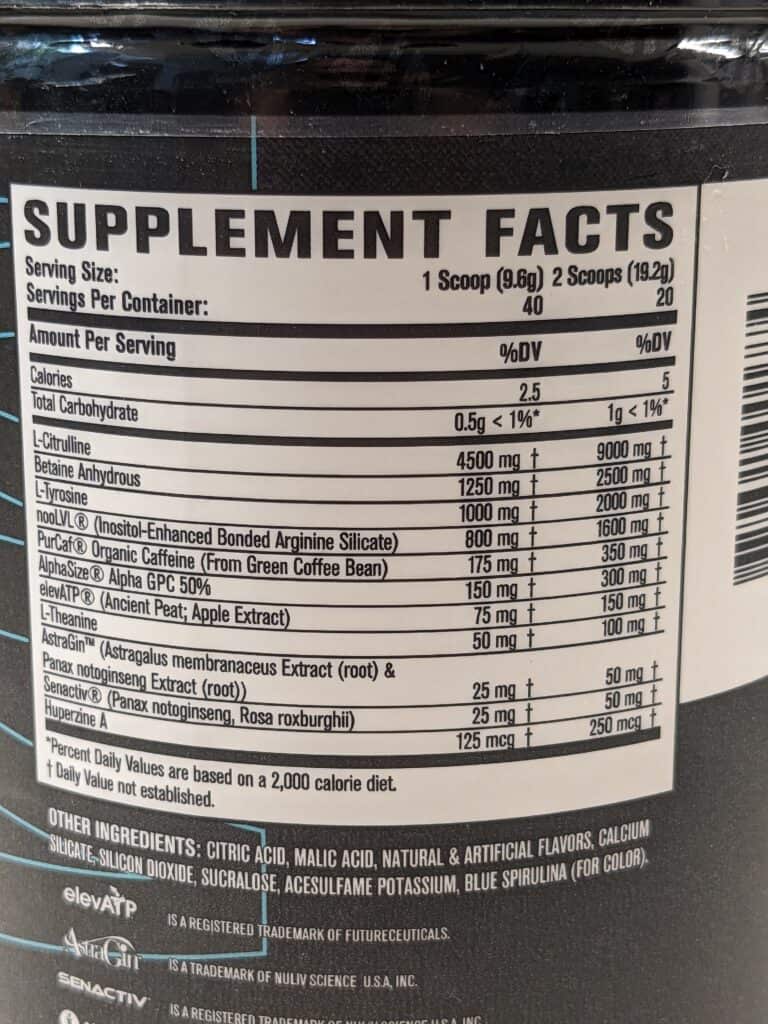 L-Citrulline – 9 g
L-citrulline is one of the most common pre-workout ingredients. Extensive evidence supports its ability to increase nitric oxide production, power output, pumps, blood flow, and endurance. It is typical for this ingredient to contain malic acid mixed in a 2:1 ratio per the clinical studies. The other ingredients section shows malic acid, even though it isn't in a ratio with the l-citrulline. Malic acid has some benefits similar to beta-alanine, and these ingredients aren't in a chemical bond.
You want four to six grams of pure l-citrulline for proper clinical dosage. If the ratio is on the label as 2:1, an eight-gram dose would contain close to 5.28 grams, however, we are given nine grams of pure l-citrulline in nitro surge max. Per the clinical trials, daily supplementation is required to obtain the full benefits.
Betaine Anhydrous – 2.5 g
Betaine is included to help increase your power output. However, research needs to be more consistent around this claim. The typical range for betaine is between 1.5 g and 5 g, but generally, 2.5 grams is on the high end for what is in the market. Per the clinical trials, daily supplementation is required to obtain the full benefits.
L-Tyrosine – 2 g
L-Tyrosine boosts cognitive performance in stressful environments. Pre-workouts include it as a focus ingredient and help achieve anti-stress effects. The typical dosage range is 500 mg to 2,000 mg for exercise.
nooLVL (Arginine Silicate) – 1.6 g
Not much information is found on this ingredient. However, the manufacturer of this patented product advertises the information below.
nooLVL® is a patented complex of bonded arginine and silicon with an additional optimized dose of Inositol. nooLVL is a non-stimulant ingredient that boosts cognitive performance in esports. What makes nooLVL an unparalleled standout among performance ingredients? This bonded arginine silicate complex with an additional optimized dose of inositol was designed for and studied in a population of gamers to target benefits most important to the booming esports industry. nooLVL works FAST (in 15 minutes!) and delivers increased energy safely without negatively affecting heart rate or blood pressure. nooLVL is a non-stimulant nootropic that enhances performance in fast-paced competition. More information.
PurCaf Organic Caffeine (Green Coffee Bean) – 350 mg
Caffeine is the standard form of caffeine, known for increasing energy, alertness, motivation, and mood. The caffeine content varies for each product. The 350-450 range is the typical dosage for sports supplements, and some products may contain other forms that delay energy release and prevent a crash later.
Less is more, as your dependency will lead to diminishing returns as you increase your intake. The overall combinations of many factors, such as sleep, when you take caffeine, diet, and nutrition, affect how much you will need. PurCaf is not synthetically created but rather extracted, making it more pure. This typically results in a noticeable decrease in crashing later in the day as the energy is more regulated.
Alpha GPC – 300 mg
Alpha GPC is a cholinergic compound that is produced within the body. It is used for enhancing cognition and increasing power output. Based on several studies, Alpha GPC dosages should be between 300 and 600 mg. At 300 mg, nitro surge max is in the middle of the range.
ElevATP (Ancient Peat; Apple Extract) – 150 mg
This ingredient is used in many products, as it has been around for several years. Once again, from the manufacturer.
ElevATP® is a natural combination of ancient peat and apple polyphenols clinically shown to increase levels of endogenous adenosine triphosphate (ATP), the energy currency of the body, and support improved strength, power, and performance in resistance-trained athletes.† Research shows that oral supplementation with exogenous ATP is unreliable for increasing ATP levels since it breaks down in the gut. ElevATP® is not exogenous ATP but rather an ingredient that helps the body produce higher levels of ATP via its own internal mechanisms. This means elevATP® promotes non-stimulatory energy from the body's own mitochondria. More information.
L-Theanine – 100 mg
Taken from Healthline, in a review of five randomized controlled trials that included 104 participants, four trials linked L-theanine with reduced stress and anxiety in people experiencing stressful situations (ScienceDirect). This is dosed on the low end of the recommended 300-500 mg range for relaxation, which is great to have in a sleep aid and is often included in high stimulant pre-workouts to nullify the side effects.
Typically, it isn't needed in regular caffeine-based pre-workouts; unfortunately, we are given 100 mg here.
Astragin – 50 mg
Astragin is a patented ingredient that increases the bioavailability of nutritional supplements. In other words, it helps your body absorb more of the ingredients in the product, which helps the effectiveness of the ingredients. As the serving size increases, so does the need for a digestion aid.
Senactiv (Panax notoginseng, Rosa roxburghii) – 50 mg
Another patented ingredient is included in nitro surge max, again from the manufacturer.
Senactiv® is the first senolytic sportsceutical that elevates exercise endurance, recovery, and energy with rapid senescent cell clearance and new muscle cell generation. More information.
Huperzine A – 250 mcg
Huperzine A is cholinergic and acts as a cognitive enhancer. As an acetylcholinesterase inhibitor, it helps lengthen the half-life of cholinergic sources (Examine).
Depending on the extract percentage, it tends to be taken in 50 to 200 mcg dosages. This is an above-standard dosage, making it highly effective in this pre-workout.
Nitro Surge Max Pre-Workout Review
Summary
I have reviewed and tested many Jacked Factory products, from pre-workouts to protein. With this new formulation of Nitro Surge, I felt a little let down in performance. I feel this product is more formulated for people not utilizing as much caffeine as I do. I allow my body to reset the adrenal glands, taking stimulant breaks with many non-stimulants-based pres. I suggest this product to those seeking a well-formulated entry to sports supplements.
Pros
Good endurance and stamina
High-quality ingredients
Decent pumps
Patented ingredients
Healthy focus
No crash, sustained energy
Unique formulation
Excellent tasting flavor
Excellent clinical and efficient dosages
Cons
Label print is small
Contains l-theanine