Triumph by Apollon Nutrition is taking you to an all-time high level of 15 trademarked ingredients. Like many Apollon products, Triumph is stacked featuring two types of PEA just to name a few.
I can suggest this product to anyone looking for a clean and consistent pre-workout that delivers each time. Athletes participating in WADA sports should not use this product. However, Triumph will work great for both new users to the realm of sports supplements and stimulant junkies.
Thank you, Jake with Nutricartel, for sending this full product for review!
Stacked Label!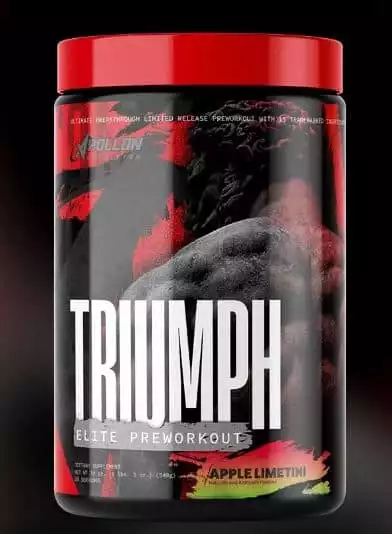 Triumph Pre Workout - Apollon Nutrition
Triumph is a pre-workout supplement built with 15 trademarked ingredients for optimal energy and vascularity.
Discount Code:
LIFTVAULT = 15% off at NutriCartel
Niacin: 40 mg
Caffeine Anhydrous: 350 mg
elevATP: 150 mg
Shop Nutri Cartel
Lift Vault earns a commission if you click this link and make a purchase at no extra cost to you.
Where to Buy Triumph by Apollon Nutrition
You can buy Triumph by Apollon Nutrition from the following retailers:
Experience
Immediately, I felt a tingling sensation around my lips and tongue, likely from the niacin, while energy began to flourish. Due to the many ingredients, some of the effects were negated. I didn't feel much beta-alanine paraesthesia effects, and the immediate energy I started with quickly subsided. At the 55-minute mark, however, everything peaked. I felt increased energy, with a good focus that felt dry, with noticeable alpha gpc effects.
While training, I tried to vary my workout to suit the functionality of this product to get the most effectiveness. The vascularity with high-volume repetitions was incredible. I could visibly see the routing of all my veins in my forearms, across my biceps, and also on my pecs. I substantially increased my endurance and stamina, which I can keep cranking out set after set. I had improved strength, which helped me hit a PR (personal record) on my deadlift. Finishing consistently was the focus, as it stayed dialed in at around a 7/10 throughout my training.
Triumph delivered on a well-rounded experience. It will get you through many grueling workouts but at a hefty price. Apollon uses plenty of quality ingredients for all their products, but we are given a mind-blowing 15 trademarks in this pre-workout.
Side Effects
I didn't experience any effects that were negative while using this product.
Flavor
I was sent "Apple Limetini" for review, which tasted horrible. It starts with a hint of apple and then tastes awful with sour notes and chocolate. I am no stranger to Apollon Nutrition flavor systems, but this one takes the cake on nasty flavoring. I understand some people don't care what it tastes like, but I would like it to taste better for the premium ingredients and cost. The suggested amount of water is 8-10 ounces with one serving, and I suffered through it with around 6 ounces of water as a shot to move quickly past the horrid taste.
Dose/Scoop Size
The serving size is 27 grams, a large offering rivaling some protein powder scoops. The serving amount is a slightly rounded scoop, but the scooper may change as the manufacturing does. With the large number of ingredients, I suggest using a food scale to prevent unwanted effects.
I used the full dose with each serving, which hit well enough to review it adequately. Apollon put this as a 20-serving tub, the market standard. I would like to see 15 servings for a premium product such as this for purposes of cost-reduction. The mixability was fair, with a medium amount of sediment toward the end of the cup, but a swirl and swallow took care of it if you didn't take it as a shot.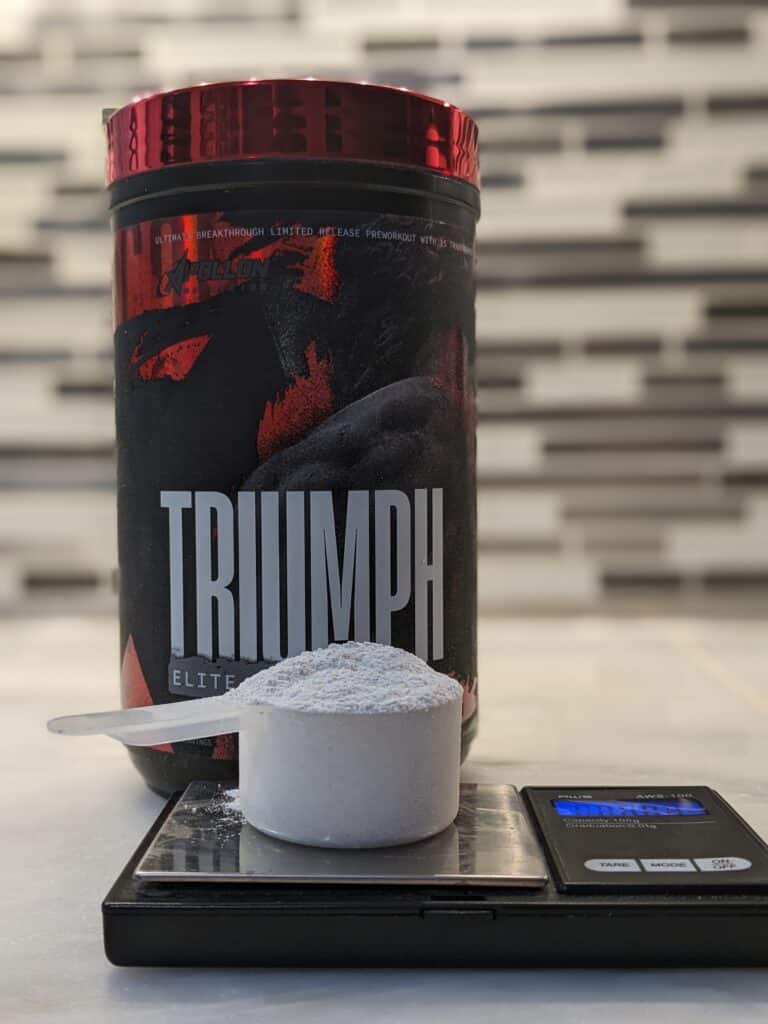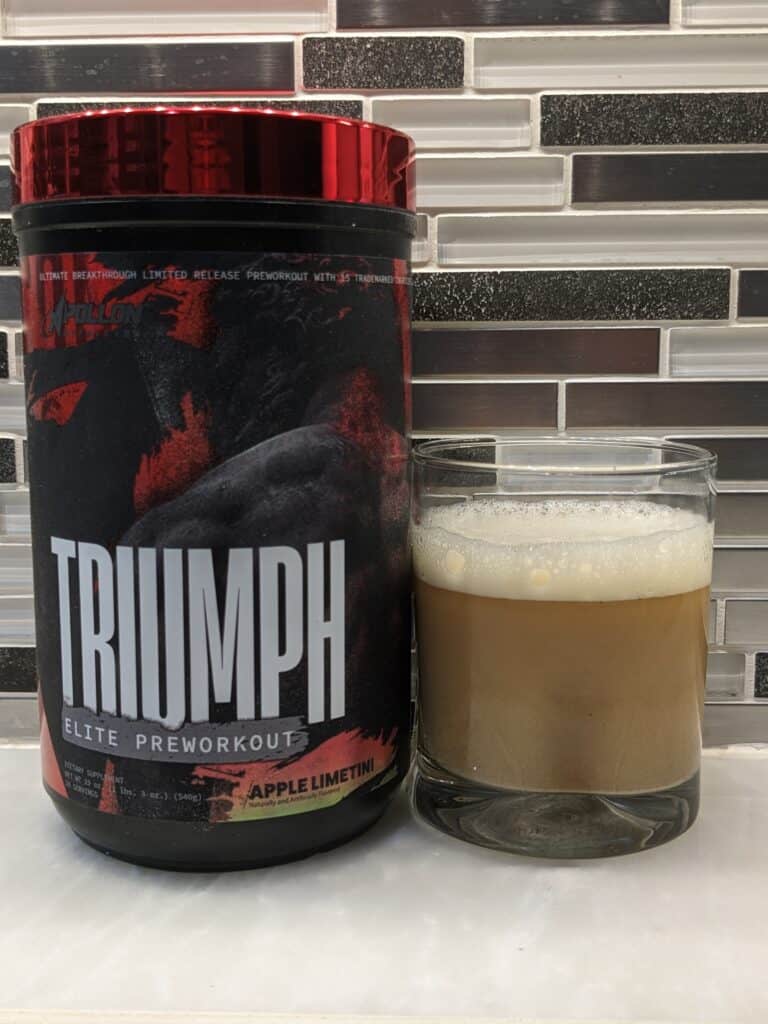 Ingredients
This is a stacked label, with more patented ingredients than is typical. Was it worth it? Often companies use multiple ingredients and clinical studies to formulate a product, but most of those studies include fewer ingredients. Note that effects can either vary or disappear with mega-dosing.
This label is excellently dosed. I like what they have done here in theory, as one would think it is a synergistic dream. Apollon isn't a stranger to large labels like this, so I don't have many remarks about this formulation as I am sure they did their homework.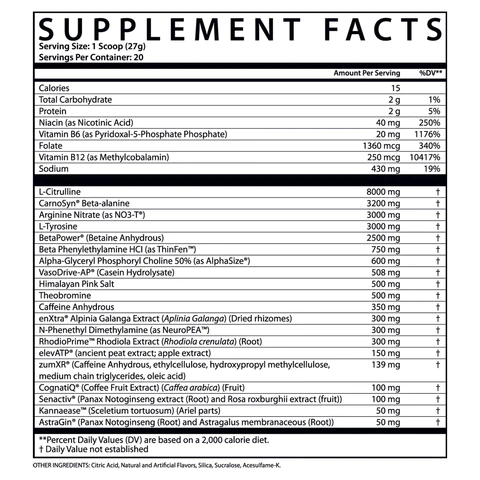 Niacin (Niacinamide) – 40 mg
Niacin, also known as vitamin B-3, has a wide array of benefits ranging from increasing HDL cholesterol (the "good" cholesterol) concentrations, reducing LDL cholesterol concentrations, and reducing the concentration of triglycerides.
Some research shows niacin can increase blood flow through various mechanisms. The research is limited and conflicted, so niacin is rarely included in pre-workouts.
Niacin also helps your body produce optimal amounts of ATP, the energy source for muscle contraction. Thus, making sure you have enough Niacin is a worthwhile endeavor for a pre-workout supplement.
40 mg of niacin is a higher dose. It is more than twice the recommended daily dosage for men (16 mg per day) and women (14 mg per day), but you should also be able to get this from a healthy diet. Good sources of niacin include fish, beef, chicken, turkey, mushrooms, and brown rice.
Vitamin B12 – 250 mcg
Vitamin B12 assists in the production of red blood cells. It helps deliver oxygen and nutrients to the muscle, boosting energy levels and muscle growth.
Citrulline Malate – 8 g
L-citrulline is one of the most common pre-workout ingredients. Extensive evidence supports its ability to increase nitric oxide production, power output, pumps, blood flow, and endurance. It is typical for this ingredient to contain malic acid in malate, which has some benefits similar to beta-alanine. However, you want 6-8 grams of pure l-citrulline for proper clinical dosage, and some products may list the malic acid as a separate ingredient. While the ratio isn't shown on the label, this is a hefty dosage, which exceeds the clinical dose, which isn't a bad thing to do.
Beta-Alanine – 3.2 g
Beta-alanine has been shown to support muscular endurance and act as a lactic acid buffer. Depending on the source of this ingredient, you may feel the paresthesias tingling effect. This feeling is often desirable in the sports community, as it makes you feel the intensity after ingestion. This may be negated by diet and intake of beta-alanine.
Beta-alanine requires regular intake to be effective, akin to creatine. Daily beta-alanine supplementation is recommended to become effective, with a three to five weeks loading period. Three to four grams is the recommended daily dosage for beta-alanine, putting triumph in the standard clinical dose range.
Arginine Nitrate (as NO3-T) – 3 g
Nitrate (NO3–T) is a small molecule produced in the body in limited amounts (as a byproduct of nitric oxide). It is obtainable via vegetables, particularly beetroot, other low-calorie tuber vegetables such as turnips, and leafy green vegetables such as spinach or rocket.
According to Examine, noted benefits of nitrates are reduced blood pressure, improved blood flow and vasodilation, reduced oxygen cost of exercise (allowing you to go longer), and kidney protection. The typical range is 1,500-3,000 for efficient dosing, placing this on the high end.
L-Tyrosine – 3 g
L-Tyrosine boosts cognitive performance in stressful environments. Pre-workouts include it as a focus ingredient and help achieve anti-stress effects. The typical dosage range is 500 mg to 2,000 mg for exercise.
BetaPower (Betaine Anhydrous) – 2.5 g
Betaine is included to help increase your power output. However, research needs to be more consistent around this claim. The typical range for betaine is between 1.5 g and 5 g, but generally, 2.5 grams is on the high end for what is in the market. Per the clinical trials, daily supplementation is required to obtain the full benefits.
Beta Phenylethlamine HCl (as ThinFen) – 750 mg
ThinFen, a patented version of B-Phenylethylamine (Beta PEA), is a neurotransmitter that inhibits uptake and efflux (i.e., removal) of dopamine, norepinephrine, and serotonin levels (2008 study). It is included in Timecop to increase focus and motivation.
This ingredient is not well understood and needs additional research. 750 mg is a solid dose; below we are given an additional 300 mg in neuroPEA. It is important to note that WADA bans it.
Alpha-Glyceryl Phosphoryl Choline 50% (as AlphaSize) – 600 mg
Alpha GPC is a cholinergic compound that is produced within the body. It is used for enhancing cognition and increasing power output. Based on several studies, Alpha GPC dosages should be between 300 and 600 mg. At 600 mg, this is at the top end of the efficient dosage range.
VasoDrive-AP (Casein Hydrolysate) – 508 mg
VasoDrive-AP helps decrease blood pressure, increase nitric oxide production, increase blood flow, and enhance muscle pumps. Check out this video to learn more about VasoDrive-AP. This is the specific dosage recommended by the manufacturer.
Himalayan Pink Salt – 500 mg
Salt helps retain water, enabling you to achieve fuller muscle bellies during your workout. This can help prevent muscle spasms and allow for good contraction.
500 mg is a highly effective dosage for this ingredient; however, it is diet dependent as not everyone will need higher amounts (for comparison, FSU Dyehard has 300 mg, and Hooligan Bare Knuckle has 250 mg).
It also contains essential electrolytes! More info can be found at Supplements in Review.
Theobromine – 500 mg
Theobromine is a "caffeine light" stimulant ingredient found in chocolate, some tea plants, and the kola nut. Its name means "Food of the Gods." Greek "theo" means gods, and "broma" means food.
Some anecdotal evidence suggests that theobromine can affect mood elevation, focus, and stimulation.
Most doses range from 100-400 mg, so this is again exceeded by apollon's formula.
Caffeine Anhydrous – 350 mg
Caffeine anhydrous is the standard form of caffeine, known for increasing energy, alertness, motivation, and mood. The caffeine content varies for each product. The 350-450 range is the typical dosage for sports supplements, and some products may contain other forms, such as below, with zumXR bringing the total caffeine content higher, although I can't say how much the percentage of caffeine is contained.
Less is more, as your dependency will lead to diminishing returns as you increase your intake. The overall combination of many factors, such as sleep, when you take caffeine, diet, and nutrition, affect how much you will need.
enXtra Alpinia Galanga Extract (Alpinia Galanga) (Dried rhizomes) – 300 mg
EnXtra is an exciting ingredient I haven't seen in many products, but it does seem interesting. EnXtra is a proprietary extract of Alpinia galanga shown in multiple human studies to increase alertness for several hours significantly. This ingredient has little dosage information, but typical doses are 200 and 400 mg, putting triumph in the middle.
N-Phenethyl Dimethylamine (as NeuroPEA) – 300 mg
NeuroPEA, a second but different patented version of B-Phenylethylamine (Beta PEA), is a neurotransmitter that inhibits uptake and efflux (i.e., removal) of dopamine, norepinephrine, and serotonin levels (2008 study). It is included in Timecop to increase focus and motivation.
This ingredient is not well understood and needs additional research. 300 mg is a lower dose but added to the thenfen above, it should be an excellent dose. It is important to note that WADA bans it.
RhodioPrime (Rhodiola Rosea Extract) – 300 mg
Rhodiola Rosea has consistently been shown to reduce fatigue, increase cognition, and improve overall well-being (read more at Examine).
Dosages as low as 50 mg are effective daily for fatigue, and we have a very solid dosage in triumph.
elevATP (ancient peat extract; apple extract) – 150 mg
This ingredient is used in many products, as it has been around for several years. From the manufacturer.
ElevATP® is a natural combination of ancient peat and apple polyphenols clinically shown to increase levels of endogenous adenosine triphosphate (ATP), the energy currency of the body, and support improved strength, power, and performance in resistance-trained athletes.† Research shows that oral supplementation with exogenous ATP is unreliable for increasing ATP levels since it breaks down in the gut. ElevATP® is not exogenous ATP, but rather an ingredient that helps the body produce higher levels of ATP via its own internal mechanisms. This means elevATP® promotes non-stimulatory energy from the body's own mitochondria. More information.
zumXR (Caffeine anhydrous, ethylcellulose, hydroxypropyl methylcellulose, medium chain triglycerides, oleic acid) -139 mg
This ingredient is essentially an "extended-release" form of caffeine. This helps achieve two things: longer-lasting effects of the pre-workout and a smoother ride on the energy train with fewer crashes. More information can be found on the manufacturer's website here.
CognatiQ (Coffee Fruit Extract) (Coffea arabica Fruit) – 100 mg
CognatiQ is a patented product from the whole fruit of the coffee plant, coffea arabica. One dose of 100 mg of WCFC increased serum BDNF by 54% and exosomal BDNF by 206%. BDNF, Brain-Derived Nootropic Factor, is essential for learning, memory, alertness, mood, controlling body weight, and controlling energy metabolism (Scientific Research Open Access). It is also stimulant-free (Source).
Senactiv (Panax Notoginseng extract root and Rosa roxburghii extract) – 100 mg
Another patented ingredient is included, from the manufacturer.
Senactiv® is the first senolytic sportsceutical that elevates exercise endurance, recovery, and energy with rapid senescent cell clearance and new muscle cell generation. More information.
Kannaease (Sceletium tortuosum) – 50 mg
Kannaease is a patented version of sceletium tortusoum, a traditional herb commonly chewed before stressful events requiring focus, such as hunting. While there is limited scientific evidence around the claims of relaxation and stress reduction, preliminary research generally supports these claims.
50 mg of pure sceletium tortusoum would be a low dosage, so I suspect some percentage of 50 mg is the effective ingredient, though I am not sure how much. A little Kanna goes a long way, which is anecdotal evidence suggesting doses as low as 16 mg of dry leaf can be effective.
AstraGin – 50 mg
Like Bioperine (a black pepper extract), AstraGin increases the bioavailability of nutritional supplements. In other words, it helps your body absorb more of the ingredients in the product, which helps the effectiveness of the ingredients. As the serving size increases, so does the need for a digestion aid.
Triump Pre-Workout Review
Summary
While it may be consistent and effective, this label was a jack of all trades yet a master of none. It did provide a great mastery of pump and vascularity, but it felt like too much of a good thing equals less. I can recommend this product, as it was very clean and effective, but it won't be in everyone's price range. Keep in mind, fast food may provide some nutrition, but it might not be as healthy as other sources. The same can be said of this product, as it is the highest quality but has the potential to be more effective.
Pros
Consistent experience
Sustained stamina
Good dialed-in focus
No crash post-workout
Amazing vascularity
Strength and solid pumps
Improved endurance
Increased energy
Cons
The huge formulation might have negated some effects
Horrible flavor