Glaxon, not to be confused with Galaxian, the arcade game, are both out of this world. This is the third formulation of their non-stimulant pre-workout, but it is much improved which features their Astrolyte electrolyte blend, essentially like having two products in one.
I recommend this product for those individuals looking to maximize their workouts while coming off stimulants without sacrificing performance. This would also be an excellent starter for beginner lifters since they don't need any high stimulants to make their gains.
Thank you, Jake from Nutricartel, for sending this full product for review!
Non-Stim!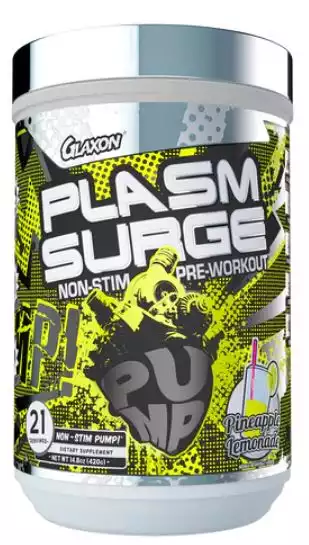 Plasm Surge Pre Workout
Plasm Surge is an excellent, non-stim pre-workout for beginner lifters.
Discount Code:
LIFTVAULT = 15% off at Nutri Cartel
Astrolyte Electrolyte Blend: 1770 mg
Amla: 250 mg
L-Glutathione Reduced: 200 mg
Shop Nutri Cartel
Lift Vault earns a commission if you click this link and make a purchase at no extra cost to you.
Where to Buy Plasm Surge by Glaxon
You can buy Plasm Surge by Glaxon from the following retailers:
Experience
I felt a quick surge of head buzz tingles in the back of my head at first sip, but it did dissipate quickly. The paresthesia feelings from the beta-alanine felt like my skin was on fire. The effects started to kick in around 15 minutes, lighting up my face and around my head. It quickly worked around my body, traveling down my shoulders and spine. This was the main driving factor for this non-stimulant, since it doesn't have any nootropic or focus elements, this skin-peeling effect lasted about an hour before becoming less potent.
While going through my warm-ups, I had to limit how many reps, as the endurance was noticeable immediately. I didn't have any issues finishing any routines. I felt perfect muscular contractions, optimal hydration to my cellular fibers, and good movements that made the muscles get those razor's edge micro tears. At the same time, it isn't a mind-muscle connection formula, but it does make it easy to feel that burn, even for the beginner. They are perfect pumps to be had with solid muscle fullness. It was a dry but productive pump that led to great workouts and off-day training.
Side Effects
I didn't experience any adverse effects while using this product.
Flavor
"Pineapple Lemonade" was the flavor I was sent for review. Although mostly pineapple-flavored, it was a good combination with some tart, salty, and tanginess. The flavor desirability was about 6.5/10. If you like pineapple, this will taste amazing, a bit salty. The suggested amount of water is 8 to 16 ounces, and I enjoyed it most, around 12 ounces of water. The mixability was good, with a tiny amount of sediment toward the end of the shaker.
Dose/Scoop Size
The serving size is 20 grams for a whole serving (one scoop). The total serving amount per scoop is about even with the bottom of the scooper handle. I always shake my products when I receive them before using them, but this one doesn't get too fluffy, so the measurable amounts should be the same for anyone. Since this isn't a stimulant-based product, you will be safe to serve more giant scoops, but I review the products based on the suggested amounts to get the most out of value.
I used the whole one-scoop serving amount, which hit precisely how I needed it. Glaxon gives 21 servings in the container, slightly above the market standard.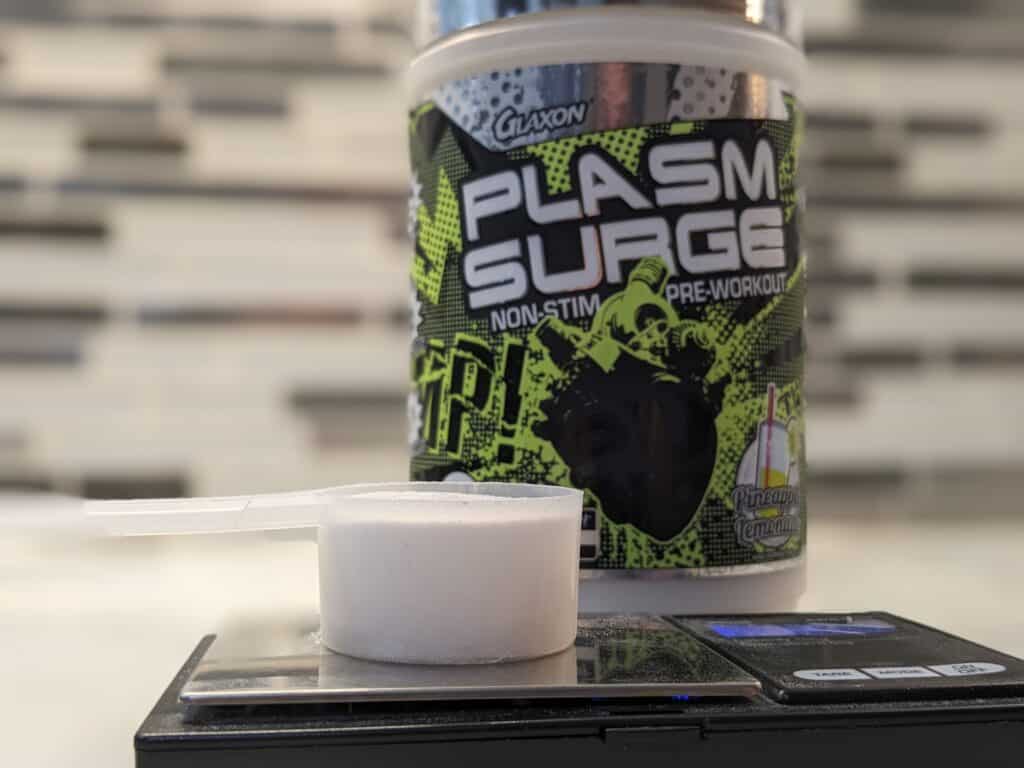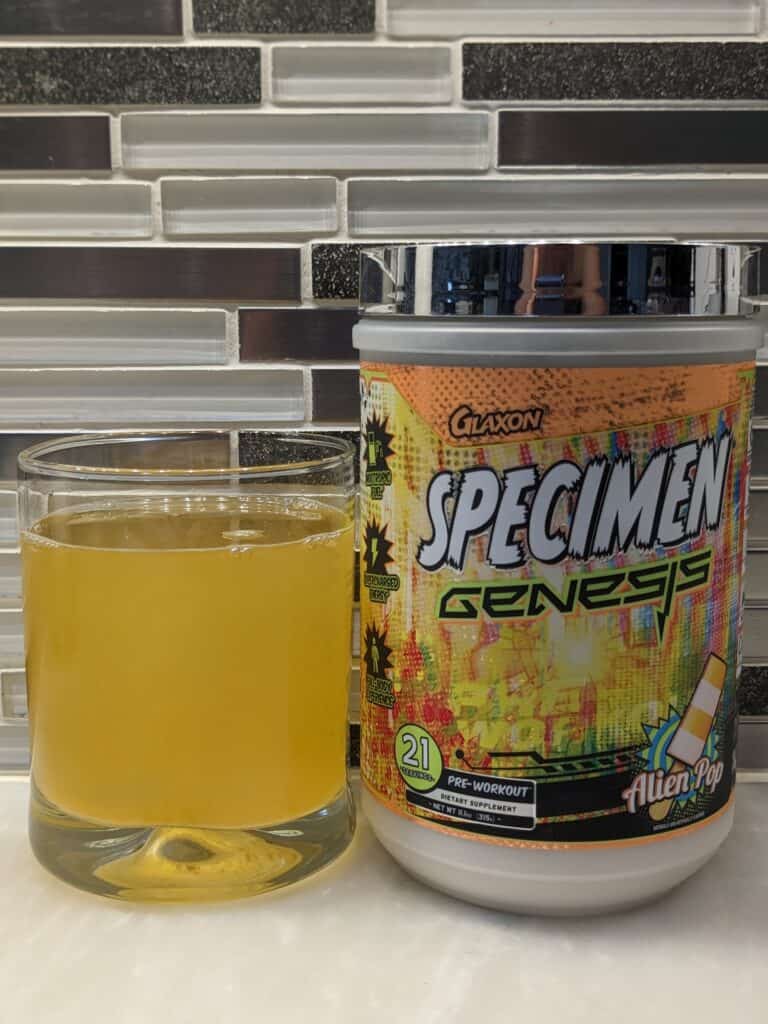 Ingredients
I like the label for the non-stimulant formulation, as it contains extra electrolytes for muscular contraction and hydration. All dosages are at clinical levels and efficient with the electrolytes being excellently dosed. I also liked the uniqueness of the added PQQ, glutathione, and nitrosigine.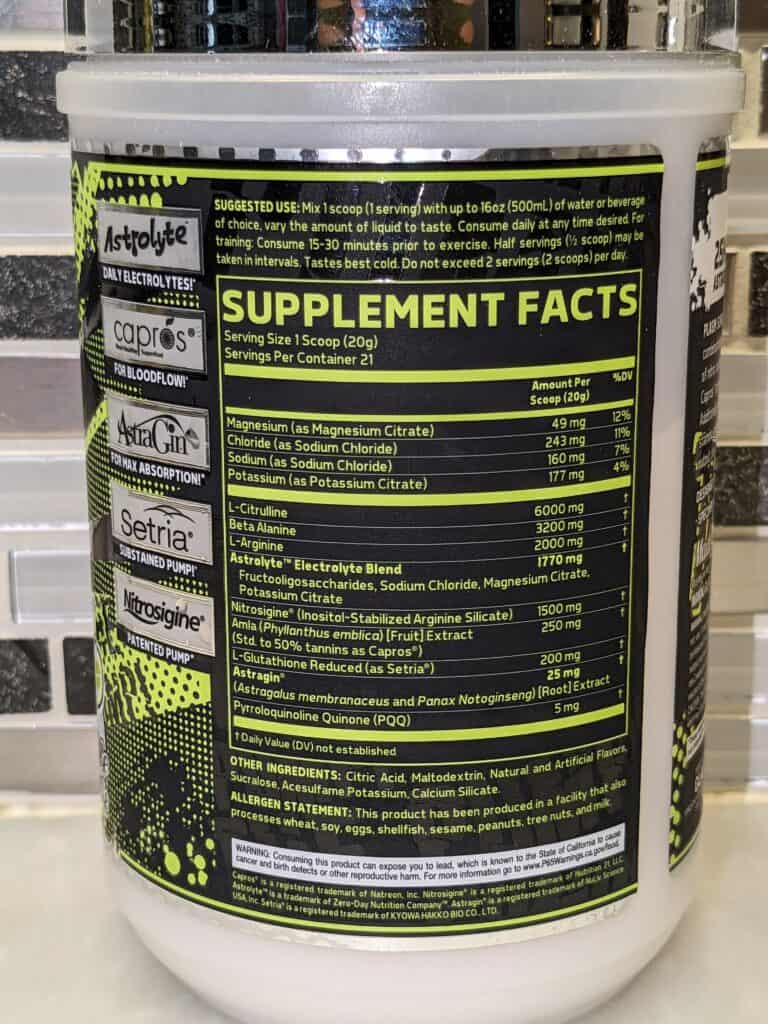 Magnesium – 49 mg
Similarly to phosphorus, magnesium is used to produce ATP. Low levels can cause muscle soreness or contractility issues. Although most people reach for high-potassium foods to address muscle spasms, they are typically caused by low magnesium levels. Depending on your diet, it can be essential to supplement with magnesium to aid recovery.
Chloride – 243 mg
Chloride is often overlooked in electrolyte discussions, but it's an essential member of the electrolyte family. Chloride is the body's most abundant anion (negatively charged atom or molecule) and is critical in keeping us alive.
Chloride is necessary for basic and complex breathing processes, digesting food, fighting disease, balancing cell fluid, and more. Chloride is vital to any electrolyte mix because the body loses it through sweat.
Sodium – 160 mg
Salt helps retain water, enabling you to achieve fuller muscle bellies during your workout. This can help prevent muscle spasms and allow for good contraction.
90 mg is a lower dosage for this ingredient. However, it is diet-dependent as not everyone will need higher amounts (for comparison, FSU Dyehard has 300 mg, and Hooligan Bare Knuckle has 250 mg).
It also contains essential electrolytes! More info can be found at Supplements in Review.
Potassium – 177 mg
Potassium is an essential mineral that regulates blood pressure and contractility of the heart tissues. It helps reduce muscle cramps and weakness in the muscle fibers. High potassium dosages aren't typically found in supplements due to the effect on the body when ingested in large amounts. Potassium is typically found in fruits, some vegetables (bok choy, potatoes, beets, bananas, broccoli, avocados, and more), and cream of tartar powder.
Citrulline – 6 g
L-citrulline is one of the most common pre-workout ingredients. Extensive evidence supports its ability to increase nitric oxide production, power output, pumps, blood flow, and endurance. It is typical for this ingredient to contain malic acid mixed in a 2:1 ratio per the clinical studies. Malic acid has some benefits similar to beta-alanine, and these ingredients aren't in a chemical bond, some products may list malic acid as a separate ingredient.
You want four to six grams of pure l-citrulline for proper clinical dosage, dosed here in a primal. If the ratio on the label is 2:1, a 6-gram dose would contain close to 3.96 grams. Per the clinical trials, daily supplementation is required to obtain the full benefits.
Some critical effects are amino acid precursors, enhanced nitric oxide production, improved endurance, reduced muscle fatigue, cardiovascular health, and erectile dysfunction.
Beta-Alanine – 3.2 g
Beta-alanine has been shown to support muscular endurance and act as a lactic acid buffer. Depending on the source of this ingredient, you may feel the paresthesias tingling effect. This feeling is often desirable in the sports community, as it makes you feel the intensity after ingestion. This may be negated by diet and intake of beta-alanine.
Beta-alanine requires regular intake to be effective, akin to creatine. Daily beta-alanine supplementation is recommended to become effective, with a three to five-week loading period. Three to four grams is the recommended daily dosage for beta-alanine, putting face/off in the standard clinical dose range. When you consume beta-alanine, it combines with another amino acid called histidine to form carnosine.
Carnosine is found in high muscle concentrations and is a buffer against lactic acid buildup during intense exercise. This buffering effect can delay the onset of muscle fatigue and improve exercise capacity. By increasing carnosine levels in muscles, beta-alanine helps reduce the accumulation of hydrogen ions, contributing to muscle acidity and fatigue. This allows athletes to perform at a high intensity slightly longer before experiencing fatigue.
It is not abundantly found in typical dietary sources, so it's challenging to obtain the required amounts solely through diet. However, it is naturally present in small quantities of animal products like meat and fish.
L-Arginine – 2 g
Arginine is required to create nitric oxide in the body. However, it could have performed better in studies when measuring blood flow. This is likely due to the poor bioavailability of l-arginine compared to other supplements, like l-citrulline, which is processed in the kidneys and turned into arginine. The standard dosage for l-arginine is 3-6 grams. Since high dosages are necessary, plasm falls slightly short of a clinical dosage (Examine).
L-arginine is an amino acid, a building block of proteins, and it plays several vital roles in the body. It's considered a semi-essential amino acid, meaning that while the body can produce it, there are circumstances where dietary intake becomes essential. Some known and clinically studied benefits include nitric oxide production, wound healing, immune function, hormone production, detoxification, and exercise performance.
Astrolyte Electrolyte Blend – 1770 mg
Composed of Fructooligosaccharides, Magnesium Citrate, Sodium Chloride, and Potassium Citrate, this blend helps support cellular functions, helps maintain proper hydration and fluid balance, aids in muscular contractions, and can improve workout performance.
Not a lot is known about the blend itself. Still, Glaxon's site states, "Glaxon Astrolyte™ Hydrating Electrolytes can help alleviate some of that risk by providing you with the ability to consume a beverage that promotes rehydration, refuels your body with the critical minerals you lost through sweat and allows you the ability to maintain a high level of performance and endurance during strenuous activity."
Electrolytes like sodium, magnesium, potassium, and calcium can help your cells retain water and prevent dehydration while you exercise. Even a water loss as slight as 1-2% of your body weight can decrease focus, speed, and strength.
Nitrosigine – 1.5 g
Nitrosigine, or Nitrosyl Arginine Silicate (ASI), is a patented compound that combines arginine (an amino acid) with silicon. This unique fusion has the potential to enhance the production of nitric oxide and promote improved blood circulation. Nitric oxide (NO) acts as a vasodilator, effectively relaxing and expanding blood vessels, thereby increasing blood flow. This physiological mechanism yields benefits for cardiovascular well-being, enhances exercise performance, and contributes to muscle pumps.
Additionally, it may lead to muscle growth and heightened cognitive clarity (source). It is a non-stimulant component and is pivotal in elevating nitric oxide (NO) production, facilitating greater blood flow. Arginine silicate is prominently featured in various products that have earned recognition among the best pump supplements. 1,500 mg is at the upper end of the recommended range of 750 mg to 1,500 mg daily.
Amla (Phyllanthus emblica 50%) – 250 mg
Phyllanthus emblica, commonly known as Indian gooseberry or amla, is a fruit-bearing tree native to the Indian subcontinent. It holds significant importance in traditional Ayurvedic medicine and has been used for its potential health benefits for centuries. The fruit of the Phyllanthus emblica tree is small, round, green, and has a sour taste.
Many of the expected benefits of amla include nutritional content, antioxidant properties, immune system support, digestive health, hair and skin health, cholesterol and heart health, anti-inflammatory effects, diabetes management, liver health, and cancer prevention. Amla is commonly consumed in various forms, including fresh, dried powders, juices, and supplements.
L-Glutathione Reduced (Setria) – 200 mg
From Healthline, it is a general health product with a wide range of benefits, including reducing oxidative stress, improving psoriasis, reducing cellular damage in alcoholic and non-alcoholic fatty liver disease, improving insulin resistance in older individuals, increasing mobility for people with peripheral artery disease, may reduce respiratory disease symptoms, and many others.
Astragin – 25 mg
AstraGin is a proprietary nutraceutical ingredient composed of two natural extracts, Panax notoginseng and astragalus membranaceus. Its primary purpose is to improve the absorption of nutrients and bioactive compounds within the body. Key points include its potential to enhance nutrient uptake, potential benefits for digestive health and sports nutrition, and claims of immune support. In other words, it helps your body absorb more of the ingredients in the product, which allows the effectiveness of the ingredients. As the serving size increases, so does the need for a digestion aid. The typical dosage set by the manufacturer is 50 mg.
Pyrroloquinoline Quinone (PQQ) – 5 mg
Pyrroloquinoline quinone (PQQ) is a compound known for its potential health benefits. It serves as a redox cofactor, participating in cell oxidation-reduction reactions, and can be found in certain foods or as a dietary supplement. Key points about PQQ include its antioxidant properties, support for mitochondrial function, potential neuroprotective effects, benefits for cardiovascular health, influence on energy metabolism, and possible positive impact on cognitive function.
PQQ is naturally present in foods like green peppers and kiwi but is available as a supplement. Typical dosages of PQQ supplements often range from 10 to 20 milligrams (mg) daily for general health and antioxidant benefits.
Plasm Surge Stimulant-Free Pre-Workout Review
Summary
I enjoyed this product for running on my off days from training. I incorporate the lessly done exercises with ab work, conditioning, and steady-state cardio. It was helpful for me also to keep my caffeine tolerance lower so that I could enjoy those high stimulant hitters. I recommend this to anyone looking to keep their productivity and progress from sports supplements without sacrificing their performance from coming off stimulants. Beta-alanine is as potent in this product as most Glaxon formulations, and it is non-stimulant even though you feel stimulated while using it. 
Pros
Improved endurance
Head buzzed beta-alanine tingles
High-quality and potent ingredients
Strong pumps
Excellent muscle contractions
Face and skin tingles
Good vascularity
Light mind-to-muscle connection
Good tasting flavor
Made in USA
Excellent clinical and efficient dosages
Patented ingredients