Transparent Labs' 100% Grass Fed Whey Protein Isolate is a powdered protein supplement designed to help support muscle growth and repair. Protein plays an essential role in muscle growth and adequate consumption of protein is required in order to continue to make progress in any strength endeavor.
The latest research shows that athletes should consume between 0.7 and 1.1 grams of protein per pound of total body weight (1.6-2.4 g per kg of total body weight). Drinking protein shakes in between meals or after workouts can be an effective way to reach these goals.
Transparent Labs was nice enough to send me a sample of their 100% grass fed whey protein isolate for me to review.
Best Grass Fed Whey Isolate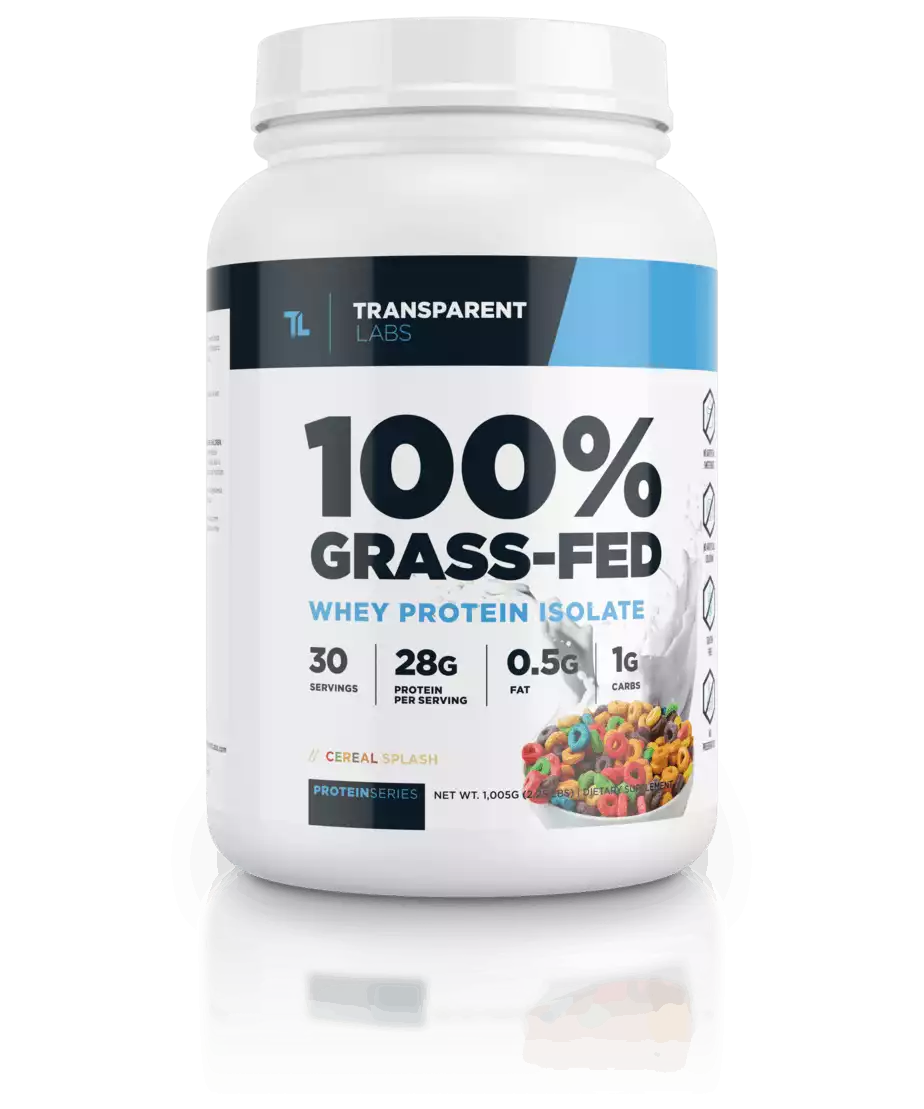 100% Grass Fed Whey Protein Isolate - Transparent Labs
If you're looking for a high quality, clean protein powder, Transparent Labs' 100% Grass Fed Whey Isolate is an excellent choice.
With a slew of delicious flavors and a totally transparent, clean label, this is a premium product.
Discount code:
LV10 = 10% off at Transparent Labs
Flavors: Cinnamon French Toast, Milk Chocolate, Chocolate Peanut Butter, Strawberry, Mocha, Vanilla Peanut Butter, French Vanilla, Oatmeal Chocolate Chip Cookie
Lactose: Less than 1%
Servings: 30
Protein Source: whey isolate
Protein: 28 g
Fat: 0.5 g
Carbohydrates: 1 g
Calories: 120
Sweetener(s): stevia
Shop Transparent Labs
Lift Vault earns a commission if you click this link and make a purchase at no extra cost to you.
My Experience
Overall, I really enjoyed using Transparent Labs' Whey Protein Isolate and definitely plan on finishing my tub. I liked it so much it made my list of the best whey protein isolate powders.
Let's get real. Only a few things matter for protein powder in my opinion.
Quality
Taste & Mixability
Price
If a protein powder is made of quality ingredients, tastes good, and doesn't cost a fortune, then you can't ask for much more.
That's why we included it on our list of the best whey isolate protein powders and the best lactose-free protein powders.
Quality
It's quickly evident that Transparent Labs takes a lot of care when making their whey protein isolate. Their products are manufactured in the USA in a facility that is certified to be compliant with FDA Good Manufacturing Practices (GMP) guidelines for food and dietary supplements.
Taste & Mixability
This protein powder tastes really good.
I tried the peanut butter chocolate flavor, which tastes like 80% chocolate and 20% peanut butter. The chocolate is definitely the forward flavor, while a pleasantly salty peanut butter flavor is more apparent on the finish.
This whey isolate is also not too sweet, which I see as a plus. If you are not a fan of overly sweet protein powders, Transparent Labs should satisfy your tastebuds.
Mix-ability is also excellent. The powder blends very nicely with milk (I didn't try water, though I'd imagine the results would be the same) and didn't leave any significant dregs at the bottom of my shaker bottle.
If you're having issues with chunky protein powders that don't mix well, I think you'll find Transparent Labs to be a nice step up.
Price
There's no way around this: Transparent Labs protein powder is really expensive.
At $59 for a 2.2 lb tub (i.e. 1 kg), or 14.2 grams of protein per dollar.
Comparably, NutraBio's Grass Fed Whey Protein Isolate clocks in at 16.83 grams of protein per dollar, a 17% improvement in value.
Frankly, both of the examples above, Transparent Labs and NutraBio, are quite expensive. The reason for this is the high cost of the grass fed whey isolate ingredient.
If you're willing to forgo your whey isolate being grass fed, opting instead for whey sourced from grain fed cow milk, then you can save a lot of money. Unfortunately, Transparent Labs does not offer any protein powder that is not grass fed at the moment.
How Grass Fed Protein Isolate is Different
Is grass fed whey protein isolate better than its grain fed counterpart? I'm skeptical.
On the Transparent Labs blog post about grass-fed vs. grain-fed cow products, they say:
The added nutritional benefits are passed down through fat content. The higher the amount of fat in the protein, the more essential it is that the protein is sourced from grass-fed cows. All protein, both isolate and concentrate, contain residual fat, with more fat coming from concentrate.

– Transparent Labs, "Benefits of Grass-Fed Protein"
Since whey isolate has very little fat content in it, it's hard to imagine that going grass-fed yields a significant difference for the end user. Sure, there could be some minor improvements, but it seems hard to justify the price tag.
If you're looking to save money, I'd recommend going with a grain-fed whey isolate. I significantly prefer whey isolate for the benefits of being fat free, low carb, and lactose free (way easier to digest), but I don't think I'll be buying grass-fed whey isolate with my own money any time soon.
However, if I was buying whey concentrate then the advantages of grass-fed protein might be more interesting to me. But for isolate, I just don't think it's worth it.
But will I finish the tub they sent me? Absolutely – it's a fantastic product.
Related: Best Vegan Protein Powder
Transparent Labs Whey Protein Isolate Flavors
Transparent Labs has their whey isolate product available in the following flavors:
Cinnamon Pastry
Strawberry
Mocha
Chocolate Peanut Butter
Milk Chocolate
Salted Caramel
French Vanilla
Whey Protein Isolate Ingredients Label
Macro Profile
The macro profile for the Transparent Labs whey isolate is:
Fat: 1 gram
Carbohydrates: 3 grams
Protein: 28 grams
Please note that this is for the Peanut Butter Chocolate flavor.
The macros listed on their site for the Strawberry flavor are slightly different:
Fat: 0 grams
Carbohydrates: 2 grams
Protein: 28 grams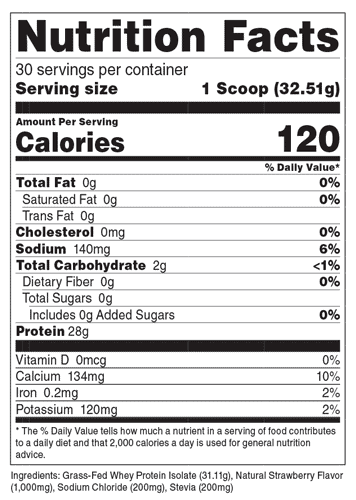 So depending on the flavor, you may get slightly more or less carbs and fats.
Unfortunately Transparent Labs doesn't make the ingredient label available for each flavor. I'll reach out to them to see if they can help me provide those for you.
Regardless, the differences are pretty small and either way you're getting a really lean product with a great macro profile for building muscle and losing fat.
About Transparent Labs
Transparent Labs makes a variety of nutritional supplements with an emphasis on having 100% transparent labels, proven ingredients, and clinical dosages.
Based on what I've seen from them so far, they make pretty good products. They're a little pricey and may not be for everyone, but they are refreshingly straightforward and make sure you know exactly what you're getting in each product.
Grass Fed Whey Protein Isolate Review (Transparent Labs)
Review Summary
The 100% grass fed whey protein isolate form Transparent Labs is a premium product with a premium price tag. They don't cut any corners here, but you will pay for it. If you're looking for a high quality protein powder that is extremely low in fat and carbs, this is the protein powder you need. Plus, it tastes fantastic.
Pros
Excellent macro profile (low in fat and carbs)
Tastes great
Mixes well
Cons
Expensive
Limited benefit for whey isolate vs. non-grass fed milk sources, which would be cheaper.