Whether you're looking to pack on some muscle or reduce fat, you can find the best whey protein isolate for you on our list. Many of these products come in innovative flavors that are far more creative than the traditional chocolate flavor and can help you curb hunger and increase your workout recovery without boring your tastebuds.
While our top recommended product may be Transparent Labs' Grass-fed whey protein, there are plenty of others to choose from.
The 8 Best Whey Protein Isolate Powders
Here's our list of top whey protein isolate powders and what makes each of them unique.
Best Grass-Fed Whey Isolate: Transparent Labs Grass-Fed Whey
Key info:
Free from artificial sweeteners, food dye, and preservatives
88% protein by weight
Sourced from American cows that are grass-fed
Per Serving (may vary by flavor)

Protein (g): 28
Calories: 120
Fat (g): 0
Carbs (g): 1

Flavors: Cinnamon Pastry, Mocha, French Vanilla, Cookies and Cream, Milk Chocolate, Chocolate Peanut Butter, Cereal Splash, Strawberry, Salted Caramel.
Some flavors are gluten-free, non-GMO
Transparent Labs' Grass-fed whey protein offers one of the highest percentages of protein in the industry in each scoop and comes in a variety of fun flavors. This protein powder features stevia as a sweetener and is best consumed immediately after a workout for optimal muscle growth.
It also contains less than 1% lactose, making it a great choice for people seeking a lactose-free protein powder or a protein powder for sensitive stomachs.
Best "A Little Sweet" Whey Isolate: Kaged Muscle Whey Protein Isolate
Key info:
Naturally flavored
Third-party tested
Ultra-filtered
Formulated to increase absorption
Per Serving (may vary by flavor)

Protein (g): 25
Calories: 120
Fat (g): 0.5
Carbs (g): 3

Flavors: Chocolate Peanut Butter, Cinnamon French Toast, S'mores, Chocolate, Vanilla, Natural Coffee Latte, Natural Cinnamon Roll.
Gluten-Free
The Kaged Muscle whey protein isolate features both essential and non-essential amino acids along with digestive enzymes for higher absorption. This protein powder comes in many different flavors and features scientifically tested ingredients without dyes or artificial colors.
This is definitely a tasty one. We even included it on our list of the best vanilla protein powders.
Best Value Grass-Fed Whey Isolate: Axe & Sledge Farm Fed Whey Isolate
Key info:
Naturally flavored and low-fat
Free from antibiotics and rBGH
It contains a patented enzyme blend for optimal digestion and absorption
Per Serving (may vary by flavor)

Protein (g): 22
Calories: 100
Fat (g): 0
Carbs (g): 3

Flavors: Glazed Donut, Vanilla Milkshake, Cinnamon Apple Pie, S'mores, Chocolate Milkshake, Cookies and Cream, Salted Caramel.
Gluten-free (except for S'mores flavor), non-GMO
Axe & Sledge's Farm Fed whey isolate offers many delicious flavors so you can feel like you're having dessert. This protein powder works well in a variety of recipes other than shakes and contains an enzyme blend designed to supplement the body's natural enzyme production. This helps aid digestion.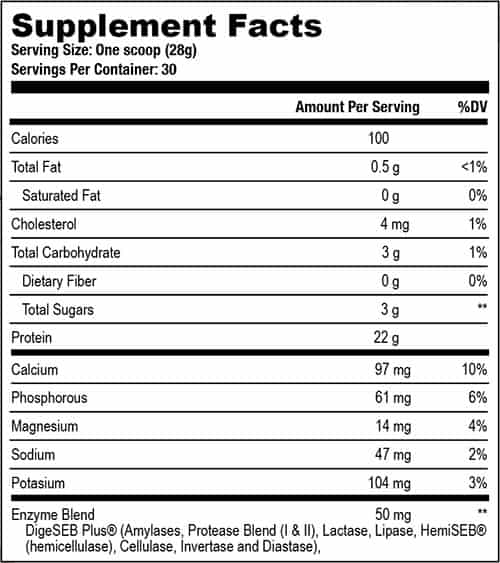 Best Whey Protein Blend: Apollon Nutrition 50/50 Whey Isolate & Casein Protein Blend
Key info:
Features equal parts fast and slow protein for use anytime
Transparent label, no secret ingredients or fillers
Made in the USA
Per Serving (may vary by flavor)

Protein (g): 24
Calories: 130
Fat (g): 3
Carbs (g): 3

Flavors: Caramel Macchiato, Dutch Chocolate, Alpine Vanilla, Wild Strawberry, Peanut Butter Cookie.
Gluten-free, no sugar added, contains soy.
This unique whey isolate and casein protein blend from Apollon is free from fillers and helps to speed recovery and muscle building. This high-quality combination also tastes great and is manufactured in a Good Manufacturing Practices (GMP) certified facility.
Best Quality Whey Isolate: NutraBio Whey Protein Isolate
Key info:
Certified Kosher Dairy
No fillers or chemical additives
Manufactured in the USA in an FDA registered facility
Per Serving (may vary by flavor)

Protein (g): 25
Calories: 110
Fat (g): 0
Carbs (g): 1

Flavors: Miss American Pie, Dutch Chocolate, Alpine Vanilla, Strawberry Ice Cream, Bourbon Banana Nut, Chocolate Peanut Butter Bliss, Cinnamon Sugar Donut, Blueberry Muffin, Pancakes and Maple Syrup, Ice Cream Cookie Dream, Unflavored.
Soy, lactose, and gluten-free, Non-GMO, BSE/TSE Free
NutraBio whey protein isolate includes a full spectrum of amino acids and 5.3g of BCAAs per serving that supports new muscles' growth and prevents muscle damage. Unlike low-quality whey concentrate powders, NutraBio offers whey that is pure and not treated with acid or denatured during manufacturing.
Best Value Whey Isolate: Dymatize ISO-100
Key info:
100% hydrolyzed whey protein
Tested for banned substances
Make from pre-hydrolyzed protein for better absorption and digestion
Per Serving (may vary by flavor)

Protein (g): 25
Calories: 120
Fat (g): 0.5
Carbs (g): 2

Flavors: Gourmet Chocolate, Gourmet Vanilla, Fruity Pebbles, Cocoa Pebbles.
Gluten-free
Dymatize ISO-100 hydrolyzed whey protein uses cross-flow microfiltration and a multi-step purification process to ensure that the qualities of the whey that support protein synthesis get preserved. This specialized process also removes excess fat, lactose, carbohydrates, and cholesterol.
Most Popular Whey Isolate: Optimum Nutrition – Gold Standard 100% Isolate
Key info:
Banned Substance Tested
80% pure protein in each serving
Consume 30-60 minutes post workout
Per Serving (may vary by flavor)

Protein (g): 25
Calories: 110
Fat (g): 0.5
Carbs (g): 1

Flavors: Chocolate Bliss, Caramel Ice Cream, Chocolate Mint Brownie, Rich Vanilla.
Gluten-free, contains soy.
Optimum Nutrition starts with high-quality raw ingredients and tests their product multiple times during production to ensure quality. Their protein powder is only manufactured in certified facilities using state-of-the-art manufacturing processes.
Best Clear Whey Isolate: Phase 1 – Iso Clear Whey
Key info:
Uses natural colors, sweeteners, and flavors
It contains unique ingredients like coconut water, coconut oil, and beet juice (for color)
Sweetened with stevia and maltodextrin
Per Serving (may vary by flavor)

Protein (g): 20
Calories: 90
Fat (mg): 5
Carbs: 0

Flavors: Paradise Passion, Gym-n-Lime Quencher.
Contains tree nuts
Unlike other protein isolates that mimic a milkshake, Phase 1 whey protein isolate tastes like a sports drink but still delivers 20 grams of protein per serving. This formula also contains an enzyme support blend for easy digestion and absorption.
We also selected Iso Clear as one of the best clear protein powders!
FAQs about Whey Protein
What are the Different Types of Protein Powder?
The best whey protein isolate will depend on your body's needs and your fitness goals, but the good news is that there are a variety of different protein powders available. The most common types of protein powder include:
Whey Protein Concentrate
Whey Protein Isolate
Casein Protein
Whey Protein Hydrolysate
Vegan Protein Sources
Many studies have shown that whey protein is an effective addition to your training regimen if you want to build muscle or reduce fat, but how you achieve this may vary from one person to another.
If you find you have an allergy to whey or casein, vegan protein sources are a good starting point, but there are also other types of protein powder derived from sources such as goat's milk.
How is Whey Protein Isolate Different Than Whey Protein Concentrate?
Whey is one of the two primary proteins contained in milk, and it gets mentioned frequently as part of the cheese production process. Whey protein concentrate still includes a small amount of lactose, but whey protein isolate loses this during the manufacturing process. This is why many of the protein powders featured on this list are also highlighted in our roundup of the best lactose free protein powders.
Some individuals have a preference that their whey comes from grass-fed cows, and many different kinds of whey protein fit this criterion.
What are the Benefits of Whey Protein Isolate?
When considering different products, remember that the best whey protein isolate should have a high level of purity and preferably get manufactured using excellent practices. Many different kinds of whey protein can also provide critical benefits such as:
Muscle protein synthesis
Workout recovery
Hunger control
Whey protein isolate is also an easy and fast way to get a lot of protein into your body quickly, and many people find it relatively easy to digest compared to some protein-rich foods. Whey protein can provide the necessary fuel to your muscles after a workout and can also aid in fat loss when taken at the right time.
Who Should Take Whey Protein Isolate?
Athletes and active individuals can take whey protein isolate to improve muscle gains, maintain muscle mass, and improve the overall composition of their bodies in different ways. How you use whey protein isolate matters as using it during certain times or following specific activities can allow it to have a more profound impact.
Whey protein isolate isn't just for active individuals, though, and many people use it to help them meet their protein requirements or to control their hunger for different reasons. These individuals may not be able to get all the protein they need through food, and protein shakes might be a helpful addition.
Aside from fitness, older adults may consume whey protein isolate for a variety of reasons, including as a nutrition supplement or to help preserve muscle. Vegans and vegetarians can also use protein powder to get more protein into their diet on days when they don't consume sufficient protein-rich foods or as a supplemental staple for optimal health.
Related: Best Protein Powder for Teens
How Much Protein Should I Consume Every Day?
Protein is an essential part of a healthy diet, and the recommendation is 0.8 grams for each kilogram of lean body mass. Lean body mass is your body weight minus fat, so it only measures your muscle mass.
This amount may not be sufficient protein intake for someone who is looking to put on a considerable amount of muscle mass or looking to add supplementary protein as part of a highly active lifestyle, but is plenty for most people and useful as a starting point.
There is also another common recommendation that athletes and those looking to build muscle mass should consume at least one gram of protein for each kilogram of body weight in a given day, while others suggest that elite athletes consume two grams per kilogram of body weight each day.
This range can be confusing for many who are looking to get into fitness, which is why many exercise experts recommend consulting with an expert to determine what amount is right for you and your fitness goals.
When Should I Take Whey Protein Isolate?
Whey protein isolate is most beneficial about 30 minutes after a workout as it can supply your muscles with the fuel they need to rebuild. Some individuals also consume whey protein isolate within 30 minutes of waking up in the morning to help aid in fat loss.
It's best to take the recommended serving on your package of whey protein as each brand will contain a slightly different amount of protein in each scoop. You'll know if you've consumed too much or need to scale back a bit if you have symptoms such as digestive issues that include nausea, diarrhea, pain, flatulence, and cramping.
Conclusion
When it comes to the best whey protein isolate, we recommend Transparent Labs Grass-Fed Whey as it packs the most protein into each scoop and comes from American cows on a grass-fed diet. This protein powder is also free from artificial preservatives, sweeteners, and dyes and comes in plenty of fun flavors to keep your tastebuds entertained.
Transparent Labs protein powder also uses excellent manufacturing processes, and their label is clear about what's inside, so there are no hidden ingredients or surprises. These qualities make this protein powder a safe choice so you can make an informed decision about what you're consuming to build muscle or lose fat.