Deadlifting can be one of the most rewarding experiences in lifting. That is, if you can get the safest, highest quality equipment. There's so much to consider when shopping for your deadlift bar with so many options on the market.
Here are the best deadlift bars available today, along with a buying guide, to help you choose the right bar for you.
The best overall deadlift bar is the Rogue Ohio Deadlift Bar, but read on to find out which coating best suits your needs.
The 5 Best Deadlift Bars
Rogue Ohio Deadlift Bar
Texas Deadlift Bar
Okie Deadlift Bar
Strongarm Deadlift Bar
Bella Bar
| Barbell | Shaft Finish | Diameter | Total Length | Weight | Tensile Strength |
| --- | --- | --- | --- | --- | --- |
| Rogue Ohio Deadlift Bar | Bare Steel, Black Zinc, Cerakote, E-Coat | 27 mm | 90.5" | 20 kg | 190,000 PSI |
| Texas Deadlift Bar | Bare Steel, Black Zinc, Cerakote, Chrome | 27 mm | 92.5" | 20 kg | 190,000 PSI |
| Okie Deadlift Bar | Bare Steel | 27 mm | 90.9" | 20 kg | 155,000 PSI |
| Strongarm Deadlift Bar | Bare Steel | 27 mm | 90.9" | 20 kg | n/a |
| Bella Bar | Black Zinc, Cerakote, E-Coat, Stainless Steel | 25 mm | 79.13" | 15 kg | 190,000 PSI |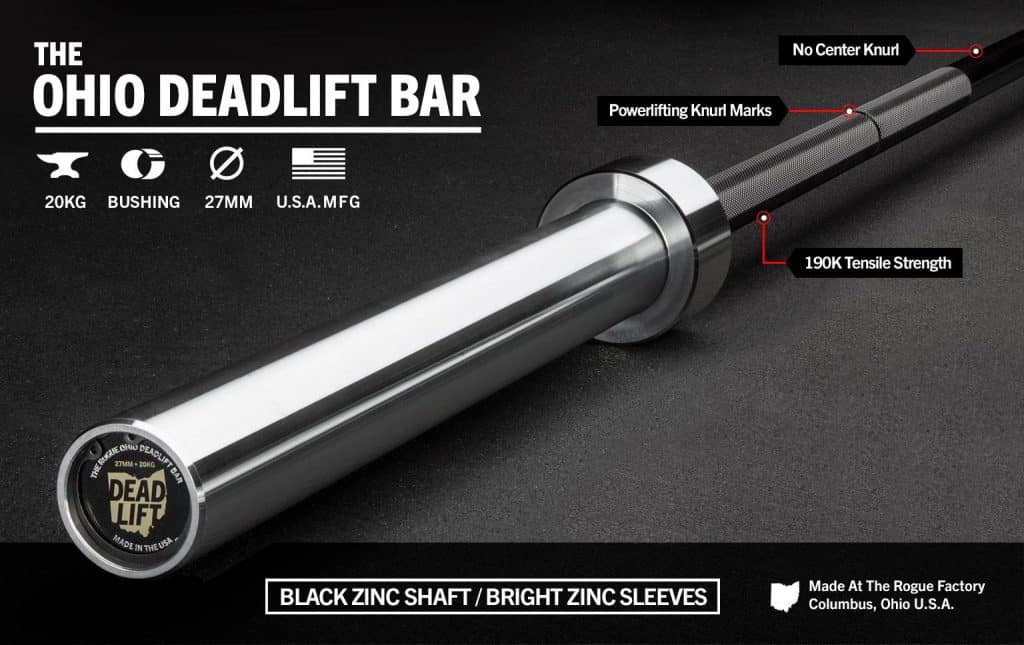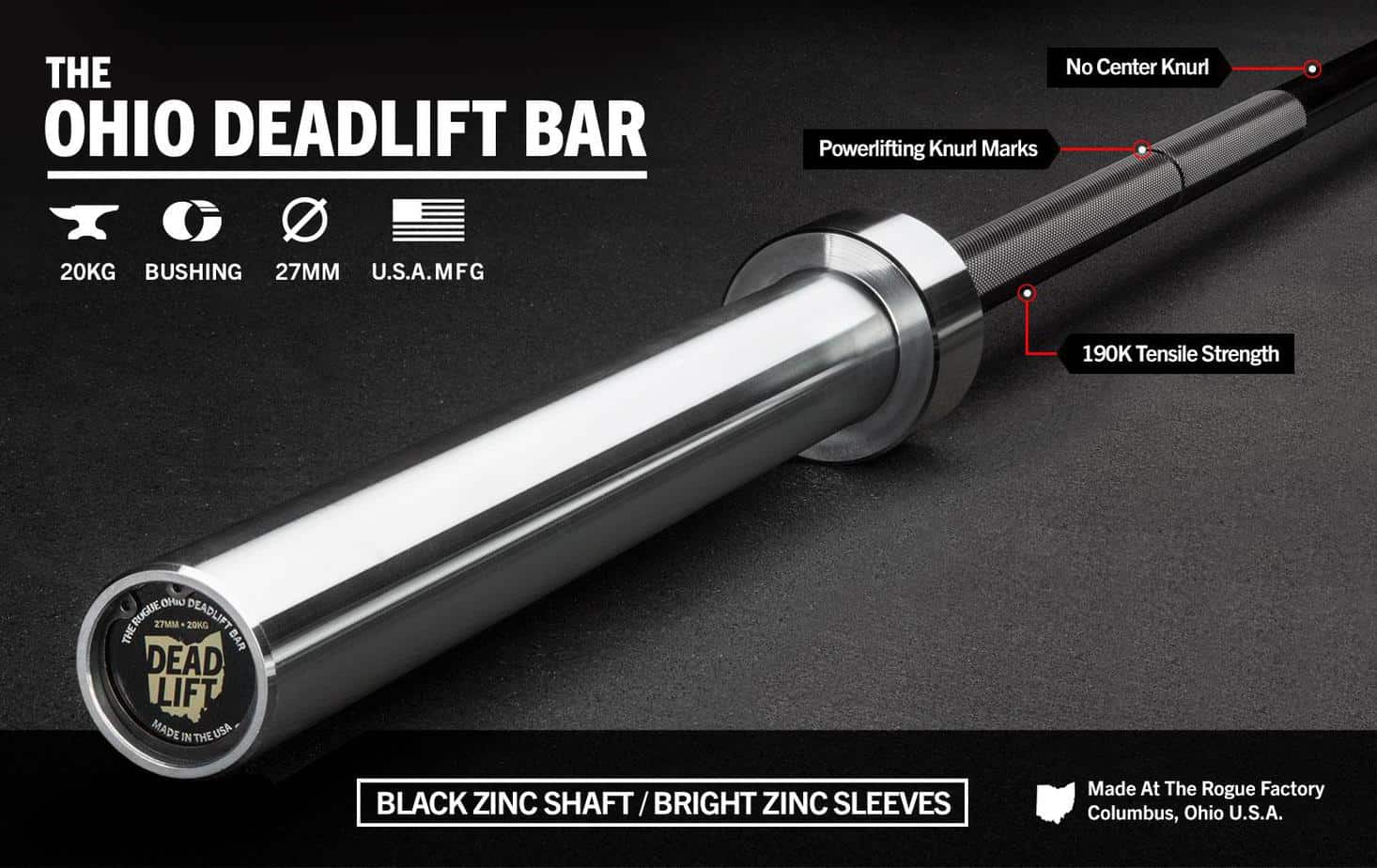 Rogue is known worldwide for consistently producing some of the best lifting equipment for serious enthusiasts and top notch gyms.
The specs of their specialty Ohio Deadlift Bar, are as follows:
Finish options: Zinc, Bare steel, E-Coat, Cerakote
Weight: 20 kg (44 lbs)
Diameter: 27 mm (1 1/16″)
Tensile strength: 190,000 PSI
Knurling: Single (powerlifting)
Knurling feel: Aggressive
Center Knurl: No
Shaft coating: Black zinc, Bare steel, E-Coat, Cerakote
Sleeve coating: Bright zinc, Bare steel, Cerakote
Bar length: 2.3 m (90.5″)
Loadable sleeve length: 39.37 cm (15.5″)
Bushing/Bearing: Bronze bushing
The Rogue Ohio deadlift bar is the best overall deadlift bar because:
The 27 mm diameter affords the lifter an excellent grip vs. the standard 29 mm barbell diameter. As the grip is typically the limiting factor in an athlete's one rep max attempt, this translates in more successful attempts at higher loads.
It offers a good amount of flex, helping you get into a (slightly) more advantageous positioning when deadlifting heavy loads.
It is offered in several different coating types, including zinc.The zinc coating is the best option for getting the knurling's maximum benefits and yet still has rust and corrosion protection.
Quite durable at 190,000 PSI tensile strength, bronze bushings tend to last quite a while versus alternative bushing types.
The Ohio Deadlift Bar is available exclusively from Rogue Fitness.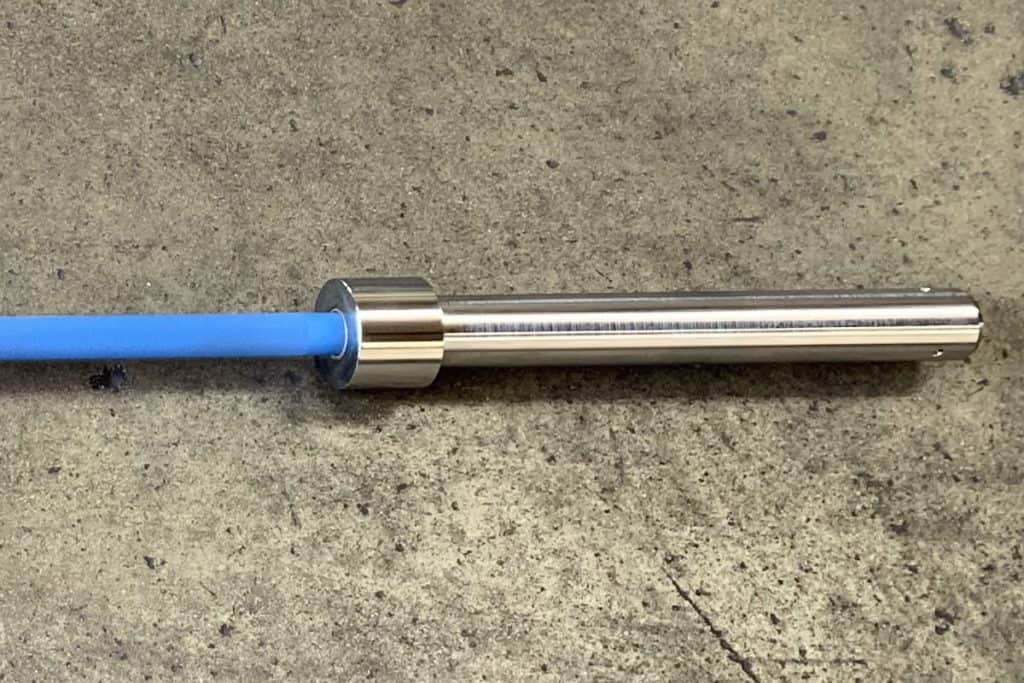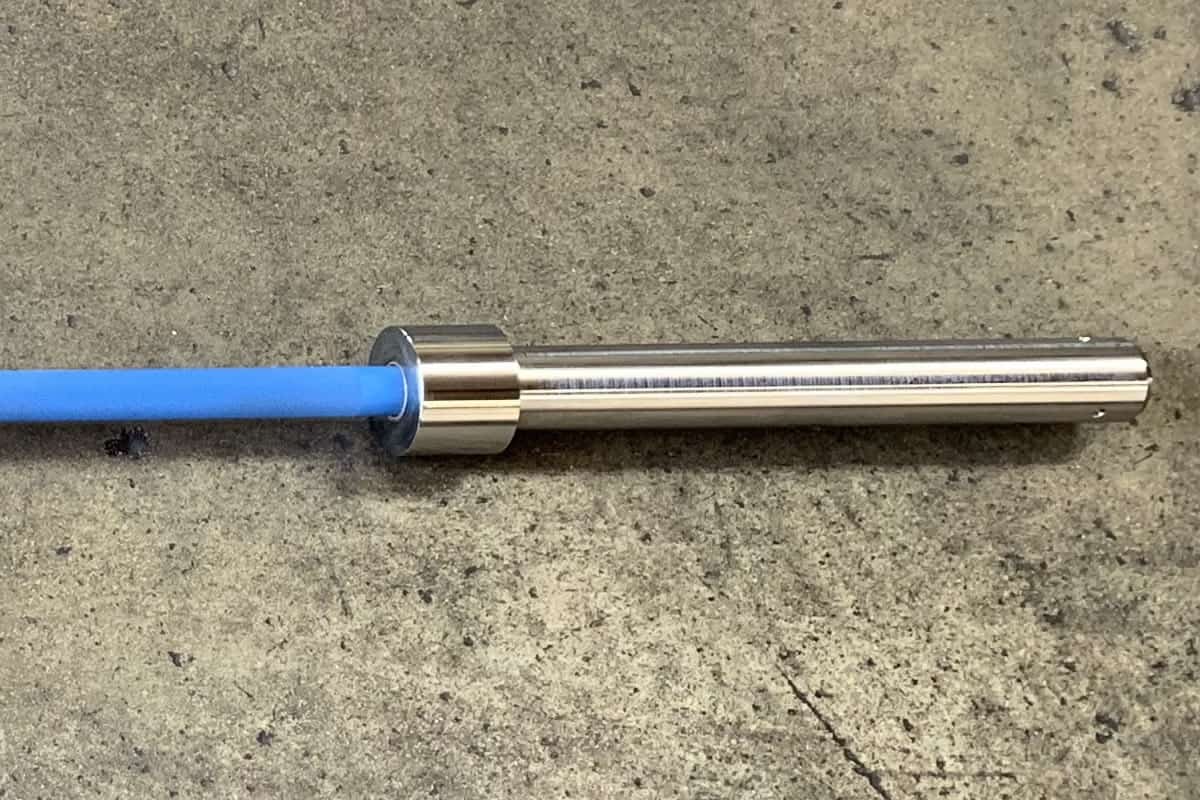 The Texas Deadlift Bar is an undisputed classic.
Its specs are below:
Finish options: Bare steel, zinc, chrome
Weight: 20 kg (44 lbs)
Diameter: 27 mm (1 1/16″)
Tensile strength: 190,000 PSI
Knurling: Aggressive
Center Knurl: No
Shaft coating: Black zinc, bare steel, chrome shaft, Cerakote
Sleeve coating: Bare steel, chrome
Bar length: 2.35 m (92.5″)
Loadable sleeve length: 45.72 cm (18″)
Bushing/Bearing: Not listed
The Texas deadlift bar is, by far, the most customizable option of this lineup because:
You can choose between four different options for your shaft coating (price may vary).
The sleeves' coating can be further personalized, with either bare steel or chrome steel available (price may vary).
Each customized option will still provide excellent deadlift performance, thanks to the ideal 27 mm, aggressive knurling, and incredibly long bar length.
Between the Rogue Ohio Deadlift Bar and the Texas Deadlift Bar, the primary difference is the feel of the knurling.
The Rogue Ohio Deadlift Bar has slightly sharper, more aggressive knurling than the Texas Deadlift Bar.
The Rogue Ohio Deadlift Bar also has more coating options, providing cerakote and e-coat in addition to the standard black zinc and bare steel.
A customization option that is unique to the Texas Deadlift Bar is the ability to choose different finish options for the shaft and the sleeves. One reason to do this would be to get a black zinc finish on the shaft to avoid rust, but forgo such a finish on the sleeves if rust is less of a concern on that portion of the barbell.

The Okie deadlift bar is a long-lived favorite in the powerlifting community, having been around since the 1980's.
Its specs are listed below:
Finish: Bare steel
Weight: 20 kg (44 lb)
Diameter: 27 mm (1 1/16″)
Tensile strength: Not listed
Knurling feel: Very aggressive
Center knurl: No
Shaft coating: Bare steel
Sleeve coating: Bare steel
Bar length: 2.29 m (90.16″)
Loadable sleeve length: 40.8 cm (16 1/16″)
Bushing/Bearing: Not listed
Why is the Okie deadlift bar a solid pick for a classic deadlift bar?
Designed by Rickey Dale Crain – a 700 lb deadlifter – for a truly old school powerlifting experience.
The raw, bare steel barbell has no coating. While this means the barbell will need to be regularly cleaned and oiled in order to avoid rust, it also means the knurling is unaffected by any potential dulling effects that arise from coatings.
This bar has the sharpest, deepest knurling of any deadlift barbell.
The Okie Deadlift Bar is available from Amazon and Unbreakable Gear.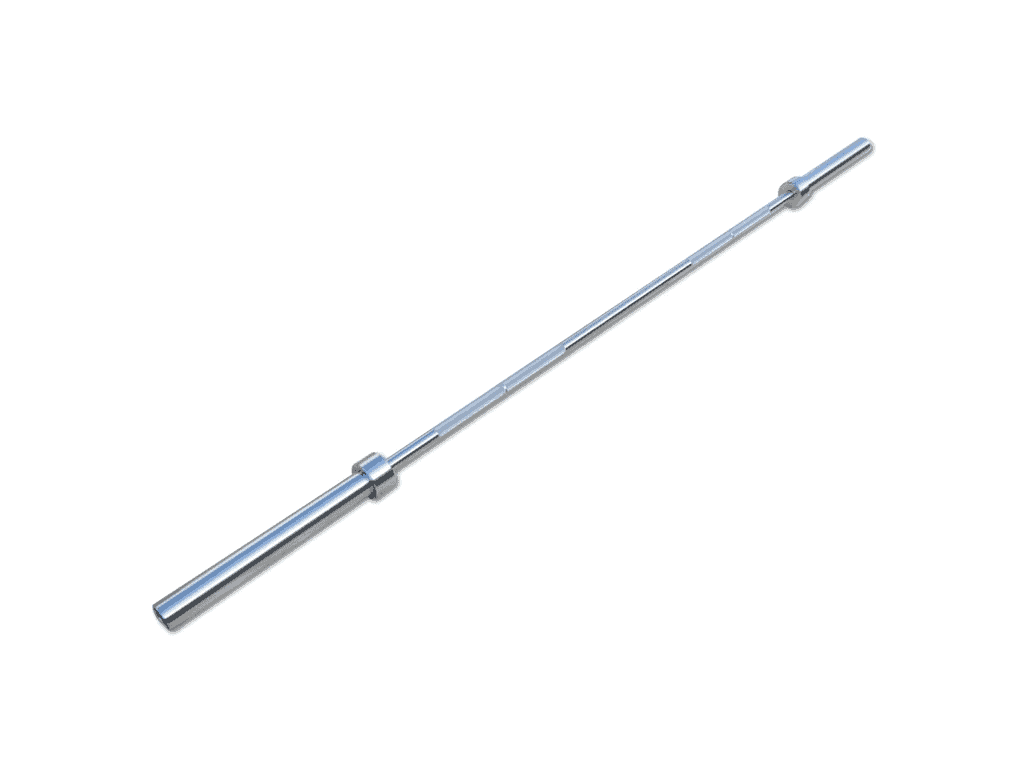 This Strongarm Deadlift Bar is a great solution for those looking for the maximal whip and unique knurling options. It has the traditional knurling spacing for conventional deadlifters in addition to a knurling design exclusively for sumo deadlifters.
Its specs include:
Finish options: Bare steel, hardened chrome plate
Weight: 20 kg (44 lbs)
Diameter: 27 mm (1 1/16″)
Tensile strength: Not listed
Knurling: Course with sharp points
Center knurl: No
Shaft coating: Bare steel
Sleeve coating: Chromium alloy steel
Bar length: 90.9"
Loadable sleeve length: 15.5"
Bushing/Bearing: Not listed
Some unique features of the Strongarm deadlift bar are:
It offers two knurling patterns: one for conventional deadlift and another for sumo deadlifts. The sumo deadlift pattern only has knurling in the middle of the bar, allowing the outer parts of the shaft, the parts most likely to rub against the legs, to be smooth.
Both the Strongarm conventional and sumo deadlift barbells are available from Bells of Steel.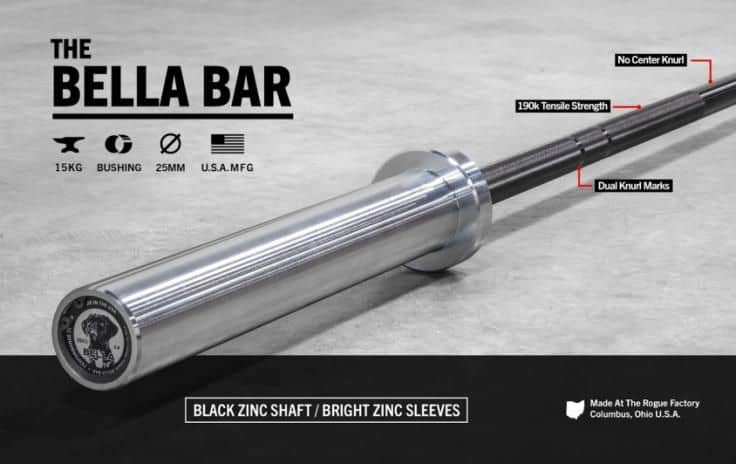 You can't forget the female deadlifters! Or anyone with smaller hands, regardless of gender. Rogue has stood out from the crowd and taken all lifters into consideration with their 25 mm Bella Bar.
Its specs are as follows:
Finish: Bare steel
Weight: 15 kg (33 lbs)
Diameter: 25 mm (0.98″)
Tensile strength: 190,000 PSI
Knurling: Multi (with Dual knurl marks)
Center knurl: No
Shaft coating: Bare steel
Sleeve coating: Bare steel
Bar length: 2 m (79.13″)
Loadable sleeve length: 33 cm (13″)
Bushing/Bearing: Bushing
Some defining characteristics of the Rogue 25mm Women's Bar include:
The 25 mm diameter is way slimmer than the average 28.5 mm diameter barbell and even slimmer than specialty deadlift bars, which tend to be 27 mm in diameter.
It's still graded to 190,000 PSI tensile strength, so just because it's a slimmer bar doesn't mean it's a lower quality bar.
At a relatively light 15 kg in weight, it is easier to use for athletes training with lighter loads.
The Bella Bar is available exclusively from Rogue Fitness.
Why Barbell Diameter is Important for Deadlifting
The average barbell has a diameter of 25-32 mm. However, you'll most often find them with diameters 27-32 mm, which is the range required by most competitive federations. The IPF allows barbells between 28 mm and 29 mm, while the USPA is a bit more lenient and permits the usage of bars between 27 mm and 32 mm in diameter.
The primary reason to pay attention to the barbell's diameter is the security of your grip. With too large of a diameter, you'll struggle to keep your hands around the bar.
This is why many forearm and grip training devices use thick grips – it's more challenging.
On the other hand, a diameter that's too small can be detrimental to your grip as well. However, instead of hindering your ability to hold the entire bar, you're likely to struggle to hold it tightly enough. In this case, you'll get too much slip and also have issues completing the lift.
A 27 mm diameter seems to be the sweet spot between these two extremes.
Larger diameters, such as the 30 and 32 mm options, tend to make the bar much stiffer, reducing its whip. To many, whip (the bar's flex, which can be helpful in building momentum when lifting) is a crucial component of the deadlift, so you'll want to steer clear of these diameters.
Choosing a Shaft Coating
There are four main types of coatings you'll find when shopping for your next deadlift bar (or you may find bars available with no coating whatsoever). Each comes with its own benefits and drawbacks.

Below are the most common finish options, listed from least oxidation resistant to most oxidation resistant.
Bare Steel
With no coating, the knurling's effects are slightly enhanced, as there is no layer of material between your hands and the steel. Because of this, you may be able to sustain a much better grip on your bar. The main drawback for this type is that the bar is much more vulnerable to rust.
Black Oxide
Some weight-lifters don't consider this to be a "true coating." Instead, it's more commonly considered to be a chemical finish, solely for the purpose of sealing the steel. Since it's not exactly a real coating, the knurling feels similar to the no-coat bars. Unfortunately, it needs just as much maintenance as a no-coat bar, too.
Chrome
This is one of the most reliable options for durability and corrosion & rust resistance – as long as the outer chrome coating doesn't get scratched off. It requires some maintenance, but not as much as bare steel. However, chrome coatings are often used to mask poor-quality bars, so be vigilant. Thick chrome coatings are popularly used to hide cheap steel, and can essentially make the knurling disappear entirely.
Black Zinc
If you're working with a modest budget, this may be the best option for you. You'll get the protection from rust and corrosion you're looking for with a true coating at a reasonable price. The downside is that you'll be making a slight compromise on the knurling quality, since the zinc coating adds another layer on top of the ridges. Personally, this is a tradeoff I'm willing to make and isn't a huge obstacle in training.
Stainless Steel
Stainless steel is an alloy combining steel and at least 10.5% chromium. Unlike a chrome coating, stainless steel is resistant to oxidation through and through, even when scratched. Regular cleaning with a nylon brush will keep the bar rust-free for a long, long time.
Cerakote
This coating is made with a ceramic base and originally emerged in the firearms industry. It's known for its relatively thin yet durable nature. Thanks to this coating's thinness, there is limited reduction in the aggression of the knurling and you can still enjoy protection from corrosion, abrasions, and impacts.
Note: Cerakote has been proven to be 100x much stronger than zinc.
How to Know Which Coating is Right for You
The type of shaft coating you choose depends on the environmental conditions you expect to be in when deadlifting, how often you expect your bar to be subject to impacts and abrasions, and how much support you need when lifting.
For example, if you don't expect your deadlift bar to be exposed to any significant moisture levels, and feel that you need increased security for your grip, a no-coat or black oxide option may be best for you. As long as you don't mind doing some regular barbell upkeep.
On the other hand, if you're not too strapped for cash and want your deadlift bar to last for many years, consider opting for a cerakote coating. You'll get the best combination of benefits – protection and great knurling.
FAQs About Deadlift Barbells
What size bar should I use for a deadlift?
Barbells designed for deadlifting typically have a 27 mm diameter, a length of 90″, and weigh 20 kg. These diameter and length dimensions help the lifter deadlift more weight vs. "stiff" powerlifting barbells, which are a bit thicker and shorter.
What's the difference between a deadlift bar and a stiff bar?
A few key characteristics separate deadlift bars from others, such as powerlifting and olympic weightlifting bars. Although you can technically use all of these to deadlift, they are not all "specialty bars" intentionally designed for deadlifting.
In short, deadlift bars are usually a little longer and narrower than typical barbells. These traits, especially the length and how that length is distributed, tend to give deadlifts bars a bit more flex, also known as whip.
The most notable traits that distinguish a deadlift barbell are as follows:
Length: Most standard barbells stretch to approximately 86″, whereas deadlift bars are longer, reaching about 90″. Note that it is not only the entire length of the bar that grows with a typical deadlift barbell, but the distance between the collars as well. This allows the weight to be distributed further toward the edges, contributing to the bar's whip.
Diameter: As mentioned above, deadlift bars are often narrower than other barbells. The ideal deadlift bar should be around 27 mm in diameter for the best whip and grip. Reaching 29 mm and above will result in too much stiffness and stray from the best deadlift experience.
Knurling: You'll often find that deadlift bars have significantly more "aggressive" knurling. This helps the athlete hold onto the bar through a maximal effort lift, which is critical for the deadlift. As heavy deadlifters know, the grip is often the weak link that breaks in an unsuccessful attempt.
Is it easier to deadlift with a deadlift bar?
Yes, it is easier to deadlift with a deadlift bar than with any other barbell type. Because of the unique length, diameter, and knurling mentioned above, the weight is much easier to manage because of its distribution and the bar's whip. These are small advantages that add up.
With the whip, specifically, you'll be able to use the weights' momentum to your advantage. When you lift a deadlift barbell, the bend in the bar helps with pulling the slack out of the bar and pulling from a slightly more advantageous position. This generally starts making a noticeable difference in the 500 lb to 600 lb range. If you're not deadlifting that much any time soon, just stick with an all purpose power bar.
Other, thicker barbells do not have the whip advantage (at least, not as much of it). This can make it tougher to break the weight off the floor.
Further, other specialty training bars can be used for deadlifting. One of the best examples is the hex bar (aka trap bar), which, although it cannot flex nearly as much as a standard, straight deadlift barbell, the shape allows for better ergonomics.
Hex bar manufacturers design this bar to go around your body, so that you can maintain the best possible posture and put minimal to no strain on your back. If you're looking for a way to train similar muscle groups with a lower impact on the back, the hex bar is a good workaround.
For more information, check out this article: trap bar deadlift vs barbell deadlift.
Is a deadlift bar worth it?
Opting for a deadlift bar vs. other barbells is worth considering for folks who deadlift 500+ lbs. The whip, knurling, and extra length can help you handle heavier loads vs. a stiff bar.
What's the difference between a deadlift bar and a hex bar?
The most obvious difference between a deadlift barbell and hex bar is the shape. Whereas the standard deadlift barbell is a classic, straight bar, the hex, or trap, bar has a (quite self-explanatorily) hexagonal shape.
The unique hexagonal shape is meant for you to position the bar around your body, with you in the center. Then, by bending at the knees, you can grip the bar on either side of you, and lift straight upward. This is quite possibly the best option for those struggling with their form, as it prevents you from lifting too much with your lower back.
Hex bars are also designed to reduce the amount of pressure on your lumbar spine, enabling even those with back problems to continue participating in their weight-lifting passion. This can make it a useful rehabilitation option, though you should always consult with a sports physician when recovering from any injury – especially a back injury.
The hex bar also allows a neutral grip with palms facing inward toward the sides of the body. This can make it easier to handle heavier loads vs. a straight bar, as the grip is stronger in the neutral position.
Remember, when lifting a classic barbell, you don't only need to pull the bar up, but you have to resist your body from falling forward. This is because, as you bend down in a conventional or sumo deadlift the weight is (obviously) in front of you, throwing off your center of gravity. As you lift, you must restore your natural center of gravity as you work to pull the weight from the floor.
The hex bar does not require this, and instead, demands only that you pull the weight up and only up. This can be a huge relief to your back and is a good solution to those not lifting in competitive settings.
How to Choose the Best Deadlift Bar
Now that you know all the crucial components of a deadlift bar, you need to learn how to prioritize these characteristics and determine which combinations make the best bar for you.
Still, there's a time for general guidelines, and a time for specifics. Follow the steps below to select the bar that's perfectly designed for your body and lifting style:
Determine your budget. Not all deadlift bars are expensive. In fact, you can get a hold of some for less than $100! Decide on your ideal price tag and work from there to see which are the best characteristics you can get for your buck.
Think about the coating. Consider how disciplined you're willing to be with cleaning and maintaining a bare steel or stainless steel barbell. If you're like me, the honest answer is probably "not very much." At that point, black zinc or Cerakote are the most practical options for ensuring a long, productive life for the bar.
Consider tensile strength. If you're buying for the long term, look for a tensile strength of at least 165,000 PSI, with 180,000 PSI being a standard of durability. If you don't see the tensile strength advertised, approach with caution.
Each individual will benefit from different sets of characteristics in deadlift bars than others. You may even discover that there are several different types that work for your body and lifting style, each with different benefits for different times.
Follow these steps and be mindful of these characteristics while searching for your next deadlift bar, and you're sure to improve your training sessions.
Conclusion
It's tough to choose between all the deadlift bars available on the market. Yet, with this "best of" list and buying guide, you can't go wrong. Specifically, you're sure to get the best results when choosing either the Rogue Ohio Deadlift Bar or the Texas Deadlift Bar.
These two stand far above nearly all other deadlift bars available today, primarily due to the maximum whip, strong knurling, and perfect diameters.
The Texas Deadlift Bar is specifically made for deadlifting, which is apparent in its dimensions and rebound. With multiple coating options, the 27 mm diameter, and aggressive knurling, it brings a lot of great features to the table.
Although the Rogue Ohio is a bit shorter, this specialty deadlift bar has several excellent coating options and will still provide that whip and 190,000 PSI strength you're looking for.
Happy lifting!