Hey there Adderall, is this you? Dark Labs brings us version two of Adrenaline, a highly intense energy and focus formulation.
This product isn't for everybody, it is formulated for stimulant junkies or someone looking for increased performance. This product contains DMHA, an illicit stimulant that may cause a false positive in drug screenings. I would recommend this product to anyone not sensitive to alpha yohimbine and to those needing that extra energy that pre-workouts give.
Thank you, Jake from Nutricartel, for sending this full product for review!
High-stim capsules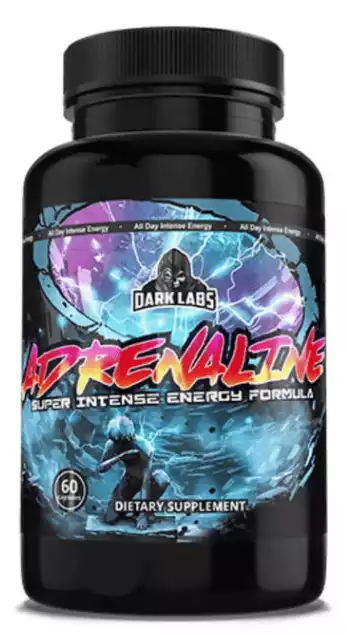 Adrenaline Fat Burner – Dark Labs
Formulated for stimulant junkies or someone looking for increased performance.
Discount Codes:
LIFTVAULT = 15% off at Nutri Cartel
Caffeine: 200 mg
DMHA: 175 mg
Eria Jarensis: 100 mg
Caffeine Citrate: 100 mg
Shop Nutri Cartel
Lift Vault earns a commission if you click this link and make a purchase at no extra cost to you.
Where to Buy Adrenaline by Dark Labs
You can buy Adrenaline by Dark Labs from the following retailers:
Experience
Depending on my digestion, i.e., consumption of larger meals the night before or the day of, the effects start around 10 to 15 minutes. I started to notice increased energy, similar to alpha yohimbine, as the jitters started to ramp up. A noticeable enhanced focus and productiveness began around 25 minutes at a level of 5/10. By 30 minutes, the energy couldn't be contained, and I needed to move around.
The important thing to consider about taking energy pills versus fully formulated pre-workouts is that other ingredients take time for digestion, which can inhibit the effects of the stimulants. This is a pertinent disclosure, as many people may jump into taking two capsules immediately. This may seem less dosed on stimulants than a high stimulant pre-workout, but the noticeable effects of these ingredients in one capsule are very potent.
The alpha yohimbine jitters went from a 6/10 into a 4/10 as it leveled out and the DMHA kicked in. This occurred around 40 minutes after ingestion, which was good as I did not need the jitters to continue ramping up. At this same time, 40 minutes, I could feel my core body temperature increasing, especially around my ears and on my arms. This is where the magic hour occurred, where everything tied in together. I had a productive focus, which was not overly intense, and my energy levels were around a 6 out of 10.
An 1.5 hours later, perspiration began. The energy was sustained for over 4.5 hours before it seemed to taper off. And the focus maintained well at a level of 6 before tapering off around the same time. I never felt the need to add an additional capsule later in the day, as I give myself plenty of time to keep my stimulant tolerance low.
If you need two capsules of this version, I think it is time for you to have a stimulant detox and adrenal reset. If anybody reviews this on two capsules, they either lie about how much they are taking or receive a pre-release formula.
Side Effects
This is a hardcore pre-workout energy pill; if you try to abuse or overuse it, you will experience issues.
Dose/Serving Size
The serving size is one capsule, and a suggested additional pill can be used 4-5 hours later depending on tolerance. The total serving amount per capsule adds up to 656 mg in active ingredients, and taking the capsule into consideration, it weighs around 113 mg alone (I emptied and weighed it). This brings the total mg weight of each capsule to the expected 769 mg before adding additional ingredients.
I mention this because I have measured all 60 capsules in the bottle, and the weights vary around 585-710 mg with a mean of 690. I assume there is a standard margin percentage for packing capsules, but I am making a point that none of the pills are packed too much for overdosing on two capsules. If you take two capsules, you won't be taking a serving size greater than double.
I always took one capsule each time, as I felt the effects were plenty potent at this serving. I did take this once while working, which aided my energy levels, productivity, and performance. When the Jitters were occurring at work, I felt I was trying to keep my s*** together so no one would notice my Adderall-like behavior. I never used this as a fat burner, although it could be compared and utilized as one. Nor did I add it into a stack with a non-stimulant or lowly dosed pre-workout, but it would help bring up the effectiveness of a lagging product.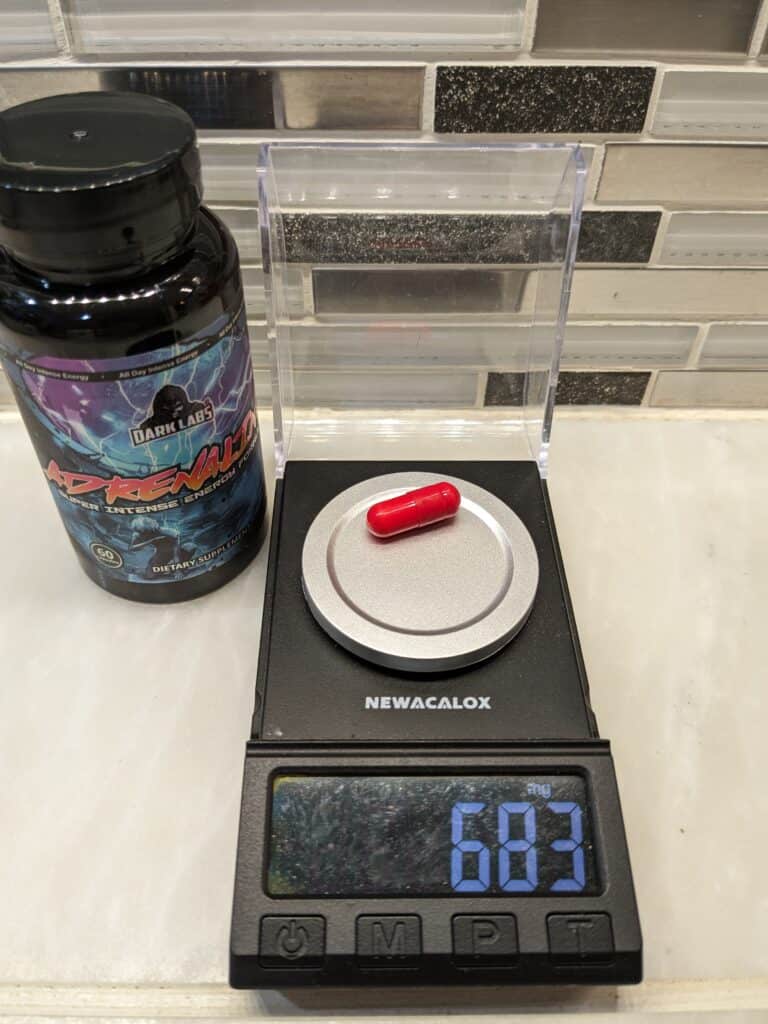 Ingredients
This is the second version of this product, with many notable changes. This product is designed for someone acclimating to high stimulants, as I could not imagine taking this with a high sensitivity to alpha yohimbine. They do make a similar product that contains just DMHA, called Euphoria. One day DMHA will not be around, so grab a bottle and save it for the hard times ahead.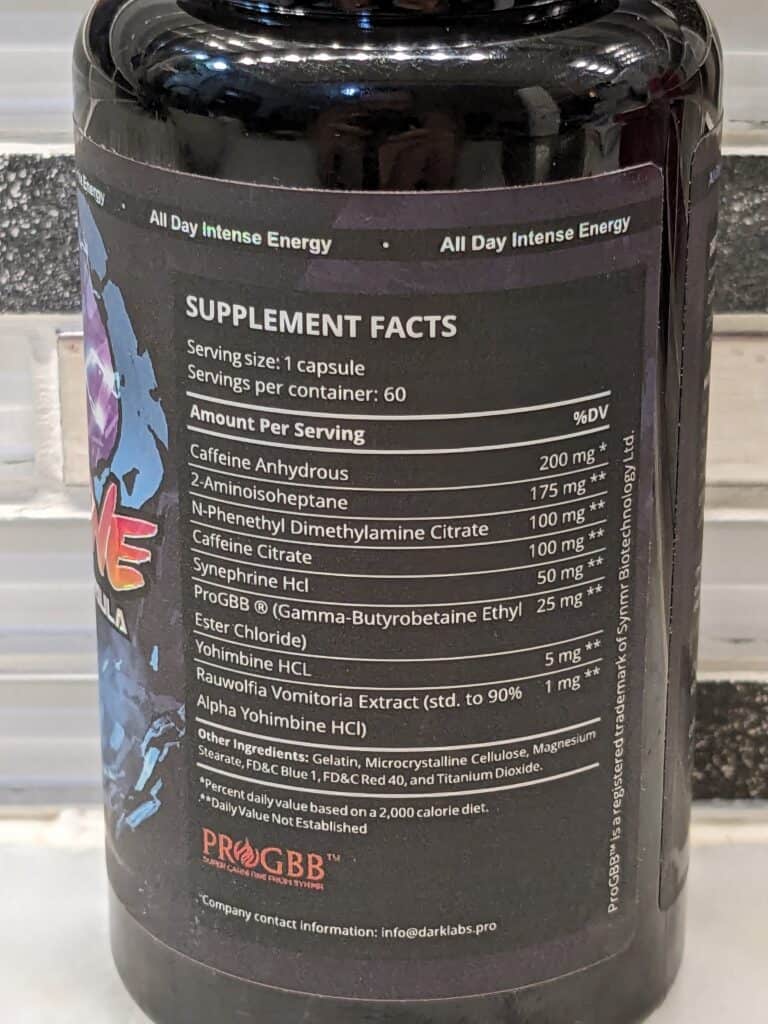 Caffeine – 200 mg
Caffeine anhydrous is the standard form of caffeine, known for increasing energy, alertness, motivation, and mood. The caffeine content varies for each product. The 350-450 range is the typical dosage for sports supplements, and some products may contain other forms, such as di-caffeine malate or citrate, as found below.
Less is more, as your dependency will lead to diminishing returns as you increase your intake. The overall combinations of many factors, such as sleep, when you take caffeine, diet, and nutrition, affect how much you will need. Don't let the dosage confuse you on how strong a product is, along with other caffeine forms, but look for other stimulants like the DMHA and others found in adrenaline.
2-Aminoisoheptane (DMHA) – 175 mg
DMHA is a stimulant similar to DMAA, which boosts energy, focus, and mood. DMHA shares similar effects as DMAA but requires a larger dosage. This made it a popular pre-workout ingredient for replacing DMAA in DMHA pre-workout supplements.
It comes in many different forms: juglans regia extract, English walnut extract, 2-aminoisoheptane, kigelia africana, octodrine, 2-amino-5-methylhexane, 2-amino-6-methylheptane, 6-amino-2-methylheptane, 2-isooctyl amine, 2-heptylamine, 6-methyl-, 2-metil-6-amino-eptano, amidrine, vaporpac, 1,5-DMHA, and 1,5-dimethylhexylamine. Read about the comparison of DMAA vs. DMHA here.
The dosage found in adrenaline is 175 mg, above the industry standard but varies based on the product. However, just because it says something on the label doesn't necessarily mean you will always "feel" it due to different sourcing purities. It isn't often at all anymore to find this ingredient with DMAA, so try lightly if you are not used to hardcore supplements like this.
N-Phenethyl Dimethylamine Citrate – 100 mg
Eria Jarensis is a stimulant frequently seen alongside DMHA in high-stim pre-workouts.
100 mg is a suitable dosage for this ingredient; being an exotic stimulant and others found in this product, it isn't clinically studied but isn't currently the highest on the market. The most eria jarensis I've ever seen in a pre-workout is 500 mg with Flame Pre-Workout (which is fantastic).
Caffeine Citrate – 100 mg
Caffeine citrate is a faster-acting version of caffeine when compared to caffeine anhydrous. It's not very common in supplements. Some popular pre-workouts, like Wrecked Extreme and M2, include this ingredient.
Caffeine Citrate is usually 50% Caffeine and 50% Citric Acid, meaning the 50 mg included yields 25 mg of actual caffeine.
Synephrine HCl – 50 mg
Synephrine is a well-researched ingredient shown to aid in weight loss. "In general, bitter orange extract alone (p-synephrine) or in combination with other herbal ingredients did not produce significant adverse events such as an increase in heart rate or blood pressure or alter electrocardiographic data, serum chemistry, blood cell counts, or urinalysis. p-Synephrine alone and in combination products were shown to increase resting metabolic rate and energy expenditure, and modest increases in weight loss were observed with bitter orange extract/p-synephrine-containing products when given for six to 12 weeks." Synephrine Meta-Analysis. The typical range for synephrine is 10-50mg, which is supported by evidence for fat-burning effects.
ProGBB (Gamma-Butyrobetaine Ethyl Ester Chloride) – 25 mg
ProGBB or Gamma-Butyrobetaine Ethyl Ester Chloride (GBB) is a molecule converted to carnitine in the body. This process can support fat loss, increase vasodilation, and increase body temperature. The recommended dosage of GBB is 25-50 mg, which the former could be taken twice daily. Mike from PricePlow provides an excellent breakdown of GBB (Link).
Yohimbine HCl – 5 mg
Yohimbe stimulant is a very popular ingredient in many supplements. It has a variety of uses and can serve as an appetite suppressant, fat burner, aphrodisiac, mood elevator, and performance and focus ingredient. Yohimbe is a tree native to central and western Africa, and the bark of the tree produces an alkaloid called yohimbine. Depending on the quality of the extract, it can be very potent, so dosing varies with different products or brands.
Rauwolfia Vomitoria Extract (std. To 90% Alpha Yohimbine) – 1 mg
Rauwolfia Vomitoria Extract, or Alpha Yohimbine, or simply "alpha yo," is a "love it or hate it" stimulant. Some individuals are susceptible to alpha yohimbine and avoid any pre-workout with it outright. Common adverse side effects include anxiety, headaches, sweating, frequent urination, and increased blood pressure.
If you are sensitive to the effects of Alpha Yo, I'd suggest starting with ½ – ¾ of a serving just to assess if the effects are too strong for you.
Adrenaline by Dark Labs: 4.8 / 5
Adrenaline by Dark Labs will not be around forever, nor will this version, as they are always changing formulations. DMHA is contained in this product, which is on the FDA watch list and can potentially cause a false positive in drug screenings. I enjoyed using this energy aid, for improved energy and productivity.
Adrenaline Pre-workout Review
Summary
Adrenaline by Dark Labs will not be around forever, nor will this version, as they are always changing formulations. DMHA is contained in this product, which is on the FDA watch list and can potentially cause a false positive in drug screenings. I enjoyed using this energy aid,  for improved energy and productivity.
Pros
Improved performance
Mental clarity
Intense energy
Strong focus
High-quality and potent ingredients
Effective cardio aid
Appetite suppression
Thermogenic
Excellent clinical and efficient dosages
Cons
 Measured weights inconsistent