Afterdark is here with another unique formulation that features their creatine complex and the use of the nootropics noopept and alpha gpc. This could pair up with their products for an even more inhuman experience.
I like to recommend pump products, or non-stimulant-based ones to everyone who uses caffeine-based or high-stimulant pre-workouts. This is a good way to help decrease your caffeine tolerance build-up and adrenal fatigue from day-in and day-out usage.
Thank you, Jake from Nutricartel, for sending this full product for review!
Nootropic Non-Stimulant!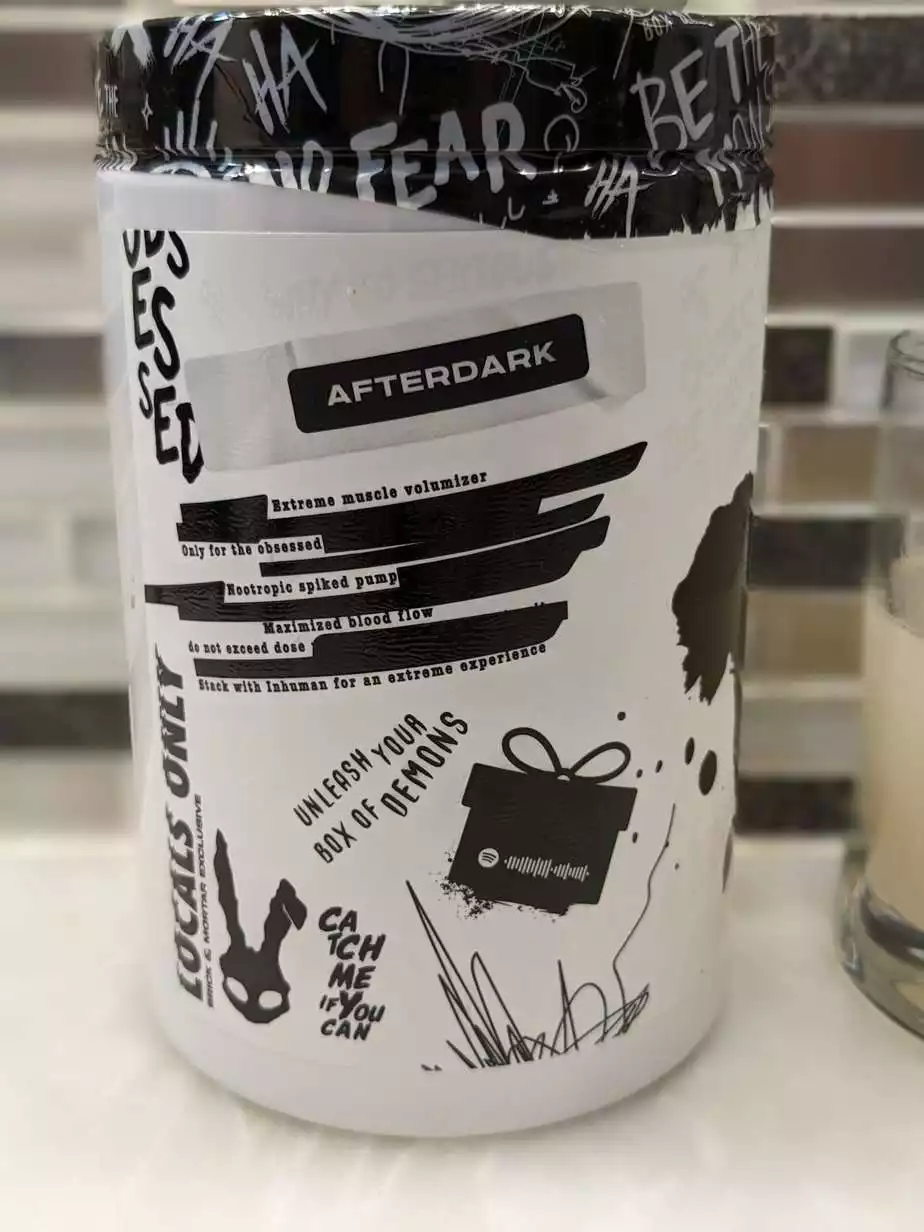 EPO+ Pump Pre Workout - AfterDark Supplements
A pre-workout supplement with a unique formulation that features a creatine complex and the use of the nootropics noopept and alpha gpc.
Discount Codes:
LIFTVAULT = 15% off at Nutri Cartel
Creatine Complex:
NeuraChol:
Noopept: 10 mg
Shop Nutri Cartel
Lift Vault earns a commission if you click this link and make a purchase at no extra cost to you.
Where to Buy EPO+ by Afterdark
You can buy EPO+ by Afterdark from the following retailers:
Experience
I typically try to avoid caffeine on non-lifting days, but due to life and the opportunities for reviewing these products, I have to cycle on and off all stimulants. Having a pump product on hand can add the missing pump to a pre that for an extra edge in muscle growth. You could add your favorite fat-burner to stack with pump products as well.
After 15 minutes, I noticed slight focus at a 3/10, which increased to a 6. Over the next 30, I had increased muscle contraction when performing cardio or warm-up exercises, notably due to the electrolytes and creatine.
Under a load of weights and intense activity, I had fullness in my muscles with a nice skin stretch. Nothing was skin-splitting where I needed to stop the exercises, but it felt wet and full. I often developed DOMS (delayed onset muscle soreness), which correlated to EPO+ due to the increased volume in the corresponding muscle tissues.
The focus was steady and disappeared slowly with no mental fatigue. Lastly, I didn't notice much-increased vascularity, but I could tell I had improved circulation.
Side Effects
I didn't experience any effects that were negative while using this product.
Flavor
"Sour Buddy" was the flavor I was sent for review. It was smooth with no tart, just a slight tang and red gummy flavor. The flavor desirability was about a 9/10.
There isn't a suggested amount of water, but 8-10 ounces seemed right. I most enjoyed around 10 ounces of water, as it is a bit too gritty if not enough water for the mixture. Since it does contain glycerol, you will want to have plenty of water ingested or hydrated for the maximum volume of the pump.
Dose/Scoop Size
The serving size is 19.5 grams for a whole serving, which is an almost completely leveled scoop. I shake my supplements before using them, especially the first time, but not every time. This gave a fluffiness to the product, but it didn't affect the measurement much, so the level scoop I had was the same as anyone else.
I only used a full serving each time, which hit precisely how I needed it. Afterdark gives 21 servings, a little more than the current market standard 20. The mixability was good, with a very minor amount of sediment toward the end of the shaker, but a swirl takes care of it.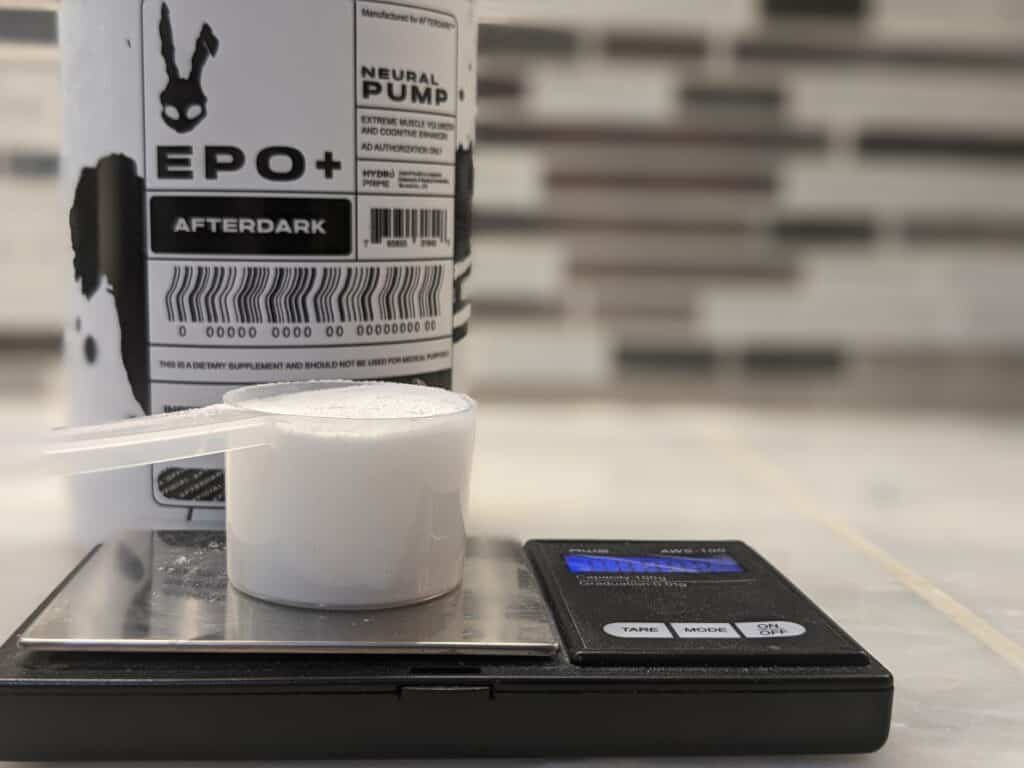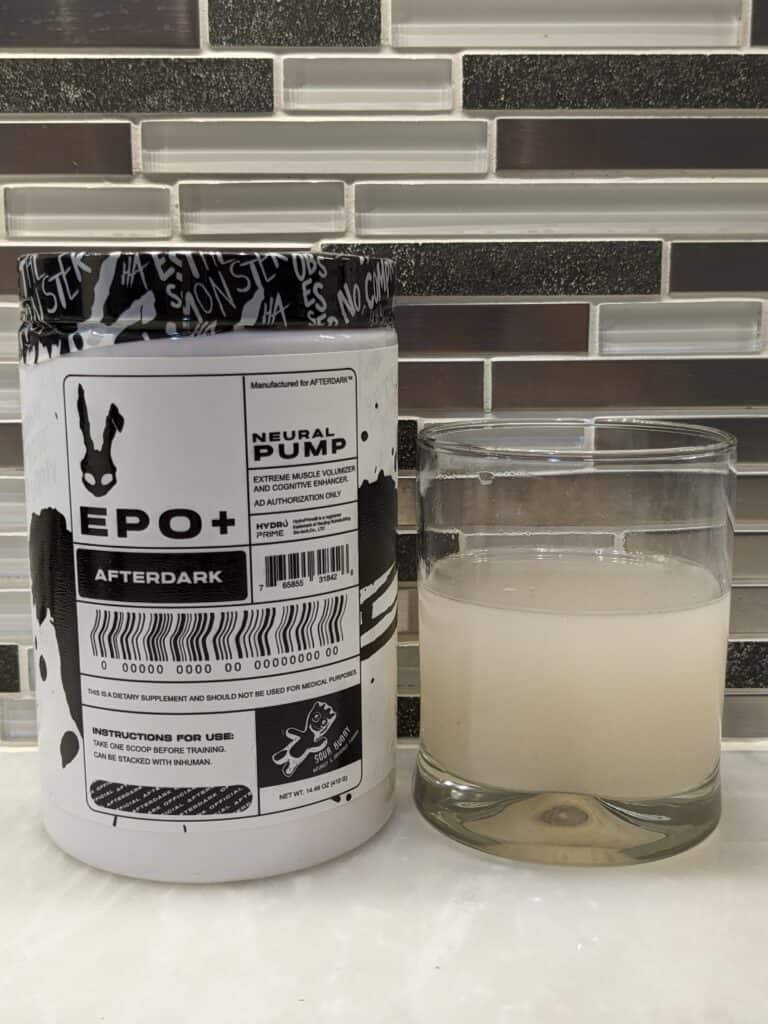 Ingredients
This is a unique, nootropic-based, stimulant-free pre-workout, which features many pump enhancers in addition to a full array of electrolytes to give an enhancement to the pump.
Hydroprime is a water-based ingredient, which means you need more water for it to work as great as it can, and the electrolytes will use intracellular water for hydration on the muscle fibers if your intake lacks. On the label, I would recommend some variation of the ingredients currently in here, but due to effectiveness, I feel they work very well with each other.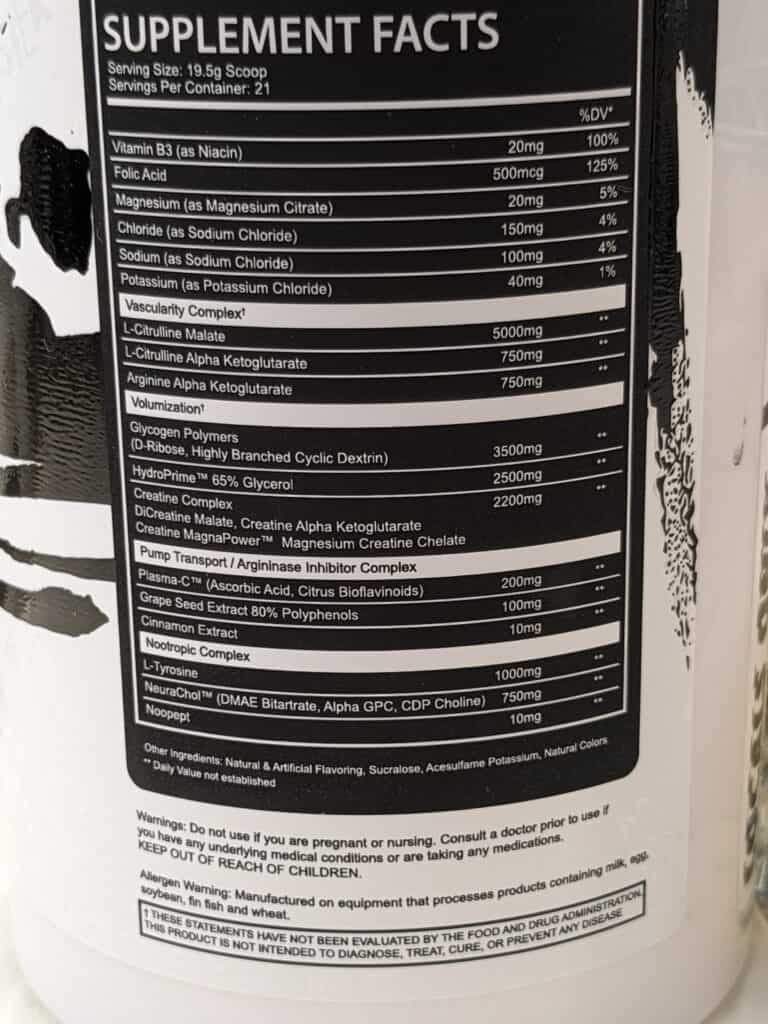 Vitamin B3 (Niacin) – 20 mg
Niacin, also known as vitamin B-3, has a wide array of benefits, ranging from increasing HDL cholesterol (the "good" cholesterol) concentrations, reducing LDL cholesterol concentrations, and reducing the concentration of triglycerides.
Research shows niacin can increase blood flow through various mechanisms. The research is limited and conflicted, so niacin is rarely included in pre-workouts. Niacin also helps your body produce optimal amounts of ATP, the energy source for muscle contraction. Thus, ensuring you have enough Niacin is a worthwhile endeavor for a pre-workout supplement. This will give you that flush feeling, similar to the paresthesia tingles from beta-alanine.
20 mg of niacin is a medium but normal dose in sports supplements. It is slightly above the recommended daily dosage for men (16 mg per day) and women (14 mg per day), as you can obtain the rest from a healthy diet. Good sources of niacin include fish, beef, chicken, turkey, mushrooms, and brown rice.
Magnesium – 20 mg
Similarly to phosphorus, magnesium is used to produce ATP. Low levels can cause muscle soreness or contractility issues. Although most people reach for high-potassium foods to address muscle spasms, they are typically caused by low magnesium levels. Depending on your diet, it can be very important to supplement with magnesium to aid recovery.
Chloride – 150 mg
Chloride is often overlooked in electrolyte discussions, but it's an important member of the electrolyte family. Chloride is the body's most abundant anion (negatively charged atom or molecule) and is critical in keeping us alive.
Chloride is necessary for basic and complex breathing processes, digesting food, fighting disease, balancing cell fluid, and more. Chloride is a key part of any electrolyte mix because the body loses it through sweat.
Sodium – 100 mg
Sodium is the most important electrolyte since it is readily lost through sweating. Sodium dosage depends on which source you look at, but all electrolyte products contain various amounts ranging from 50mg to 1g (as seen in LMNT). The proper dosage depends on your unique needs, diet, exercise, and nutrition, which is affected by previous medical history (i.e., hypertension). Sodium affects the taste and isn't desired by all users.
Potassium – 40 mg
Potassium is an essential mineral that regulates blood pressure and contractility of the heart tissues. It helps reduce muscle cramps and weakness in the muscle fibers. High potassium dosages aren't typically found in supplements due to the effect on the body when ingested in large amounts. Potassium is typically found in fruits, some vegetables (bok choy, potatoes, beets, bananas, broccoli, avocados, and more), and cream of tartar powder.
L-Citrulline Malate – 5 g
L-citrulline is one of the most common pre-workout ingredients. Extensive evidence supports its ability to increase nitric oxide production, power output, pumps, blood flow, and endurance. It is typical for this ingredient to contain malic acid mixed in a 2:1 ratio per the clinical studies. Malic acid has some benefits similar to beta-alanine, and these ingredients aren't in a chemical bond. and some products may list malic acid as a separate ingredient.
You want four to six grams of pure l-citrulline for proper clinical dosage, although multiple pump enhancers may make it unnecessary in higher dosages. If the ratio is on the label as 2:1, a 10-gram dose would contain close to 6.6 grams. Per the clinical trials, daily supplementation is required to obtain the full benefits.
L-Citrulline Alpha Ketoglutarate – 750 mg
L-Citrulline AKG, or Citrulline AKG, combines two compounds, L-Citrulline and Alpha-Ketoglutarate (AKG), with similar effects as listed above and below.
Arginine Alpha Ketoglutarate – 750 mg
While arginine is important for blood flow and boosting nitric oxide levels, direct oral supplementation has not been shown to increase blood flow in humans reliably. This may be due to poor absorption. For that reason, l-citrulline or l-citrulline malate is preferable for exercise supplementation.
Glycogen Polymers (D-Ribose, Highly Branched Cyclic Dextrin) – 3.5 g
Glycogen polymers are a glucose ingredient that helps supply the body with a quick burst of energy when digested, which can cross the blood-brain barrier for cellular metabolism.
HydroPrime 65% Glycerol – 2.5 g
HydroPrime is a highly concentrated powdered form of glycerol. It's broken down into 65% glycerol and 35% silica, and it is a more potent form of glycerol than glycerol monostearate. Noted benefits of glycerol are enhanced performance, increased muscular pumps, and supporting proper hydration levels.
From PubMed, the hyperhydration effect of glycerol can be used to fight off heat exhaustion. 2.5 grams should be noticeable with pumps, but more is better with proper hydration for this ingredient.
Creatine Complex (DiCreatine Malate, Creatine Alpha-Ketoglutarate, Creatine MagnaPower, Magnesium Creatine Chelate) – 2.2 g
This is a creatine blend that helps support the absorption of these ingredients, and at this high dosage, it may get close to replacing the daily creatine intake for some.
Clasma-C (Ascorbic Acid, Citrus Bioflavonoids) – 200 mg
Vitamin C, or ascorbic acid, is a water-soluble vitamin essential for human health. It plays a crucial role in various physiological functions and is well known for its antioxidant properties. Many important functions include antioxidant protection, collagen synthesis, immune system support, iron absorption, and neurotransmitter enhancement like dopamine and norepinephrine.
Sources of vitamin c include various fruits and vegetables, including citrus fruits (oranges, lemons, grapefruits), strawberries, kiwi, bell peppers, broccoli, and brussel sprouts. Dosages can vary from 500 to 1,000 mg daily.
Grape Seed Extract 80% Polyphenols – 100 mg
Grape seed extract is an antioxidant and can help improve blood flow, which is often added to pump products. Dosages for grape seed extract are 150-300 mg, making this product a low dose. Many other products that include this ingredient are similarly dosed at 25 mg, so the effect might be appropriate from a pump aspect. Read more about the many benefits associated with grape seed extract on Examine.
Cinnamon Extract – 10 mg
Cinnamon extract is a concentrated form of the active compounds found in cinnamon, a popular spice derived from the bark of trees belonging to the cinnamon genus. Cinnamon has been used for centuries for its flavor, aroma, and potential health benefits. Cinnamon extract is often taken in supplement form for its potential health-promoting properties.
These benefits include antioxidant properties, anti-inflammatory effects, blood sugar regulation, antimicrobial properties, heart, and brain health.
L-Tyrosine – 1 g
L-tyrosine boosts cognitive performance in stressful environments. Pre-workouts include it as a focus ingredient and help achieve anti-stress effects. The typical dosage range is 500 mg to 2,000 mg for exercise.
NeuraChol (DMAE Bitartrate, Alpha GPC, CDP Choline) – 750 mg
These ingredients are cholinergic compounds that are produced within the body. It is used for enhancing cognition and increasing power output. Based on several studies, dosages should be between 300 and 600 mg for alpha GPC and around 500 mg for CDP. At 750 mg, this is below the typical dose found in pre-workouts, but it may be right on par with pump products.
Noopept – 10 mg
Noopept, known as N-Phenylacetyl-L-prolyglycine ethyl ester, is a synthetic nootropic ingredient with cognitive boosting and psychostimulatory effects. 10 mg is a decent dose of noopept, but the range is typically upwards of 30 mg.
EPO+ Neural Pump Pre-Workout Review
Summary
I enjoyed my review of EPO+, as it served a great purpose for my goals this summer. I had opportunities to use this in addition to fat burners in a few situations, which allowed me to review those products without sacrificing my performance in the gym. In addition, I had decreased my stimulant tolerance by cycling to this product in my 4-6 week rotation off. I recommend this product to individuals looking to improve their muscle contraction and the stretch of muscle fibers to help muscle growth.
Pros
Solid wet pumps
Good focus
Improved circulation
Added electrolytes
Creatine complex
High-quality ingredients
Efficient dosages
Tasty flavor
Unique formulation