Darkshred is a fat burner supplement from Alpha Neon. Darkshred will give you the energy, focus, thermogenic, and diuretic effects for a strong cardio session after a cheat meal. It has an impressively loaded label listing 1.5 g Carnitine-Tartrate, 700 mg Dandelion Extract, 500 mg Horsetail Extract, 500 mg Cordyceps, 394 mg total caffeine (from anhydrous and guarana seed), 200 mg White Willow Bark, 200 mg Forkshiil Root Extract, 50 mg Grains of Paradise,
I would only recommend Darkshred for advanced users of pre-workouts or fat burners due to the intense thermogenic effects and energy.
I tried Darkshred three separate times, once with a pump product for a lifting day and twice for fasted cardio. Every time, the thermogenic and diuretic effects were strong along with the energy.
Read on for additional details of my experience, the best prices for the Darkshred fat burner, and a breakdown of its ingredient label.
Thank you to Supp Kingz for providing this product to Lift Vault for a review.
Long-lasting energy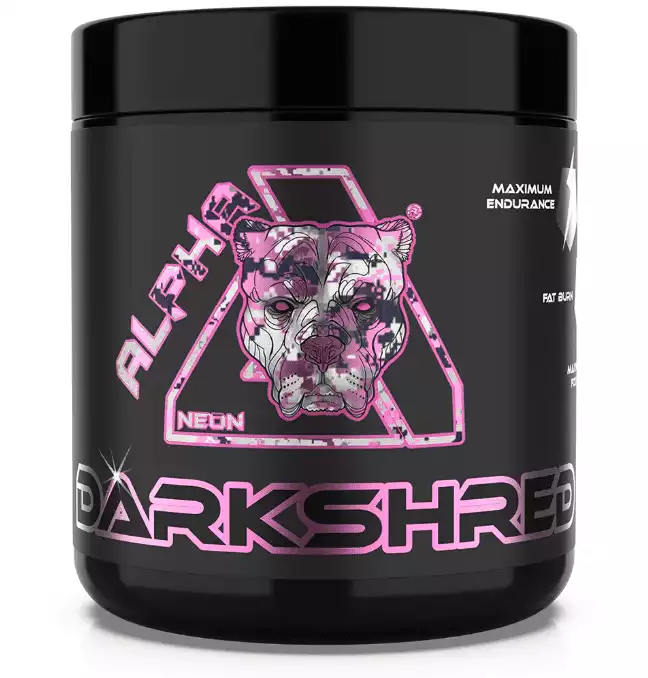 Darkshred Pre-Workout - Alpha Neon
Darkshred is an intense, thermogenic, sweating supplement. It provides incredible energy.
Discount Codes:
LIFTVAULT15 = 15% off at Supp Kingz
L-Theanine: 250 mg
Caffeine Anhydrous: 350 mg
Shop Supp Kingz
Lift Vault earns a commission if you click this link and make a purchase at no extra cost to you.
Where to buy it
You can purchase Alpha Neon Darkshred pre-workout at the following retailers:
My Experience
Darkshred made me sweat A LOT and gave me quite a bit of energy, so if you try this, be prepared to sweat.
Effects
I began to feel the sudden energy within 10-15 minutes and only kept increasing, with a significant thermogenic effect building as well.
This product made me sweat intensely, so I drank more water.
There were no adverse side effects, just significant sweating.
Flavor
I tried the Lemon and Lime flavor. It was pretty sweet and not too sour, as some Lemon Limes can be. It had no chemical taste. Overall, I'd give it an 8 out of 10. The only other available flavor is Grape.
Scoop Size
A whole serving is 8-grams, which comes out to a rounded scoop as shown below. Here is what a full scoop looks like.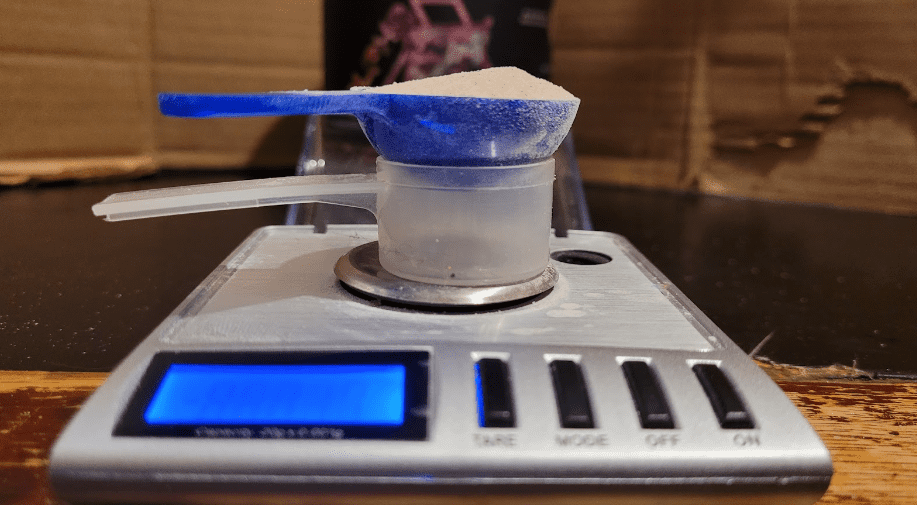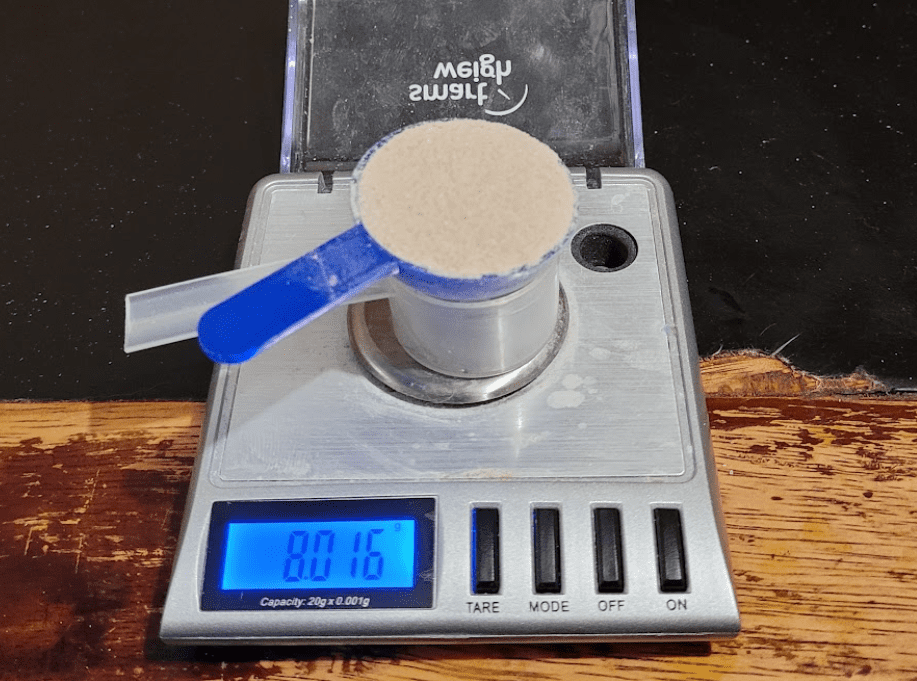 Ingredients
Below you'll find the ingredients label for Alpha Neon Darkshred pre-workout along with a breakdown of each ingredient.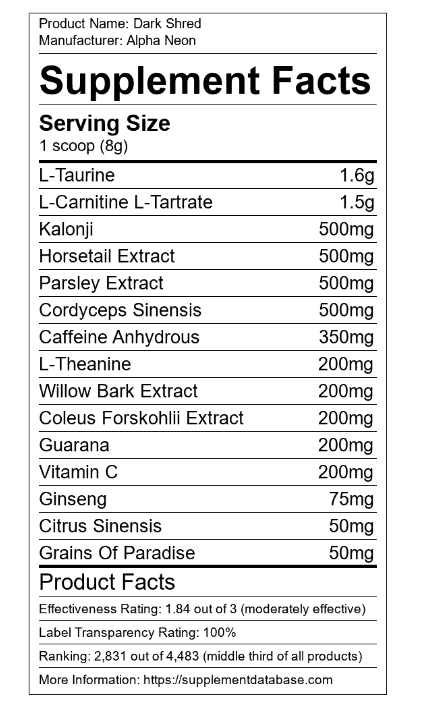 Taurine – 1,500 mg
Taurine is a "miscellaneous" pre-workout ingredient with a range of potential, albeit limited, physical benefits. It can aid in blood flow, reduce cramping, and act as a booster to antioxidant defense systems (Examine). It's a pretty insignificant ingredient in pre-workout compared to other components, but it doesn't hurt anything either.
1.5-grams is a moderate dosage of taurine to achieve any effects it has to offer. Usually, other products have 500 mg to 2 grams.
L-Carnitine L-Tartrate – 1,500 mg
L-Carnitine L-Tartrate (LCLT) is a compound that has been shown to reduce exercise-induced muscle tissue damage.
2,000 mg is a clinical dosage of LCLT, but 1,500 mg is still a decent dose.
Dandilion Extract – 700 mg
Recent research from Healthline indicates that dandelions and their compounds may support weight control, though the data isn't conclusive.
One study involving mice also suggests that dandelion extract may aid weight management by reducing fat absorption (PubMed).
Another study in mice found that chlorogenic acid, a compound found in dandelions, reduced body weight, decreased fat accumulation, and altered levels of specific proteins involved in weight control.
Kalonji (Nigella Sativa) – 500 mg
From Healthline, some studies have found that kalonji may have powerful anti-inflammatory effects in the body.
In one study involving 42 people with rheumatoid arthritis, taking 1,000 mg of kalonji oil daily for eight weeks reduced inflammation and oxidative stress (NCBI).
In another study, inflammation was induced in rats' brains and spinal cord. Compared to a placebo, kalonji effectively protected against and suppressed inflammation (NCBI).
Horsetail Extract (Equisetum Plant) – 500 mg
According to Healthline, Horsetail's diuretic effect is one of this ingredient's most sought-after properties in folk medicine (NCBI, NCBI).
One small study in 36 healthy men determined that a daily dose of 900 mg of dried horsetail extract in capsule form had a greater effect than a classic diuretic drug. This was attributed to the plant's high antioxidant and mineral salt concentrations (NCBI).
Although the dose is about half the clinical dose of 900 mg, there was a diuretic effect with Darkshred.
Parsley Extract (Petoselinium Crispsum) – 500 mg
According to Drugs.com, Parsley seed was traditionally used as a carminative to decrease flatulence and colic pain. The root was used as a diuretic and the juice to treat kidney ailments. However, there is very little scientific evidence that parsley extract does much.
Cordyceps Mushroom Extract (Cordyceps Sinensis) – 500 mg
From Healthline, Cordyceps is thought to increase the body's production of the molecule adenosine triphosphate (ATP), which is essential for delivering energy to the muscles.
Cordyceps may improve the way your body uses oxygen, especially during exercise (NCBI, JStage).
Researchers tested their effects on exercise capacity in 30 healthy older adults using a stationary bike in one study. Participants received 3 grams per day of a synthetic strain of Cordyceps called CS-4 or a placebo pill for six weeks.
By the end of the study, VO2 max had increased by 7% in participants who had taken CS-4, while participants given the placebo pill showed no change (Springer)
One study also tested the effects of a Cordyceps-containing mushroom blend on exercise performance in younger adults (NCBI).
After three weeks, participants' VO2 max had increased by 11% compared to a placebo.
Caffeine Anhydrous – 350 mg
Caffeine needs no introduction, but it's one of the most researched sports supplements. Most fat burners range from 100 mg to 400 mg, and the combined 394 mg of caffeine (44 mg coming from guarana seed extract) puts Darkshred in the upper range of caffeine for fat burners.
L-Theanine – 200 mg
L-Theanine is a sedating amino acid that promotes relaxation and takes the edge off caffeine to prevent a crash. Luckily, the 200 mg included in Darkshred does not diminish the energy.
Willow Bark Extract (Salix Alba) – 200 mg
MedIndia reports that white willow bark enhances the activity of other supplemental ingredients and increases body metabolism, which promotes weight loss. Many weight loss supplements are mixed with white willow extracts to enhance results.
White willow bark contains salicin, which has been suggested to deliver the same results as ephedra. It should be noted that ephedra contains ephedrine, which is a compound that has been banned in the United States for having a direct link to cardiac deaths. Although many studies have yet to conclude that it aids in weight loss, willow bark is relatively safe and is still often used in fat-burners.
Forskohlii Root Extract (std. to 20% Forskolin) – 200 mg
Many studies, as reported by Healthline, have investigated the effects of forskolin on fat metabolism.
Most are test-tube experiments or animal studies, so the results may not apply to humans.
Forskolin stimulates the release of stored fat from fat cells (NCBI, NCBI, NCBI). The same thing happens whenever the body needs to use body fat for energy.
However, clinical trials in humans have provided some promising results. Forskolin may promote fat loss while preserving muscle mass (NCBI).
So far, only two small studies have investigated the effects of forskolin on weight loss in humans (NCBI, NCBI). They were randomized controlled trials, the gold standard of scientific research in humans.
The largest trial recruited 30 overweight and obese men, who were then randomly assigned to two groups:
Forskolin group: 15 men were supplemented with 250 mg of Coleus forskohlii extract (10% forskolin) twice a day for 12 weeks.
Placebo group: 15 men took the same amount of dummy pills (placebo).
Compared to the placebo group, men who took forskolin lost significantly more fat, but total body weight did not change (NCBI).
At 20% standardization, the 200 mg included would yield 40 mg of forskolin, compared to the 25 mg yield of forskolin used in the studies.
Guarana Seed Extract (std. to 22% Caffeine) – 200 mg
Paullinia cupana, also known as guarana, is a fruit-bearing tree; the seeds are ground into powder and used in traditional Amazonian medicine.
Guarana is supplemented primarily for its stimulant properties. It has a 22% yield of caffeine, meaning the 200 mg of Guarana Seed Extract included gives you 44 mg of actual caffeine.
Guarana Seed Extract caffeine tends to be stronger than caffeine anhydrous.
Panax Ginseng – 75 mg
According to Healthline, Ginseng could help improve brain functions like memory, behavior, and mood (NCBI, NCBI).
Some test-tube and animal studies show that components in ginseng, like ginsenosides and compound K, could protect the brain against damage caused by free radicals (NCBI, NCBI, NCBI).
One study followed 30 healthy people who consumed 200 mg of Panax ginseng daily for four weeks. At the end of the study, they showed improvement in mental health, social functioning, and mood.
With only 75 mg in Darkshred, it is about 1/3rd the amount used in the studies.
Citrus Bioflavonoids (Citrus Sinesis) (Fruit) (Sweet Orange, Tangerine, Acerola, Rutin, Hesperidin) – 50 mg
Citrus flavonoids scavenge free radicals from NCBI, improve glucose tolerance and insulin sensitivity, modulate lipid metabolism and adipocyte differentiation, suppress inflammation and apoptosis, and improve endothelial dysfunction.
Although citrus flavonoids possess multiple beneficial effects, their mechanisms of action are not entirely established.
Grains of Paradise (12.5% 6-Paradol) – 50 mg
Grains of Paradise has some up-and-coming research, but it still needs additional evidence to support its fat loss effects. Some exciting research shows it can activate brown adipose tissue, which can help increase a body's metabolism and lead to increased weight loss.
Different ingredient sources will use Grains of Paradise with varying percentages of 6-Paradol, the active ingredient in Grains of Paradise with metabolic effects.
Clinical trials used 40 mg at 12.5% purity, so you should use that as a guide when seeing how much is present in any thermogenic fat burners.
Darkshred uses the patented form of Grains of Paradise, the same kind used in clinical trials and at 25% more of the dose.
Long-lasting energy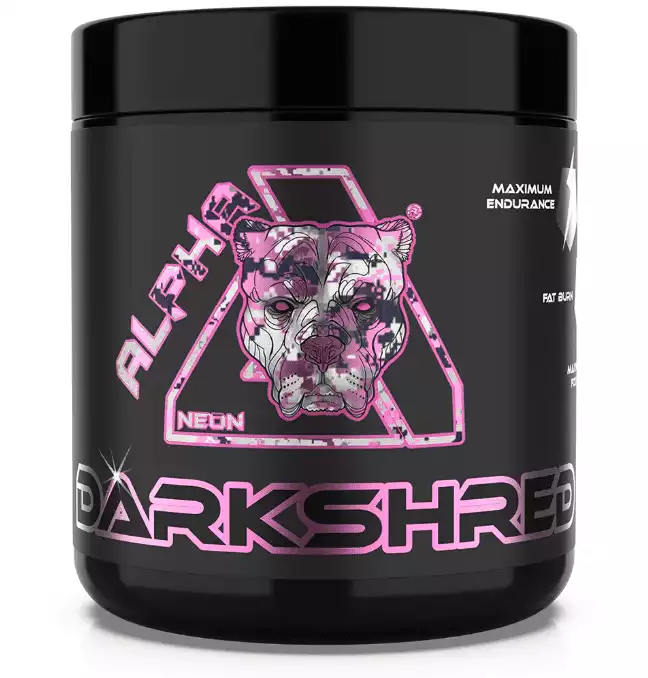 Darkshred Pre-Workout - Alpha Neon
Darkshred is an intense, thermogenic, sweating supplement. It provides incredible energy.
Discount Codes:
LIFTVAULT15 = 15% off at Supp Kingz
L-Theanine: 250 mg
Caffeine Anhydrous: 350 mg
Shop Supp Kingz
Lift Vault earns a commission if you click this link and make a purchase at no extra cost to you.
Alpha Neon Darkshred Pre-Workout Review
Summary
Darkshred is an intense, thermogenic, sweating fat burner. I was dripping sweat like a leaky faucet on this product. The energy provided by Darkshred was incredible and lasted for 3+ hours.
Pros
30 full servings

Long-lasting energy

Strong thermogenic effects

Distinct diuretic effects
Cons
395 mg of total caffeine might be too much for a fat burner

Thermogenic and diuretic effects may be too much for beginners.

It could use more for focus and mood