Arez Titanium is a pre-workout supplement from MHN (Modern Hardcore Nutrition). Used to be made by NTel Nutra roughly a year or so ago. The original was known for being a high stim, feel-good product. Notable ingredients include 350 mg Caffeine, 200 mg Beta PEA, 175 mg Juglans Regia, 2.5 mg Alpha Yo, and many others.
Supp Kingz was kind enough to send over a few samples for me to review.
Although I've only tried it two times, I absolutely love this product.
Recommended for adept users as a pre-workout that can be taken only a few times a week, max as to not destroy your central nervous system, just due to the stimulants.
Read on for additional details of my experience, the best prices for the Arez Titanium pre workout, and a breakdown of its ingredient label.
DMHA Stunner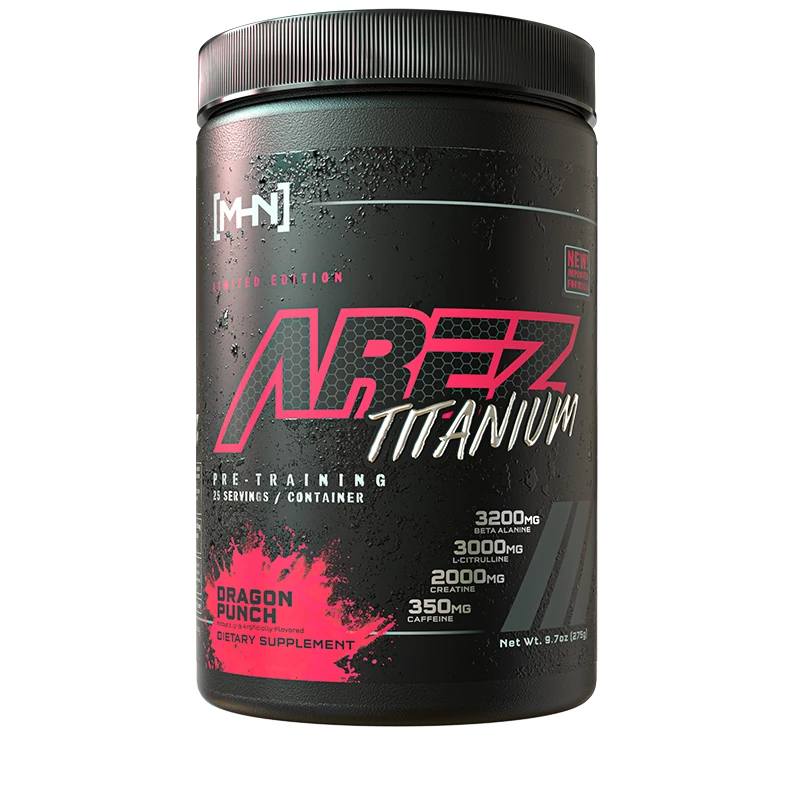 Arez Titanium
Ntel Pharma delivers another winner in their legendary Arez line of pre workouts. Titanium is a hard hitting, stim-heavy supplement with 175 mg of DMHA per serving.
Caffeine: 350 mg
DMHA: 150 mg
Shop Supp Kingz
Lift Vault earns a commission if you click this link and make a purchase at no extra cost to you.
Where to Buy Arez Titanium
You can find Arez Titanium at all good hardcore supplement retailers.
A selection of retailers are below, along with their respective discount codes.
My Experience with Arez Titanium
I took the OG Arez Titanium quite a bit, went through a tub of it and loved it. So I was skeptical if this was going to match, but thankfully it did.
Even though I got a few samples of this, I'm probably going to pick up a tub of my own.
Effects
The main effects for Arez Titanium are focus, energy, and mood elevation.
Although without a digestion aid such as Black Pepper or the trademarked Astragin, the Beta Alanine tingles begin within 5-10 minutes. Like most Beta Alanine tingles, it gets you motivated to start moving and begin your workout and these last until about 20-30 minutes or so into your workout. The tingles were strong with this.
With the Juglans Regia and Eria Jarensis (N,N-Dimethylethylamine Citrate), my focus was incredible.
The only thing lacking in this formula is really the pumps, with just 3 g L-Citrulline and 500 mg Agmatine Sulfate, but honestly, for whatever reason I wanted to keep training regardless of time constraints.
The sense of urgency from the beta alanine and 350 mg caffeine propels you into your workout session. No heart-beating-out-of-your-chest feeling, just a smooth energy that lasts well after your workout with no crash either.
The combination of Juglans Regia, Beta PEA, Hordenine, and Eria Jarnesis, you feel a sense of sustained euphoria. The euphoria feels stronger after your workout.
I felt absolutely incredible on this.
Flavor
The flavor I tried was Slime. The original NTel Nutra Slime was incredible, and this is about the same. It's very sweet, a strawberry lime flavor. No chemical or bitter taste at all, especially considering the formula. 8.5 out of 10 for flavor, at least in my opinion.
Other flavors include Tropical Wave, Dragon Punch, and Mango melon Splash.
Scoop Size
A full serving is 11 grams. With the 2 samples I tried, the actual serving size was 11.23 grams for a full serving.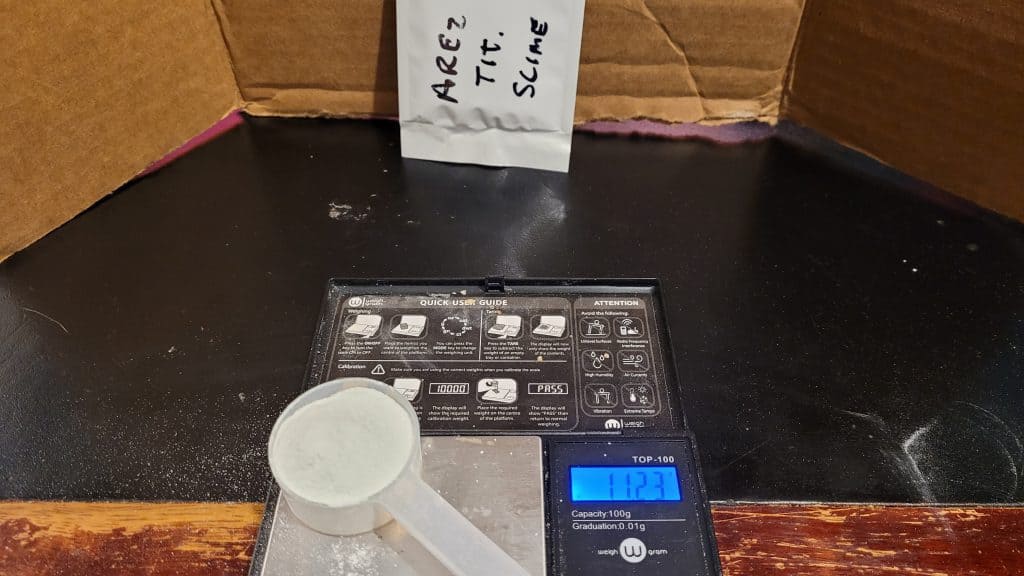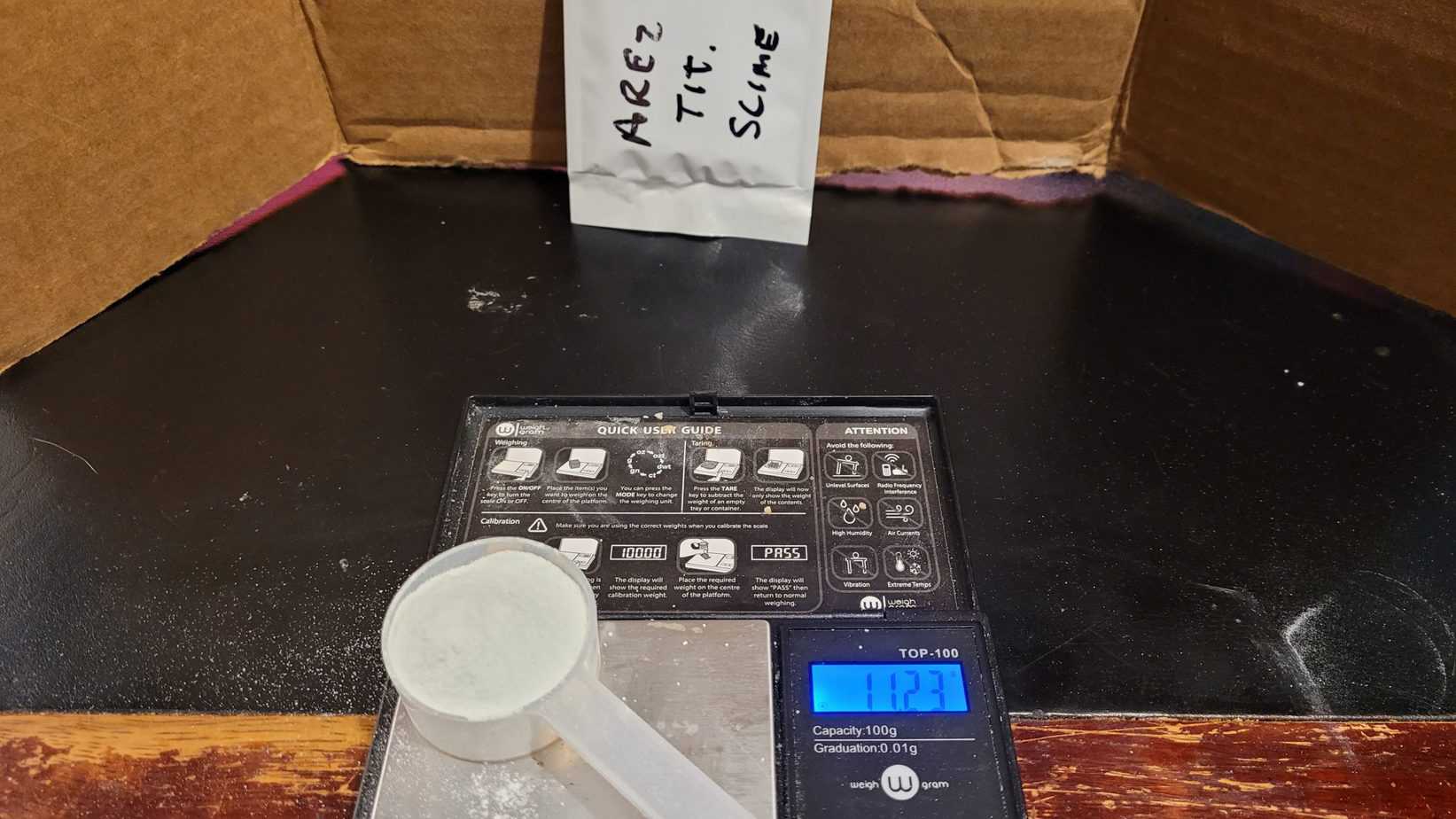 Arez Titanium Ingredients
Beta Alanine – 3,200 mg
This is the standard dosage for beta alanine, which, taken consistently, has been shown to improve muscular endurance by acting as a lactic acid buffer in muscles. This is the ingredient that gives you the "tingles." They usually start about 7-10 minutes after you consume it and last for 20-30 minutes.
L-Citrulline – 3,000 mg
L-Citrulline is one of the most common pre workout ingredients. It has extensive evidence supporting its effects on increasing nitric oxide production, power output, and endurance.
Although most research uses a variation known as L-Citrulline Malate (2:1), anecdotal evidence supports that L-Citrulline delivers much of the same benefit.
When included as pure L-Citrulline, we like to see 4 grams as the dosage, but Arez Titanium gives you only 3 grams (More info: Examine).
Creatine Monohydrate – 3,000 mg
While creatine will improve strength levels when supplemented daily, you generally want to see 5 grams per dose for creatine monohydrate. This falls short of that, but may still promote muscle hydration during a training session.
Agmatine Sulfate – 500 mg
Agmatine is included as a "pump" ingredient, but research is more limited on this ingredient vs. the classic L-Citrulline. This is within the range you'd typically see in a pre-workout supplement with Agmatine Sulfate which occasionally ranges between 500 mg and 1,500 mg, putting Arez Titanium in the range.
Caffeine – 350 mg
The Grand-Daddy of stimulant supplements. It's in your coffee, your tea, soda, heck, it may even be in your sweets and gum (some confectioners add caffeine to their sweets for a kick). 350 mg is the average for pre-workout supplements, but it was smooth-sailing with this.
Choline Bitartrate 97% – 250 mg
Choline is included as a focus ingredient. Compared with Alpha GPC, choline bitartrate may not be as effective as a nootropic (source). This is another potential area of improvement for the product formula.
But, the 250 mg of choline bitartrate is underdosed. Doses usually range between 500 mg and upwards of 2,000 mg.
B-Phenethylamine – 200 mg
B-Phenylethylamine is a neurotransmitter that inhibits uptake and efflux (i.e. removal) of dopamine, norepinephrine, and serotonin levels (2008 study). It is included here for the purpose of increasing focus and motivation. Typical dosages range between 200 mg and upwards of 600 mg and as it is primarily metabolized by MAO-B and rather quickly, it requires an MAO Inhibitor to length the feeling as stated in this study, so the 200 mg included is within the range.
Juglans Regia Extract – 175 mg
DMHA is a stimulant, similar to DMAA, known for boosting energy, focus, and mood. It comes in many different forms, of which Juglans Regia Extract is one. Others include 2-aminoisoheptane and kigelia africana.
175 mg is roughly standard, but a strong dosage of this ingredient. However, just because it says something on the label doesn't necessarily mean you'll "feel" it.
Related: Best DMHA Pre Workout Supplements
Eria Jarensis – 75 mg
Eria Jarensis (N-Phenethyl Dimethylamine) is a stimulant that is becoming a popular alternative to DMAA or DMHA. It increases levels of dopamine and noradrenaline in the user and can enhance mood, increase motivation, and dial in concentration.
A solid dose of Eria Jarensis usually ranges between 150 mg and 250 mg, with 200 mg being quite common, so having 75 mg is underdosed.
Synephrine – 30 mg
Synephrine is a well-researched ingredient that has been shown to aid in weight loss.
"In general, bitter orange extract alone (p-synephrine) or in combination with other herbal ingredients did not produce significant adverse events as an increase in heart rate or blood pressure, or alter electrocardiographic data, serum chemistry, blood cell counts or urinalysis. p-Synephrine alone as well as in combination products were shown to increase resting metabolic rate and energy expenditure, and modest increases in weight loss were observed with bitter orange extract/p-synephrine-containing products when given for six to 12 weeks."
30 mg of synephrine is a low, but solid dosage for fat burning effects.
Hordenine – 10 mg
Hordenine (N,N-dimethyltyramine) is a stimulant that is often included in recent "nootropic" products. It is not widely researched, so much of the information available comes from anecdotal accounts. Typically dosed between 10 mg and upwards of 150 mg, the 10 mg is at the low end, but still in the range. There is one study that shows that Hordenine is an MAO (monoamine oxidase) inhibitor which may lengthen the feeling of energy and mood elevation.
Note: Hordenine and Beta PEA are very bitter compounds, so it may cause flavors to be not as good.
Rauwolfia Vomitoria Extract – 2.5 mg
Also known as Alpha Yohimbine or simply, "Alpha Yo", is a central nervous system stimulant. It can be quite divisive, with some individuals reporting anxiety, headaches, sweating, chills, and increased blood pressure.
If you have taken Alpha Yo before, and are extra sensitive to it, begin with just a full scoop (1.25mg) or even a half of a scoop (0.667mg) and gradually increase to find your limit. Although for me, I rarely get any of the noted side effects that come with this controversial ingredient.
DMHA Stunner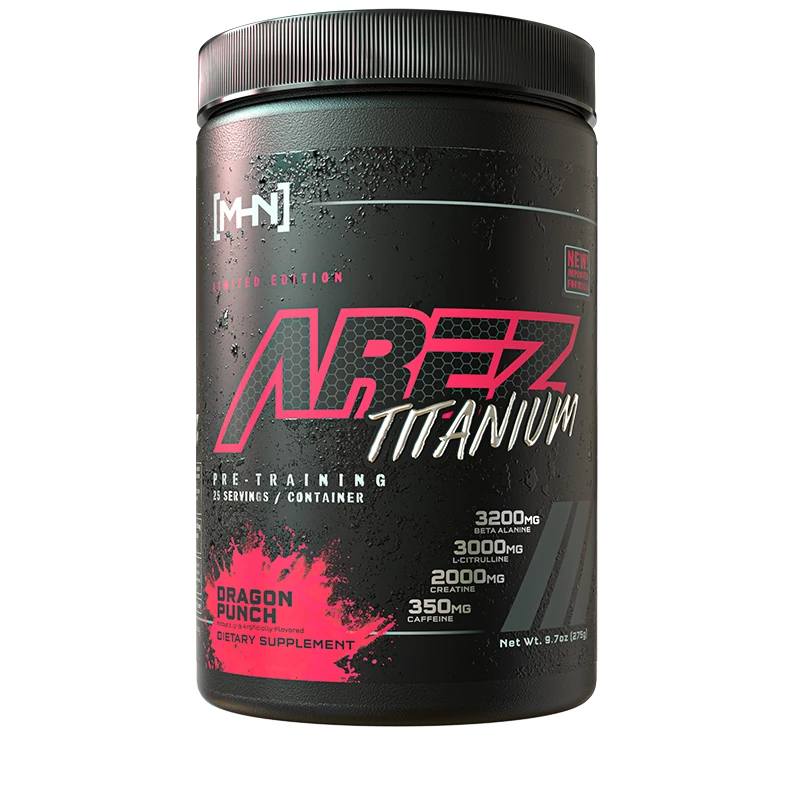 Arez Titanium
Ntel Pharma delivers another winner in their legendary Arez line of pre workouts. Titanium is a hard hitting, stim-heavy supplement with 175 mg of DMHA per serving.
Caffeine: 350 mg
DMHA: 150 mg
Shop Supp Kingz
Lift Vault earns a commission if you click this link and make a purchase at no extra cost to you.
Arez Titanium Pre Workout Review (MHN)
Summary
Arez Titanium by MHN is a laser focus, mood-heightening, energy-intensifying supplement that delivered wonderfully. Powered by 350 mg Caffeine, 200 mg Beta PEA, 175 mg Juglans Regia, and 2.5 mg Alpha Yo, it hits hard but, great in focus, mood, and energy. Recommended for experienced users as a supplement that can be taken just a few times a week to prevent stimulant overload.
Pros
Long lasting (6 hours) 

No side effects

Intense focus 

Sharp energy 

Open and transparent label 

Alpha Yo feelings are nice and smooth.
Cons
A few ingredients are quite under-dosed