Stimmed Up Pre Workout is a pre workout supplement manufactured by Phase 1 Nutrition. It's a DMHA-free successor to the popular Pre Phase KO Pre Workout.
Phase 1 Nutrition was kind enough to send me a tub of Stimmed Up upon its release and I've been using it over the last couple of months.
I'd recommend Stimmed Up for stim junkies that are looking to take a break from DMHA and DMAA without sacrificing too much on the energy side.
For more details on my experience and a comparison of Stimmed Up to Pre Phase KO, read on!
High Energy!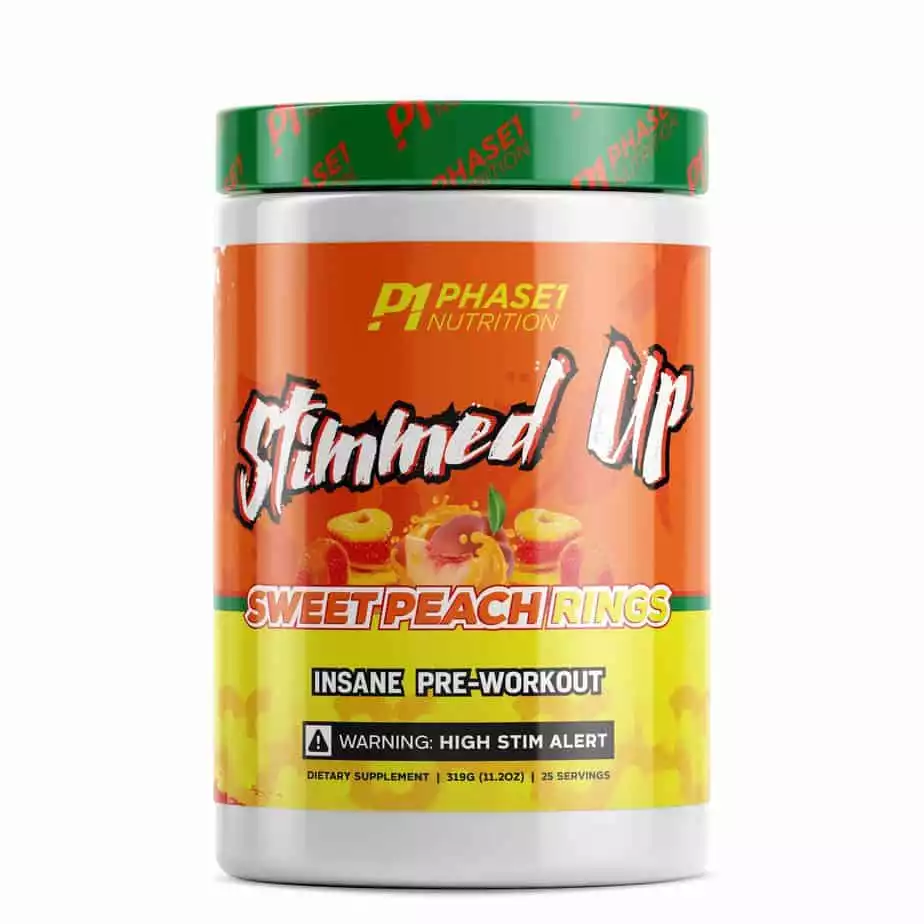 Where to Buy Stimmed Up
Stimmed Up is currently available directly from Phase 1 Nutrition.
Promo code LIFTVAULT saves you 10% at Phase 1 Nutrition.
My Experience
I've used Stimmed Up several times over the last couple of months to help get a feel for it. Because Stimmed Up is Phase 1's first pre-workout after discontinuing Pre Phase KO, it has a bit of a reputation to live up to, fair or not.
Stimmed Up vs. Pre Phase KO
So I'll get one thing out of the way: Stimmed Up is not Pre Phase KO.
If you specifically want a Pre Phase KO replacement, then Stimmed Up will likely be disappointing to you. If you want a strong, reliable pre workout that doesn't include harder stimulants, then Stimmed Up is a good choice.
Stimmed Up Does Not Contain DMHA
Stimmed Up notably does not contain DMHA, which was included in Pre Phase KO as English walnut extract. This gave Pre Phase KO a more euphoric feel that many users seek.
Stimmed Up does not replicate this euphoric feeling and is more of a straightforward, high-energy pre workout supplement.
New Ingredients in Stimmed Up
Stimmed Up introduces several new ingredients that were not in Pre Phase KO, outlined below.
VasoDrive-AP helps decrease blood pressure and increase nitric oxide production, helping with blood flow and muscle pumps. Check out this video to learn more about VasoDrive-AP.
There's significantly more synephrine in Stimmed Up and a patented version, Advantra Z, is now included. This can help a bit with energy and increasing energy expenditure (i.e. fat burning).
DMAE is a cholingeric to help improve focus, presumably included as a replacement to Pre Phase KO's choline bitartrate.
N-Methyltramine HCL is an adrenergic agonist that stimulates the release of noradrenaline and adrenaline, creating energy and urgency.
Phenylethylamine HCL, more commonly known as PEA, is commonly used as a central nervous stimulant and has noted positive effects on mood.
Cocoabuterol, a natural cocoa extract, is commonly used as a thermogenic fat burning ingredient in pre workout and weight loss supplements.
The final new ingredient in Stimmed Up is dendrobium, a traditional Chinese medicinal herb that contains dozens of various alkaloids. It is thought that among these alkaloids are some that are similar to PEA, explained above, which can act as a stimulant and mood booster. With that said, I'm not aware of any human studies conducted with dendrobium.
Effects
The most apparent effect of Stimmed Up is the energy.
The 350 mg of caffeine anhydrous and 2.5 mg of alpha yohimbine hit quick. Coupled with the 3.2 g of beta alanine, Stimmed Up definitely delivers a nice "sense of urgency" within the first 30 minutes.
In terms of intensity, Stimmed Up hits a nice sweet spot of being strong without going over the top.
I've taken this as a full serving with no issues, but I've also taken it as a half serving in the evenings and had no issues with falling asleep a few hours later (though I do have a high caffeine tolerance).
I personally use Stimmed Up when I just want to get down to business at the gym and take a break from DMHA pre workouts.
I didn't notice signifiant effects in terms of mood or focus. If I were to compare Stimmed Up to another pre workout, I'd say its most reminscent of Wrecked or Superhuman Supreme.
Overall, I enjoy Stimmed Up and will continue to use it. I'd be curious to see how L-Tyrosine or Lion's Mane might possibly enhance the focus of the product, but it definitely delivers on its main promise: energy.
Side Effects
I didn't notice any negative side effects from Stimmed Up.
Flavor
I tried the Peach Rings flavor of Stimmed Up, which is pretty good! I'd give it a 7/10 overall and I generally do enjoy peach flavors.
Stimmed Up Ingredients
Below you can find the ingredient label for Stimmed Up.
Even the somewhat high alpha yohimbine dosage didn't give me any issues, though if you're especially sensitive to alpha yohimbine then you will have to make that call for yourself.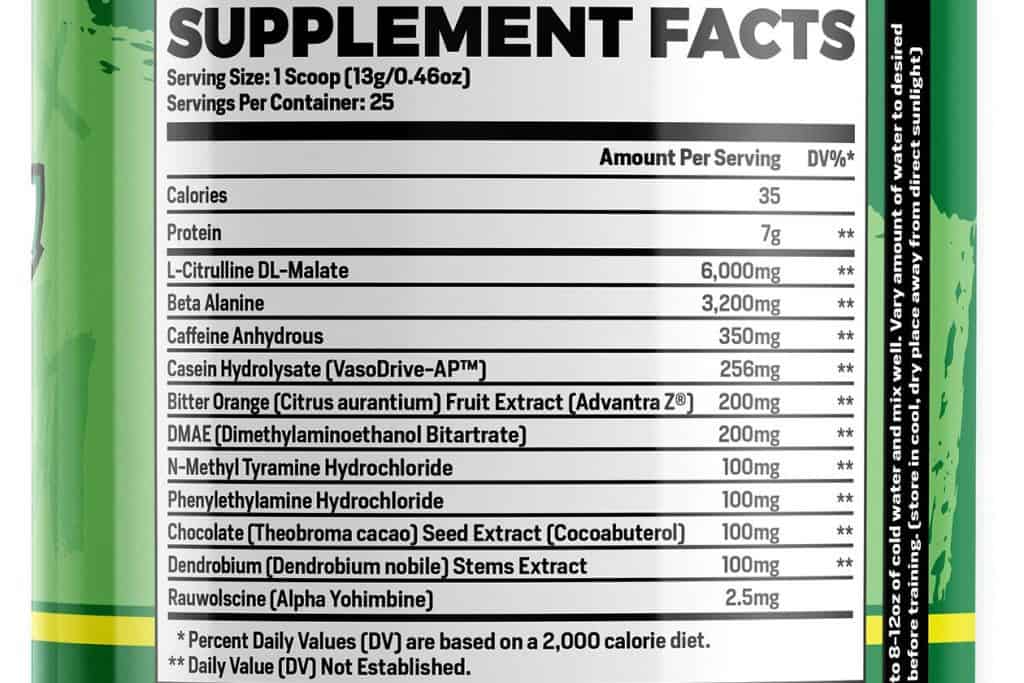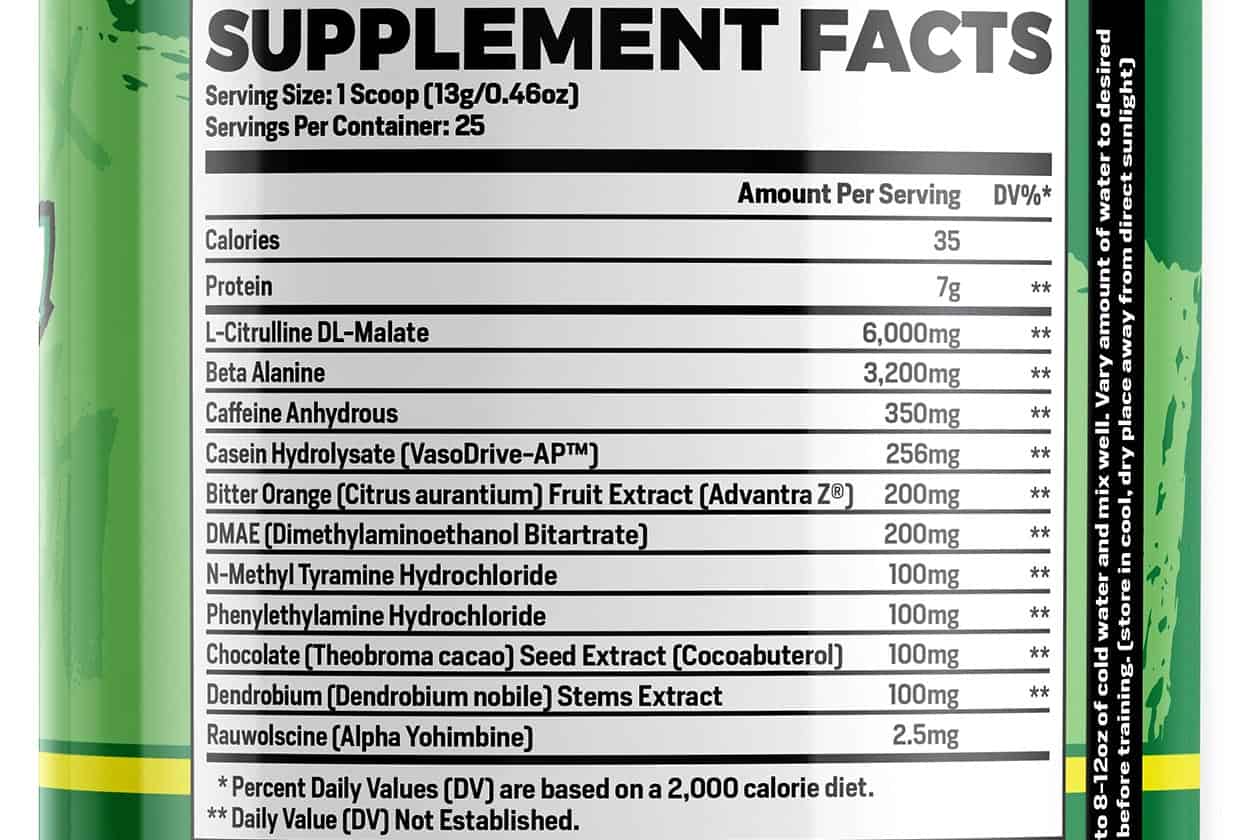 L-Citrulline DL-Malate – 6,000 mg
Beta Alanine – 3,200 mg
Caffeine Anhydrous – 350 mg
Casein Hydrolysate (VasoDrive-AP) – 256 mg
Bitter Orange Extract (Advantra Z) – 200 mg
DMAE – 200 mg
N-Methyl Tyramine HCL – 100 mg
Phenylethylamine HCL – 100 mg
Cocoabuterol – 100 mg
Dendrobium Seed Extract – 100 mg
Rauwolscine (Alpha Yohimbine) – 100 mg
High Energy!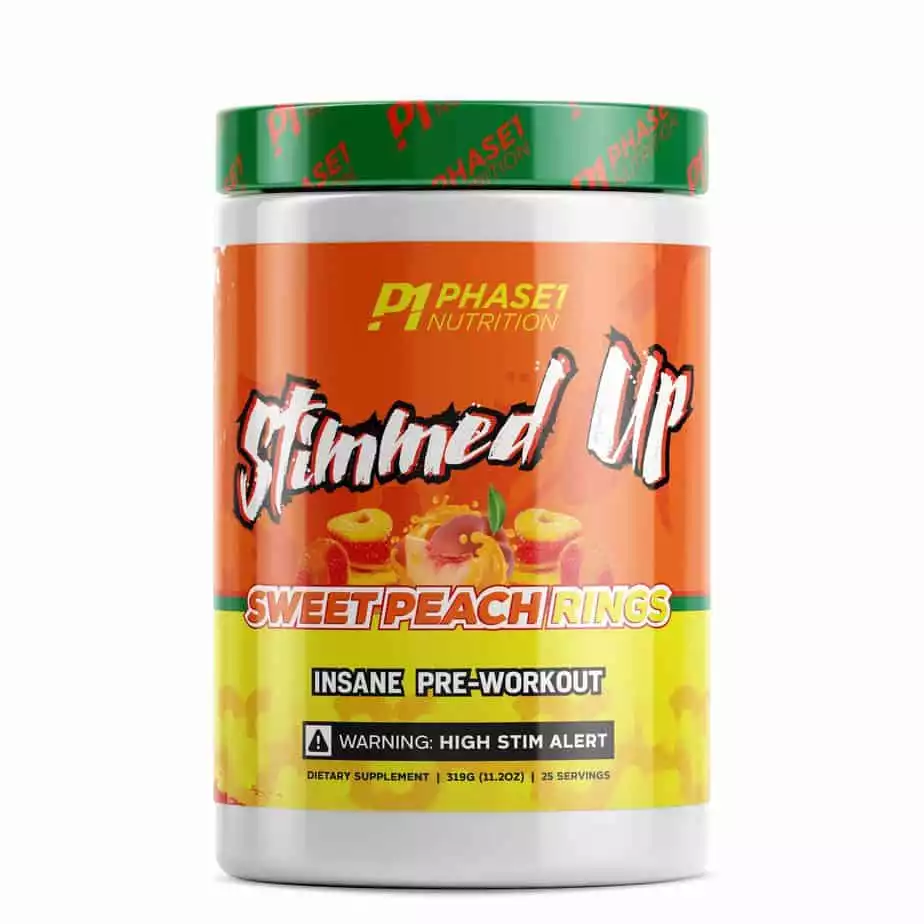 Stimmed Up Pre Workout Review
Summary
Stimmed Up delivers solid, clean energy for several hours. 
Pros
Strong energy
No side effects
Transparent label
Cons
Little mood elevation
Little focus