In a world that sometimes seems more like a carnival, comes Chaotic Rage by Mad House Innovations. Insane pumps, out-of-this-world focus, and unreal energy are the claims for this pre-workout. Keep reading to find out how it stacks against similarly formulated products.
Chaotic Rage is a stimulant pre-workout, including the kind of ingredients that will get you flying through the gym. I wouldn't recommend this to beginners unless they start with a reduced serving.
Thank you, Suppscentral, for providing this complete product for review.
Energy and endurance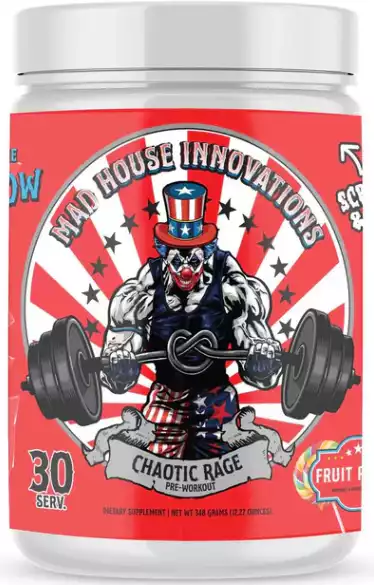 Chaotic Rage Pre Workout - Mad House Innovations
Chaotic Rage by Mad House Innovations, consistently delivers on energy and endurance and holds up well against other natural DMHA-formulated pre-workouts.
Discount codes:
LIFTVAULT15 = 15% off at Supps Central
DMHA: 250 mg
Eria Jarensis: 125 mg
Yohimbine: 2 mg
Huperzine: 3 mg
Shop Supps Central
Lift Vault earns a commission if you click this link and make a purchase at no extra cost to you.
Where to buy Chaotic Rage by Mad House Innovations
Purchase Chaotic Rage by Mad House Innovations from the following retailers:
Experience
This is the real deal, flying high with energy and happy vibes! Starting with the beta-alanine, the tingles hit very lightly on my first usage, but in subsequent uses it provided strong tingling sensations from my forehead to my neck. Focus rolls in around the 25-minute mark, wrapping around to my ears like pressure, eventually reaching up to my head. Happy feelings and excitement to lift the weights soon emerges.
While it won't make the DMHA-hitter top list, it is better than others I reviewed this year. Not euphoric, but evokes good energy with a get-stuff-done aggression. I felt the focus start at a 4/10 before ramping up to a 6.6/10 and staying consistent throughout the workout. As for endurance and stamina, my baseline improved as I could easily continue lifting past lower rep ranges.
I didn't experience much in the pumps and vascularity department, but I did have some muscle fullness which could be from all the reps I kept pushing through. If Mad House Innovations dosed the l-tyrosine or choline with more soluble forms, added noopept, or used synthetic DMHA, chaotic rage would be on the top-tier DMHA list for the year. I enjoyed the energy and endurance overall with each use, and it helped me gruel through some tough workouts for the summer.
Side Effects
I didn't experience any side effects while using this product.
Flavor
Fruit Punch was the flavor I was sent for review. The flavor was about a 6.5/10 regarding desirability due to some noted bitterness. The suggested amount of water is 6-8 ounces, but I enjoyed this at 10 ounces as it helped reduce the bitterness.
Dose/Scoop Size
Chaotic Rage comes out to 11.6 grams per serving, and with this label, it wasn't a concern to start at the whole serving. Anyone not accustomed to 350 mg or more of caffeine might want to serve a ¾ of a scoop, but do not worry about the Yohimbe as it isn't the potent heart rate version called Alpha Yo.
The picture below shows the serving size as a heaping rounded scoop. This is a great way to prevent overdosing on a product, as you can't scoop more than a full serving with one scoop. At times manufacturers will change packaging, including the scooper, so please weigh out your scoops, specifically when it contains high stimulants like DMHA or Yohimbe. With each use of the pre-workout, I used one whole serving, giving you an excellent 30 servings in this container, which is currently greater than the market standard.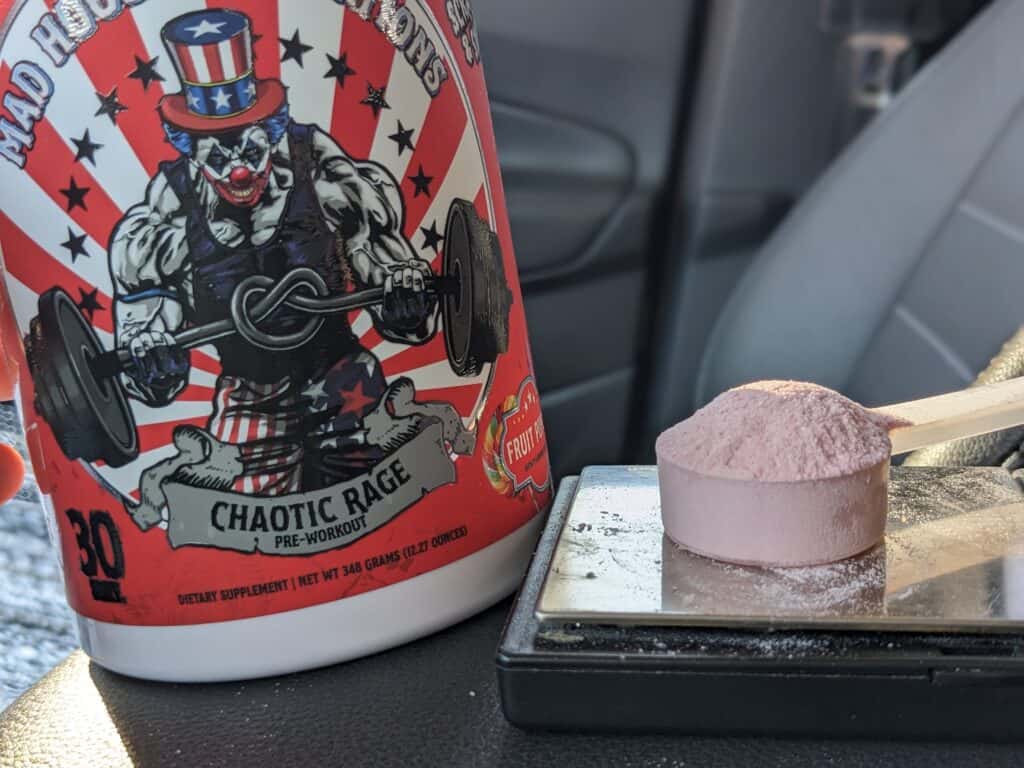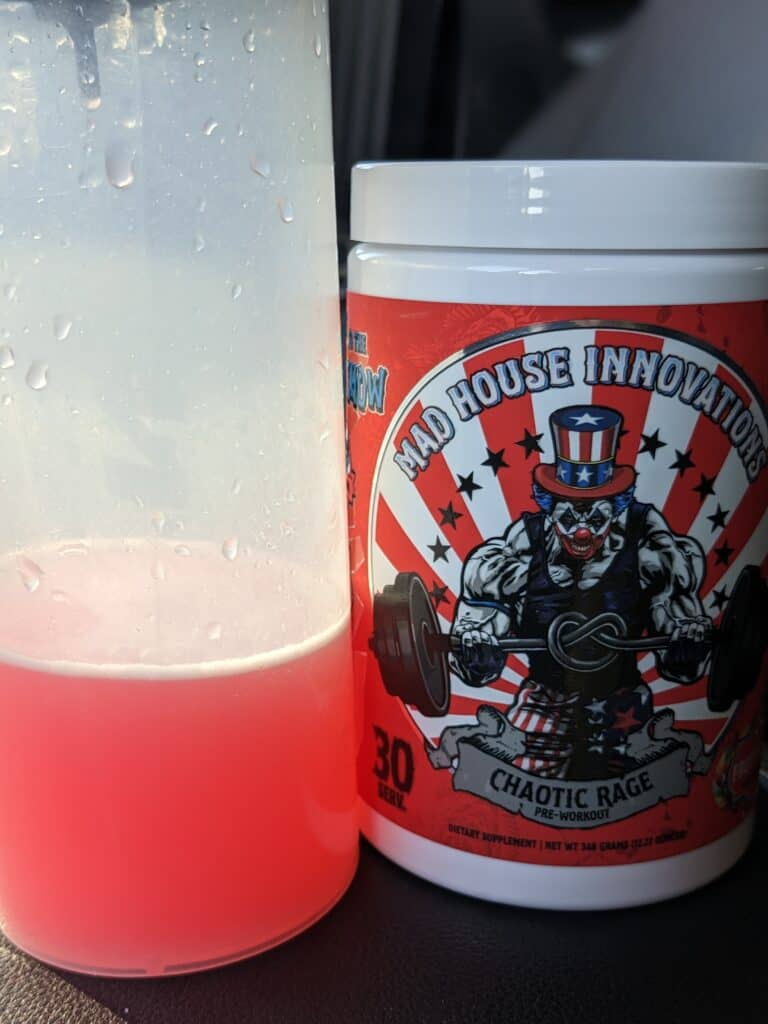 Ingredients
Chaotic Rage is a straightforward profile that goes right to the point, formulating the pump, the endurance, and many stimulants. I will credit products for being fully disclosed, the industry standard now. Still, the caffeine blend doesn't fully disclose the amounts of each ingredient, with dicaffeine malate typically being 75% caffeine. We can assume it is less than 400mg of total caffeine; however, that might be the total yield for the product. I wouldn't worry about the caffeine, as the Eria + DMHA had my heart pumping more than the caffeine would have at higher dosages.
When using a product with strong stimulants, it is typical that the pump can be reduced due to vasoconstriction of your vascular system, so often, the extra nitric oxide ingredients aren't valid or necessary. This pre-workout keeps that in mind. I wouldn't have many recommendations for the formulation other than increased choline bitartrate and l-tyrosine or more soluble versions.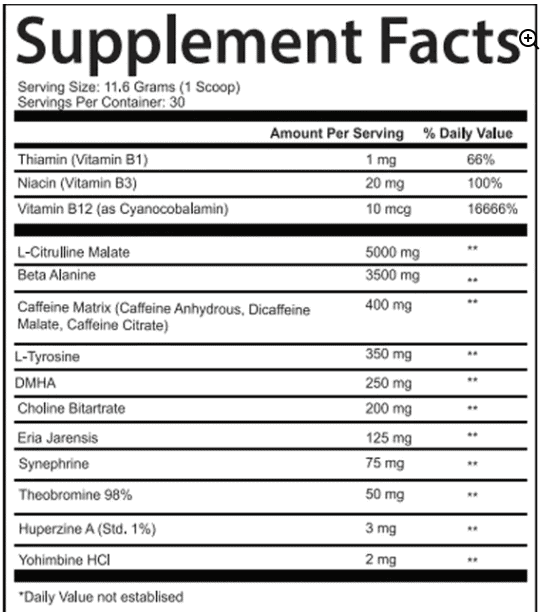 L-Citrulline Malate – 5 g
L-citrulline is one of the most common pre-workout ingredients. Extensive evidence supports its ability to increase nitric oxide production, power output, pumps, blood flow, and endurance. It is typical for this ingredient to contain malic acid in malate, which has some benefits similar to beta-alanine. However, you want 6-8 grams of pure l-citrulline for proper clinical dosage, and some products may list the malic acid as a separate ingredient.
Beta-Alanine – 3.5 g
Beta-alanine has been shown to support muscular endurance and act as a lactic acid buffer. Depending on the source of this ingredient, you may feel the paresthesias tingling effect. This feeling is often desirable in the sports community, as it makes you feel the intensity after ingestion. This may be negated by diet and intake of beta-alanine.
Beta-alanine requires regular intake to be effective, akin to creatine. Daily beta-alanine supplementation is recommended to become effective, with a three to five weeks loading period.
Three to four grams is the recommended daily dosage for beta-alanine, putting Chaotic Rage in the standard clinical dose range.
Caffeine Matrix – 400 mg
Caffeine Anhydrous, Dicaffeine Malate, Caffeine Citrate
This caffeine blend will provide more sustained energy throughout your training and help prevent a crash later or after the workout. Typical ranges for modern sports supplements include 350-450 mg. With Chaotic Rage, it falls around 400 mg as we aren't disclosed the amount of dicaffeine malate, which typically is 75% caffeine.
L-Tyrosine – 350 mg
L-tyrosine boosts cognitive performance in stressful environments. It is included in pre-workouts as a focus ingredient.
350 mg is a very low l-tyrosine dosage, but it should still help achieve its anti-stress effects. It is in the low typical dosage range (500 to 2,000 mg) for exercise.
DMHA – 250 mg
DMHA is a stimulant similar to DMAA, which boosts energy, focus, and mood. DMHA shares similar effects as DMAA but requires a larger dosage. This made it a popular pre-workout ingredient for replacing DMAA in DMHA pre-workout supplements.
It comes in many different forms: juglans regia extract, English walnut extract, 2-aminoisoheptane, kigelia africana, octodrine, 2-amino-5-methylhexane, 2-amino-6-methylheptane, 6-amino-2-methylheptane, 2-isooctyl amine, 2-heptylamine, 6-methyl-, 2-metil-6-amino-eptano, amidrine, vaporpac, 1,5-DMHA, and 1,5-dimethylhexylamine. Read about the comparison of DMAA vs. DMHA here.
The dosage in chaotic rage is 250 mg, above the industry standard but varies based on the product. However, just because it says something on the label doesn't necessarily mean you will always "feel" it due to different sourcing purities.
Choline Bitartrate – 200 mg
Choline is a focus ingredient and chlorogenic source. Compared with alpha gpc, choline bitartrate may be less effective as a nootropic.
Dosages usually range between 500 and 2,000 mg, so the 200 mg included is very low, but users may still experience the benefits of choline.
Eria Jarensis (N-Phenethyl Dimethylamine) – 125 mg
Eria Jarensis is a stimulant frequently seen alongside DMHA in high-stim pre-workouts.
125 mg is a suitable dosage for this ingredient; being an exotic stimulant, it isn't clinically studied but isn't currently the highest on the market. The most eria jarensis I've ever seen in a pre-workout is 500 mg with Flame Pre-Workout (which is fantastic).
Synephrine HCl – 75 mg
Synephrine is a well-researched ingredient shown to aid in weight loss.
"In general, bitter orange extract alone (p-synephrine) or in combination with other herbal ingredients did not produce significant adverse events such as an increase in heart rate or blood pressure or alter electrocardiographic data, serum chemistry, blood cell counts, or urinalysis. p-Synephrine alone and in combination products were shown to increase resting metabolic rate and energy expenditure, and modest increases in weight loss were observed with bitter orange extract/p-synephrine-containing products when given for six to 12 weeks." Synephrine Meta-Analysis
The typical range for synephrine is 10-50 mg, which is supported by evidence for fat-burning effects.
Theobromine – 50 mg
Theobromine is a "caffeine light" stimulant ingredient found in chocolate, some tea plants, and the kola nut. Some anecdotal evidence suggests that theobromine can affect mood elevation, focus, and stimulation. Most doses range from 100-400 mg, which puts chaotic rage in the low dose range.
Huperzine-A (1%) – 3 mg
Huperzine A is cholinergic and acts as a cognitive enhancer. As an acetylcholinesterase inhibitor, it helps lengthen the half-life of cholinergic sources (Examine).
Depending on the extract percentage, it tends to be taken in 50 to 200 mcg dosages. A 3 mg dosage of huperzine, standardized to 1% huperzine A, would yield 300 mcg, making it a highly effective dose in this pre-workout.
Yohimbine HCl – 2 mg
Yohimbe stimulant is a very popular ingredient in many supplements. It has a variety of uses and can serve as an appetite suppressant, fat burner, aphrodisiac, mood elevator, and performance and focus ingredient. Yohimbe is a tree native to central and western Africa, and the bark of the tree produces an alkaloid called yohimbine. Depending on the quality of the extract, which is stated to be 98% on the label, it can be very potent, so dosing varies with different products or brands.
Chaotic Rage Pre-Workout Review (Mad House Innovations)
Summary
A newly developed brand, I enjoyed reviewing Chaotic Rage by Mad House Innovations with awesome label graphics and many newly formulated products. I felt it held up well against other natural DMHA-formulated pre-workouts, although not the strongest out there. I like how consistently this product delivered in terms of energy and endurance. Recommended for gym goers seeking a high-intensity pre-workout.
Pros
Nonstop energy
Excellent endurance
Sustained stamina
Happy vibes
Awesome label
Possible free product giveaway on the label
Sweet tooth approved branding
No crash post-workout
Thermogenic
Intensity
Cons
Lacking pumps
Bitter flavor on end notes