God of Rage is an extreme pre workout manufactured by Centurion Labz. God of Rage has been around for a few years now and has been reformulated several times. While older versions included DMAA, this version contains DMHA as Juglans Regia Extract. It also contains Eria Jarensis, Theobromine, and Hordenine – earning attention from fans of high stim pre workout supplements.
Supp Kingz was kind enough to send me over some samples to try out and review for you all.
For me, this pre workout was disappointing. It never seemed to "hit" for me. It was decent, but not enough to make it on my list of strongest pre workouts or top DMHA pre workouts. I know some people really enjoy this pre workout, so this may be one of those instances where it just didn't click for me for whatever reason.
For more details on my experience and a full ingredient label breakdown, keep reading.
New 2021 Formula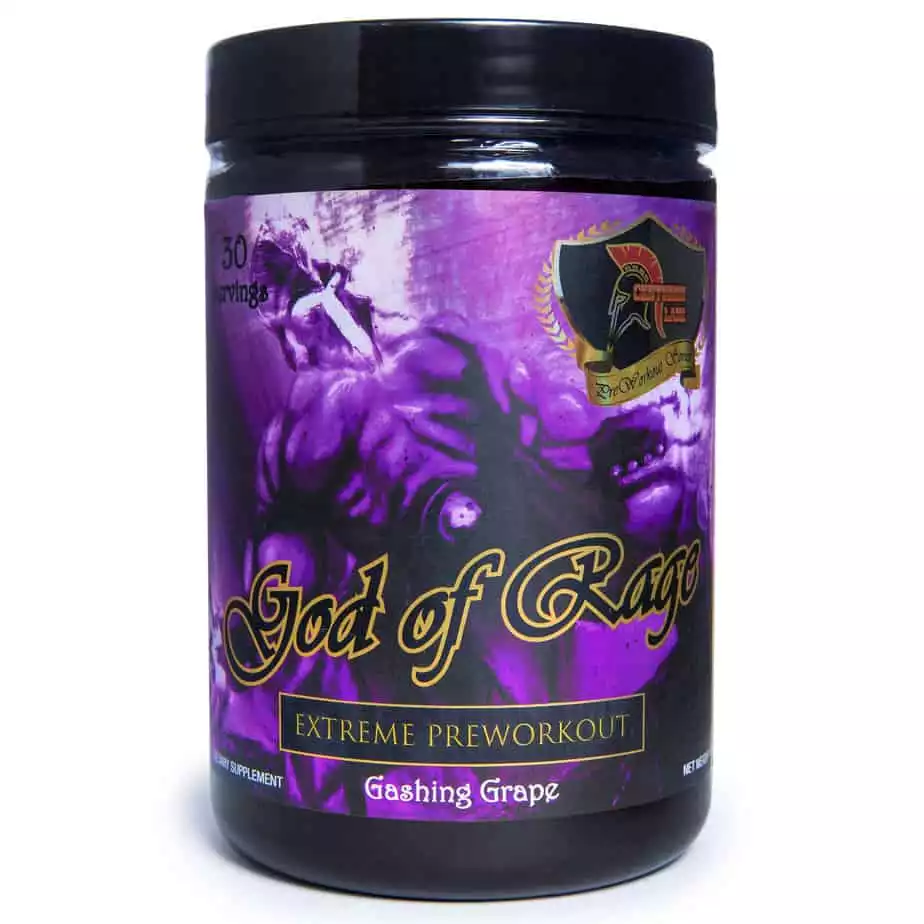 Where to Buy
You can buy God of Rage Pre-Workout at the following retailers.
My Experience
Honestly, I wasn't all that impressed with God of Rage. It's not a bad pre workout, but it wasn't really a stand out for me. I'm sure some people will have positive experiences with it, but for me it just wasn't remarkable.
Flavor
I tried the "gashing grape" flavor. It's just okay. It's not disgusting, but not especially tasty either. I think most people will be absolutely fine with it.
If you need super delicious pre workout flavors, this might not be for you (but let's be honest – most people looking into God of Rage probably are not flavor snobs).
Experience
I took God of Rage before my morning workout, along with my standard breakfast shake.
I didn't feel intense beta alanine tingling, but you can definitely tell it has beta alanine.
From there, by 20-25 minutes I could feel a decent kick of energy. Focus wasn't super dialed in, nor was mood elevation. For me, I was simply able to go through my workout without any issues. I didn't feel like a God or anything like that.
Compared to recent pre workouts like Wrecked Extreme or even ESP Extreme, I just didn't feel the same jolt. I don't think I would guessed this had DMHA on label if I hadn't already seen the label.
Side Effects
On the plus side, I didn't experience any negative side effects from God of Rage pre workout. It lasted for a few hours and tapered off as expected.
Overall
Overall, I probably wouldn't recommend God of Rage for those looking for an angry, intense pre workout or anything super motivational. It's just fine. For something better, I'd check out my lists of strongest pre workouts or favorite DMHA pre workouts.
God of Rage Ingredients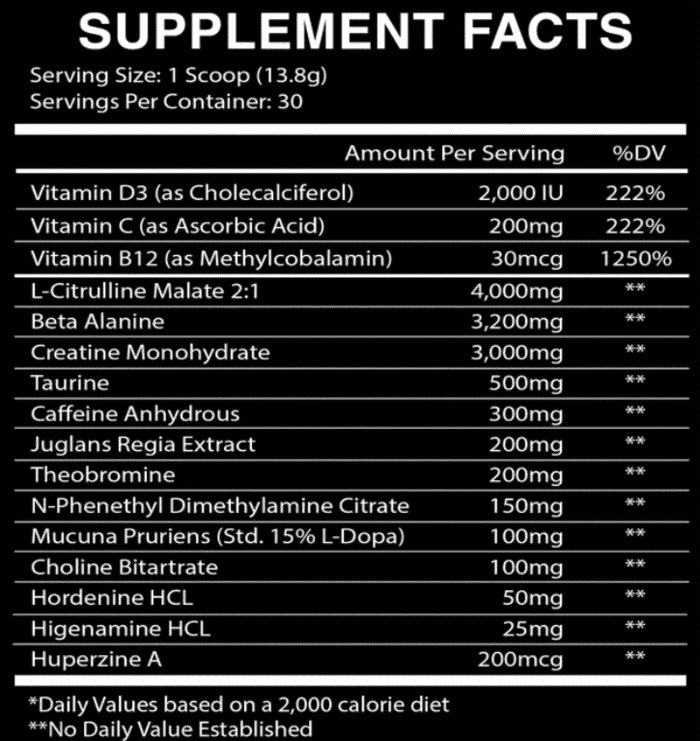 L-Citrulline Malate 2:1 – 4,000 mg
L-Citrulline is an amino acid that turns into L-arginine in the kidneys. Consuming L-Citrulline improves nitric oxide metabolism, increasing endurance for aerobic and anaerobic exercise, along with reducing fatigue.
It's a classic pump ingredient and one of the best-researched exercise supplements available. Unfortunately, 4,000 mg is a bit lower than the clinical dosage of 6,000 mg. This is not uncommon for stim heavy pre workouts; they often will cut down on pump ingredients to focus on the stims.
Beta Alanine – 3,200 mg
Beta alanine has been shown to support muscular endurance and can act as an a lactic acid buffer. Nice.
However, beta alanine requires regular intake in order to be effective, akin to creatine. Daily supplementation of beta alanine is recommended, with a loading period of three to five weeks needed to be effective.
3 to 4 grams is the recommended daily dosage for beta alanine. God of Rage is right on the money with its 3.2 g dosage.
Creatine Monohydrate – 3,000 mg
While creatine will improve strength levels when supplemented daily, you generally want to see 5 grams per dose for creatine monohydrate. This falls short of that, but may still promote muscle hydration during a training session.
Taurine – 500 mg
Taurine is kind of a "miscellaneous" pre workout ingredient with a range of potential, albeit limited, physical benefits. It can aid in blood flow, reduce cramping, and act as a booster to anti-oxidant defense systems (Examine). It's a pretty insignificant ingredient in pre workout compared to other ingredients, but doesn't hurt anything either.
500 mg is a rather low dosage for this ingredient, but it's never really the star of the show anyway, so I can understand "cutting a corner" here.
Juglans Regia Extract – 200 mg
DMHA is a stimulant, similar to DMAA, known for boosting energy, focus, and mood. It comes in many different forms, of which Juglans Regia Extract is one. Others include 2-aminoisoheptane and kigelia africana.
200 mg is a standard, but strong dosage of this ingredient. However, just because it says something on the label doesn't necessarily mean you'll "feel" it.
Related: Where to Buy DMHA Powder Online, Best Pre Workout with DMHA
Theobromine – 200 mg
Theobromine is a stimulant that is sort of a "caffeine light" ingredient.
200 mg is a pretty significant dosage for this (mild) ingredient.
N-Phenethyl Dimethylamine Citrate – 150 mg
This is more commonly known as eria jarensis. Eria Jarensis is a stimulant that is commonly seen alongside DMHA in high stim pre workouts.
150 mg is a respectable dosage for this ingredient. The most eria jarensis I've ever seen in a pre workout is 500 mg in Flame Pre Workout (which is amazing).
Mucuna Pruriens (Std. 15% L-Dopa) – 100 mg
Also known as Velvet Bean, mucuna pruriens extract is a traditional herbal supplement with minor dopamine increasing and cortisol reducing effects, among other things.
One of the more reliable effects it has is a noticeable reduction in Parkinson's Disease symptoms, though that is not relevant here.
I'm not sure if the dosage included here, 100 mg, is sufficient for stress reduction, though to be honest those effects are quite minor anyway. I'm guessing no, because I didn't feel stress reduction after taking Cannibal Ferox and that had 150 mg of mucuna pruriens standardized to 98% L-Dopa.
Choline Bitartrate – 100 mg
Hordenine HCL – 50 mg
Higenamine HCL – 25 mg
Huperzine A – 200 mcg
Second Opinions
TJ from FDN really enjoyed God of Rage. You can learn more about his experience in his video review.
New 2021 Formula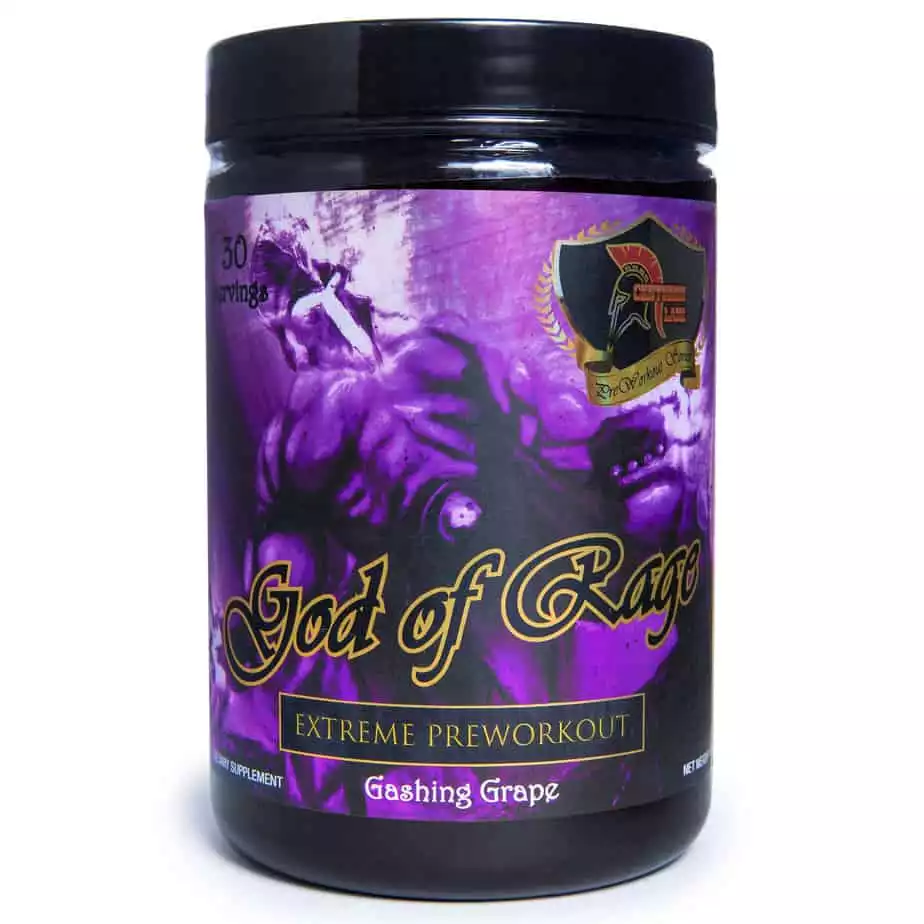 God of Rage Pre Workout Review
Summary
Honestly, I wasn't all that impressed with God of Rage. It's not a bad pre workout, but it wasn't really a stand out for me. I'm sure some people will have positive experiences with it, but for me it just wasn't remarkable.
Pros
No negative side effects
Decent energy
Cons
Mediocre pumps
Limited focus
Limited motivation