Inhuman by Afterdark is a stimulant pre-workout supplement, ideal for days when motivation is high. Afterdark's unique, nootropic element provides intense focus but without the caffeine jitters and lasts hours after leaving the gym. Here's the report after testing a complimentary sample provided by Inhuman.
Thank you, Supps Central for providing this product for review. I recommend this pre-workout to those looking to try a hard-hitting, focus-centric Nootropic product!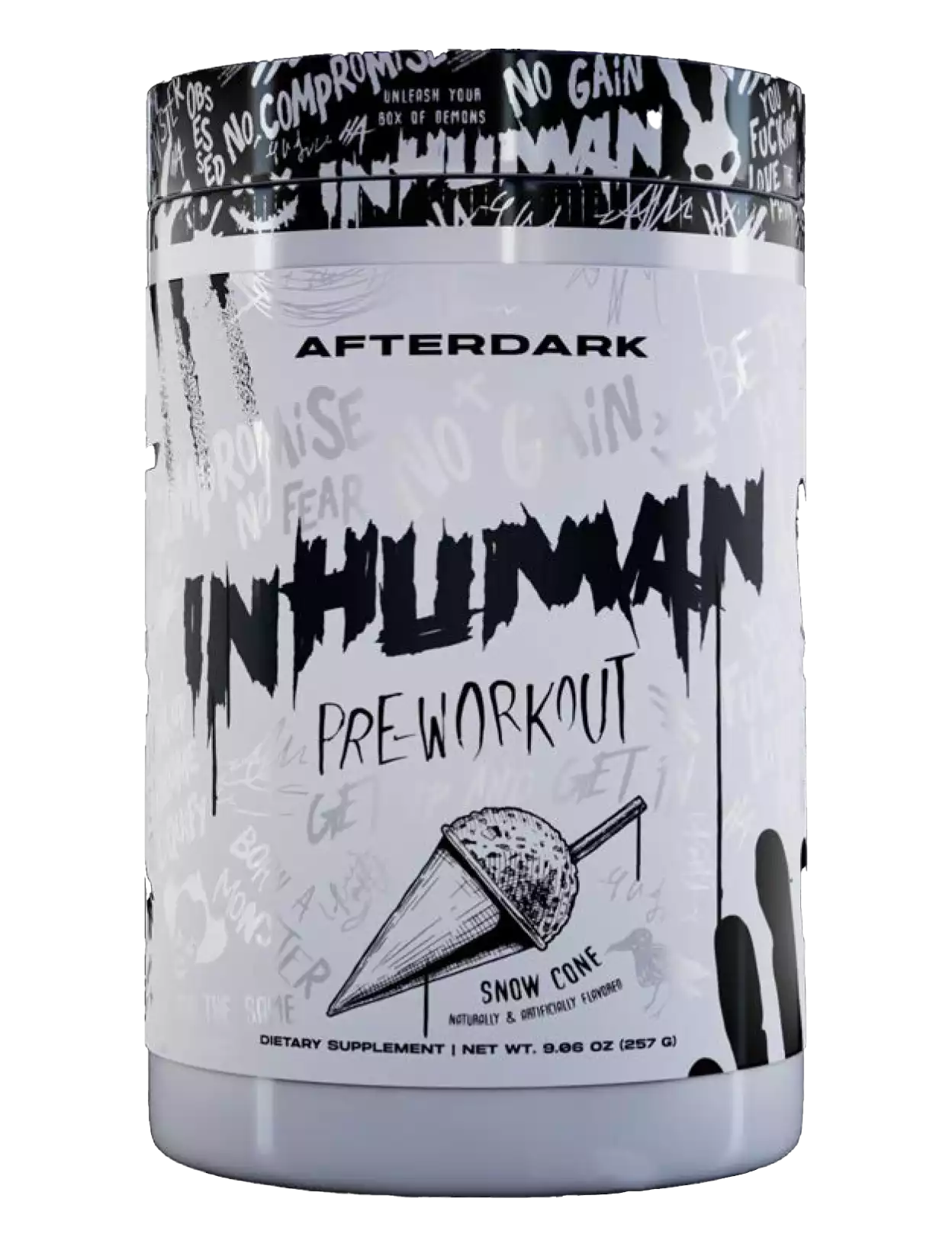 INHUMAN Pre Workout | Afterdark Supplements
Inhuman by Afterdark is an intense pre-workout supplement without the jitters.
Discount code:
LIFTVAULT15 = 15% OFF
Delayed Release Caffeine Matrix: 400 mg
Theobromine: 200 mg
CognatiQ: 150 mg
Alpha Yohimbine: 1.5 mg
Citrulline Malate: 5000 mg
Beta-Alanine: 3500 mg
Shop Supps Central
Lift Vault earns a commission if you click this link and make a purchase at no extra cost to you.
Where to Buy Inhuman Pre-Workout Supplement
Experience
In the first five to 10 minutes, the energy started to peak its head around the corner, while the Beta-Alanine started to activate. Nothing too eventful for the first 30 minutes, with some tingles working around neck and shoulders. At around 40 minutes, I noticed laser focus on tail lights while I was driving. and a head buzz bordering on euphoria as I vibed with the music.
Focus fully dialed in around 50 minutes at an 8/10, energy kept working up to a 7/10. There was a noticeable heart rate increase from baseline, but nothing like a yohimbine feeling. I felt no increased endurance or physical strength, but the nootropic focus kept me going chasing those reps. It wasn't a pump-filled experience, and I felt no mind-to-muscle connection, but the energy motivated me to superset everything.
Even after the workout, the focus was still riding strong about two-ish hours from ingestion. Unexpectedly, the pre-workout dialed down quite well, with no crash. I felt good the rest of the day. Afterdark's Inhuman provides the high of DMHA during the training, and good focus and energy for several hours later.
Side Effects
I experienced no side effects while using this product, but this product is intense, and long-lasting energy with focus is expected.
Flavor
The flavor I was sent for review is Paradise Punch, with a fruit punch flavor. The flavoring system was not bitter or tart, even with sediment at the bottom. Although the label shows no water measurement, the usual 8-12 ounces suffices. I personally enjoyed this with 10 ounces of water, as it wasn't overly sweet. I also look forward to trying out the other flavors: Snow Cone, Watermelon, Candy Rope, and Rainbow Sherbet.
Dose/Scoop Size
Inhuman is dosed at 12.2 g per serving, except on the first dose, which is recommended at half a serving. As seen in the picture, this serving size is a heaping round scoop, which will help avoid overdosing. At times manufacturers will change packaging, including the scoop, so please weigh out your scoops, specifically when it contains high stimulants like DMHA.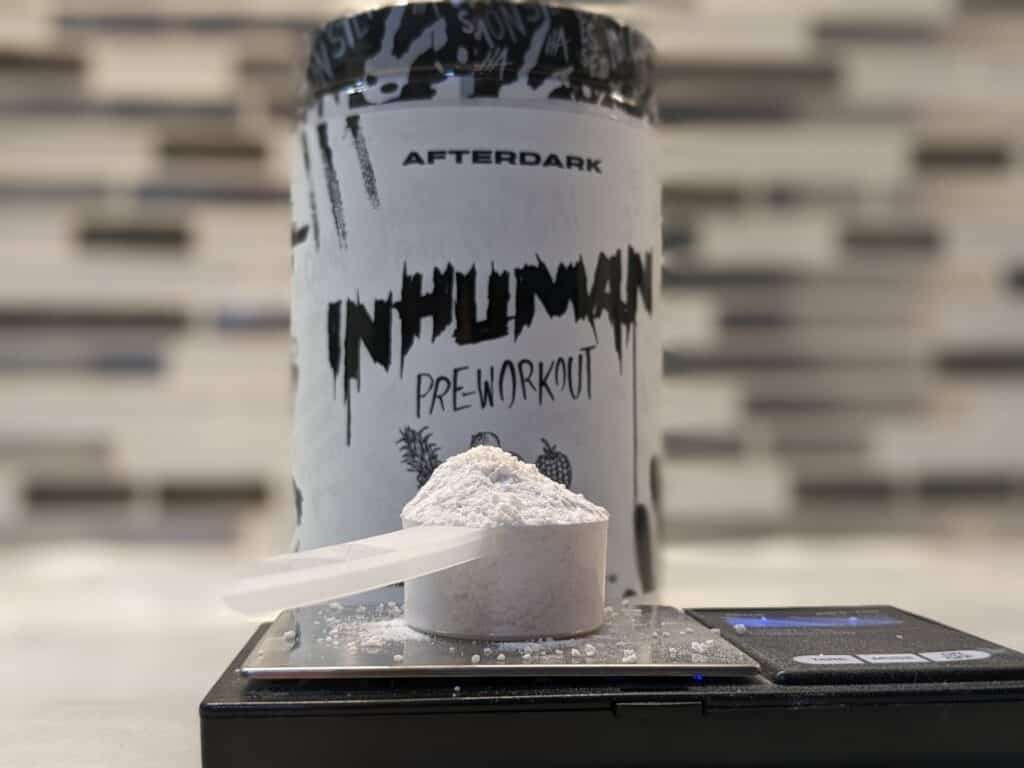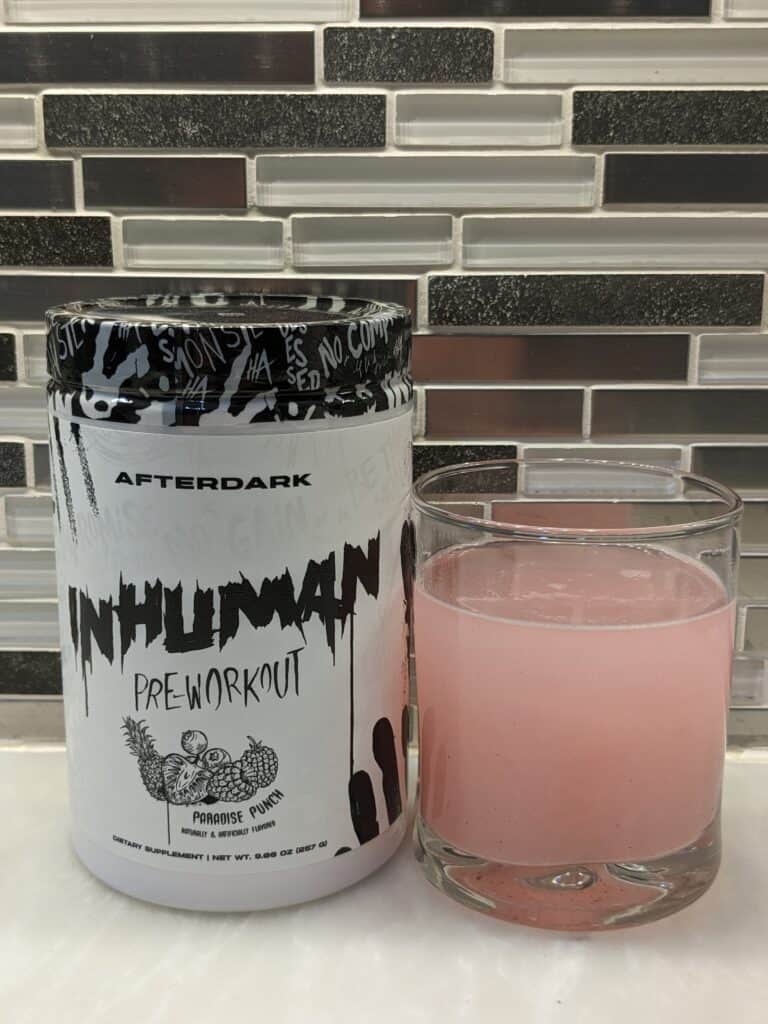 Ingredients
Afterdark contains a unique and effective formulation with quality ingredients. Inhuman has caffeine blends, such as caffeine malate, for several energy stages that prevent energy crashes. The dosages are very good and efficient, even though the Citrulline Malate is slightly less than clinical level. L-Theanine, when combined with caffeine, acts as a calming agent that also tends to prevent jitters.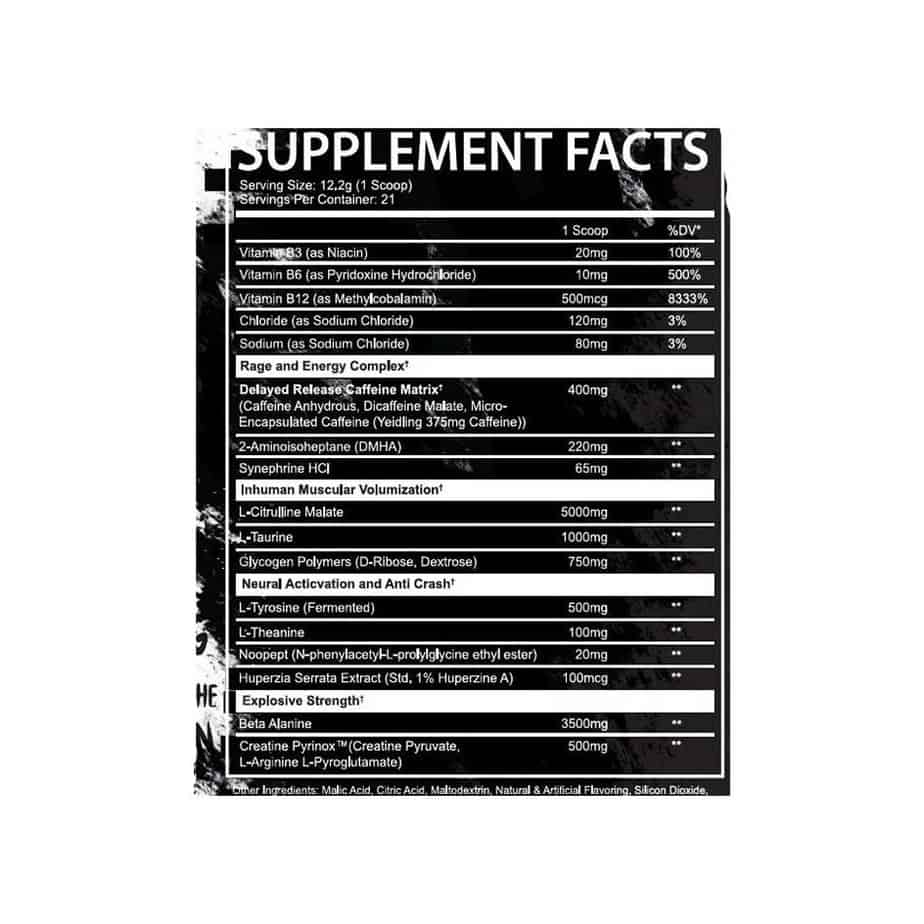 Delayed Release Caffeine Matrix – 400 mg
Caffeine Anhydrous, Dicaffeine Malate, Micro-Encapsulated Caffeine (Yielding 375 mg Caffeine)
This caffeine blend will provide more sustained energy throughout the workout and help prevent a crash later in the workout. What is different from other blends is that this one doesn't have a citrate for quick utilization but rather a Micro-Encapsulated that will continue where the Malate finishes. Typical ranges for modern sports supplements include 350-450 mg, which Inhuman falls right in a sweet spot.
2-Aminoisoheptane (DMHA ) – 220 mg
DMHA is a stimulant similar to DMAA, which boosts energy, focus, and mood. DMHA shares similar effects as DMAA, but requires a larger dosage. This made it a popular pre-workout ingredient for replacing DMAA in DMHA pre-workout supplements.
It comes in many different forms: Juglans Regia Extract, English Walnut Extract, 2-aminoisoheptane, kigelia africana, Octodrine, 2-Amino-5-Methylhexane, 2-amino-6-methylheptane, 6-Amino-2-methylheptane, 2-Isooctyl amine, 2-Heptylamine, 6-methyl-, 2-Metil-6-amino-eptano, Amidrine, Vaporpac, 1,5-DMHA, and 1,5-Dimethylhexylamine. Read about the comparison of DMAA vs DMHA here.
The dosage at 220 mg is above standard, but varies based on the productHowever, just because it says something on the label doesn't necessarily mean you will always "feel" it.
Synephrine HCl – 65 mg
Synephrine is a well-researched ingredient that has been shown to aid in weight loss.
"In general, bitter orange extract alone (p-synephrine) or in combination with other herbal ingredients did not produce significant adverse events such as an increase in heart rate or blood pressure or alter electrocardiographic data, serum chemistry, blood cell counts, or urinalysis. p-Synephrine alone and in combination products were shown to increase resting metabolic rate and energy expenditure, and modest increases in weight loss were observed with bitter orange extract/p-synephrine-containing products when given for six to 12 weeks." (Synephrine Meta-Analysis)
The typical range for synephrine is 10-50mg, which is supported by evidence for fat-burning effects.
L-Citrulline Malate – 5 g
L-Citrulline Malate is one of the most common pre-workout ingredients. Extensive evidence supports its ability to increase nitric oxide production, power output, pumps, blood flow, and endurance.
The standard ratio is 2:1 malate acid, but it isn't known here on this label. The clinically studied dosage would be 6-8 grams of L-Citrulline Malate in a 2:1 ratio, providing nearly 4-6 grams of L-Citrulline, which this product misses slightly.
L-Taurine – 1 g
Taurine is a common ingredient with many positive effects, such as enhanced physical performance, improved DOMS (delayed onset muscle soreness), improved blood pressure via higher cardiac output, possible reduction of cholesterol and triglyceride levels, increased uptake of glycogen to mitochondria for energy utilization (Examine).
Taurine supplementation might block the uptake of Beta-Alanine as they are antagonistic, which wouldn't be an issue if used aside from pre-workout. It is not commonly known that Beta-Alanine/Carnosine is a taurine-depleting antagonist (Examine). A 1 g Taurine dose is okay, as some energy drinks start here (1-6 grams per day in studies).
Glycogen Polymers (D-Ribose, Dextrose) – 750 mg
Glycogen polymers are a glucose ingredient that helps supply the body with a quick burst of energy when digested, which can cross the blood-brain barrier for cellular metabolism.
L-Tyrosine (Fermented) – 500 mg
L-Tyrosine boosts cognitive performance in stressful environments. Pre-workouts include it as a focus ingredient and help achieve anti-stress effects. The typical dosage range is 500 mg to 2,000 mg for exercise. The label specifically shows this is fermented, which means it isn't synthetically created, which typically will improve the quality and potency.
L-Theanine – 100 mg
Taken from Healthline, in a review of five randomized controlled trials that included 104 participants, four trials linked L-theanine with reduced stress and anxiety in people experiencing stressful situations (ScienceDirect). This is the low end of the recommended 300-500 mg range, which is great to have in a sleep aid and is often included in high stimulant pre-workouts to nullify the side effects.
Noopept – 20 mg
Noopept, known as N-Phenylacetyl-L-prolyglycine ethyl ester, is a synthetic nootropic ingredient with cognitive boosting and psychostimulatory effects. 20 mg is a substantial dose of noopept and is at the top of the effective range.
Huperzine-A (1%) – 100 mcg
Huperzine A is cholinergic and acts as a cognitive enhancer. As an acetylcholinesterase inhibitor, it helps lengthen the half-life of cholinergic sources (Examine).
It tends to be taken in doses of 50 mcg to 200 mcg, depending on the extract percentage. A 10 mg dosage of huperzine, standardized to 1% huperzine A, would yield 100 mcg making it an effective dose.
Beta-Alanine – 3.5 g
Beta-Alanine has been shown to support muscular endurance and act as a lactic acid buffer. Depending on the source of this ingredient, you may feel the paresthesias intensify. This feeling is often desirable in the sports community, as it does make you feel the intensity after ingestion and as you start training. This effect may be negated by diet and intake of beta-alanine.
Beta-alanine requires regular intake to be effective, akin to creatine. Daily beta-alanine supplementation is recommended to become effective, with a loading period of three to five weeks.
3 to 4 grams is the recommended daily dosage for beta-alanine, putting Inhuman in the standard clinical dose range.
Creatine Pyrinox (Creatine Pyruvate, L-Arginine L-Pyroglutamate) – 500 mg
This is a creatine blend that helps support the absorption of these ingredients, it isn't dosed to replace any daily creatine intake.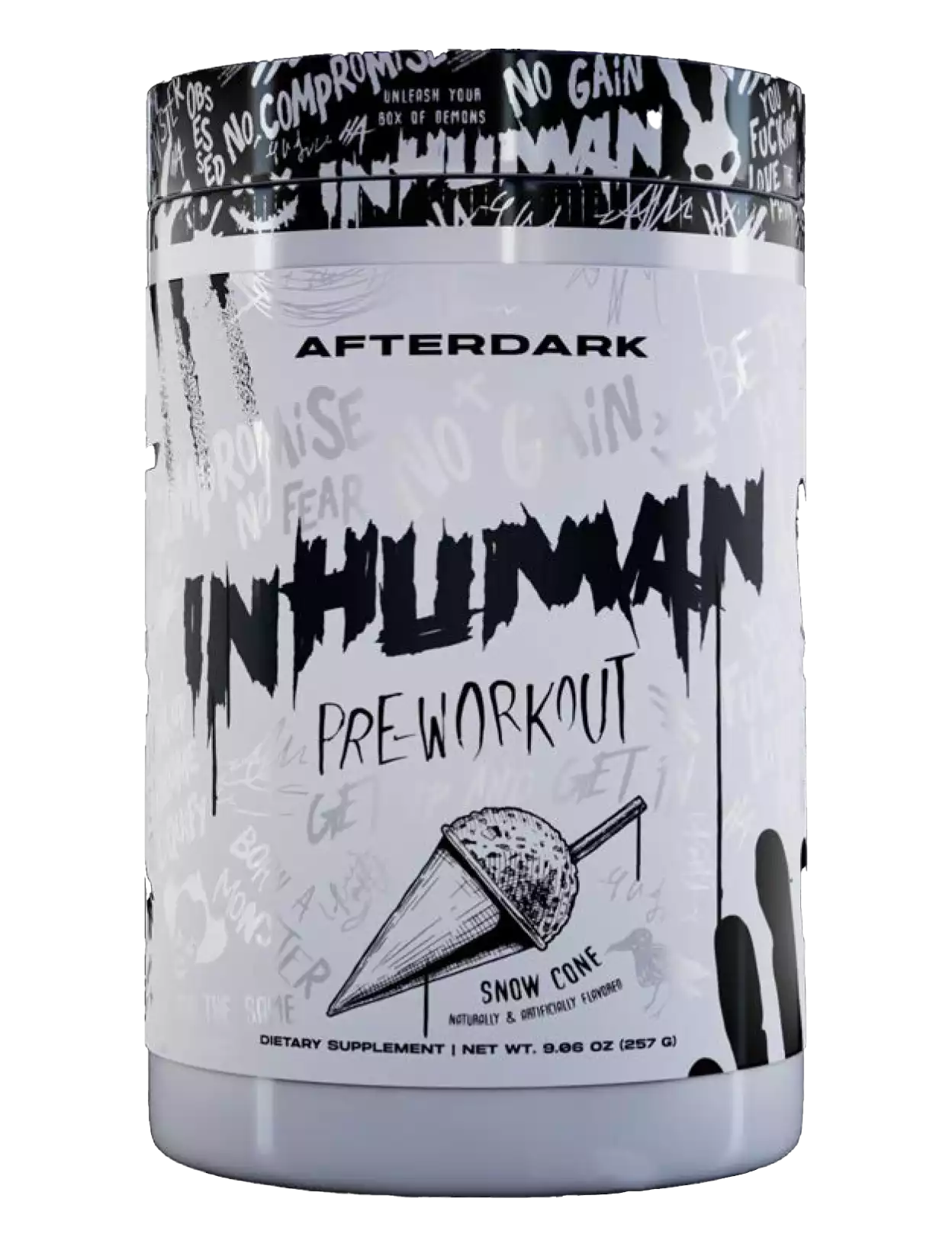 INHUMAN Pre Workout | Afterdark Supplements
Inhuman by Afterdark is an intense pre-workout supplement without the jitters.
Discount code:
LIFTVAULT15 = 15% OFF
Delayed Release Caffeine Matrix: 400 mg
Theobromine: 200 mg
CognatiQ: 150 mg
Alpha Yohimbine: 1.5 mg
Citrulline Malate: 5000 mg
Beta-Alanine: 3500 mg
Shop Supps Central
Lift Vault earns a commission if you click this link and make a purchase at no extra cost to you.
Inhuman Pre-workout Review (Afterdark)
Summary
I enjoyed using Inhuman from Afterdark labs, and it had been on my list for quite some time. As described above, this product is consistently delivered with great energy, intense focus, head buzzing, and happy vibes. I recommend that you try this product out with great-tasting flavors, especially if you want something in your arsenal that will lift your workout into the intensity that you are missing.
Pros
Laser focus

Great energy

Head buzz feeling

Happy music vibes

Stim sweats

No energy crash

Beta-Alanine tingles

Great tasting flavor

Chance to win a prize in the container

Amazing label art