Formulated with an everyday approach for daily driver pre-workout usage with patented ingredients, Ryse products are popular with the promotional content by Noel. Nonetheless, this product is really effective! Thanks to Jake with Nutricartel for providing this product for review. Loaded Pre is a trustworthy product recommended for beginners that will deliver each use, and also to the high-stimulant users needing a tolerance break.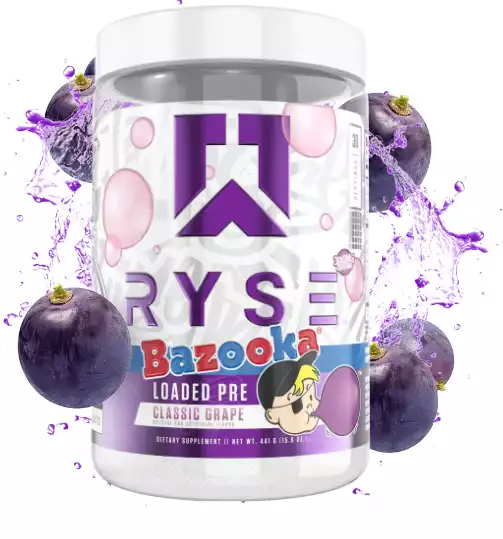 Loaded Pre-Workout - Ryse
Loaded Pre is a low-stimulant pre-workout that still gives great pumps.
Discount code:
LIFTVAULT = 15% off at Nutri Cartel
Choline: 200 mg
L-Citrulline: 4500 mg
Beta-Alanine: 3500 mg
Caffeine Anhydrous: 300 mg
zumXR Extended Release Caffeine: 120 mg
Shop Nutri Cartel
Lift Vault earns a commission if you click this link and make a purchase at no extra cost to you.
Where to Buy Loaded Pre Pre-Workout
Purchase Loaded Pre by Ryse at the following retailers:
Experience
Within the first 10 minutes of taking the product, I could fill the energy start to develop. It started around a five on a scale of 10, then increased to 8.5. It took about 40 minutes before I could fill the Beta-Alanine tingles peak, starting around 30 minutes after ingestion. Although I take a regular Beta-Alanine supplement, at the 40-minute mark I felt tingles all over my head, up and over my ears, across my shoulders, and down the sides.
With all the paresthesia sensorium of tingles, it almost provided a nootropic head high but missed the mark by a point. During the training, and endurance I felt was amazing and the endurance helped me keep on pushing. The pump also performed surprisingly well.
I developed more muscle soreness due to the pumps, although it is possible that I applied more intensity to my workout which drove the muscle breakdown further. The vascularity stayed with me throughout the day. Although Ialways had good vascularity, the nurses I work with could definitely find the forearm veins more easily. Overall, this product was an excellent performer with strength, vascularity, aggression, pump, energy, focus, and thermogenic effects
Side Effects
I experienced zero side effects while using this product, and the appropriate discretion should be followed if taking this too close to bedtime as it may affect sleep like most caffeine products.
Flavor
Bazooka Classic Grape is the flavor that I received, which tasted like your typical grape bubble gum. I really enjoyed this flavor. The directions suggest mixing one scoop with 10-12 ounces of water, but I enjoyed the flavor more when adding around 14 ounces.
Dose/Scoop Size
This product's recommended dosage is one scoop, with a ½ reserved for assessing tolerance. I felt the one-serving dosage was appropriate and did not feel the need to increase the serving size. I used this product starting from the point of high stimulants, only using caffeine on workout days, and after being on a stimulant break before that.
With the powder being so light and airy, it was a flat, level scoop. This isn't a product that I feel needs a scale, as you can stick with a good flat scoop and enjoy the product without much concern.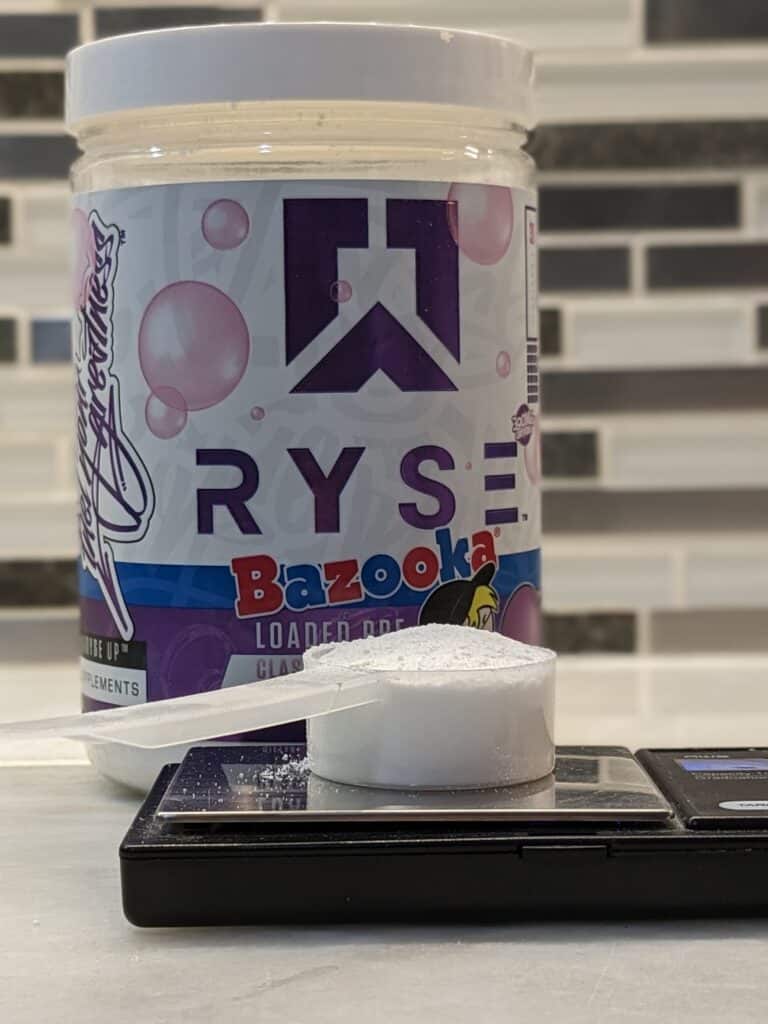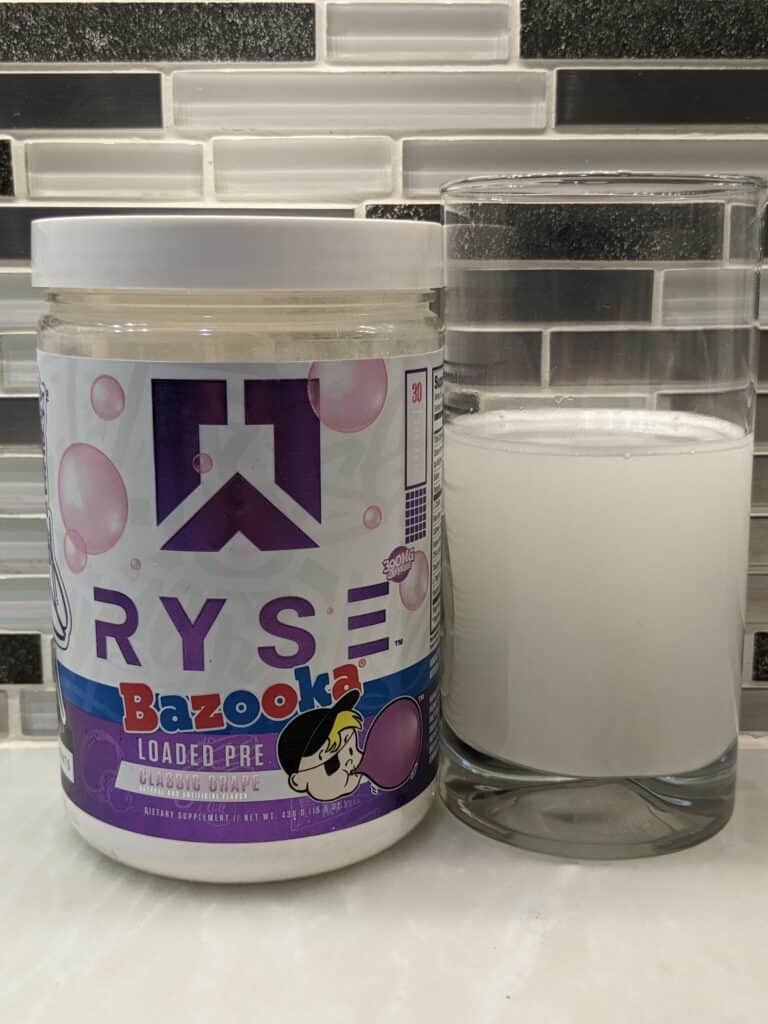 Ingredients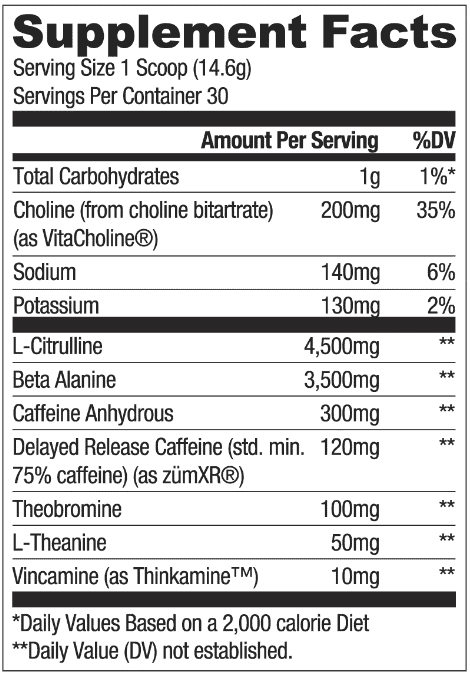 The formulation of Ryse Loaded Pre is set up to be an everyday supplemen, as it doesn't contain any exotic stimulants, has the basics, and is less than 400 mg of caffeine. All the ingredients are at the right dosages, except I question the purpose of including L-Theanine at such a low dose. Ultimately, it comes down to how ingredients all work together, although clinical studies don't include results of ingredient interaction.
L-Citrulline – 4.5 g
L-Citrulline is one of the top three most common pre-workout ingredients. Extensive evidence supports its ability to increase nitric oxide production, power output, pumps, blood flow, and endurance.
This ingredient comes in two forms typically, L-Citrulline, three if you count the nitrate form, and the L-Citrulline Malate form, which is a ratio 2:1 malate acid. The clinically studied dosage would be 6-8 grams of L-Citrulline Malate in a 2:1 ratio, providing nearly 4-6 grams of L-Citrulline, which meets the beginning range of this product.
Beta-Alanine – 3.5 g
Beta-Alanine has been shown to support muscular endurance and act as a lactic acid buffer. Depending on the source of this ingredient, you may feel the paresthesias intensify. This feeling is often desirable in the sports community, as it does make you feel the intensity after ingestion and as you start training. This effect may be negated by diet and intake of beta-alanine.
However, beta-alanine requires regular intake to be effective, akin to creatine. Daily beta-alanine supplementation is recommended to become effective, with a three to five weeks loading period.
Three to four grams is the recommended daily dosage for beta-alanine, putting Ryse in the standard clinical dose range.
Caffeine Anhydrous – 300 mg
Caffeine anhydrous is the standard form of caffeine, known for increasing energy, alertness, motivation, and mood. This ingredient's dosage varies widely between products, and the sports supplements market tends to be in the 300-450 mg range.
Finding the right dose for yourself is important, and tolerance buildup can contribute to needing more for similar results. Products often offer a one- to two-scoop formula to help moderate your needs for this specific reason. Although, this product doesn't support such a dosage scheme as it would negate the intended effects.
zümXR (Delayed Release Caffeine) – 120 mg
This ingredient is essentially the "extended-release" form of caffeine. This helps achieve two things: longer-lasting effects of the pre-workout and a smoother ride on the energy train with fewer crashes.
Di-caffeine malate is 75% caffeine and 25% malic acid. A 120 mg dosage yields 90 mg of caffeine. Combined with the 300 mg of caffeine anhydrous in this product, the total caffeine dosage in a full serving of Ryse is 390 mg.
Theobromine – 100 mg
Theobromine is a "caffeine light" stimulant ingredient found in chocolate, some tea plants, and the Kola Nut. Its name means "Food of the Gods." Greek "theo" means gods, and "broma" means food.
Some anecdotal evidence suggests that Theobromine can affect mood elevation, focus, and stimulation.
Most doses range from 100-400 mg, which is within the normal range.
L-Theanine – 50 mg
Taken from Healthline, in a review of five randomized controlled trials that included 104 participants, four trials linked L-theanine with reduced stress and anxiety in people experiencing stressful situations (ScienceDirect). This is dosed on the low end of the recommended 300-500 mg range for relaxation, and can nullify the side effects of high-stimulant pre-workouts. Typically, it isn't needed in regular caffeine-based pre-workouts.
Vincamine (as Thinkamine™) – 10 mg
Vincamine is the main ingredient and alkaloid of the lesser periwinkle plant, Vinca minor – a common garden plant.
According to Science Direct, although increased cerebral blood flow has been reported after the intravenous administration of vincamine, there have been no reliable blood flow studies after oral consumption. Improvement in scores on some psychometric tests has been obtained with vincamine in some patients with cerebrovascular disease. No clear-cut practical benefit has been demonstrated.
It has been used for over two decades in certain European countries (e.g., Hungary, Germany, and Poland) and Japan to treat cerebrovascular disease states and associated dementia.
If you attempt to find research on "Thinkamine™," the only results you'll find are trademark information.
It's not known what the required dose is to experience benefits. More information can be found in this link. 10 mg is the typical dosage I have seen, and this is the 3rd product I have taken that contains this ingredient, which is something I have really enjoyed.
VitaCholine (Choline) – 200 mg
Choline is a focus ingredient and is a chlorogenic source. Compared with Alpha GPC, choline bitartrate may be less effective than a nootropic (source). Doses usually range between 500 and 2,000 mg. Although they do not state the total dose of VitaCholine in the formula, VitaCholine is 40% choline, which they do state at 200 mg. (200 mg / 40% = 500 mg)
Loaded Pre Pre-Workout Review (Ryse)
Summary
A wonderful experience, I enjoyed reviewing this pre-workout. Twice this year, I have reviewed lower stimulant-based pre-workouts; both times, they were excellent experiences. It really makes you think some high-stimulant products may be less effective than assumed. Lastly, this formulation differs from what is being sold at Walmart, so do yourself a favor and get it through our recommended sources!
Pros
Intense vascularity
Strong pumps
Effective muscle soreness
Long-lasting energy crash
Good head-high feeling
Patented ingredients
Healthy formulation, daily driver
Thermogenic effects
No banned ingredients
Not overstimulating
Made in the USA
Cons
The container isn't the easiest to open and close
Contains L-Theanine