Malicious Labz is bringing you some of the hardest-hitting products from New Jersey (Bathtub Supps). This is an LGD-based pre-workout that is formulated for muscle size, including testosterone support. But they continue with DMAA to give you that extra edge while getting jacked.
This product isn't for the faint of heart, and it wasn't something I could run consistently nor enough to gauge the effectiveness of the LGD. If you are experienced with SARMS and are okay with losing your natty status, get Jacked today.
Thank you, Musclefactorysc, for sending this full product for review!
Where to Buy Malicious Labz Jacked Pre-Workout
As of October 2023, it doesn't appear that any retails are carrying Jacked Pre-Workout by Malicious Labz.
Instead, consider checking out our list of the strongest pre-workouts, best DMAA pre-workouts, and best DMHA pre-workouts.
Experience
Initially, there wasn't much to say or feel, except a tingling sensation tat started at the 30-minute mark. Starting here, I felt a good amount of energy from the yohimbine mostly over the heart and chest. The thermogenic effects ramped up at this point too, with bodily feelings of clamminess. While the label doesn't include anything that would be thermogenic, it does make me wonder at this point how much caffeine or DMAA I had just ingested. Focus was around 3.5/10, and I started to notice a decent amount of vascularity. This was unexpected considering the low intensity of my activity.
After 50 minutes, I felt lightheaded, and it was repeated multiple times in my review of this product. I had reviewed this at a ½ serving after the first experience of lightheadedness, and the result was the same. I had to use this three times before giving up on it, including one full serving two other times in addition to the ½ after the first run. I consumed ½ a serving on back, arm, and shoulder days, and one full serving on cardio and bodyweight exercise days.
Focus and energy were in line with DMAA, although a bit lower performance possibly due to low-quality sourcing. The pumps were surprisingly great with good vascularity, but the lightheadedness prevented me from working with my desired intensity, which greatly shortened the workouts.
Side Effects
As described in the experience segment, I had multiple lightheadedness cases outside of my control. I adjusted workout routines or exercises to be less intense and maintain a higher hydration level. I have seen conflicting information and reports of dizziness or lightheadedness while on a cycle of LGD, and in my experience, I can't say that it would be the cause.
Flavor
I was sent Cotton Candy for review, which tastes like typical cotton candy flavor. The flavor was about a 6/10 regarding desirability, but had bitter end notes. The suggested amount of water is 6-12 ounces with one scoop. I enjoyed it most around 10 ounces of water to weaken the bitter aftertaste.
Dose/Scoop Size
The serving size is 8 grams per scoop. The total serving amount is less than the manufacturer line near the handle of the scooper. The scooper may change as the manufacturing does, so you must weigh your dosages. With the unknown amounts of caffeine and DMAA, I suggest avoiding a full scoop if you don't have a scale and mixing the product well before your first serving.
I used only a one-serving dose with each serving, which hit well enough to review it adequately. Like the wonderful days of yesteryear, we are given a generous 30-serving tub, which used to be the market standard. The mixability was really good, with a tiny amount of floating pieces toward the top of the cup.
Ingredients
This contains proprietary blends, three different ones which had plenty of information on their own. The dosages will be unknown but will likely be underdosed in many areas except for the caffeine and DMAA. This is a unique formulation and something for those seeking SARMS or DMAA. I don't like the unknown amounts of proprietary blends, as one can assume the dosages aren't clinical, but issues with caffeine and DMAA could be hard to dial in for needed results.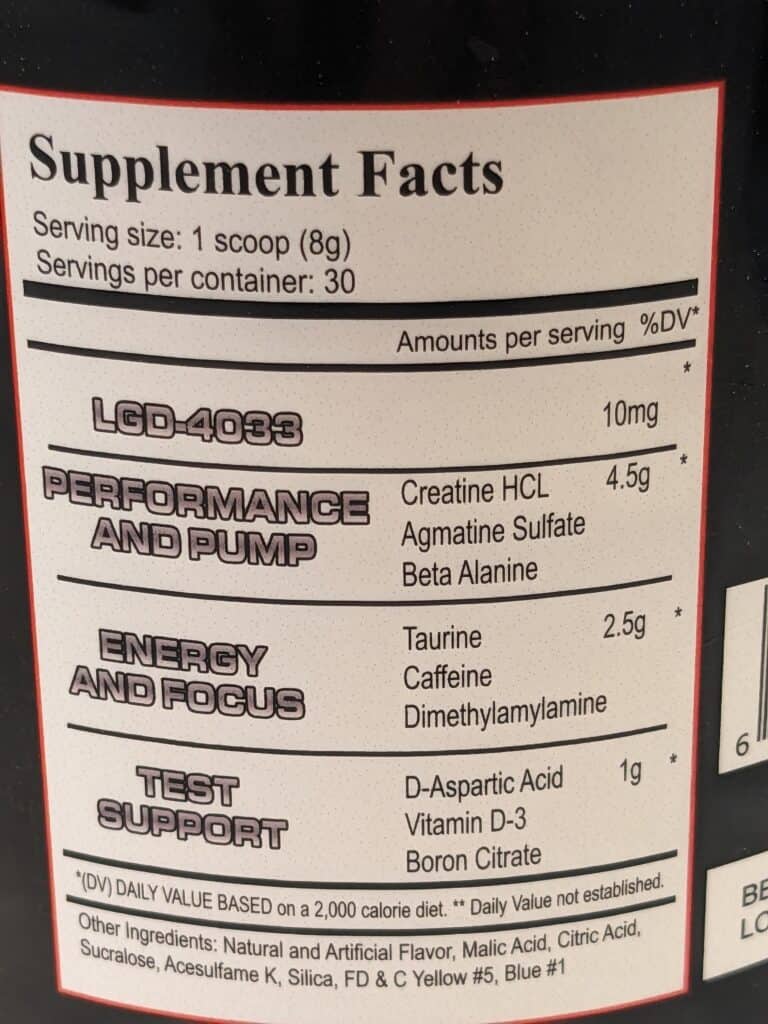 LGD-4033 – 10 mg
LGD, known as Ligandrol, is a selective androgen receptor modulator (SARM). SARMs are a class of compounds being investigated for their potential to promote muscle growth and bone health with fewer side effects often associated with anabolic steroids. LGD-4033 is specifically designed to target androgen receptors in muscle and bone tissues, which is why it's being explored as a potential treatment for conditions like muscle wasting and osteoporosis.
There are many anecdotal benefits, which include muscle growth, endurance, strength, and improved bone health. As of my last knowledge update in September 2021, SARMs, including LGD-4033, were not approved by the U.S. Food and Drug Administration (FDA) for human use and were considered investigational compounds. They're also still on the anti-doping list so competitors beware.
While the side effects are typically less than anabolic steroids, common side effects might include mild testosterone suppression, which can be temporary and usually resolves after discontinuation. However, long-term effects and safety are still being studied.
Performance and Pump – 4.5 g
Creatine HCL has higher bioavailability than creatine monohydrate (i.e., it gets absorbed more easily by the body), so you must ingest less to achieve similar effects. Like creatine monohydrate, creatine hcl helps the body create more ATP, allowing the muscles more power output. 1.5 grams is the clinical dosage of creatine HCL. It should be taken daily to be effective, so I typically don't look for creatine in my pre-workouts as I take it separately, usually mixed in with a protein shake. Jacked could be a good choice if you like creatine in your pre-workout.
Agmatine Sulfate is often included in pre-workout supplements as a pump ingredient, but more research is needed to understand how reliable these claims are. Theoretically, since agmatine can increase endothelial nitric oxide, it can help boost nitric oxide in the body and improve circulation. Improving circulation can help with more than achieving a pump; it helps the distribution and saturation of ingredients. This is especially important with high and hard stimulants. A comparable dose in similar product categories would be 750-1,000 mg.
Beta-alanine supports muscular endurance and acts as a lactic acid buffer. Depending on the source of this ingredient, you may feel the paresthesias tingling effect. This feeling is often desirable in the sports community, as it makes you feel the intensity after ingestion. This may be negated by diet and intake of beta-alanine. It requires regular intake to be effective, akin to creatine. Daily beta-alanine supplementation is recommended to become effective, with a three to five-week loading period. Three to four grams is the recommended daily dosage for beta-alanine, putting high-stim mode right at the clinical dose.
Energy and Focus – 2.5 g
Taurine is a common ingredient with many positive effects, such as enhanced physical performance, improved DOMS (delayed onset muscle soreness), improved blood pressure via higher cardiac output, possible reduction of cholesterol and triglyceride levels, increased uptake of glycogen to mitochondria for energy utilization (Examine). Taurine supplementation might block beta-alanine uptake as they are antagonistic, which wouldn't be an issue if used aside from pre-workout. It is not commonly known that beta-alanine/carnosine is a taurine-depleting antagonist (Examine). A one-gram taurine dose is fair (one to six grams daily in studies); however, more would amplify the benefits.
Caffeine is the standard form of caffeine, known for increasing energy, alertness, motivation, and mood. The caffeine content varies for each product. The 350-450 range is the typical dosage for sports supplements, and some products may contain other forms, such as di-caffeine malate not included here. Less is more, as your dependency will lead to diminishing returns as you increase your intake. The overall combinations of many factors, such as sleep, when you take caffeine, diet, and nutrition, affect how much you will need.
Dimethylamylamine – DMAA can be extracted from geranium, which is why this ingredient is on the label. 1,3-dimethylamylamine, aka DMAA, is a stimulant that induces energy, euphoria, and motivation. After coming under scrutiny from the FDA in 2015, there were a few years when DMAA disappeared entirely from pre-workouts. While DMAA has been listed in some products recently, it may also appear as an extract or stems and leaves; however, this product lists it as the actual name. Before being banned, the dosages used were around 60 to 100 mg. Since it is more potent than caffeine and DMHA, less is plenty. Check out Kyle's in-depth comparison of DMAA vs. DMHA, plus much more information.
Test Support – 1 g
D-aspartic acid (DAA) is an amino acid naturally found in the body and plays a role in various physiological processes. It's a non-essential amino acid, meaning the body can synthesize it independently. DAA synthesizes and releases hormones, particularly luteinizing hormone (LH) and growth hormone (GH), which are important for various functions, including reproductive health and muscle growth. As a potential natural testosterone booster, it has gained attention in the fitness and bodybuilding communities. Testosterone is a key hormone for muscle growth, energy levels, and overall well-being, as increasing testosterone levels could lead to enhanced athletic performance and muscle gains. Research on the effects of DAA supplementation on testosterone levels is mixed. Some studies have reported increased testosterone levels among men, while others have not found significant changes. The potential benefits of DAA supplementation might be higher in individuals with low testosterone levels or certain health conditions that affect hormonal balance. However, more research is needed to establish DAA's long-term safety and effectiveness as a testosterone booster.
Vitamin D3 has been shown to create small but statistically significant increases in testosterone among men who are Vitamin D deficient (source). It is worth noting that daily intake is needed for these effects. Dosages can vary, and you shouldn't rely on this product as your only source if supplementation is needed.
Boron Citrate is known for its testosterone-boosting effects, but more research is needed. I will say that many testosterone replacement clinics will utilize this supplement, which I believe they wouldn't suggest without seeing much effect on the labs they require. For more information, check out Examine here.
Jacked Pre-workout Review
Summary
My experience with Jacked was short-lived due to persistent lightheadedness. It appeared to have real DMAA or something that mimics the same effectiveness. This product has many downfalls with the proprietary blends, but it might be a good fit if you are experienced with LGD and looking for a pre-workout that combines the two.
Pros
DMAA
LGD SARM loaded
Good energy
Potent ingredients
Thermogentic
Testosterone boosting formulation
Full pumps
Improved vascularity
Good flavor
New Jersey Special
Cons
Proprietary blends, unknown levels of caffeine and DMAA
Lightheaded feelings caused a short review
Not for the faint of heart
Banned substances