Malicious Labz brings us a New Jersey special with the special sauce DMAA! This stuff is legit, giving energy just like the days before the FDA took it away.
Shredded features a full array of fat-burning ingredients, including Cardarine GW501516, CLA, yohimbine hcl, and more. This could be your product if you are looking for strong cardio support that will spill over into a light training day. I recommend this product only for experienced users and those not competing in federations where these ingredients would be banned.
Thank you, Musclefactorysc, for sending this full product for review!
Where to Buy Shredded Pre-Workout
As of October 2023, it doesn't appear that any retails are carrying Shredded Pre-Workout by Malicious Labz.
Instead, consider checking out our list of the strongest pre-workouts, best DMAA pre-workouts, and best DMHA pre-workouts.
Experience
Similarly to the review I did for Jacked, there wasn't much to say or feel initially, nor did I have any tingling sensation until the 30-minute mark. Starting here, I felt a good amount of energy with the feeling of yohimbine mostly over the heart and chest. The thermogenic effects started to ramp up at this point as well, with feelings of clamminess over my body. While the label doesn't include anything that would be thermogenic, it does make me wonder at this point how much caffeine or DMAA I had just ingested. I started to notice a small amount of vascularity, despite low-intensity activity. Focus was around 3.5/10 in the part of the experience.
Forty-five minutes in, the effects all came together and peaked. Thermogenic effect continued as the energy dialed to an 8.5/10, and the focus topped everything off at a 4/10. There was a noticeable heart rate increase, but nothing insane that would downregulate my workouts or cardio. I could feel the yohimbine kick in across my chest, and I felt a slight blood pressure increase. Regarding energy, it was better than most fat burner pills, and I felt that DMAA was here. I enjoyed five-plus hours of energy, but it kept going throughout my day with no crash or noticeable drop-off.
This is a fat-burner pre-workout. However, it was more of a cardio aid. I did enjoy it for a buzzed-over energy feeling with training, and in the good days of DMAA, this would be a complete pre-workout. Compared to the dosages and ingredients we see today, for endurance and pumps, Shredded didn't show as much improvement while training.
Side Effects
I didn't have any negative effects while using this product. This is a hardcore pre-workout fat burner; if you try to abuse or overuse it, you will experience issues.
Flavor
I was sent "Blueberry Lemonade" for review. The flavor was about a 6/10 regarding desirability with a bitter aftertaste. The suggested amount of water is 6-12 ounces with one scoop, and I enjoyed it most, around 8 ounces of water to weaken the bitter aftertaste.
Dose/Scoop Size
The serving size is 8 grams per scoop. The total serving amount is a slightly rounded scoop, which, compared to the very similar product names jacked by the same company, has two different scoopers that weigh out differently. I point this out because it is very important to weigh high-stimulant products like this. The scooper may change as the manufacturing does, so you might notice it doesn't look the same as the picture here. With the unknown amounts of caffeine and DMAA, I suggest avoiding a full scoop if you lack a scale. Mix the product well before your first serving. I did like how this rounded scoop had a flat spot on the bottom of it, which Jacked did not.
I used only a one-serving dose with each serving, which hit well enough to review it adequately. Like the wonderful days of yesteryear, we are given a generous 30-serving tub, which used to be the market standard. The mixability was really good, with a little foam on top.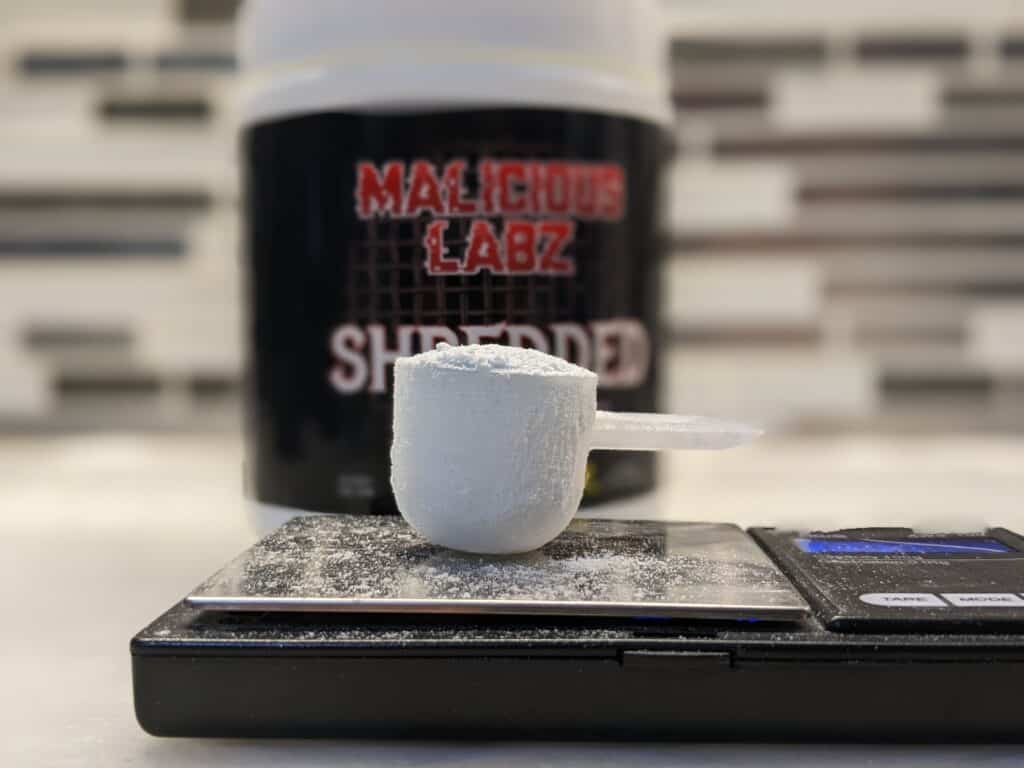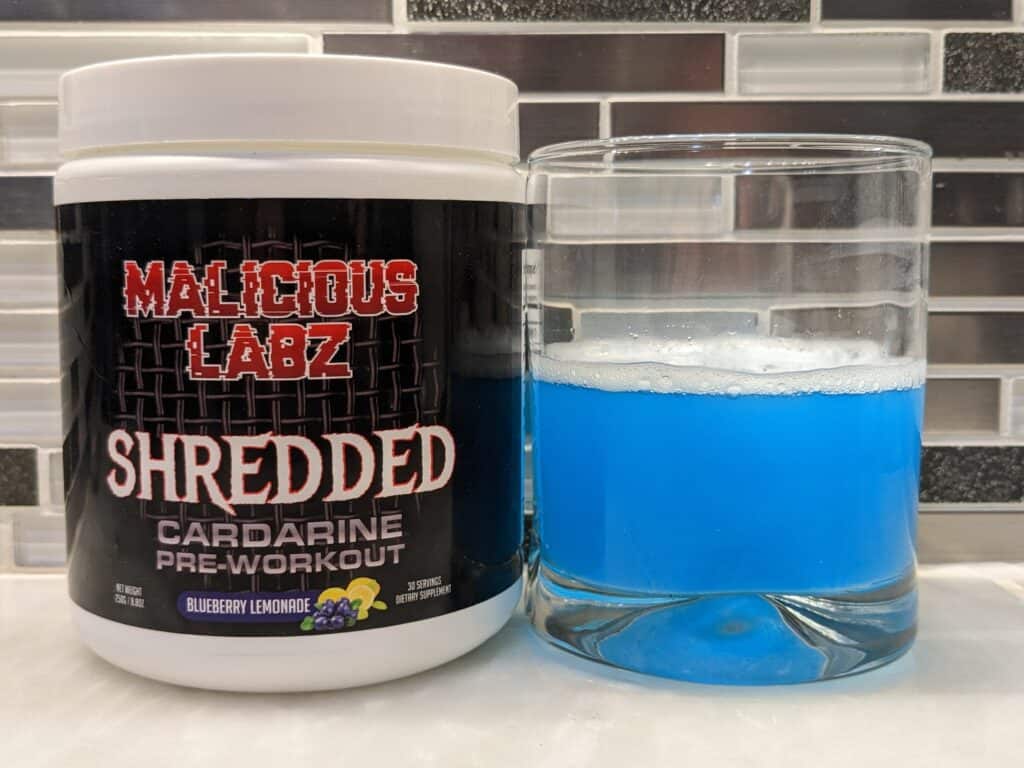 Ingredients
This is the second product I have reviewed from this brand, and it is very similar in formulation with the substitution of the fat burners vs. test support. It uses the same ingredients and dosages in the first two proprietary blends on this label as Jacked by Malicious Labz. I will reiterate that proprietary blends hide the dosages for ingredients, which are not a win for the consumer. Products containing high amounts of stimulants should cause concern. The formulation of this product is more of a fat-burner with an added pre-workout feel, which can be a good thing as you also get an almost SARM with it.
This product also potentially has DMAA and yohimbine hcl, although we don't know the dosages. My only suggestion would be to disclose the label or the stimulants since they can be the most affecting ingredients.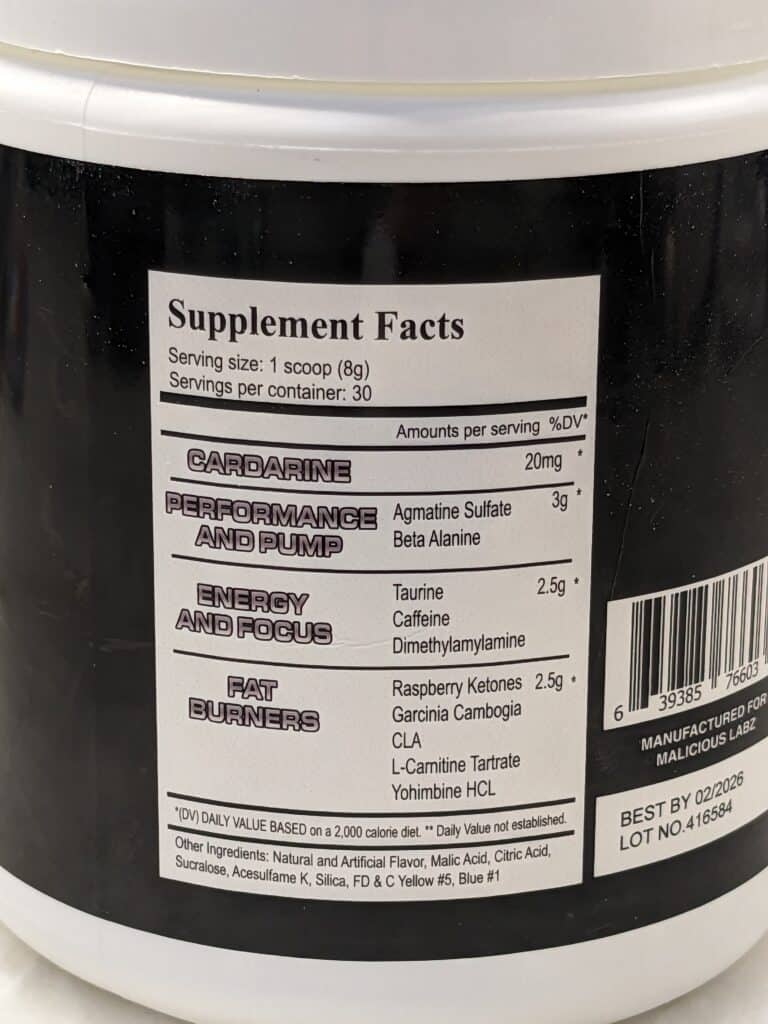 Cardarine – 20 mg
Caradarine, also known as GW501516/Endurobol/GW 50156, is commonly confused for being a SARM (Selective Androgen Receptor Modulator). However, it is a research compound, a PPARδ receptor agonist (Peroxisome proliferator-activated delta agonist). It has been shown to increase fat loss, cardiovascular health, endurance, and improve insulin sensitivity.
This compound was developed originally by Ligand Pharmaceuticals and GlaxoSmithKline, which also is responsible for the SARM LGD. The standard dosage for this ingredient is 10-25 mg daily, which we are given 20 mg here, so it is a higher efficient dosage.
Performance and Pump – 3 g
Agmatine Sulfate is often included in pre-workout supplements as a pump ingredient, but more research is needed to understand how reliable these claims are. Theoretically, since agmatine can increase endothelial nitric oxide, it can help boost nitric oxide in the body and improve circulation. Improving circulation can help with more than achieving a pump; it helps the distribution and saturation of ingredients. This is especially important with high and hard stimulants. A comparable dose in similar product categories would be 750-1,000 mg.
Beta-alanine supports muscular endurance and acts as a lactic acid buffer. Depending on the source of this ingredient, you may feel the paresthesias tingling effect. This feeling is often desirable in the sports community, as it makes you feel the intensity after ingestion. This may be negated by diet and intake of beta-alanine. It requires regular intake to be effective, akin to creatine. Daily beta-alanine supplementation is recommended to become effective, with a three to five-week loading period. Three to four grams is the recommended daily dosage for beta-alanine, putting high-stim mode right at the clinical dose.
Energy and Focus – 2.5 g
Taurine is a common ingredient with many positive effects, such as enhanced physical performance, improved DOMS (delayed onset muscle soreness), improved blood pressure via higher cardiac output, possible reduction of cholesterol and triglyceride levels, increased uptake of glycogen to mitochondria for energy utilization (Examine). Taurine supplementation might block beta-alanine uptake as they are antagonistic, which wouldn't be an issue if used aside from pre-workout. It is not commonly known that beta-alanine/carnosine is a taurine-depleting antagonist (Examine). A one-gram taurine dose is fair (one to six grams daily in studies); however, more would amplify the benefits.
Caffeine is the standard form of caffeine, known for increasing energy, alertness, motivation, and mood. The caffeine content varies for each product. The 350-450 range is the typical dosage for sports supplements, and some products may contain other forms, such as di-caffeine malate not included here. Less is more, as your dependency will lead to diminishing returns as you increase your intake. The overall combinations of many factors, such as sleep, when you take caffeine, diet, and nutrition, affect how much you will need.
Dimethylamylamine – DMAA can be extracted from geranium, which is why this ingredient is on the label. 1,3-dimethylamylamine, aka DMAA, is a stimulant that induces energy, euphoria, and motivation. After coming under scrutiny from the FDA in 2015, there were a few years when DMAA disappeared entirely from pre-workouts. While DMAA has been listed in some products recently, it may also appear as an extract or stems and leaves; however, this product lists it as the actual name. Before being banned, the dosages used were around 60 to 100 mg. Since it is more potent than caffeine and DMHA, less is plenty. Check out Kyle's in-depth comparison of DMAA vs. DMHA, plus much more information.
Fat Burners – 2.5 g
Raspberry ketones are found in raspberries and are linked with the breakdown of fat cells and an increase in adiponectin. Adiponectin is a hormone that has been linked with weight loss. However, these results have never been observed in human studies.
Garcinia cambogia from Examine, "Garcinia Cambogia (Malabar Tamarind) is a small fruit that has some traditional usage to enhance the culinary experience of a meal, but beyond that, has limited medicinal usage. The mechanism of action is inhibiting an enzyme called Citric acid lysase, which is required to synthesize fatty acids, known as de novo lipogenesis. At least in rats, evidence of suppressed de novo lipogenesis has been noted, and oral consumption of (-)-Hydroxycitric acid appears to reduce food intake and body weight reliably (the latter to a degree where food intake cannot explain all the observed effects)". That being said, studies in humans fail to replicate this. Some isolated studies note weight loss, but it is variable and unreliable.
Conjugated Linoleic Acid (CLA) is a fatty acid found in meat and dairy products, particularly in grass-fed animals. It has gained attention as a dietary supplement with potential health benefits, including weight management, muscle growth, and potential effects on overall health. CLA is available in supplement form and is often marketed as a fat loss and body composition aid. Some potential benefits of CLA that have been suggested in studies include weight management, muscle growth, and metabolic health. It's important to note that while some research suggests potential benefits of CLA, the results are only sometimes consistent across studies, and the effects are often relatively small. Additionally, the quality of CLA supplements can vary, and more research is needed to fully understand its mechanisms of action and impact on human health.
L-carnitine is a naturally occurring amino acid derivative that plays a crucial role in the metabolism of fats in the body. It is involved in transporting fatty acids into the mitochondria, which are the energy-producing structures within cells. L-carnitine is found in various foods, particularly animal products like meat, fish, poultry, and dairy. The body can also synthesize it from other amino acids. L-carnitine supplements have gained attention for their potential health benefits, especially in energy production, fat metabolism, and exercise performance. Here are some key aspects of L-carnitine: energy metabolism, exercise performance, fat oxidation, heart health, and weight management. However, the evidence regarding its effectiveness for weight loss is mixed. 2,000 mg is a clinical dosage, yet we don't know the dosage here.
Yohimbine HCl is a very popular ingredient in many supplements. It has a variety of uses and can serve as an appetite suppressant, fat burner, aphrodisiac, mood elevator, and performance and focus ingredient. Yohimbe is a tree native to central and western Africa, and the bark of the tree produces an alkaloid called yohimbine. Depending on the quality of the extract, it can be very potent, so dosing varies with different products or brands. This isn't to be confused with alpha yo (rauwolfia vomitoria extract). Some individuals are more susceptible to alpha yohimbine and avoid any pre-workout with it outright. Common adverse side effects include anxiety, headaches, sweating, frequent urination, and increased blood pressure.
Shredded Pre-Workout Review
Summary
I enjoyed Shredded much more than Jacked by Malicious Labz, and this would be a great product for someone looking to combine cardarine with their pre-workout. I utilized this for a cardio and fat-burning effect more than a full-featured pre-workout, but if you have a strong, intense training style, it could be a great pre-workout to run at the gym. I will keep this on my shelf for those training days when I need a strong, energetic thermogenic that will keep me primed and focused. Check it out before the FDA takes away this DMAA-based pre-workout.
Pros
DMAA
Cardarine GW501516/Endurobol/GW 50156 "SARM" loaded
Awesome energy
Good focus
Cardio aid
Thermogenic
Potent ingredients
Fat burning formulation
Slightly improved vascularity
Good flavor
New Jersey Special
Cons
Proprietary blends, unknown levels of caffeine and DMAA
Banned substances