Super bioFREAK OMG is a high-stim pre-workout supplement from Global Formulas. It is powered by 10 g Citrulline Malate (9:1), 3.5 g Beta-Alanine, 1.5 g Agmatine Sulfate, 200 mg Juglans Regia (aka DMHA), 30 mg Noopept, 3 mg Alpha Yo, and 400 mg of total caffeine from two sources.
Super bioFREAK gives you all that you'd want in a pre-workout: pumps, focus, energy, and mood.
I tried this product twice, and it felt amazing for me. I could only recommend this for experienced users as the effects (especially energy and thermogenic) are pretty potent.
If you're looking for something to provide intense energy, consider Super Bio Freak, even if the name is a bit cheesy.
Read on for additional details of my experience, the best prices for the Super bioFREAK OMG pre-workout, and a breakdown of its ingredient label.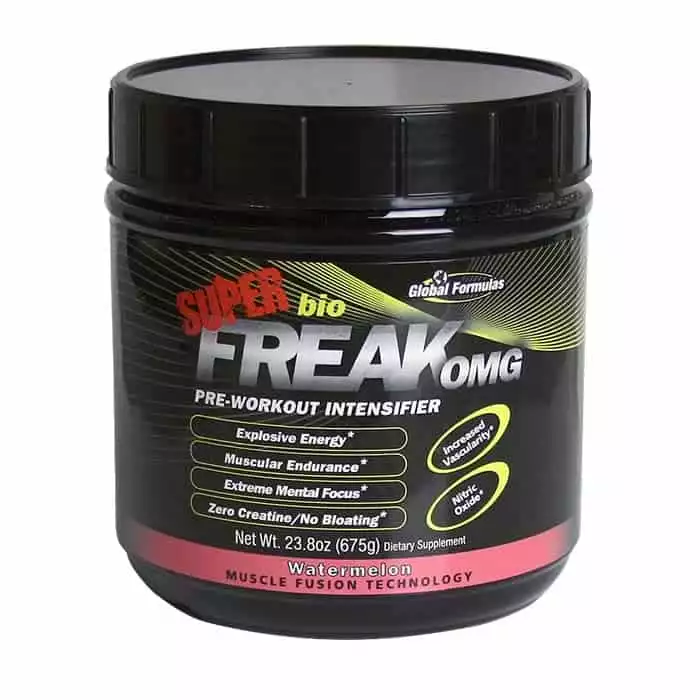 Where to Buy
You can buy Super Bio Freak Pre Workout at the following retailers:
My Experience: 
I took Super bioFREAK two different times, and after getting past the flavor, the effects were incredible. Energy, pumps, the focus was excellent.
Effects: 
The main aspects of this product are energy, pumps, focus, and thermogenic effects.
The Beta-Alanine tingles came in after only 5-10 minutes and lasted for an excellent 30 minutes, 8 out of 10 for intensity.
Energy started within 10 minutes and was significantly strong at first, but after the first 15-30 minutes, it smoothed out and lasted for an intense 5-6 hours.
Within 15 minutes, a strong sense of focus came over me and lasted well throughout the workout.
Being a high-stim product, the pumps from the Citrulline Malate, Agmatine Sulfate, and L-Norvaline were incredible.
After the 4 hour workout, there was a slight mood elevation.
There was a robust thermogenic effect with this product.
There were no adverse side effects, no crash or Alpha Yo effects.
Flavor: 
I tried the "Candy Apple" flavor, and it was not good. With a prominently bitter taste, significant chemical taste, maybe a 2.5 or 3 out of 10. Other flavors include Strawberry Lemonade, Lime Margarita, Peach Mango, Watermelon, and Pina Colada.
Scoop Size: 
A whole serving is 22.5 grams. The scooper I used showed a half serving of 11.278 grams. Because this came as a sample, the scooper shown is not the scooper included with Super Bio Freak.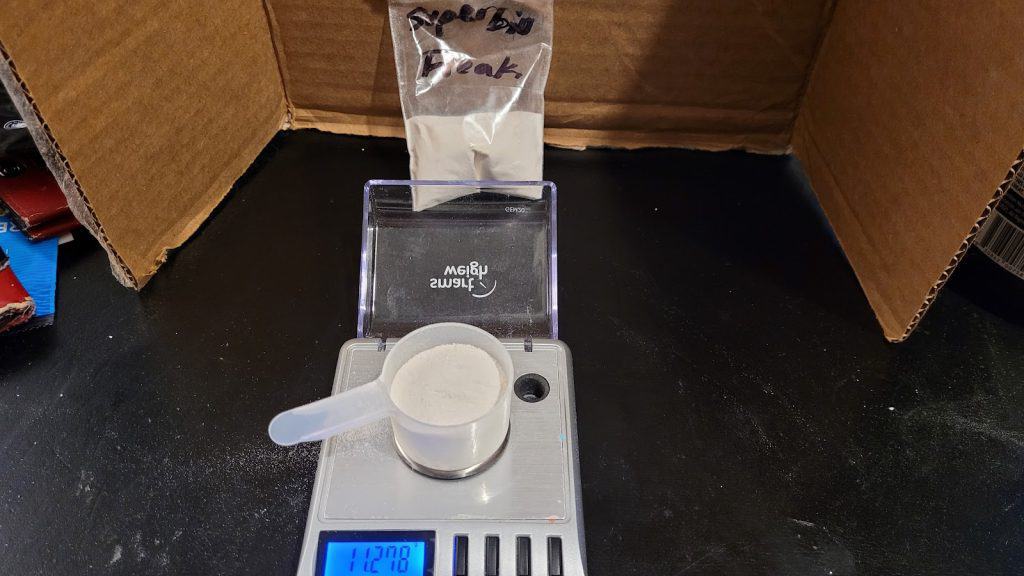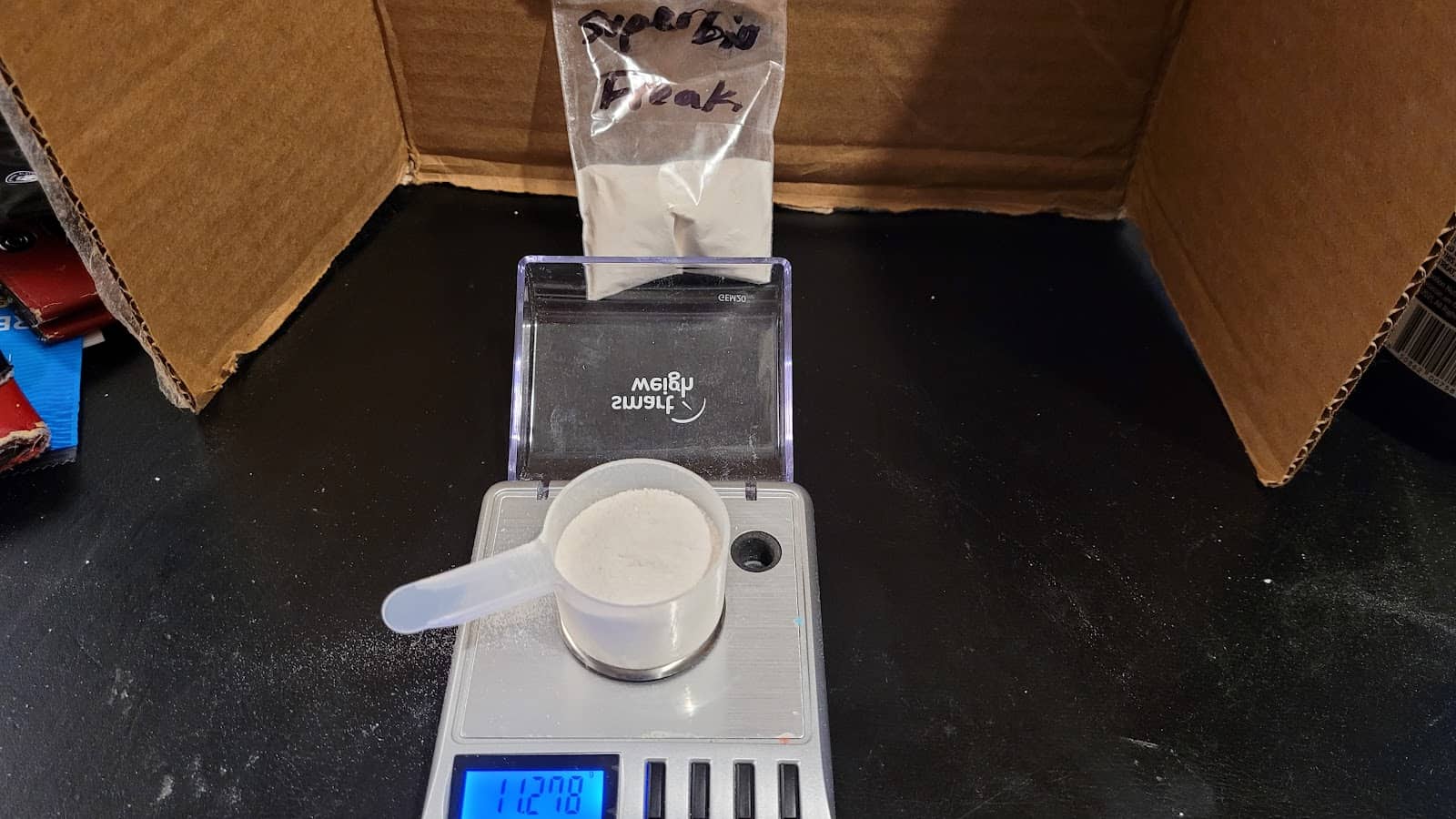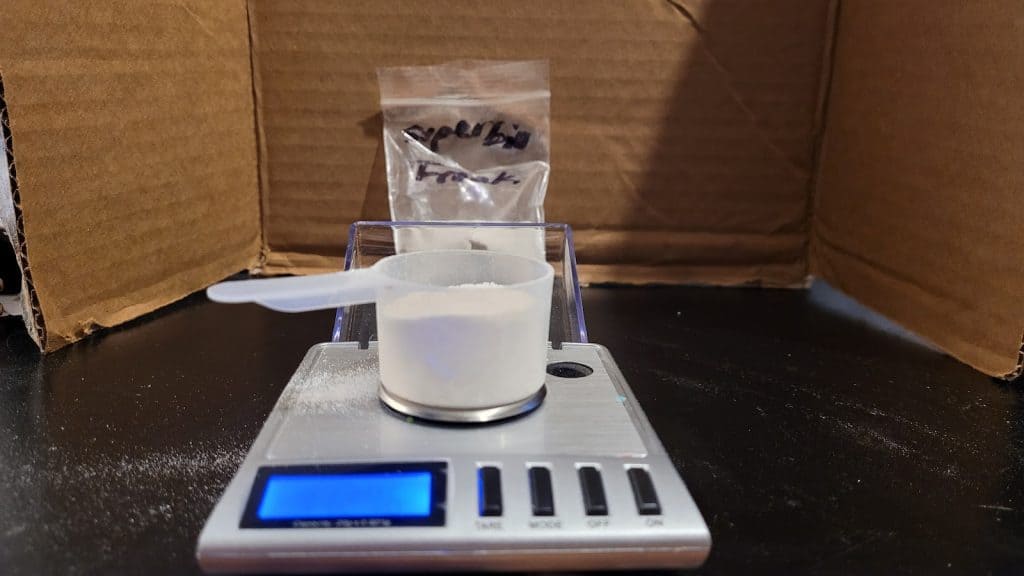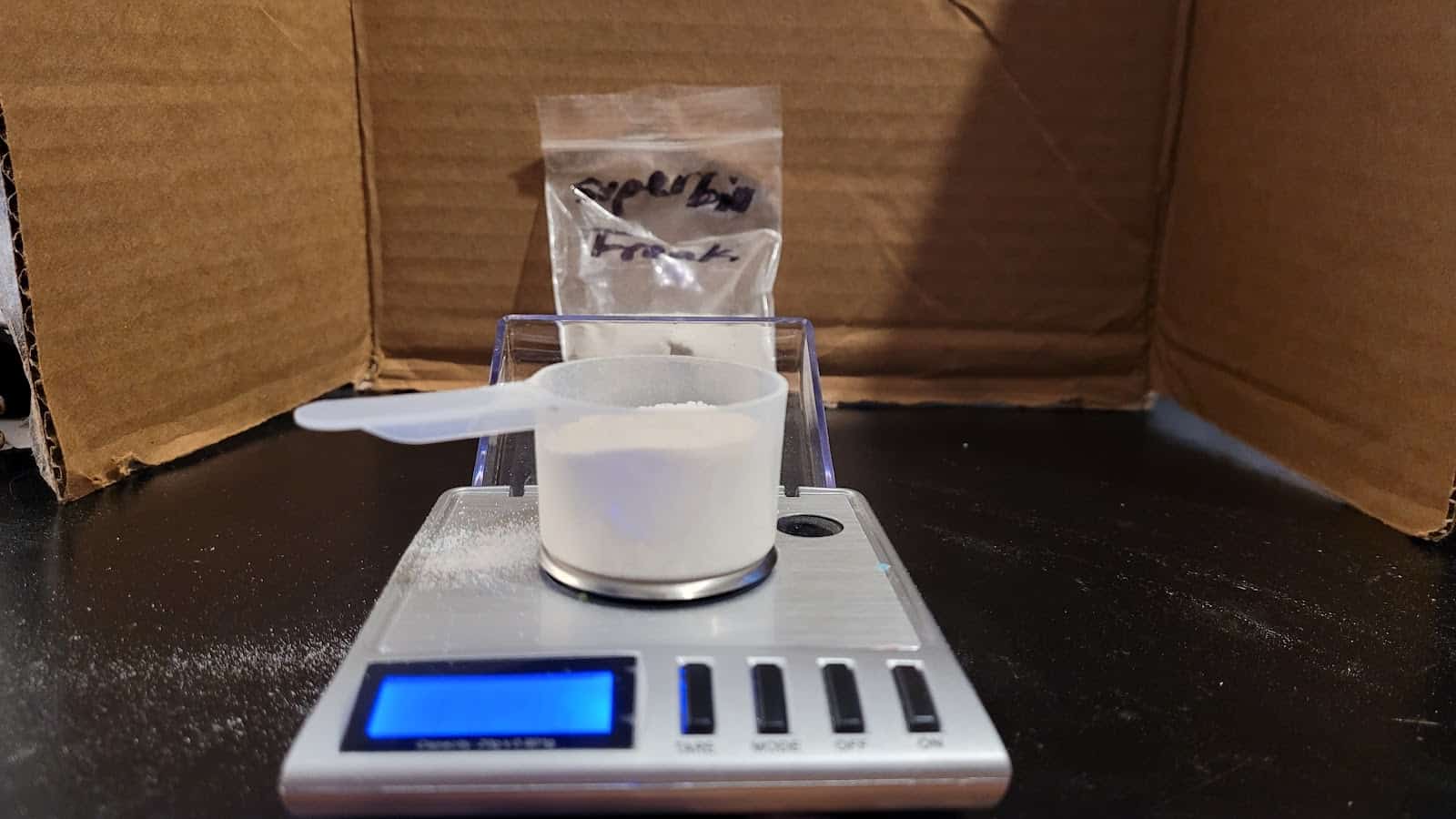 Ingredients
Below you'll find the Super Bio Freak Pre Workout ingredients, along with a breakdown of each ingredient when possible. Of course, some of the ingredients are obscured in a proprietary blend, so we won't be able to know the exact dosage of those ingredients.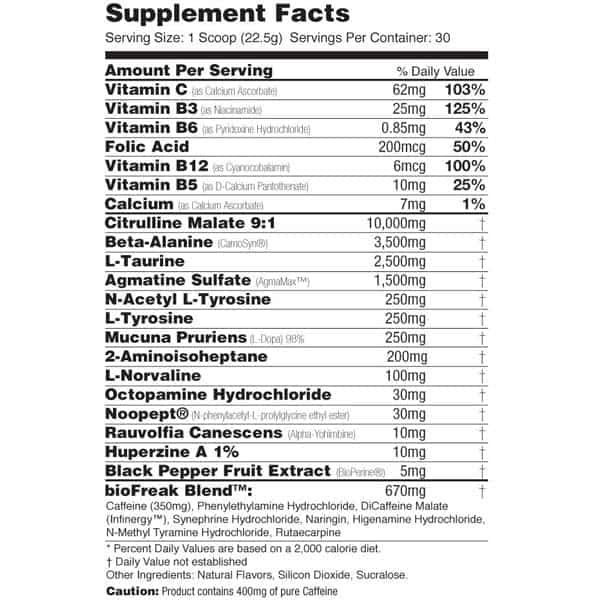 Citrulline Malate 9:1 – 10,000 mg
L-Citrulline Malate is one of the most common pre-workout ingredients. It has extensive evidence supporting its effects on increasing nitric oxide production, power output, pumps, blood flow, and endurance.
At a ratio of 9:1, the 10,000 mg is far above the usual dose you'd typically see and give you 9 grams of pure L-Citrulline. 
Why the 9:1 ratio? No idea. It's definitely not something you see every day!
Beta-Alanine (Carnosyn ®) – 3,500 mg
Beta-alanine has been shown to support muscular endurance and can act as a lactic acid buffer. Surprisingly, this is the patented form of beta-alanine, known as Carnosyn.
However, beta-alanine requires regular intake to be effective, akin to creatine. Daily supplementation of beta-alanine is recommended, with a loading period of three to five weeks needed to be effective.
3 to 4 grams is the recommended daily dosage for beta-alanine. With 3.5 g per serving, Super bioFREAK is right in the middle.
Taurine – 2,500 mg
Taurine is a "miscellaneous" pre-workout ingredient with a range of potential, albeit limited, physical benefits. It can aid in blood flow, reduce cramping, and boost antioxidant defense systems (Examine). It's a pretty insignificant ingredient in pre-workout compared to other components but doesn't hurt anything either.
2.5 grams is quite a high dosage of taurine to achieve any effects it has to offer. Usually, other products have 500 mg to 2 grams.
Agmatine Sulfate (AgmaMax ®) – 1,500 mg per serving
Agmatine Sulfate is included as a "pump" ingredient, but research is more limited on this ingredient vs. the classic L-Citrulline.
The 1,500 mg found in Super bioFREAK is one the upper end of the range you'd typically see in a pre-workout supplement with Agmatine Sulfate, which occasionally ranges between 500mg and 1,500mg.
N-Acetyl L-Tyrosine – 250 mg
While L-Tyrosine is an excellent ingredient for enhancing focus and reducing stress, NALT (N-Acetyl-L-Tyrosine) is less bioavailable than pure L-Tyrosine.
Transparent Labs claims that "…the acetylation improves the absorption and effective period of L-Tyrosine…", but Examine claims there is "limited practical evidence on NALT as an alternative to L-Tyrosine."
250 mg is not close to a clinical dosage for this ingredient. I'd love to see this replaced with 1 to 1.5 grams of pure L-Tyrosine.
L-Tyrosine – 250 mg
L-Tyrosine helps "smooth out" some of the harsher effects of stimulants and increases focus. Some limited research also shows it can act as a cognitive booster in stressful environments.
250 mg is a bit below recommended dosage for use in an exercise setting (source). I'd love to see this reformulated as 1-1.5 grams of pure L-Tyrosine instead of the NALT and L-Tyrosine combination.
Mucuna Pruriens (Std. 98% L-Dopa) – 250 mg
Also known as Velvet Bean, mucuna pruriens extract is a traditional herbal supplement with little dopamine increasing and cortisol reducing effects, among other things.
One of the more reliable effects is a noticeable reduction in Parkinson's Disease symptoms, though that is not relevant here.
I'm not sure if the dosage included here, 250 mg, is sufficient for stress reduction, though to be honest, those effects are pretty minor anyway.
Juglans Regia Extract – 200 mg
DMHA is a stimulant, similar to DMAA, known for boosting energy, focus, and mood. It comes in many different forms, of which Juglans Regia Extract is one. Others include 2-aminoisoheptane and Kigelia Africana.
200 mg is a standard but potent dosage of this ingredient. However, just because it says something on the label doesn't necessarily mean you'll "feel" it.
L-Norvaline – 100 mg
L-Norvaline is a unique amino acid and a form of the BCAA valine. It is an arginase inhibitor, which helps prevent the breakdown of arginine in the body. This makes the nitric oxide production of citrulline more typical dose of L-norvaline is between 100 mg and 200 mg or even up to 400 mg, but I am not sure how well supported this claim is (source, source).
Octopamine – 100 mg
This is a stimulant that may also have minor fat-burning properties (Examine). It is a metabolite of synephrine.
100 mg is a standard dose, as 100 mg is typically what you see in pre-workouts.
Noopept – 30 mg
Noopept, also known as N-Phenylacetyl-L-prolyglycine ethyl ester, is a synthetic nootropic ingredient with cognitive boosting and psychostimulatory effects. It's in the racetam family of nootropics. In terms of focus ingredients, this is the star of this formula.
30 mg is a substantial dose of noopept
There is some evidence for neuroprotective health (Alzheimer's Discovery Organization)
Huperzine A 1% – 10 mg (100 mcg yield)
Like Choline Bitartrate, Huperzine A is cholinergic and acts as a cognitive enhancer. It tends to be taken in doses of 50 mcg to 200 mcg, so the amount found in Obedient does land over the clinically effective range. As an acetylcholinesterase inhibitor, It helps lengthen the half-life of cholinergic sources (Examine). However, this formula has no choline sources (Citicholine, Alpha GPC, or Choline Bitartrate).
Black Pepper Fruit Extract (Bioprene ®) – 5 mg
Bioprene is the patented version of Black Pepper Extract, which helps with the absorption of supplements.
Typical doses regularly range from 2.5 mg to 20 mg.
Rauvolfia Canscens – 3 mg
From TANDF Online, Rauvolfia canescens has ten different alkaloids, including Yohimbine and Alpha Yo; others include ajmaline, corynanthine, deserpidine, reserpiline, isoreserpiline, aricine, and lankanescine.
We don't know the percentage of Yohimbine or Alpha Yo inside of Rauvolfia canescens. Still, I did not get any adverse side effects typically seen with Alpha Yo, such as anxiety, headaches, sweating, chills, and increased blood pressure.
Sadly, there is a prop blend of stims and thermogenic ingredients, but luckily they tell us the total amount is 670 mg and 400 mg of caffeine.
Suppose I were to try and break down the ingredients and doses. In that case, I'd think it would be 350 mg Caffeine Anhydrous, 125 mg Phenylethamine Hydrochloride, 68 mg Infinergy (50 mg yield), 30 mg Synephrine Hydrochloride, 30 mg Naringin, 30 mg Higenamine Hydrochloride, 30 mg N-Methyl Tyramine Hydrochloride and 7 mg Rutacarpine.
Caffeine Anhydrous – 350 mg
Caffeine anhydrous is the standard form of caffeine found in coffee, tea, and energy drinks. It's one of the most popular drugs in the world, if not the most popular.
Acute effects include energy, focus, enhanced sports performance, and possibly even a will to live. Okay, I added that last one.
400 mg total caffeine is in the upper range that you'll see in pre-workouts, typically from 250 mg to 450 mg, with some others going far higher.
Phenylethylamine Hydrochloride
Phenylethylamine Hydrochloride, also known as PEA or Beta Phenylethylamine (usually shortened to Beta PEA) is a neurotransmitter that inhibits uptake and efflux (i.e., removal) of dopamine norepinephrine and serotonin levels (2008 study). It is included here to increase focus and motivation. Typical dosages range between 200 mg and upwards of 600 mg. As MAO-B primarily metabolizes it and rather quickly, it requires an MAO Inhibitor to length the feeling, as stated in this study.
Di-Caffeine Malate (Infinergy ®) – 50 mg yield
Di-Caffeine malate is the "extended-release" version of caffeine. Combined with caffeine anhydrous, this helps extend the effects of a pre-workout and supports offset crash effects of high caffeine doses.
Super bioFREAK uses "Infinergy," which is the patented form of di-caffeine malate. In theory, this should give you more confidence that it is a high-quality ingredient.
50 mg of di-caffeine malate is a decent dosage.
Synephrine
Synephrine is a well-researched ingredient that has been shown to aid in weight loss.
"In general, bitter orange extract alone (p-synephrine) or in combination with other herbal ingredients did not produce significant adverse events such as an increase in heart rate or blood pressure. Nor does it alter electrocardiographic data, serum chemistry, blood cell counts, or urinalysis. p-Synephrine alone as well as in combination products were shown to increase resting metabolic rate and energy expenditure, and modest increases in weight loss were observed with bitter orange extract/p-synephrine-containing products when given for six to 12 weeks." 

Synephrine Meta-Analysis
40-100 mg of synephrine is the usual dosage for fat-burning effects.
Naringin (fruit)
Naringin is a flavonoid found in grapefruit. It may help regulate glucose, which may help lower glucose levels over time. This could satisfy control cravings for carbs and aid users in controlling their weight.
From NIH, naringin and its aglycone naringenin belonged to this series of flavonoids and displayed potent anti-inflammatory and antioxidant activities. Several lines of investigation suggest that naringin supplementation is beneficial for the treatment of obesity, diabetes, hypertension, and metabolic syndrome.
Higenamine
Thought to have similar mechanisms to ephedrine, Higemanine has seen its use as a fat burner, though this research is quite limited.
Examine says it is typically taken in 20 mg to 30 mg two to three times daily, but in Super bioFREAK, we do not know how much there is.
N-Methyl Tyramine HCL 
NMT is a stimulant, typically included at a dosage of around 200 mg in supplements.
Rutaecarpine
Rutaecarpine is an ingredient I have not come across before, which is always fun.
According to The Optimize Blog, rutaecarpine can help negate the effects of caffeine.
A typical dosage is 100 mg, but it is at the end of a prop blend; it probably isn't anywhere close to that 100 mg.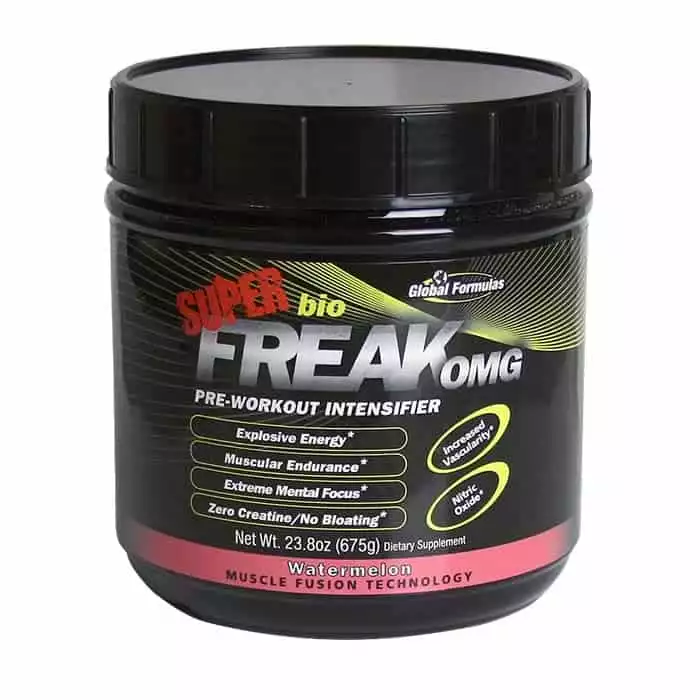 Super Bio Freak OMG Pre Workout Review (Global Formulas)
Summary
Super bioFREAK OMG pre-workout by Global Formulas delivers intense energy and superior focus with surprisingly good pumps. It's powered by 10 g Citrulline Malate (9:1), 3.5 g Beta-Alanine, 1.5 g Agmatine Sulfate, 200 mg Juglans Regia (aka DMHA), 30 mg Noopept, 3 mg Alpha Yo, and 400 mg of total caffeine from dual sources. Super bioFREAK gives you all that you'd want in a pre-workout: pumps, focus, energy, and mood elevation.
Due to the energy in this product, I could honestly only recommend this for experienced users who've used pre-workouts (and, more importantly, high stim) before.
As long as you can power through the flavor, it's a great experience.
Pros
Wonderful focus

Surprisingly good pumps

Long-lasting energy (5-6 hours)

Significant thermogenic effects

No crash

30 full servings
Cons
 Semi-prop blend

Under-dosed N-Acetyl-L-Tyrosine

Under-dosed L-Tyrosine

Under-dosed stimulants in the prop blend