Symbiote pre-workout by Nutrifitt is here again, reformulating their pre-workout, featuring strong stimulants like DMHA, eria jarensis, alpha yo and more.
This product ranks on the top tier of products I have reviewed. This isn't for people sensitive to alpha yohimbe, but it is an excellent starting place for those wanting to try some of the strongest pre-workouts.
Thank you, Jake from Nutricartel, for sending this full product for review!
Powerful Stim Pre-Workout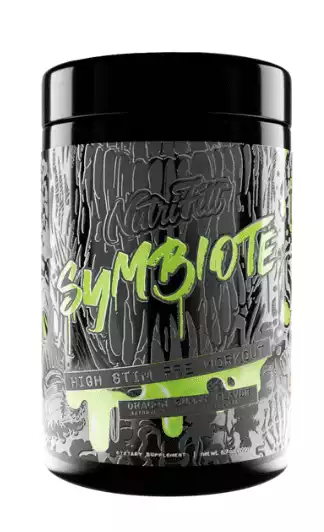 Nutrfitt Symbiote High Stim Pre-Workout
Symbiote from NutriFit is a powerful stim pre-workout. With no ingredients for pumps, it's fully loaded with focus and energy, and that's exactly what Symbiote does. Although it's just focus and energy, both are on the higher end of pre-workouts and, afterward, a nice head-buzz feeling.
Discount codes:
LIFTVAULT = 15% off at Supp Kingz
L-Tyrosine: 1000 mg
Beta-Alanine: 4,000 mg
Caffeine Anhydrous: 400 mg
Shop Nutricartel
Lift Vault earns a commission if you click this link and make a purchase at no extra cost to you.
Where to Buy Symbiote by Nutrifitt
You can buy this current version of Symbiote by Nutrifitt from the following retailers:
Experience
In the first 20 minutes, I could feel that the paresthesia effects from the beta-alanine were becoming more prominent. As the next 25 minutes continued, I felt the tingles amplify and wrap around my head, onto my ears and shoulders while continuing down my spine.
During the same time, energy and focus developed to eight out of ten. I began to feel warm and excited with happy vibes. While driving to the gym, I had that warped, tail light focus, but the energy was enough to keep me wanting to move.
At 50 minutes, I was either at the gym starting my warm-up set or doing some active cardio. The repetitions during my lifts came easily due to having a strong mind-to-muscle connection. My endurance improved, especially due to the strong focus as I kept pushing through my training.
I felt slight numbness throughout my body on the top of my skin, which might have been the niacin, but it was a positive effect adding to the nootropic high. While all this was not formulated for pumps, I felt strong muscle fullness from the mind-to-muscle connection. This contributed to strong muscle contraction and intensity, leading me to some DOMS (delayed onset muscle soreness). I experienced a strong thermogenic effect, with some great sweating, which would be a great marathon running pre-workout.
All in all, this version of Symbiote proved to be an excellent reformulation. I enjoyed every bit of my training while using this product, it definitely added to breaking the monotony and plateauing of my training. There were no come-downs, and the energy drastically dived off as the focus continued without any interruption for over 5 hours.
Side Effects
I didn't experience any negative effects, but if you are sensitive to alpha yohimbe, I suggest reducing the starting serving size.
Flavor
Maniacal Melon was the flavor I was sent for review, which was delicious. The flavor was about a 10/10 for desirability, as it starts very sweet and then finishes with no aftertaste. It had a juicy watermelon taste, similar to a jolly rancher. The suggested amount of water is 8-12 ounces, and I enjoyed it most, around 12-14 ounces of water as it is very strong in flavor.
Dose/Scoop Size
The serving size is 11.6 grams for a full serving. The full serving amount comes to a slightly above-level round scoop. Since it does contain two forms of yohimbe/alpha yo, I would not suggest going too round with a scoop as the effects are quite strong.
With each serving of this pre-workout, I used the full scoop, which hit exactly how I needed it to. We are given a solid 20 servings in this container at the full serving amount, which is currently the market standard. The mixability was great, with no sediment toward the end of the cup.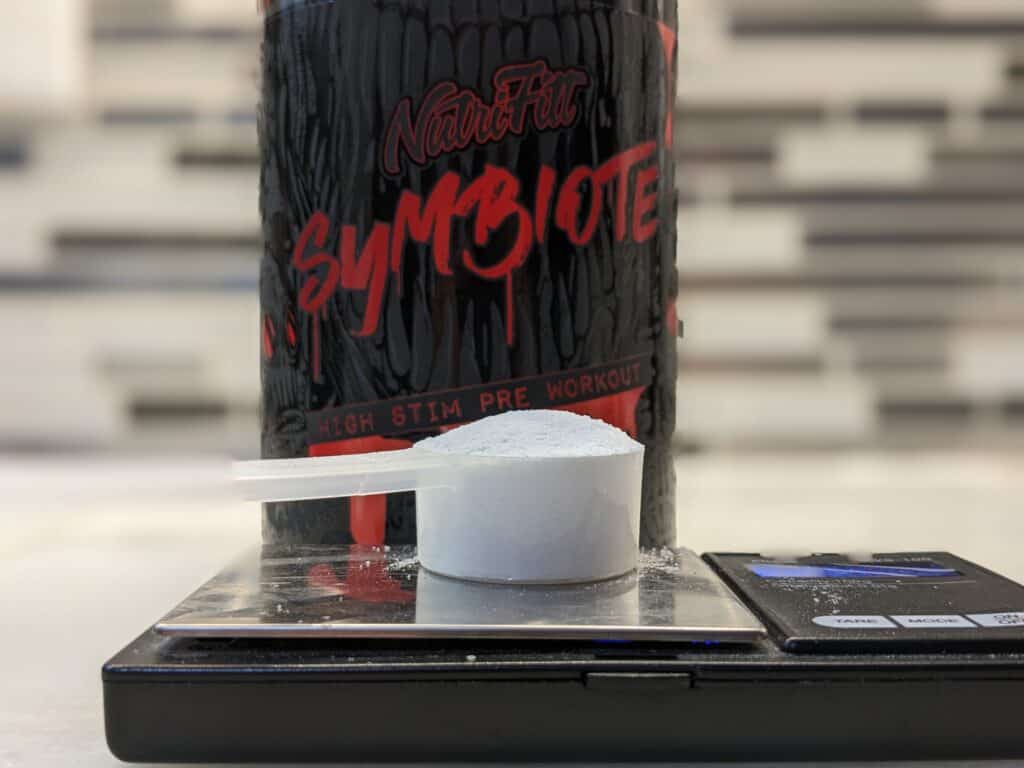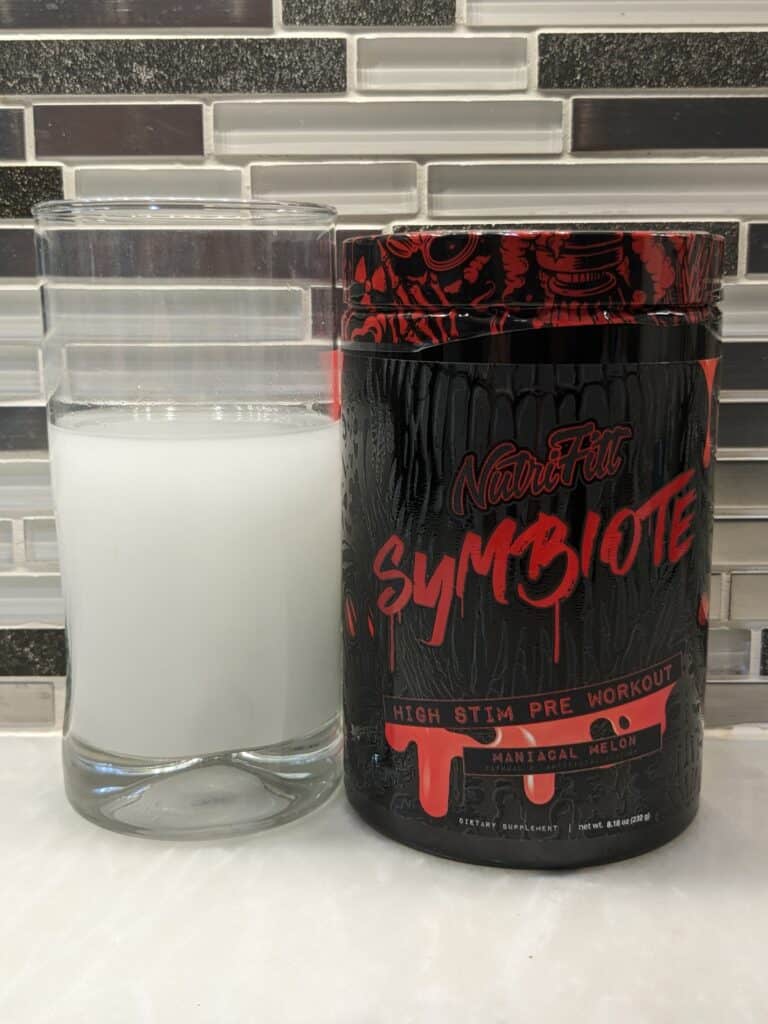 Ingredients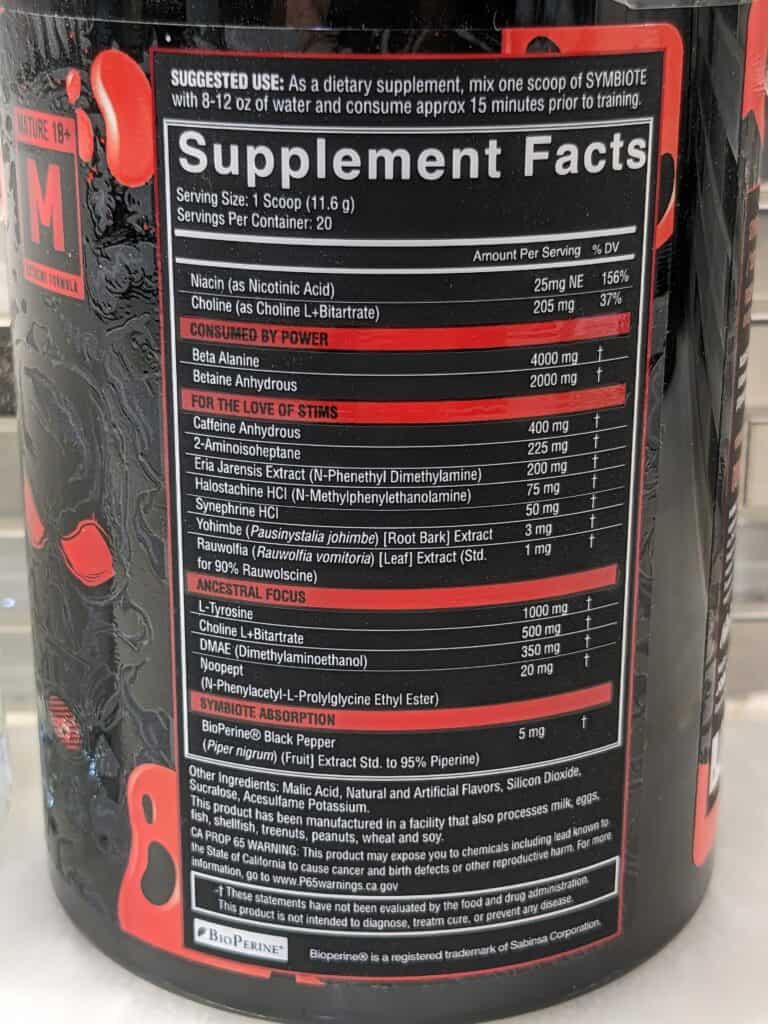 I enjoyed my experience with using this product; the label looked great from a formulation perspective. I had seen nutrifitt reformulate symbiote, but from what I can tell, this new version is the most potent. The only comment I would make is that it is a stimulant-based pre-workout; therefore, nothing is added for pumps. You could stack this with a pump product, which could help with circulation and slightly improve effectiveness.
It isn't uncommon for high-stimulant pre-workouts to lack pump ingredients, as the vasoconstriction that occurs prevents you from having a substantial amount of pump. Typically, I find with high-intensity comes strong pumps, which have caused me greater amounts of muscle soreness/building.
Niacin (Nicotinic Acid) – 25 mg
Niacin, also known as vitamin B-3, has a wide array of benefits ranging from increasing HDL cholesterol (the "good" cholesterol) concentrations, reducing LDL cholesterol concentrations, and reducing the concentration of triglycerides.
Some research shows niacin can increase blood flow through various mechanisms. The research is limited and conflicted, but it is one of the feel-good ingredients to make products seem like they are working.
Niacin also helps your body produce optimal amounts of ATP, which is the energy source for muscle contraction. Thus, making sure you have enough niacin seems like a worthwhile endeavor for a pre-workout supplement.
25 mg of niacin is an average dosage for this type of product. It is close to double the recommended daily dosage for men (16 mg per day) and women (14 mg per day), but you should be able to get more from a healthy diet. Good sources of niacin include fish, beef, chicken, turkey, mushrooms, and brown rice.
Beta-Alanine – 4 g
Beta-alanine has been shown to support muscular endurance and act as a lactic acid buffer. Depending on the source of this ingredient, you may feel the paresthesias tingling effect. This feeling is often desirable in the sports community, as it makes you feel the intensity after ingestion. This may be negated by diet and intake of beta-alanine.
Beta-alanine requires daily intake to be effective, akin to creatine, with a three to five weeks loading period. Three to four grams is the recommended daily dosage for beta-alanine, putting Symbiote at the higher end of the clinical dose range.
Betaine Anhydrous – 2 g
Betaine is included to help increase your power output. However, research needs to be more consistent around this claim. The typical range for betaine is between 1.5 g and 5 g, but generally, 2 g is on the mid to high end for what is in the market.
Caffeine Anhydrous – 400 mg
Caffeine anhydrous is the standard form of caffeine, known for increasing energy, alertness, motivation, and mood. The caffeine content varies for each product. The 350-450 range is the typical dosage for sports supplements today.
DMHA – 225 mg
DMHA is a stimulant similar to DMAA, which boosts energy, focus, and mood. DMHA shares similar effects as DMAA but requires a larger dosage. This made it a popular pre-workout ingredient for replacing DMAA in DMHA pre-workout supplements.
It comes in many different forms: juglans regia extract, English walnut extract, 2-aminoisoheptane, kigelia africana, octodrine, 2-amino-5-methylhexane, 2-amino-6-methylheptane, 6-amino-2-methylheptane, 2-isooctyl amine, 2-heptylamine, 6-methyl-, 2-metil-6-amino-eptano, amidrine, vaporpac, 1,5-DMHA, and 1,5-dimethylhexylamine. Read about the comparison of DMAA vs. DMHA here.
The dosage in symbiote is 225 mg, above the industry standard but varies based on the product. However, just because it says something on the label doesn't necessarily mean you will always "feel" it due to different sourcing purities.
Eria Jarensis Extract (N-Phenethyl-Dimethylamine Citrate) – 200 mg
Eria Jarensis is a stimulant frequently seen alongside DMHA in high-stim pre-workouts.
200 mg is a strong dosage for this ingredient but isn't currently in the high range on the market. The most Eria Jarensis I've ever seen in a pre-workout is 500 mg in Flame Pre Workout (which is fantastic).
Halostachine HCl – 75 mg
Halostachine or n-methylphenylethanolamine is an alkaloid with a very similar structure to ephedrine. It is also a metabolite of phenylethylamine (PEA), a compound found in cocoa beans known for its "feel-good effects." Halostachine acts as a beta-adrenergic receptor agonist similar to ephedrine and DMAA but has a tone-down potency.
That being said, you need to respect its power. It is adrenergic, meaning it causes brain cells to release the neurotransmitters epinephrine (adrenaline) and norepinephrine (noradrenaline). These neurotransmitters increase energy and focus and are part of the "fight-or-flight" response.
Synephrine HCl -50 mg
Synephrine is a well-researched ingredient shown to aid in weight loss. "In general, bitter orange extract alone (p-synephrine) or in combination with other herbal ingredients did not produce significant adverse events such as an increase in heart rate or blood pressure or alter electrocardiographic data, serum chemistry, blood cell counts, or urinalysis. p-Synephrine alone and in combination products were shown to increase resting metabolic rate and energy expenditure, and modest increases in weight loss were observed with bitter orange extract/p-synephrine-containing products when given for six to 12 weeks." Synephrine Meta-Analysis. The typical range for synephrine is 10-50mg, which is supported by evidence for fat-burning effects.
Yohimbe – 3 mg
Yohimbe stimulant is a very popular ingredient in many supplements. It has a variety of uses and can serve as an appetite suppressant, fat burner, aphrodisiac, mood elevator, performance, and focus ingredient. Yohimbe is a tree native to central and western Africa, and the bark of the tree produces an alkaloid called yohimbine. Depending on the quality of the extract, which is stated to be 98% on the label, it can be very potent, so dosing varies with different products or brands.
Rauwolfia (Rauwolfia Vomitoria) Extract (Std. to 90% Rauwolscine) – 1 mg
Rauwolfia Vomitoria Extract, or Alpha Yohimbine, or simply "alpha yo," is a "love it or hate it" stimulant. Some individuals are susceptible to alpha yohimbine and avoid any pre-workout with it outright. Common adverse side effects include anxiety, headaches, sweating, frequent urination, and increased blood pressure.
If you are sensitive to the effects of Alpha Yo, I'd suggest starting with ½ – ¾ of a serving just to assess if the effects are too strong for you.
L-Tyrosine – 1 g
L-Tyrosine boosts cognitive performance in stressful environments. Pre-workouts include it as a focus ingredient and help achieve anti-stress effects. The typical dosage range is 500 mg to 2,000 mg for exercise.
Choline Bitartrate – 500 mg
Choline is a focus ingredient and chlorogenic source. Compared with alpha gpc, choline bitartrate may be less effective as a nootropic.
Dosages usually range between 500 and 2,000 mg, so the 500 mg included is on the low end, but users may still experience the benefits of choline.
DMAE (Dimethylaminoethanol) – 350 mg
DMAE is a choline molecule used to treat cognitive decline in elderly patients. It is included in pre-workouts to promote focus and feelings of well-being.
Dosing guidance for performance enhancement is poorly understood, but 350 mg is a reasonably low dose compared to other pre-workouts containing DMAE.
Chemix pre-workout contains 400 mg of DMAE (per scoop), while Dark Energy and Zeus contain 750 mg (400-800mg)
N-Phenylacetyl-L-Prolyglycine Ethyl Ester – 20 mg
Noopept, known as N-Phenylacetyl-L-Prolyglycine ethyl ester, is a synthetic nootropic ingredient with cognitive boosting and psychostimulatory effects. 10-30 mg per serving is the typical range, with 20 mg being a substantial dose of noopept.
BioPerine (Black Pepper Fruit Extract) – 5 mg
Black pepper extract increases the bioavailability of nutritional supplements. In other words, it helps your body absorb more of the ingredients in the product, which helps the effectiveness of the ingredients. As the serving size increases, so does the need for a digestion aid.
Symbiote by Nutrifitt Pre-Workout Review
Summary
This product is definitely on my list for future purchases. I have added many companies to that list, and Nutrifitt really knocked it out of the park. I had substantially more productive workouts. Symbiote delivered excellent energy, focus, and mind-to-muscle connection.
Pros
Improved endurance
Sustained stamina
Nootropic high
Excellent energy, with happy vibes
No crash post-workout
Thermogenic
Amazingly strong focus
Potent and high-quality ingredients
Mind-to-muscle connection
Good pumps, due to the intensity
Great tasting flavor
Made in the USA
Excellent clinical and efficient dosages