MyProtein has a new formulation to their pump-based pre-workout, however, this is the review of the current version. Thank you, MyProtein, for providing this product for my review. My recommendation for this product is limited to new gym-goers or supplement takers.
Unfortunately, The Pump didn't deliver very well despite all ingredients meeting dosage standards.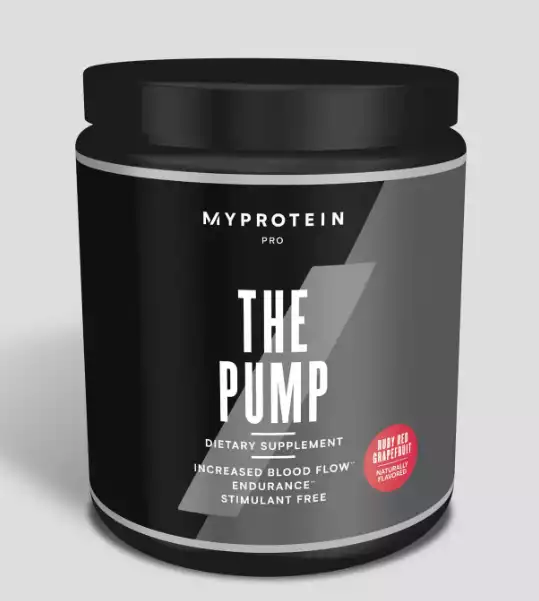 THE Pump (Low-Caffeine Pre-Workout) - Myprotein
A great pre-workout for beginners on a budget.
Discount codes:
MYPLIFTVAULT = 35% off + free US shipping at My Protein.
Green Tea Extract: 300 mg
Bioperine: 5 mg
AstraGin: 50 mg
Shop Myprotein
Lift Vault earns a commission if you click this link and make a purchase at no extra cost to you.
Where to buy
You can buy My Protein The Pump pre-workout supplement at the following retailers:
Experience
Within the first 20 minutes, the paresthesias tingling was rather intense, although secondary ingredients tend to feel amplified in stimulant-free products. As the next 25 minutes passed, the tingling sensation grew. The effects were felt from my brow line to my legs.
Despite this being stimulant-free, except for the green tea extract, the paresthesia effects intensified my workout. The fullness of the pump in my muscles was very solid, with a dry, yet strong, pump. I noticed no increase in vascularity, strength, or endurance.
The overall score is lower than average for a stimulant-free product, and it's slightly better as a pump-only product, but the beta-alanine decreases its stackability. The experience was fair for beginners.
Side Effects
No side effects were noticed during reviewing this product.
Flavor
Currently, this product has two flavors, ruby red grapefruit and orange mango. I received the ruby red grapefruit flavor for review, and I enjoyed the flavor. It tasted clean and not too tart despite its flavor name, with more of a tang that didn't taste overly grapefruity. I found 10 ounces of water was adequate, as the directions suggest 10-14 ounces.
Dose/Scoop Size
I utilized this for a stimulant break to lower my tolerance levels. When I am reviewing a stimulant-free product, I try to take a break from caffeine so I'm more responsive to it after the break. For each use, I consumed one 15.6-gram, almost flat-leveled scoop as shown below.
Ingredients
The Pump name might suggest you could add it to an existing pre-workout. However, this is MyProtein's current attempt at a non-stimulant pre-workout. They often will reformulate their products such as this without any warning or version change. In fact, a stack3d post reveals Europe will have the new version. The changes include Vaso6 and a hefty ingredient increase.
The Pump pre-workout name doesn't really align with the desired effects. It should be called Stim-Free Pre-Workout or similar, especially for the average supplement user. Some of these ingredients aren't good to stack with another pump pre-workout containing similar ingredients, but as a stimulant-free pre-workout it is more closely hits the mark.
Based on the information described above, the advertisement for it is conflicting. The bottle reads: "Non-stimulant pump amplifier. Ideal for evening workouts." However, the green tea extract contains a slight amount of caffeine, and the webpage states "The low-caffeine pre-workout." Some sensitive users may feel energized from it if taken at night.
L-Citrulline – 6 g
L-Citrulline is one of the most common pre-workout ingredients, especially when it comes to pump supplements. Extensive evidence supports its ability to increase nitric oxide production, power output, pumps, blood flow, and endurance. It is typical for this ingredient to contain malic acid in malate, which has some benefits similar to beta-alanine. However, you want six-eight grams of pure citrulline for proper dosage, and some products may list the malic acid as a separate ingredient.
Green Tea (Leaf) Extract – 300 mg
GCG (epigallocatechin gallate) is a plant-based compound called catechin. Catechins are natural phenols and antioxidants with a wide array of effects. Familiar sources include white tea extract and green tea extract. It's often simply referred to as green tea extract.
EGCG acts as a fat burner by inhibiting catechol-0-methyltransferase (COMT), an enzyme that degrades catecholamines. By inhibiting COMT, catecholamine levels elevate.
Catecholamines help break down fat stores. By inhibiting COMT, EGCG allows catecholamines to do their thing for more extended periods, leading to increased levels of fat removal and uptake of energy.
Most people should aim for 400 to 500 mg of green tea extract per day for the fat-loss effects. Additionally, as little as 20-35mg of caffeine exists in a 300 mg green tea extract dosage based on the extract's quality.
Grape Seed Extract – 25 mg
Grape seed extract is an antioxidant and can help improve blood flow, which is often added to pump products. Dosages for grape seed extract are 150-300 mg, making this product a low dose. Many other products that include this ingredient are similarly dosed at 25 mg so that the effect might be appropriate from a pump aspect. Read more about the many benefits associated with grape seed extract on Examine.
Beta-Alanine – 3.2 g
Beta-Alanine has been shown to support muscular endurance and act as a lactic acid buffer. Depending on the source of this ingredient, you may feel the paresthesias intensify. This feeling is often desirable in the sports community, as it does increase intensity after ingestion and as you start training. This effect may be negated by diet and intake of beta-alanine.
Beta-alanine requires regular intake to be effective, akin to creatine. Daily beta-alanine supplementation is recommended to become effective, with a three to five weeks loading period.
Three to four grams is the recommended daily dosage for beta-alanine, putting The Pump in the standard clinical dose range.
Betaine Anhydrous – 1.5 g
Betaine anhydrous is included to help increase your power output. However, research is inconsistent. The dosing range for betaine is between 1.5 g and five grams, with 1.5 gbeing the most common dosage.
L-Taurine – 1 g
Taurine is a common ingredient with many positive effects, such as enhanced physical performance, improved DOMS (delayed onset muscle soreness), improved blood pressure via higher cardiac output, possible reduction of cholesterol and triglyceride levels, increased uptake of glycogen to mitochondria for energy utilization (Examine).
Taurine supplementation might block the uptake of beta-alanine as they are antagonistic, which wouldn't be an issue if used aside from pre-workout. It is not commonly known that beta-alanine/carnosine is a taurine-depleting antagonist (Examine). A one-gram taurine dose is fair (one to six grams per day in studies); however, more would amplify the benefits.
AstraGin – 50 mg
Like bioperine (a black pepper extract), AstraGin helps absorb nutrients. 50 mg is the standard dosage for this ingredient.
BioPerine (Black Pepper Fruit Extract) – 5 mg
This is another absorption ingredient, which, coupled with AstraGin should synergistically help amplify the product's effects.
The Pump Stimulant-Free Pre-Workout
Summary
Is this a stimulant-free pre-workout or a pump product? It wasn't very effective for either category. I recommend this supplement for beginners or those on a budget. Otherwise, we suggest trying the more comprehensive formulas that are more effective as a pump or stimulant-free product. Lastly, waiting for the European formulation that is likely to replace this version might be a more viable option. 
Pros
Full dry, hard pumps
Good tasting flavor 
Sale pricing 
Strong Beta-Alanine paresthesias
Beta-Alanine driven intensity 
Cons
Not as effective as other pump products 
Not as effective as other stimulant-free products 
Lack of endurance 
Contains Beta-Alanine, decreasing stackability