From Dusk Till Dawn by Apollon Nutrition won't turn you into a zombie, thanks to its high quality and unique formulation! This product is specifically formulated with many ingredients that promote relaxation and boost hormone levels, such as GABA, ZMA, Zylaria, and Sensoril.
I would recommend this product to those looking to level up their sleep with more deep sleep and wake up feeling refreshed! Being a 12-hour shift worker like myself, I successfully utilized this product to obtain more restorative sleep while working three consecutive shifts where my sleeping hours were limited.
Thank you, Supps Central, for providing this product for my review!
Stay asleep longer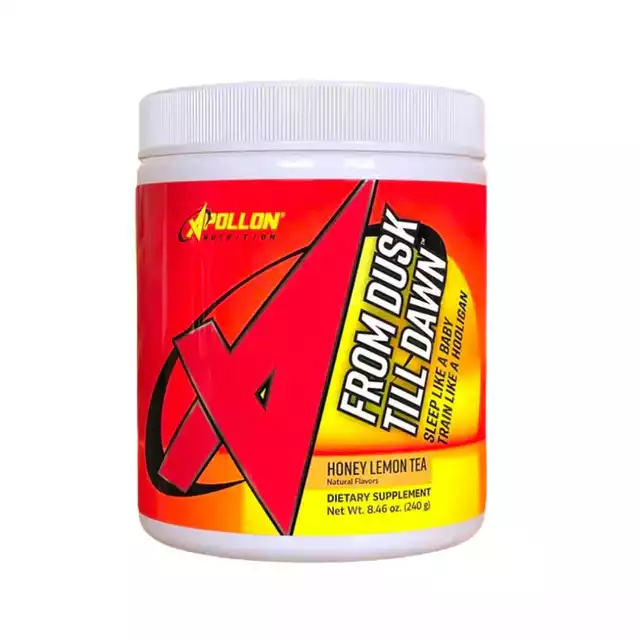 Dusk Till Dawn by Apollon Nutrition
I would recommend From Dusk Till Dawn by Apollon Nutrition for anyone looking to level up their sleep and relax their mind without consuming any habit-forming ingredients.
Supps Central
Melatonin: 5 mg
L-Theanine: 500 mg
Magnesium: 450 mg
Shop Suppscentral
Lift Vault earns a commission if you click this link and make a purchase at no extra cost to you.
Where to Buy
You can buy Dusk Til Dawn at the following retailers:
Experience
Drinking this product is quite an experience, as the texture isn't pleasant but won't cause any nausea. Within 10 minutes of ingesting, I felt tingles on the back of my head, onto my shoulders, and eventually down my spine towards the end of the first 30 minutes.
Relaxation started to come in at around 25 minutes, depending on my meal schedule with coming home from my 12-hour shifts. The noticeable mind-clearing and relaxed feeling worked well for me; while I don't regularly experience anxiety, I noticed a freeing of my mind "and the rest will follow." Working in the medical field with 12-hour shifts limits the amount of sleep I can get when working three days in a row, which is why I occasionally add a sleep-aid product to my stack. I also often try to pick up an extra hour or two of sleep on my days off.
While raising children, I may take a product without being able to immediately lay down to sleep, which has gone to test the knockdown effectiveness of similar products. From Dusk Till Dawn didn't cause me to pass out as strongly as some products, but I experienced a good sense of relaxation that enabled me to fall asleep faster, as shown by data from my Oura ring. I had no issues staying asleep when taking this product, nor did I awaken with the urge to urinate in the middle of the night.
The morning after didn't leave me disappointed. I felt restored without any groggy feeling even after sleeping 5.45 hours one night during my work schedule. I didn't feel that I hadn't slept enough, even when used on consecutive nights. On the nights I slept in, I felt just the same. The only lack of evidence would be on my Oura ring, as the data always showed less deep restorative sleep as compared to similar products. This isn't an issue, as the measurement of this data doesn't always reflect how I feel.
Side Effects
I noticed Beta-Alanine paresthesia tingling or Niacin flushness feeling with each use of this product, although neither is listed as an ingredient. I haven't felt this before with any sleep-aid product, and vitamin B6 doesn't appear to be the reason. It could possibly have been the GABA quality being more potent than I am accustomed to, although I have taken GABA by itself in the past without this occurrence. I didn't find it to be an issue, just very different, like a warm covering over my head, shoulders and back.
Flavor
This might be the flavor for you if you are a fan of tea-flavored products. Honey lemon tea isn't a flavor that I would normally pick, as I don't like tea in any shape or form. Although, I didn't let the taste of this product impact my review rating. Mixability is not good, as seen in the picture below. It settles to the bottom, making it a little bit difficult to choke down. I found it easiest to take this as a shot or to dry scoop it, followed by something with flavor. The container doesn't suggest any particular amount of water; however, 10-12 ounces seems appropriate. I didn't find an improvement in the mixability.
Dose/Scoop Size
This product comes in the ½ serving and 1 serving variety. While reviewing this product, I only dosed it as a full 12-gram serving, which came to slightly less than a flat-level scoop. If you don't have a scale, I recommend a flat-level serving, as moisture and sea level may change the density slightly.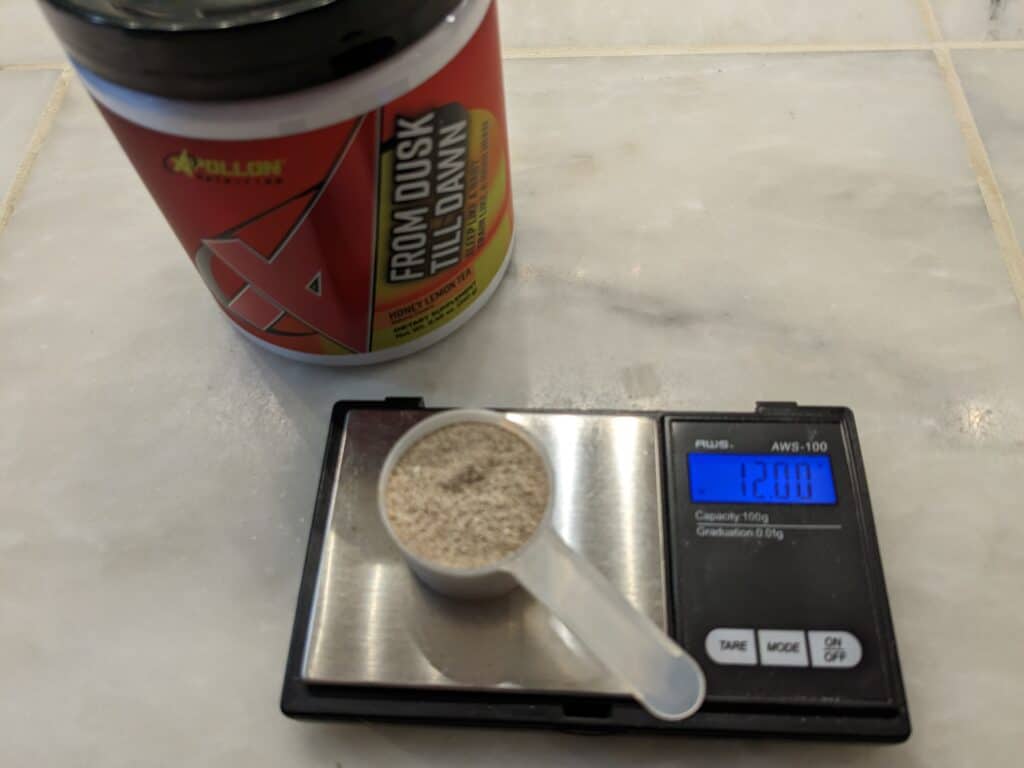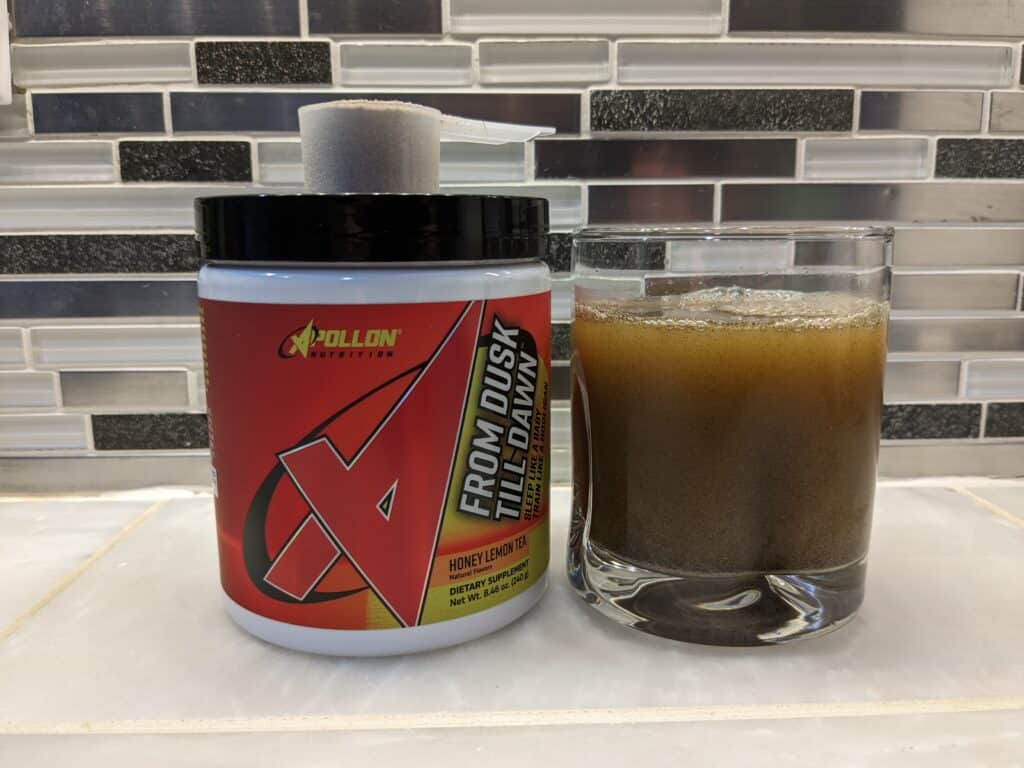 Ingredients
I have been reviewing sleep aid products for over 14 years, which is actually the reason I have gotten involved in the industry. This is a more natural approach to sleep aids on paper; however, with Apollon, nothing is ever as it seems. This product features high-quality patented ingredients. This product's supplement facts are broken down into a ½ scoop and 1-scoop formula, making it 40 or 20 servings. I personally feel this product isn't strong enough to be concerned about sensitivity, especially no issues with oversleeping, based on my experience. Below, the ingredients are broken down into the 1-serving descriptions, as I feel it was the most beneficial way to break down this product.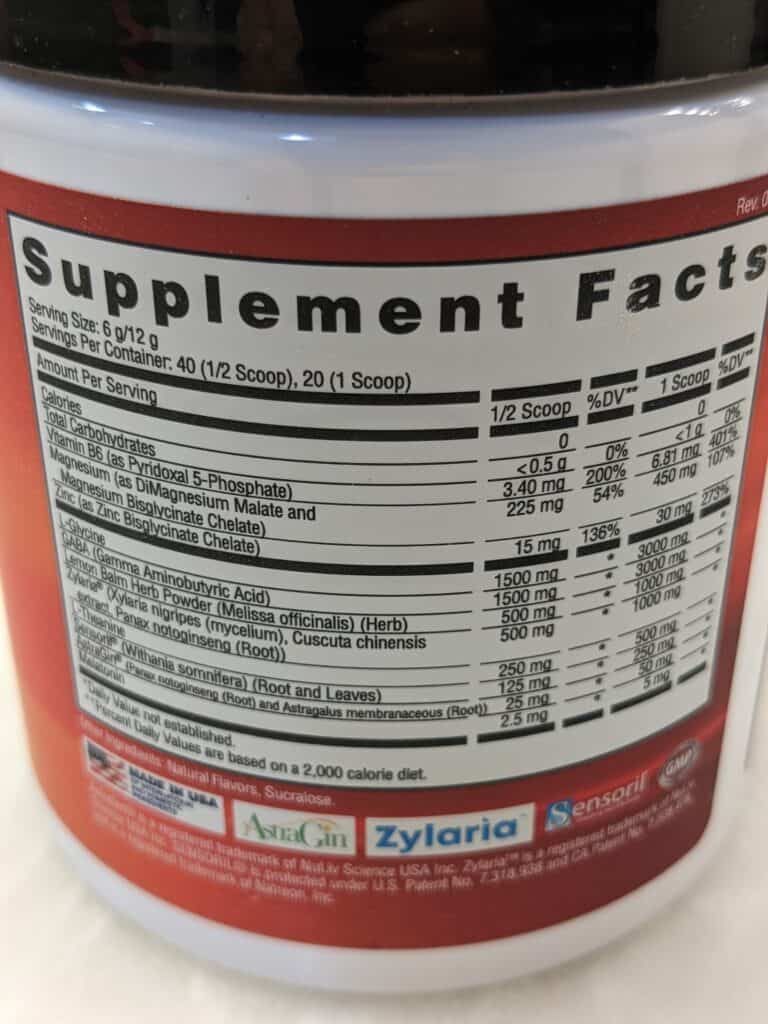 Magnesium – 450 mg
Magnesium is commonly combined with zinc in recovery supplements, referred to as ZMA. Magnesium can help lengthen stages 3 and 4 of slow-wave sleep, which is crucial for releasing growth hormones.
The typical range used in clinical studies of ZMA is 400 mg to 500 mg. Apollon includes two forms, quick-acting Chelate and the slower form Malate, which are well-dosed.
Zinc Picolinate – 30 mg
Supplementing with zinc can help boost testosterone production in individuals who are already zinc deficient. The typical dosage for zinc is about 30 mg. When not reviewing a sleep aid, I typically take 50 mg from all sources as it is the higher of the beneficial range.
L-Glycine – 3,000 mg
Glycine is one of three amino acids that your body uses to make glutathione. This powerful antioxidant helps protect your cells against oxidative damage caused by free radicals, which are thought to contribute to many diseases.
One study uncovered that it had been linked to improving sleep quality. Another study showed that you need about a 3,000 mg serving, which is the dosage we see in this product. Those dieting in carnivore or low-fibrous Keto might notice a decrease in their sleep quality. Studies suggest increasing the dosage of this supplement to improve overall sleep while on these diets.
GABA – 3,000 mg
GABA is a neurotransmitter that is critical for the regulation of depressive and sedative actions in the brain as well as general relaxation. It also enhances the metabolism of growth hormones.
GABA is also included in pre-workouts like Dark Energy to take the "edge" off higher stimulant doses similar to L-Theanine. The 3-gram dosage is in line with anecdotal dosage accounts, which can range from 2-5 grams.
Lemon Balt Extract 4:1 (Melissa officinalis) (Herb) – 1,000 mg
Lemon balm (Melissa officinalis) is a lemon-scented herb from the same family as mint. The herb is native to Europe, North Africa, and West Asia. Today, it is growing worldwide. Anytime this ingredient is included, you won't be able to escape the flavor, hence the tea flavoring.
A 2004 study uncovered by Healthline found that taking lemon balm eased the adverse mood effects of laboratory-induced psychological stress. Participants taking lemon balm self-reported an increased sense of calm and reduced feelings of alertness. Although this was a double-blind, placebo-controlled study, it had a small sample size of 18 people.
Additional research published in 2014 examined foods containing lemon balm and focused on mood and cognitive effects. The supplement was mixed into a beverage and yogurt with natural or artificial sweeteners. Participants in both groups reported positive effects on various aspects of mood, including reduced anxiety levels.
Although this is promising, more research is needed to determine its efficacy. The recommended dose is between 300 mg twice a day and 600 mg three times daily, placing this product at a hefty efficient dosage.
Zylaria® – 1000 mg
Zylaria® is the patented version of Xylaria Nigripes, a mushroom meant to aid relaxation and sleep quality. Its use is supported by in-vivo studies and human clinical trials.
Zylaria® increases your sense of well-being, energy, and vitality. Zylaria™ promotes gamma-aminobutyric acid (GABA) function in the brain to support relaxation and tranquility. Lastly, Zylaria® increases the uptake of GABA to specific brain cell receptors, exerting a tranquilizing effect on the central nervous system.
L-Theanine – 500 mg
Taken from Healthline, in a review of five randomized controlled trials that included 104 participants, four trials linked L-theanine with reduced stress and anxiety in people experiencing stressful situations (ScienceDirect). This is the high end of the recommended 300-500 mg range, which is great to have in a sleep aid and is often included in high stimulant pre-workouts to nullify the side effects.
Sensoril® – 250 mg
Sensoril is a patented version of Ashwagandha, a Northern African and Indian herb that's been in use as a medicine for thousands of years.
According to a research meta-analysis by Examine, ashwagandha notably reduced anxiety and cortisol, the stress hormone. It also consistently produced a notable increase in power output.
The clinical dosage of ashwagandha is 300-500 mg, so the 250 mg included in each serving of this product is just under the recommended range to get the effects. However, being the patented version, you are likely receiving more bioactive compounds compared to the raw form, especially when coupled with AstraGin in this product.
AstraGin® – 50 mg
Like Bioperine (a black pepper extract), AstraGin helps absorb nutrients. 50 mg is the standard dosage for this ingredient.
Melatonin – 5 mg
Melatonin is a hormone naturally produced in the body to induce sleep.
Melatonin is released in response to darkness and is suppressed by light. As the sun goes down and darkness increases, the pineal gland begins to secrete melatonin, which usually happens after 9 p.m. The increased melatonin levels in the blood send signals to the brain to reduce alertness and make you sleepy.
Melatonin secretion peaks in the middle of the night (between 2 and 4 in the morning) and decreases gradually during the night's second half. Nearly 80 percent of melatonin is synthesized at night (Medicine Net)
Typical sleep products use 1 mg upwards to 10 mg, putting this product right in the middle, which is appropriate as 3-5 mg is the recommended efficient dose.
Stay asleep longer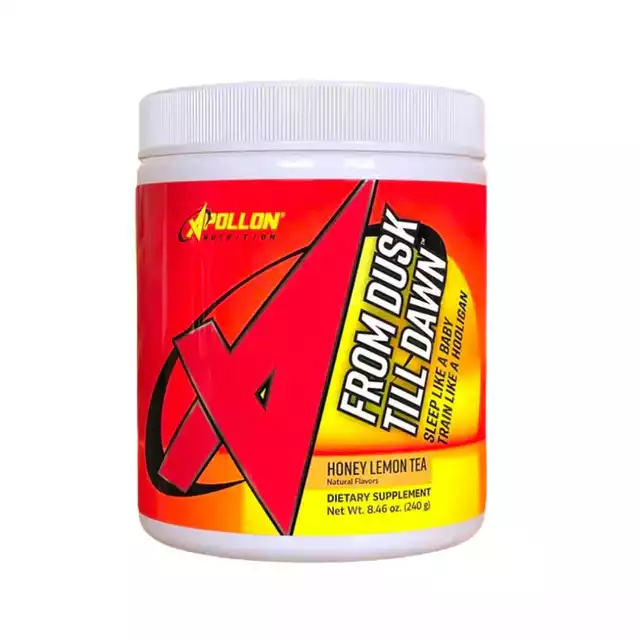 Dusk Till Dawn by Apollon Nutrition
I would recommend From Dusk Till Dawn by Apollon Nutrition for anyone looking to level up their sleep and relax their mind without consuming any habit-forming ingredients.
Supps Central
Melatonin: 5 mg
L-Theanine: 500 mg
Magnesium: 450 mg
Shop Suppscentral
Lift Vault earns a commission if you click this link and make a purchase at no extra cost to you.
Dusk Till Dawn by Apollon Nutrition Review
54.95
Dusk Till Dawn by Apollon Nutrition
I would recommend From Dusk Till Dawn by Apollon Nutrition for anyone looking to level up their sleep and relax their mind without consuming any habit-forming ingredients. The taste wasn't something I necessarily enjoyed, but if you like tea, it would be a great tasting product. I enjoyed the combination of unique patented ingredients and potent high-quality ingredients, including GABA. I enjoyed reviewing this product and am happy to see Apollon continuing to produce high-quality products.
Pros
High-quality, potent ingredients
Stay asleep longer
Wake up feeling refreshed
Grogginess free formulation
Reduces stress
Non-habit forming
Patented ingredients
Clinical and efficient dosages
The unique addition of Zylaria
GMP Certified
Made in the USA
Cons
Not pleasant texture or taste
Only 20 servings at the full formulation
Mixability is poor