Mindset is a nootropic supplement manufactured by Kaged and released in January 2023.
It's an effective supplement for studying, productivity, or working around the house.
I recommend Mindset for anyone that is looking for a clean alternative to coffee and energy drinks.
I enjoyed the focus and energy it provided, but personally wish it contained more than 15 servings. If you can get good effects at 150 mg of caffeine (a "half" serving), then you'll effectively get 30 servings and I think that's a great deal.
Smooth Energy + Focus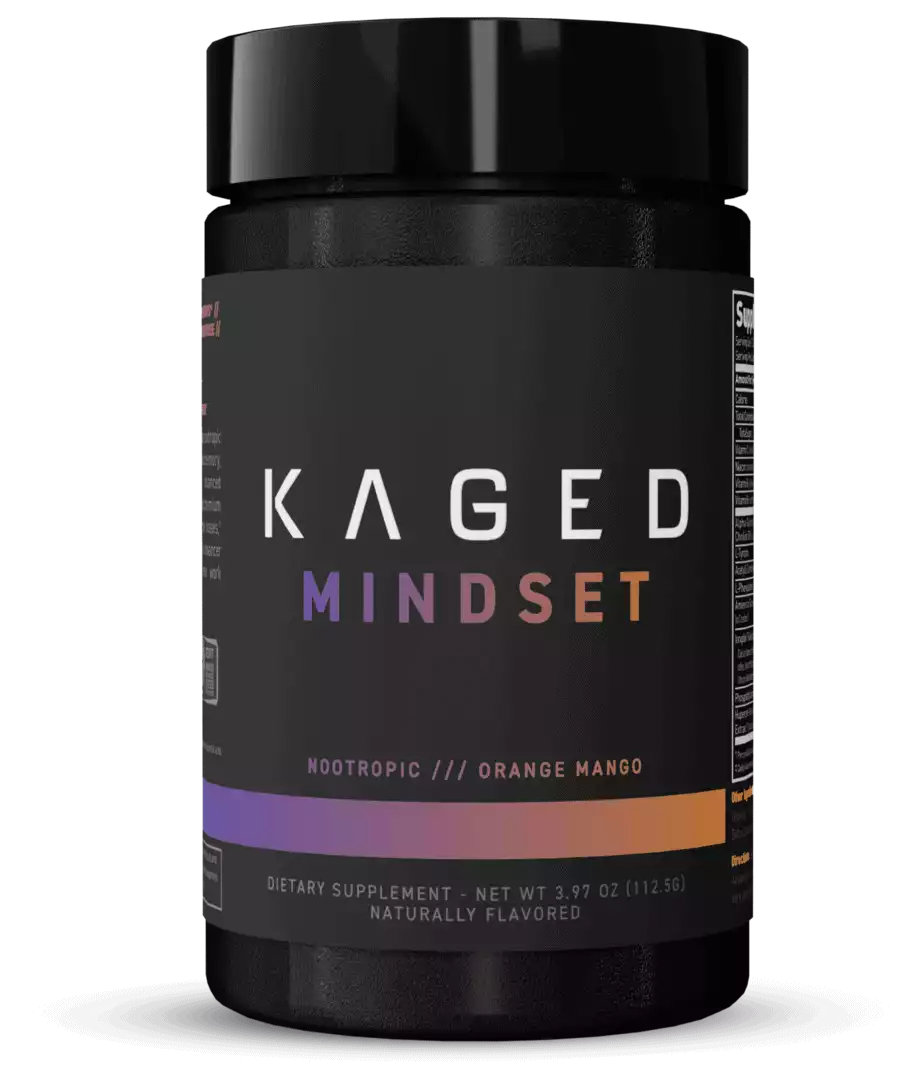 Mindset Nootropic - Kaged
Mindset is an excellent nootropic supplement for increasing focus and energy without weird side effects. Great for studying, gaming, or getting some extra work done in the office.
Servings: 30
Caffeine: 150 mg
Alpha GPC: 600 mg
L-Tyrosine: 500 mg
Recommended for: productivity, studying, work, smooth energy
Flavors: orange mango
Shop Kaged
Take Kaged Supplement Quiz
Lift Vault earns a commission if you click this link and make a purchase at no extra cost to you.
My Experience
I have been using Mindset over the last few weeks and have to say that I'm impressed with the product. I think it's on par with some of my other favorite nootropics like Skywalk or Overtime.
Effects
I took Mindset in the morning before work and it's definitely a worthy substitute for coffee. The orange mango flavor is bright and tangy. I can tell, or taste, that Kaged spent a considerable amount of time working on the flavor.
I always used a "full" two scoop serving of Kaged, as I am a pretty heavy caffeine user. This was enough to keep me energized and focused into the early afternoon, which is when I have my afternoon coffee.
While I'm a happy coffee user, I do think this offered a slightly better "focus" than coffee. If you're trying to cut back on coffee, try out nootropics, or are seeking something "stronger," then Mindset may be a good choice for you.
The main downside to Mindset is that if you use the two scoop serving, each tub only contains 15 servings. At roughly $45 per tub (price at the time of writing), that's a pretty steep $3 per serving.
If you can get by on 150 mg of caffeine, Mindset offers a much more compelling 30 servings at $1.50 each.
Scoop Size
A scoop of Mindset, according to the serving size guidelines, is 3.9 grams. This is about 3/4 of the scooper that is included with Mindset.
Please keep this in mind when measuring out your doses! If you used two level scoops, that'd be approximately three scoops according to the serving size guidelines.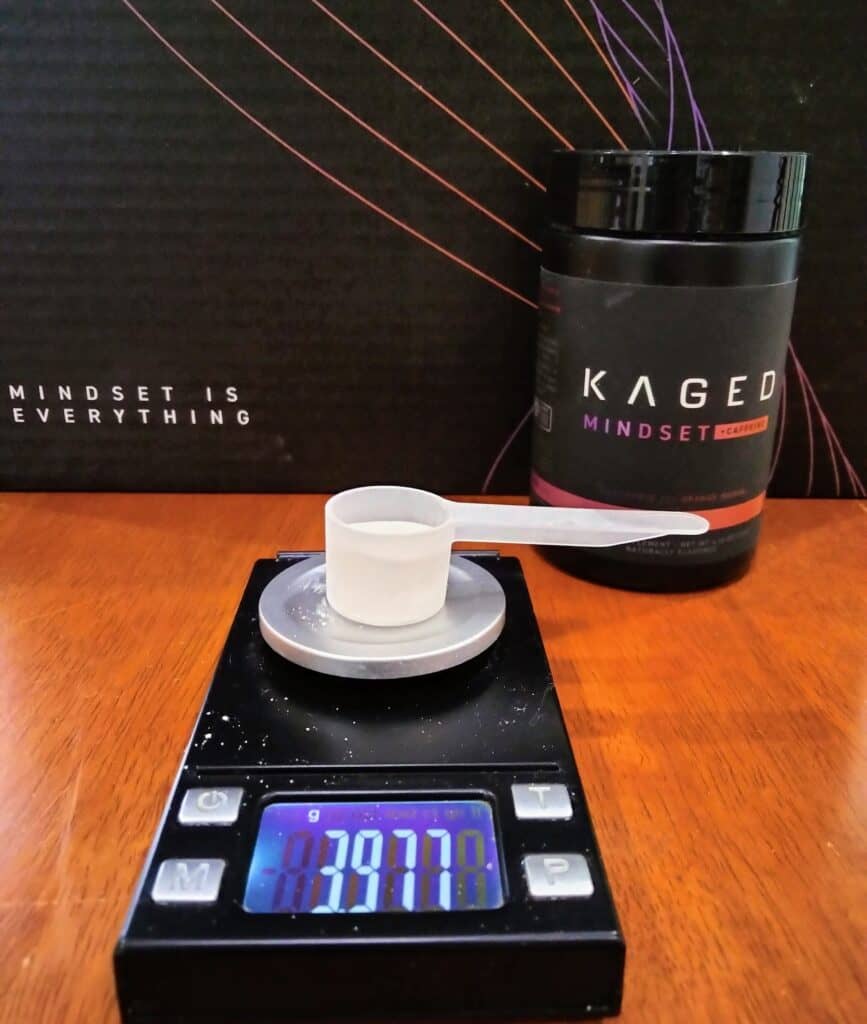 Mindset Ingredients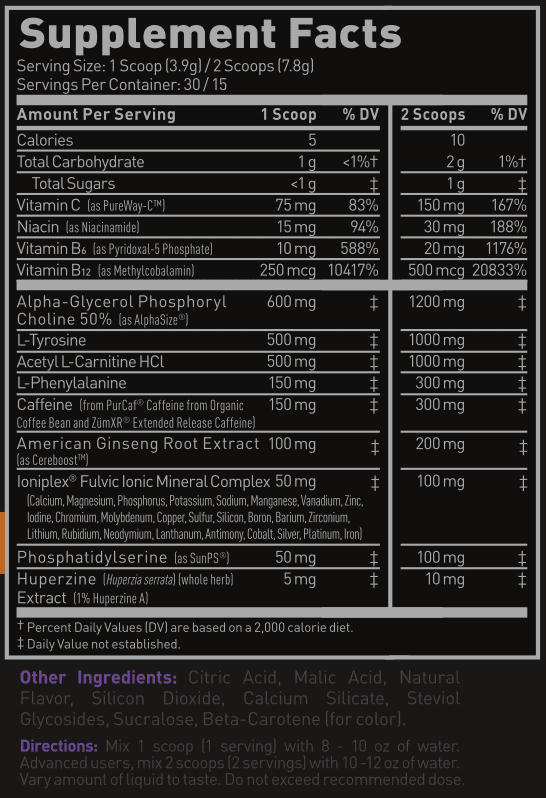 Alpha GPC – 1,200 mg
L-Tyrosine – 1,000 mg
Acetyl L-Carnitine – 1,000 mg
L-Phenylalnine – 300 mg
American Ginseng Root Extract – 200 mg
Ioniplex Fulvic Ionic Mineral Complex – 50 mg
Phosphatidylserine – 100 mg
Huperzine Extract – 10 mg
Mindset Nootropic Review
Summary
Mindset is a good choice as an entry-level nootropic for office work, studying, or any activity that requires steady focus. It contains a compelling blend of well-dosed ingredients to aid focus and increase energy without nasty side effects or weird ingredients.
Pros
Clean energy
No crash
Great taste