Timecop V2 by Apollon Nutrition combines their Bare Knuckle and Overtime products, making it a comprehensive formula for focus, energy, and strength. Thank you, Jake with Nutricartel, for providing this product for my review! I would recommend this product to anyone looking to improve the effectiveness of their workouts, as it aids in productiveness when compared to other products I've reviewed. This formulation is very effective and safe for everyday use since it isn't overly stimulating.
Maximum pumps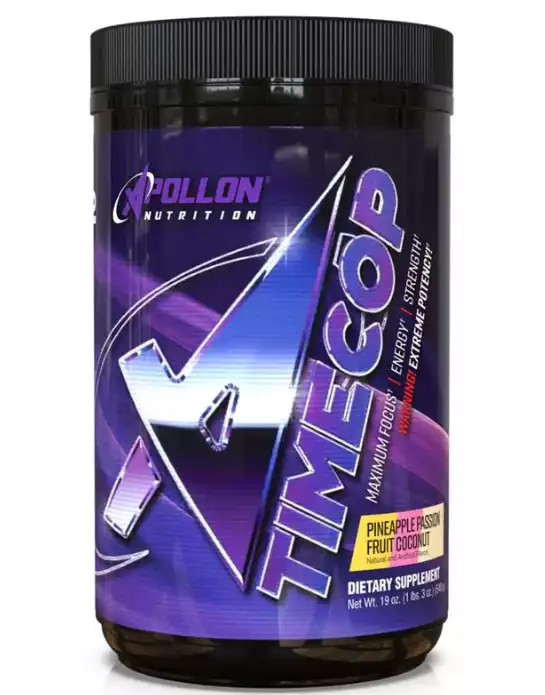 Timecop V2 - Apollon Nutrition
I recommend this pre-workout to anyone looking to have an everyday "daily driver" pre-workout that is not over-stimulating or for anyone seeking something new and exciting.
Noopept: 30 mg
Caffeine Anhydrous: 400 mg
Theobromine: 500 mg
Shop Nutri Cartell
Lift Vault earns a commission if you click this link and make a purchase at no extra cost to you.
Where to Buy
Experience
Beta-Alanine paresthesia tingles and a strong level of focus began after 15 minutes of ingestion. The tingles didn't remain consistent throughout the experience but became more noticeable during periods of high exertion. The tingling sensation started around the eyebrows and moved down my shoulders and onto my back. Following my increase in focus, my concentration and energy ramped up.
I felt strong within the first 45 minutes and experienced no issues (i.e., uncomfortably elevated heart rate and unsteadiness, as I usually experience with Alpha Yohimbine). The muscle group being worked felt engorged to the point of skin-splitting pumps. On several occasions, I had to stop and switch exercises due to tightness. I felt better pumps and vascularity while using Timecop than other pump products alone. Timecop provided a level of energy that increased gradually and tied everything together. It left me feeling strong and with a high level of endurance.
I was able to hit each body part and muscle group using Timecop, and the effectiveness was consistent from session to session. I felt I had enough energy to continue despite the fullness and pump fatigue. After the session, I did not experience a crash or lack of energy and got well over 5 hours of good energy.
Each time I used this product, I didn't feel like it was unhealthy, unsafe, or that it was too much. Many products on the market give too much energy for delicate tasks post-workout, but with this product, I could go to work without my patients thinking I was taking too many stimulants. While using Timecop, I felt improved recovery since the nutrients still nourished the muscle fibers despite the skin-splitting sensation.
Side Effects
While my experience may vary from the average user, I did experience some flatulence. It seemed to become more noticeable with each use, but it was not overly concerning.
Flavor
Pineapple Passion Fruit Coconut is the flavor I was sent for review, which tasted a lot like candy of the same name and color scheme. If you enjoy coconut, this will be easy for you to drink, and it was more pleasant than expected. With this product's large serving size, the powder becomes suspended in the water and begins to settle. I use the same shaker bottle for my pre-workout and intra/post-hydration water, so I made sure no settled powder went to waste. The label instructs users to mix 12-14 ounces of water.
Dose/Scoop Size
Timecop contains 575 mg of caffeine in a full serving (although the warning says 552 mg), which is a large amount but not a surprise coming from Apollon Nutrition as they have had products containing over 650 mg prior. I started by using ¾ of a serving the first time, which was still 431 mg, and subsequent times by using 1 full serving. Below the image is the 27 g full-serving dose, which is slightly below the scoop rim's level. I always measure my dosing for all products. As you can see, it would be very easy to dose well over 1 ½ serving with a heaping scoop.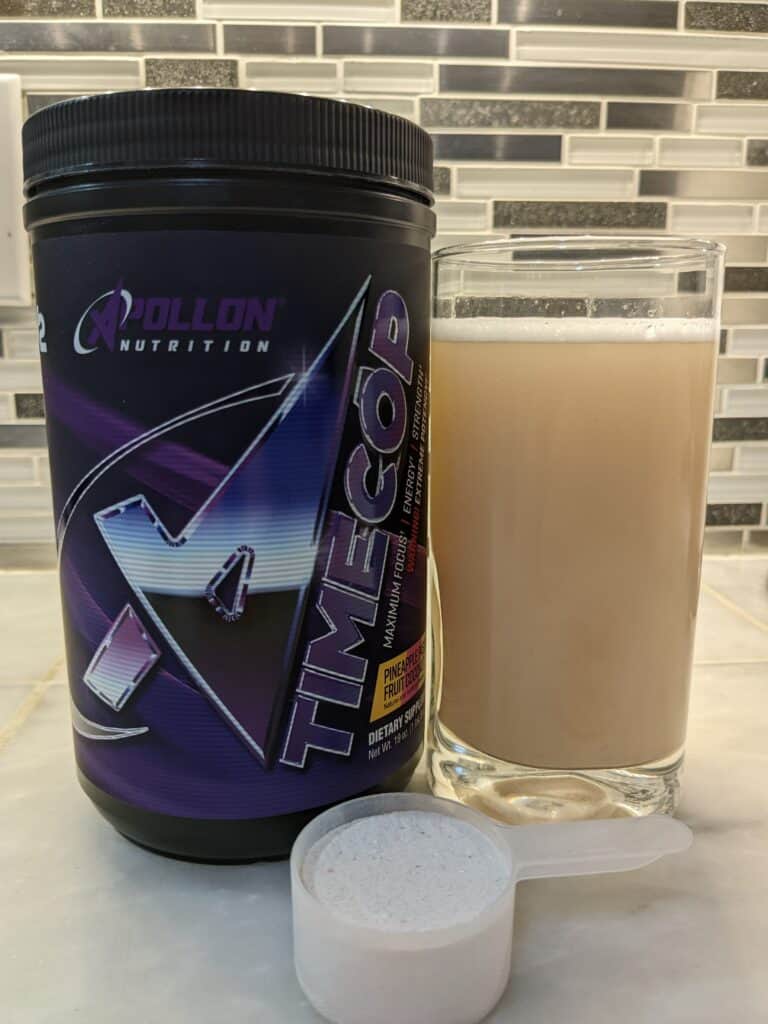 Ingredients
The label on Timecop is feature-packed, as are most Apollon products. This product is advertised as having extreme potency and providing maximum focus, energy, and strength. The label shows the ½ serving size and 1 serving size; however, I will review the ingredients based on the latter. With the profile of this label being so large, Apollon still meets or exceeds the clinical and efficient dosages.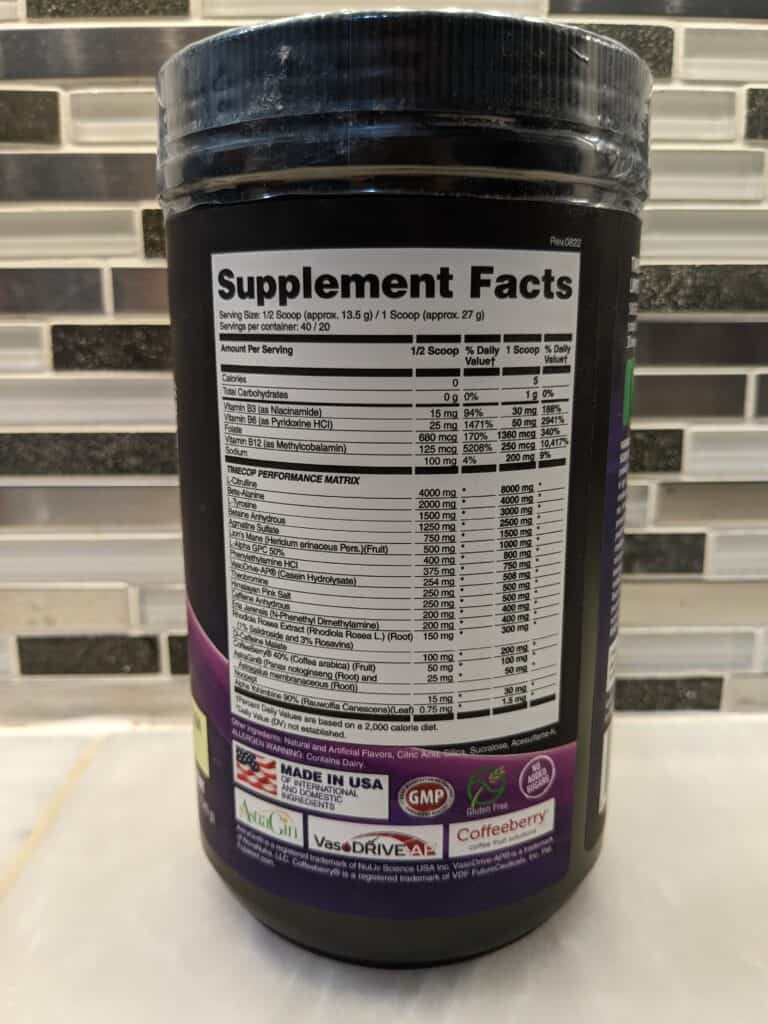 L-Citrulline – 8 g
L-Citrulline Malate is one of the most common pre-workout ingredients. It has extensive evidence supporting its ability to increase nitric oxide production, power output, pumps, blood flow, and endurance.
The common ratio is 2:1 malate acid; however, we are given the pure form, which is preferred. The clinically studied dosage would be 6-8 grams of L-Citrulline Malate in a 2:1 ratio, providing nearly 4-6 grams of L-Citrulline, which we far exceed with this product.
Beta-Alanine – 4 g
Beta-Alanine has been shown to support muscular endurance and act as a lactic acid buffer.
However, beta-alanine requires regular intake to be effective, akin to creatine. Daily supplementation of beta-alanine is recommended, with a loading period of three to five weeks to become effective.
3 to 4 grams is the recommended daily dosage for beta-alanine, putting Timecop in the standard range.
L-Tyrosine – 3 g
L-Tyrosine has been shown to boost cognitive performance in stressful environments. It is typically included in pre-workouts as a focus ingredient.
3,000 mg is a high dosage of L-Tyrosine that should also help achieve its anti-stress effects. It is beyond the upper bound of the typical dosage range (500 mg to 2,000 mg) for exercise.
Betaine Anhydrous – 2.5 g
Betaine increases your power output. However, research is pretty inconsistent around this claim. Regular betaine anhydrous dosages range from 1.5 g to 5 g.
Agmatine Sulfate – 1.5 g
Agmatine is often included in pre-workout supplements as a pump ingredient, but more research is needed to understand how true these claims are.
As it can increase endothelial nitric oxide, theoretically, agmatine can help boost nitric oxide in the body.
Lion's Mane – 1 g
Lion's Mane (yamabushitake) is a relatively new nootropic, with some research supporting anti-anxiety, cognition boosting, and general well-being effects.
According to Examine, there has only been a single human study involving Lion's Mane. The individuals took 1 gram orally three times a day. While that dosage appeared effective, it is unknown if this is optimal.
Timecop contains 1 gram of lion's mane, and there isn't enough research to determine if this is an effective dose. Additional research is needed to confirm Lion's Mane's benefits and optimal dosage.
L-Alpha GPC 50% – 800 mg
Alpha GPC is a cholinergic compound that is produced within the body. It is used for enhancing cognition and increasing power output. Based on several studies, Alpha GPC dosages should be between 300 and 600 mg. At 800 mg, Timecop exceeds our expectations as Alpha GPC is typically underdosed in most products.
Phenylethylamine HCl – 750 mg
B-Phenylethylamine (Beta PEA) is a neurotransmitter that inhibits uptake and efflux (i.e., removal) of dopamine, norepinephrine, and serotonin levels (2008 study). It is included in Timecop to increase focus and motivation.
This ingredient is not well understood and needs additional research. 750 mg is a solid dose. It is important to note that WADA bans it.
VasoDrive-AP (Casein Hydrolysate) – 508 mg
VasoDrive-AP helps decrease blood pressure, increase nitric oxide production, increase blood flow, and enhance muscle pumps. Check out this video to learn more about VasoDrive-AP.
Theobromine – 500 mg
Theobromine is a "caffeine light" stimulant ingredient found in chocolate, some tea plants, and the Kola Nut. Its name means "Food of the Gods." Greek "theo" means gods, and "broma" means food.
Some anecdotal evidence suggests that Theobromine can contribute to mood elevation, focus, and stimulation.
Most doses range from 100-400 mg, so this is again exceeded by Timecop's formula.
Himalayan Pink Salt – 500 mg
Salt helps retain water, enabling you to achieve a swole look during your workout.
500 mg is another solid dosage for this ingredient (for comparison, FSU Dyehard has 300 mg, and Hooligan Bare Knuckle has 250 mg).
It also contains essential electrolytes! More info can be found at Supplements in Review.
Caffeine Anhydrous – 400 mg
Caffeine anhydrous is the standard form of caffeine, known for increasing energy, alertness, motivation, and mood.
Eria Jarensis (N-Phenethyl Dimethylamine) – 400 mg
This is more commonly known as eria jarensis. Eria Jarensis is a stimulant that is commonly seen alongside DMHA in high-stim pre-workouts.
400 mg is a high dosage for this ingredient. The most eria jarensis I've ever seen in a pre-workout is 500 mg in Flame Pre Workout (which is amazing).
Rhodiola Rosea Extract – 300 mg
Rhodiola Rosea has consistently been shown to reduce fatigue, increase cognition, and improve overall well-being (read more at Examine). The extract included in Timecop (3% rosavins and 1% salidroside) differs from the clinical potency (salidrosides at 2%). I am not entirely sure how this could impact the efficacy of this ingredient; however, this seems to be the preferred extract strength in pre-workouts.
Dosages as low as 50 mg are effective when taken daily for fatigue, which we have a very solid dosage in Timecop.
Di-Caffeine Malate – 200 mg
This ingredient is essentially the "extended-release" form of caffeine. This helps achieve two things: longer-lasting effects of the pre-workout and a smoother ride on the energy train with fewer crashes.
Di-caffeine malate is 75% caffeine and 25% malic acid. A 200 mg dosage yields 150 mg of caffeine. Combined with the 400 mg of caffeine anhydrous, the total caffeine dosage in a full serving of Timecop is 575 mg.
CoffeeBerry 40% (Coffea Arabica) – 100 mg
CoffeeBerry is a patented blend of arabica coffee fruit, a natural source of caffeine and other active substances in coffee. (Healthline)
AstraGin – 50 mg
Like Bioperine (a black pepper extract), AstraGin helps absorb nutrients. 50 mg is the standard dosage for this ingredient
Noopept – 30 mg
Noopept, also known as N-Phenylacetyl-L-prolyglycine ethyl ester, is a synthetic nootropic ingredient with cognitive boosting and psychostimulatory effects. 30 mg is a very solid dose of noopept.
Alpha Yohimbine 90% – 1.5 mg
Yohimbe is a very popular stimulant ingredient in many supplements. It has a variety of uses, including appetite suppressant, fat burning, aphrodisiac, mood elevation, increased athletic performance, and focus. Yohimbe is a tree that is native to central and western Africa. The bark of this tree produces an alkaloid called yohimbine. Depending on the extract, this ingredient can be more potent than others, which is why many people prefer to have 1-3 mg.
Maximum pumps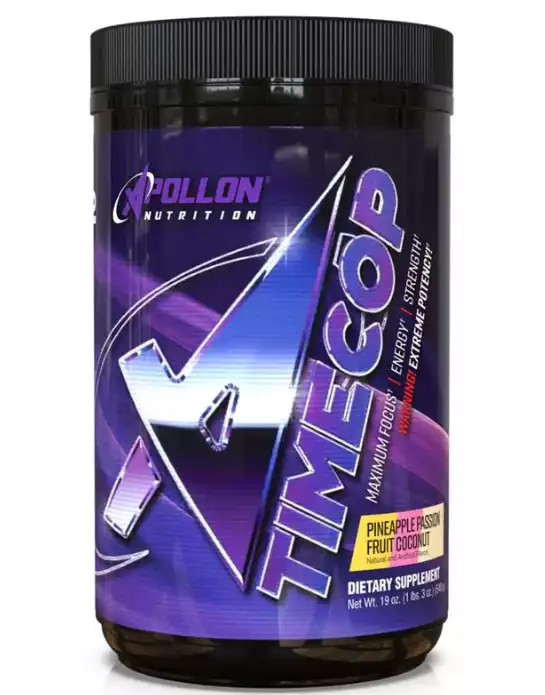 Timecop V2 - Apollon Nutrition
I recommend this pre-workout to anyone looking to have an everyday "daily driver" pre-workout that is not over-stimulating or for anyone seeking something new and exciting.
Noopept: 30 mg
Caffeine Anhydrous: 400 mg
Theobromine: 500 mg
Shop Nutri Cartell
Lift Vault earns a commission if you click this link and make a purchase at no extra cost to you.
Timecop V2 by Apollon Nutrition
Timecop by Apollon Nutrition
I recommend this pre-workout to anyone looking to have an everyday "daily driver" pre-workout that is not over-stimulating or for anyone seeking something new and exciting.  Since it was so effective, I would confidently suggest ½ a serving all the way up to 1 full serving to anyone trying this product. Timecop was a great pre-workout that is only available for a limited time, but with it being V2, I will be looking to Apollon for future comprehensive labels.
Pros
Maximum pumps
Increased vascularity
Improved recovery
Long-lasting energy and focus, 5+ hours
No noticeable energy or focus crash
Comprehensive formula
Effective strength
Healthy formulation
Not overstimulating
Made in the USA
Cons
Gastric distress
Lots of settlement and powder to swallow
Cost per serving at full dosage