MyStrengthBook Promo Code
MyStrengthBook is FREE for 21 days. To save $5 on your first month after that, use MyStrengthBook discount code: LIFTVAULT.
To learn more about the app and read about my experience with one of its premium programs, Calgary Barbell Meat & Potatoes Volume Cycle, read on.
MyStrengthBook for Athletes
I got the opportunity to check out MyStrengthBook (Google Play, Apple Store), which is a cool online programming tool for athletes and coaches. It provides athletes with access to premium programs designed by world class athletes like Jennifer Thompson, Brett Gibbs, Blaine Sumner, Bryce Krawczyk (aka Calgary Barbell), and Maria Htee. So that's pretty awesome.
MyStrengthBook for Coaches
It also allows coaches to build & distribute programs to their clients and track performance in real time. Video analysis of lifts and in-app communication with athletes is coming soon too, allowing MyStrengthBook to be a complete solution for remote and online strength coaching. Also pretty awesome.
Calgary Barbell Meat & Potatoes Volume Cycle – Week 1 (App Preview)
I recently finished up the TSA 9 Week Intermediate Program and, since I don't have plans to compete any time soon, figured it'd be a good opportunity to get some additional volume work in. I haven't run any of Calgary Barbell's programs before and figured this would be a great opportunity to check out his Meat and Potatoes Volume Cycle. This is one of the premium programs available exclusively through MyStrengthBook. I just started the program today, May 25, 2019, and plan to provide weekly updates.
Here's what it is like getting started on MyStrengthBook. Overall it's really easy and you can tell a fair bit of time went into user experience.
You start on a calendar where you can see all training sessions for any programs you have added to your profile.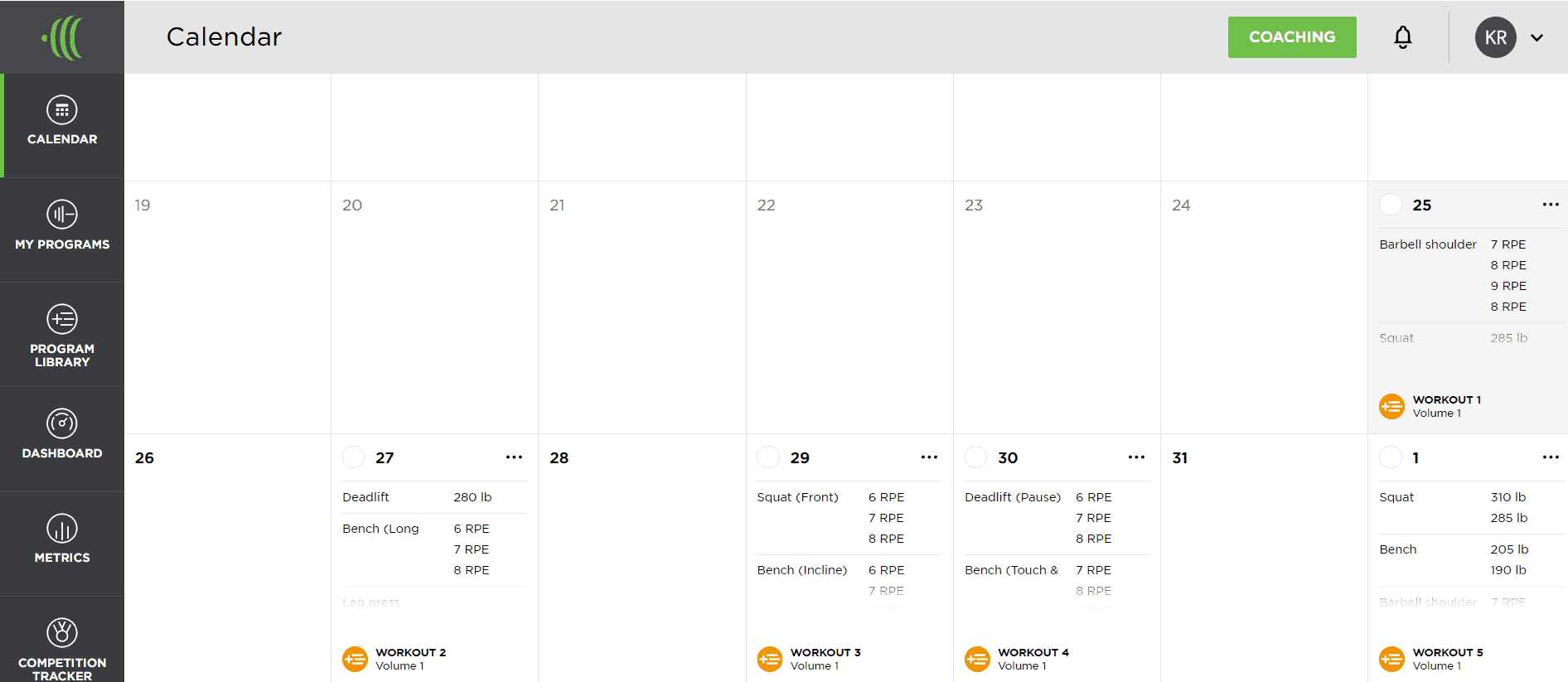 Here's what the program library looks like. This is where you can see the available programs and add them to your personal calendar. Notice many contain multiple phases.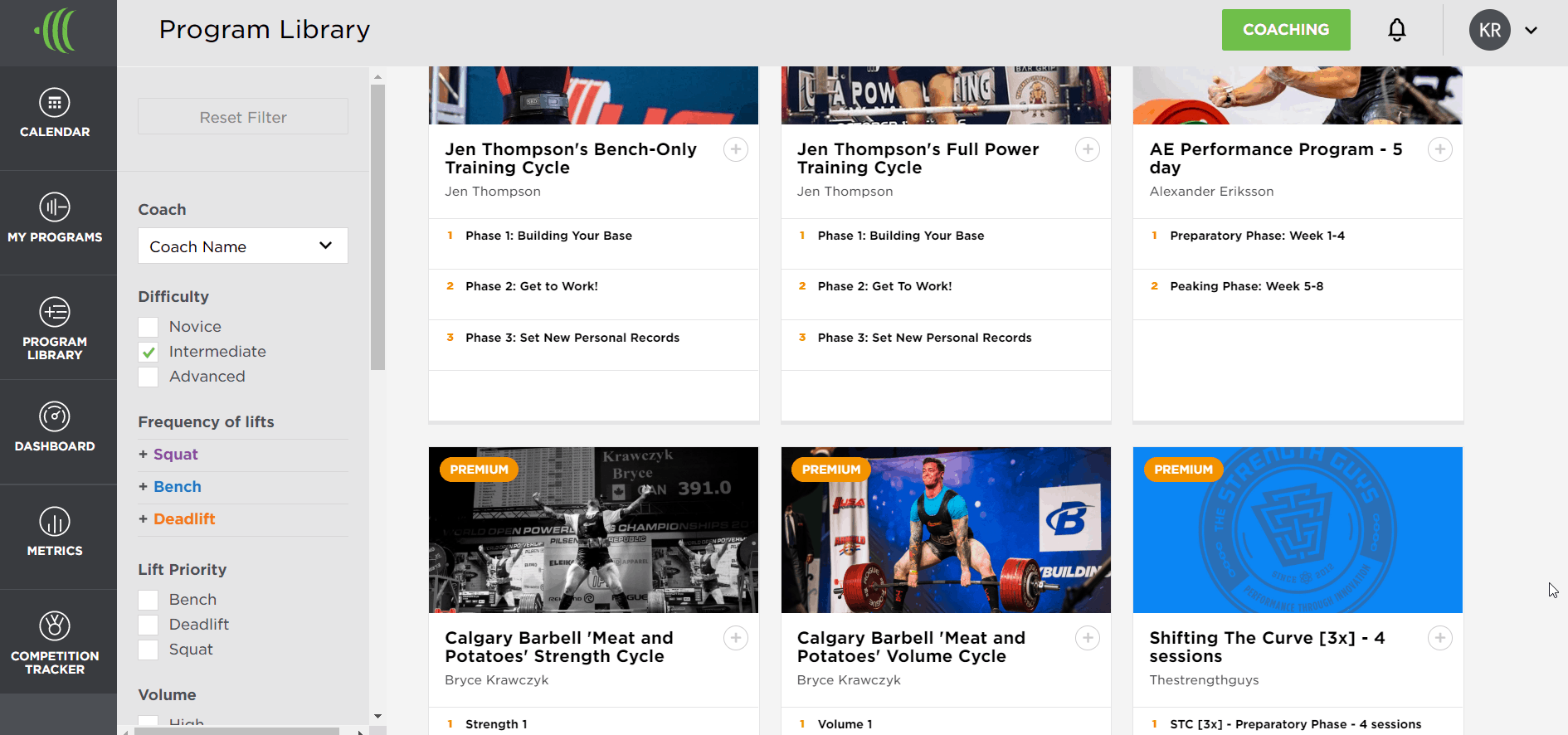 Like I mentioned above, I added the Calgary Barbell Meat & Potatoes Volume Cycle to my profile. MyStrengthBook provides a great breakdown of the lift volume, intensity, and other helpful information for each program to help you decide what makes sense for your goals.
After selecting a program, you are asked to input your 1 rep max for various lifts, which days you want to train, and when you want to start. MyStrengthBook takes it from there.
Here's what the breakdown for my program looked like.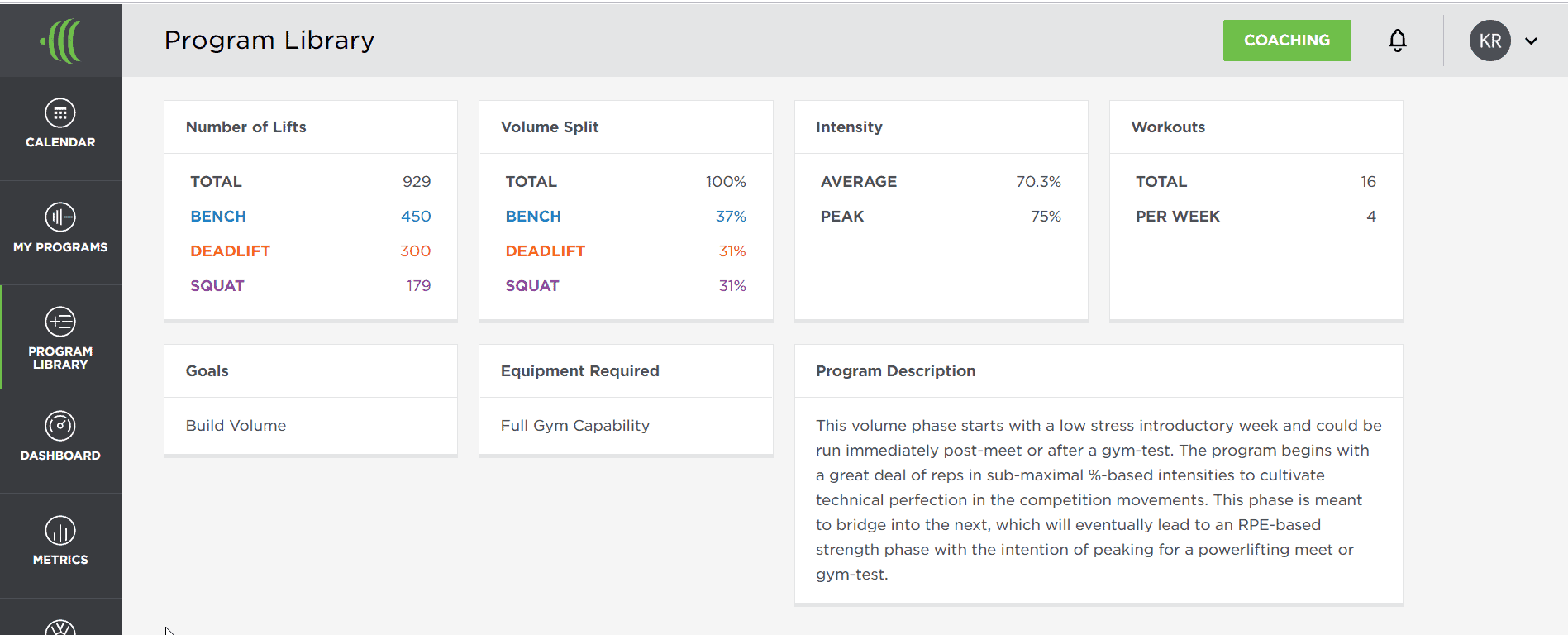 Charts were also available to help illustrate how these variables changed throughout the program. The chart below represents the first of two volume cycles, both 4 weeks in length.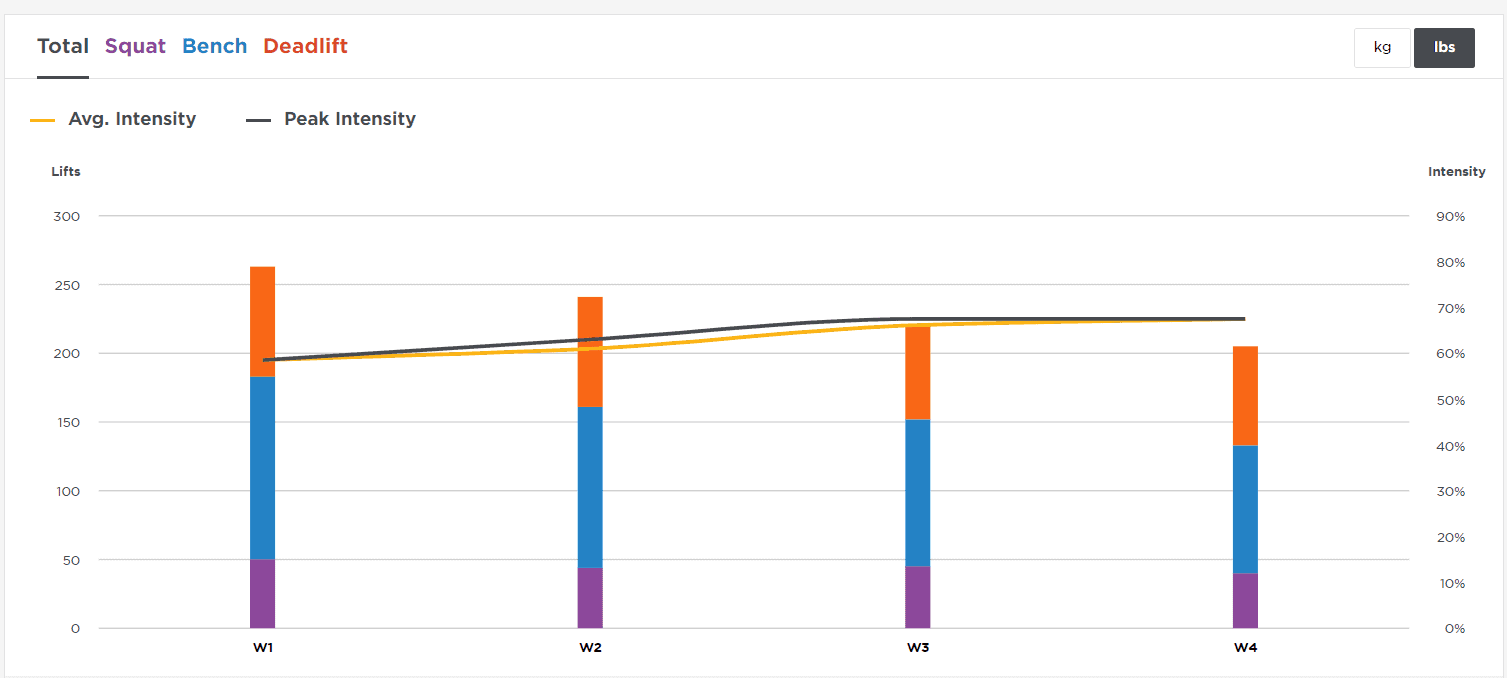 Here is the same chart, this time for the second cycle, representing weeks 5 to 8 of the program. Notice the number of lifts start to decline a bit as the intensity increases.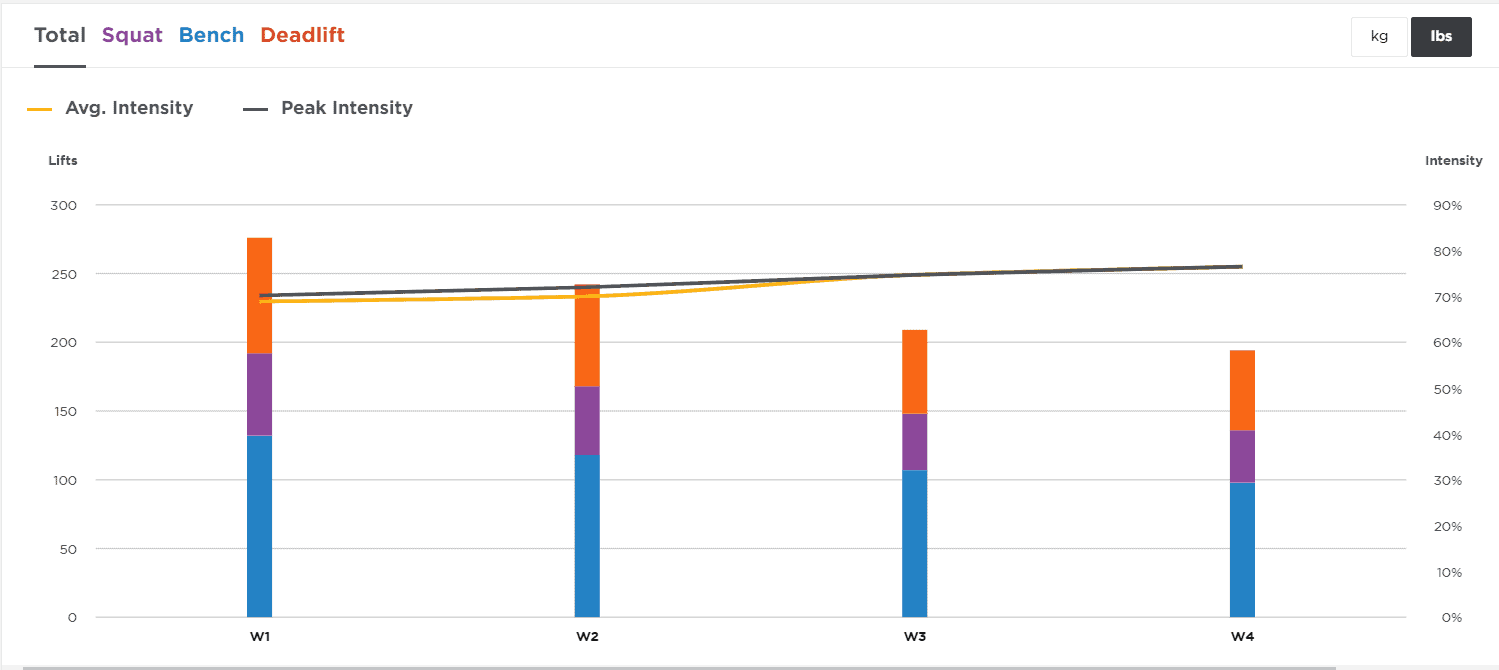 And here's what my workout for today looked like.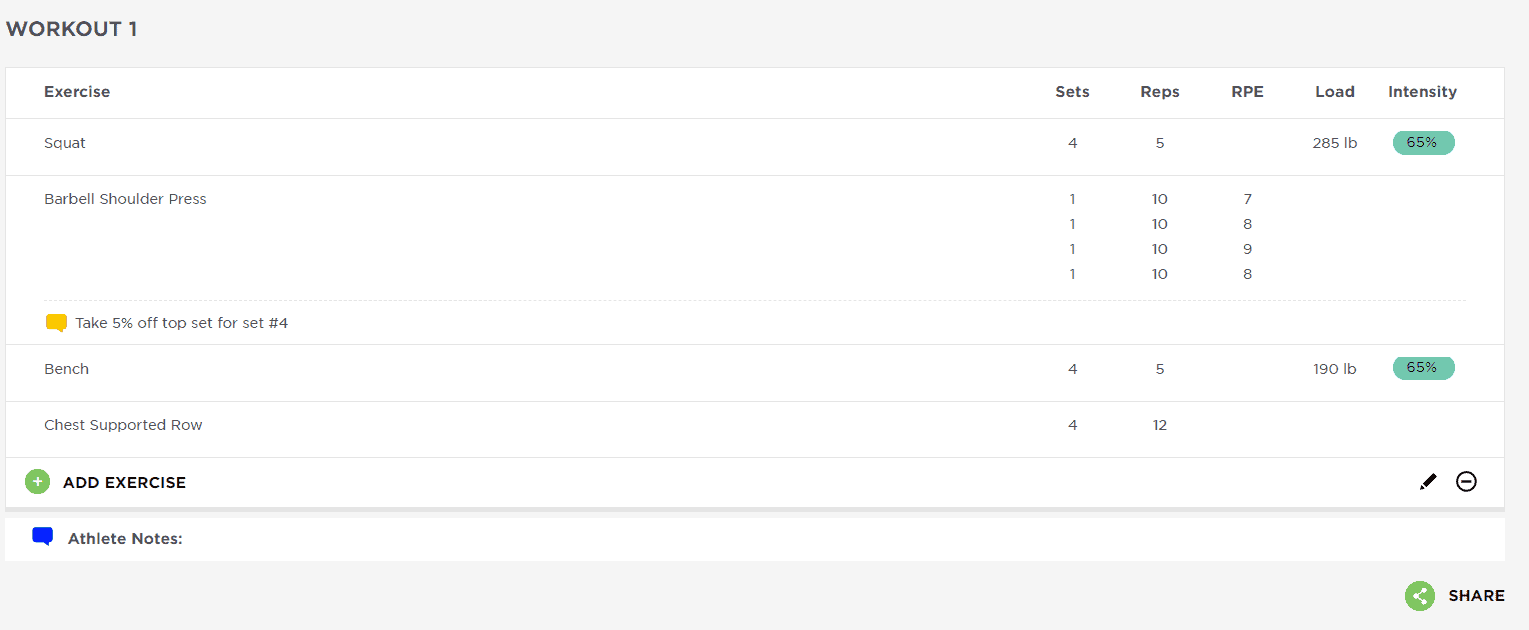 The working sets for squat and bench were pretty easy at sets of 5 at 65%, though I was still recovering from heavy deadlifts yesterday (finishing up TSA 9 Week) and definitely could feel that fatigue. Sets of 10 and 12 for overhead press and chest supported row were fun, as I usually don't go into rep ranges that high for those movements. All in all a nice workout. Definitely looking forward to the rest of it.
I'll keep this post updated as I continue through the program.
Until next time!