Shortcut to Size is a 4 day body part split program by Jim Stoppani (who also created Shortcut to Shred). It is best suited for athletes with aesthetic or hypertrophy goals. It is a 12 week bodybuilding program broken down into three 4 week phases.
Shortcut to Size Reviews
Review by Beck Lievenbruck
Beck gained about 12 pounds of muscle while running Shortcut to Size. He shares some before and after pictures at the 5:00 minute mark in the video if you'd like to check that out.
He saw growth in his arms, chest, and shoulders (he skipped some leg days – don't do that!) and overall was very happy with the program results.
Their full review is in the video below.
Jim Stoppani's 12-Week Shortcut To Size | Review and Results
Review by Jackie @ Writers Lift Too
Jackie over at Writers Lift Too saw some great size increases from running the Shortcut to Size.
Most notably:
Arms: +2 inches
Hips: +1 inch
Chest: +1 inch
Waist: +1 inch
Quads: +3 inches
Calves + 1 inch
Forearms: +1 inch
Shoulders +1.5 inches
Neck: +1.5 inches
You can read their full review here. Before and after pics are below along with her video review.
Shortcut to Size Results - Before and After pictures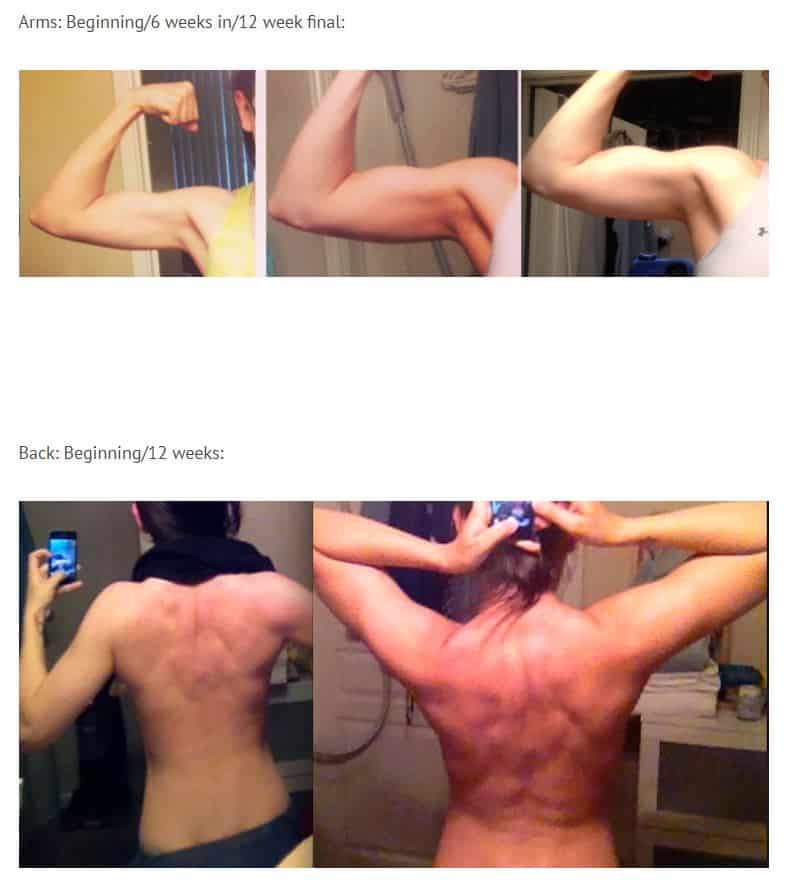 Review by Greg @ Gym Talk
Greg over at Gym Talk had a positive experience while running Shortcut to Size, putting on about 4 kg (~9 lb) of muscle while increasing his lifts by 10-16%.
Some of his criticisms include that it was quite difficult for him to adhere strictly to the diet plan. He also questioned some of the programming choices (e.g. going heavy).
Still he "enjoyed and recommend[s] Jim Stoppani's Shortcut to Size to anyone looking to pack on a serious amount of bulk without pissing around unrealistic and pointless exercises."
You can read their full review here.
Before & After Pictures from Michael Kiriakos
To round things off, here are two quick before and after pictures shared by @Fitnessmike8 on Twitter.
Here he is in December 2014 after running Shortcut to Size:
Week 6 of @jimstoppani shortcut to size program, seeing results. #jymarmy #jymsupplements #bodybuildingcom #gainz pic.twitter.com/r3GCx1Fy9S

— Michael Kiriakos (@FitnessMike8) December 7, 2014
He ran the program again in 2015 and saw even more improvement:
5 weeks into #shortcuttosize from @JimStoppani supps on point & daily macros around 3300cal. 5lbs gain, 10% to 9% BF pic.twitter.com/P8rBRicTkW

— Michael Kiriakos (@FitnessMike8) September 10, 2015
Shortcut to Size Overview
Each phase of the workout program tapers the rep range from:
12 to 15 in week 1
9 to 11 in week 2
6 to 8 in week 3
3 to 5 in week 4
At the end of each phase, weight is added to all lifts, the rep range restarts at 12 to 15, and the tapering begins again over the next 4 weeks.
The workout split is broken into:
Day 1: Chest and Triceps
Day 2: Back and Biceps
Day 3: Shoulders
Day 4: Legs
Program Tip: Rest-Pause Sets
In weeks 1 and 2 of each phase, you will do a "rest-pause" set after the final set of each exercise. A rest-pause set is done by completing the final set of an exercise as programmed, resting 15 seconds, then performing an AMRAP set (as many reps as possible) with the same weight until failure is reached. This helps induce muscular hypertrophy.
Rest-pause sets are not used in weeks 3 or 4 of each phase.
Frequently Asked Questions about Shortcut to Size
What is Shortcut to Size?
Shortcut to Size is a bodybuilding program designed by Jim Stoppani that is comprised of three 4 week phases. Each week covers a particular rep range: 12 to 15 reps, 9 to 11 reps, 6 to 8 reps, and 3 to 5 reps. Every 4 weeks, weight is added and the rep range resets at 12 to 15 reps.
Is Shortcut to Size good for gaining mass?
Yes. Shortcut to Size spends 3 of the 4 weeks of each phase within the 6 to 15 rep range and keeps the number of sets per muscle group in the fairly high range. It should be enough for most athletes to see improvement in muscular hypertrophy according to the Renaissance Periodization Hypertrophy Guide.
Is Shortcut to Size good for losing weight?
Any program can be used for losing weight if it helps burn more calories than are consumed in a day. Use a TDEE calculator, macro calculator, and food tracker to help understand what your diet should look like.
If your primary goal is weight loss, you may be more interested in Shortcut to SHRED.