Creatine is one of the most well-researched ingredients in the sports nutrition industry. Hundreds of clinical studies have shown that creatine effectively increases muscle mass, strength, power, and recovery, and is also safe and generally well-tolerated.[1]
There are various types of creatine on the market; however, creatine monohydrate is the most studied form. In fact, creatine monohydrate was used in some of the first studies to determine efficacious dosages, bioavailability, and more.[1] It's well established that taking 3-5 grams of creatine monohydrate per day yields all of the benefits that creatine provides.
With that said, the second most popular form of creatine in the dietary supplement industry is creatine HCL. The concept behind creatine HCL is that the addition of the hydrochloride group improves creatine's stability and solubility.
As of writing this article, creatine HCL is not considered to be superior to creatine monohydrate. But some people prefer creatine HCL because you can take a much lower dose. Additionally, there's no loading phase, it's easier on your stomach, and it results in less bloating and water retention for some people.
If you want to try creatine HCL, this article is going to be extremely helpful because we are going to answer the commonly asked question, "how much creatine HCL should I take?" The clinically studied dose for creatine monohydrate is pretty clear, but the dosing for creatine HCL is more complex.
How much creatine HCL should I take?
For optimal results, you should take 750 milligrams of creatine HCL per 100 lbs of bodyweight daily. For most people, a daily dosage of 1.5 grams of creatine HCL should be sufficient.
Here's how much creatine HCL you should take daily depending on your body weight:
100lbs – 750 mg
125lbs – 937.5 mg
150lbs – 1,125 mg
175lbs – 1,312.5 mg
200lbs – 1,500 mg
225lbs – 1,687.5 mg
250lbs – 1,875 mg
Similar to creatine monohydrate, it's important to take creatine HCL daily. So if you have a pre-workout that already has creatine HCL, you don't need to take more unless the dose is inadequate based on your body weight.
Best Creatine HCL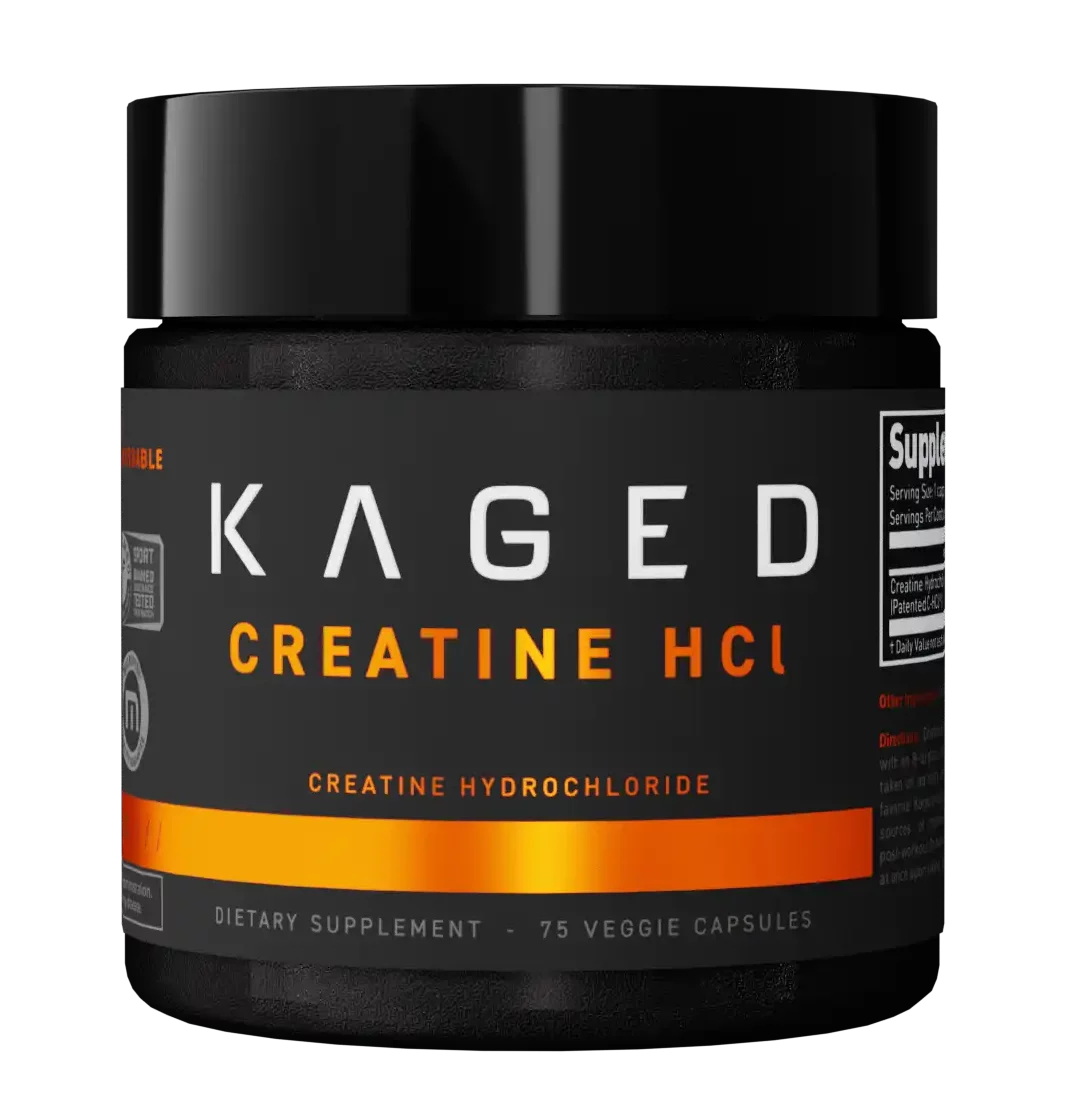 Creatine HCL - Kaged
High quality, patented, pure creatine HCL with zero fillers.
Available in unflavored powder (for mixing into other drinks), lemon lime powder, or vegetable capsules (vegan).
Creatine HCL: 750 mg
Servings: 75
Shop Kaged
Take Kaged Supplement Quiz
Lift Vault earns a commission if you click this link and make a purchase at no extra cost to you.
Does creatine HCL require a loading phase?
A loading phase is often associated with creatine monohydrate supplementation. A creatine loading phase entails taking 20 grams per day for 1-2 weeks to saturate the muscles, followed by a maintenance period of 3-5 grams per day.
Although the loading phase is effective, taking 20 grams of creatine monohydrate for multiple days can lead to stomach discomfort, water retention, and a lack of compliance. Not to mention it's slightly more expensive because you're taking such a large amount of creatine during that time.
Fortunately, studies have shown that loading phases are not required, especially when taking creatine HCL.[1] Not only do you need a lower dose of creatine HCL, but you don't have to worry about a loading phase.
What is creatine, and what does it do?
Creatine is a molecule naturally produced in your body using three amino acids – L-arginine, L-glycine, and L-methionine. Most of the creatine present in your body is stored in the form of phosphocreatine. As the name suggests, phosphocreatine, also known as phosphate creatine, is a combination of a phosphate group and creatine.
Phosphocreatine is mainly found in skeletal muscle. During high-intensity activity, when energy demands are high, phosphocreatine donates a phosphate group to adenosine diphosphate (ADP) to form adenosine triphosphate (ATP). Adenosine triphosphate is the cell's energy currency, so it's crucial for carrying out muscular contractions. When/, if you run out of ATP, your ability to perform, will come to a screeching halt.
This is why supplementing with creatine leads to increases in strength, power, endurance, and lean muscle mass. Your body has more energy to perform harder and longer.
When's the best time to take creatine?
Regardless of what form of creatine you use, the time of day you take creatine doesn't make that much of a difference. With that said, a study from 2013 found that taking creatine post-workout was slightly more effective for increasing lean muscle mass and strength compared to pre-workout.[2]
But the verdict still stands. As long as you take creatine daily, you will get all of the health and performance benefits it offers.
How long does it take for creatine HCL to work?
Regardless of the form of creatine you take, the ergogenic effects are not noticeable immediately. Generally, it will take approximately 7 days for you to start noticing creatine HCL's benefits.
When combined with resistance training, supplementing with creatine HCL will lead to greater gains in lean muscle mass, strength, power, and recovery. As we mentioned before, taking creatine HCL daily will help saturate your muscles quicker.
The benefits of creatine HCL compared to creatine monohydrate
Here are some reasons why you may want to choose creatine HCL over creatine monohydrate:
Increased solubility – creatine HCL dissolves in solution much better than creatine monohydrate, so you won't have to worry about a ton of it settling at the bottom of your shaker.
Faster absorption – creatine HCL gets absorbed much quicker in the small intestine compared to creatine monohydrate, so your body can utilize it faster as well. Plus, the less time it's sitting in your digestive tract, the less chance for gastrointestinal distress.
Lower dose – depending on your body weight, most people can take 1-2 grams of creatine HCL and get the same benefits as 3-5 grams of creatine monohydrate.
Less bloating and cramping – creatine monohydrate draws a lot of water into the stomach, which can lead to cramping and bloating.
Overall, both forms of creatine are effective, but you may prefer one over the other depending on the factors listed above.
Does creatine cause hair loss or balding?
Creatine causing hair loss is a common misconception stemming from a 2009 study that found three weeks of creatine supplementation resulted in an increase in dihydrotestosterone (DHT) in male rugby players.[3]
Dihydrotestosterone is a metabolite of testosterone that's linked to hair loss and male pattern baldness. However, further research has concluded that creatine supplementation does not increase free testosterone, total testosterone, DHT levels or cause baldness.[1]
Final Thoughts
Creatine supplements offer a wide range of physiological benefits. It's one of the most well-researched dietary supplements. Researchers continue to explore the uses and benefits of creatine for health and performance.
Most recently, the research around creatine has shifted to the brain and the elderly. It seems that creatine has profound cognitive benefits, which just goes to show that creatine should be taken by everyone, regardless of whether you resistance train or not.
As the popularity of creatine rises, inevitably, the various forms of creatine grow as well. So far, the two most common forms of creatine supplements are creatine monohydrate and creatine hydrochloride. Both have their pros and cons, but at the end of the day, they are both effective. If you've never tried creatine, we highly recommend giving it a shot!
References
Antonio, J. et al. Feb. 2021. "Common questions and misconceptions about creatine supplementation: what does the scientific evidence really show?" Journal of the International Society of Sports Nutrition, vol.18, article number 13. https://jissn.biomedcentral.com/articles/10.1186/s12970-021-00412-w
Antonio, J. et al. August, 2013. "The effect of pre and post-workout supplementation of creatine monohydrate on body composition and strength." Journal of the International Society of Sports Nutrition, vol. 10, article number 36. https://jissn.biomedcentral.com/articles/10.1186/1550-2783-10-36
Van der Merwe J. et al. Sept. 2009. "Three weeks of creatine monohydrate supplementation affects dihydrotestosterone to testosterone ratio in college-aged rugby players." Clinical Journal of Sports Medicine, vol.19:399–404. https://pubmed.ncbi.nlm.nih.gov/19741313/