After Laurel Hubbard made history by becoming the first openly transgender athlete to ever compete in an Olympic weightlifting event, the spotlight on trans lifters has intensified.
Since 2003, when the first policy for transgender athletes at the Olympic level was introduced and more than 63,000 athletes have taken part in the Games. However, of that 63,000 Olympians, only two have been trans, and only one has won a medal.
It's no wonder New Zealand's Laurel Hubbard has gotten a lot of attention.
There's a great amount of debate about whether trans lifters have an advantage, and how this affects their performance. In an effort to embrace inclusion in the sport, many lifting federations are drawing up rules that regulate trans athletes' participation in competitions.
So far, there's a significant focus on fair, non-discriminatory participation from the federations that have adjusted their rule books to recognize trans lifters.
We've taken a look at how the following federations have tackled the topic and delved deeper into the stats surrounding the participation of trans athletes in each.
Transgender Lifter Rules by Federation
International Powerlifting Federation (IPF) Transgender Policy
The IPF has followed the guidelines as laid out by the International Olympic Committee for transgender athletes. These guidelines allow transgender males to compete in male categories and transgender females to compete in female categories.
The IOC's most recent recommendation regarding transgender athletes' inclusion, from November 2021, has further determined that each sport should make its own rules. This is to ensure that no contenders have an unfair advantage over their peers.
Testosterone levels have a massive impact on athletes' biological makeup, affecting their muscle distribution, fibre, and mass. Because powerlifting is a sport based on strength, these differences directly relate to competition outcomes. IPF records dating back 50 years show that male athletes' records have been notably higher than females', proving that there is a gender gap in strength that's purely physiological.
Medical literature tells us that the behaviour of muscle in transgender females is higher for 36+ months, even when testosterone is at the female level. In the IPF Policy Statement For Transgender Athletes, they cite research by the Mayo Clinic that states that female total testosterone is 2.4 nanomoles per litre at its highest level. Free total testosterone's highest level is 0.4333 nmol/L.
The IPF has decided to adopt these recommended values. Its current policy allowing for transgender athletes to take part in events also includes the following criteria:
The athlete must have a valid passport issued by their county indicating their gender.
The athletic history of the competitor wishing to take part must be submitted.
Athletes may not claim a different gender identity from the one they have previously used on a consistent and persistent basis.
Athletes claiming fluid gender identity may not take part.
Male-to-female transgender athletes have to abide by the following conditions:

Their female gender has to have been declared and their passport must reflect this information.
Their female gender identification may not be changed, for the purpose of taking part in competitions, for a minimum of four years.
Their total testosterone level in serum must be equal to or below 2.4 nmol/L and/or their free testosterone equal to or less than 0.433 nmol/dL, or below the upper limit of normal according to a particular reference by a laboratory for a minimum of one year before their first competition.

Requirements for longer periods will be contingent on a confidential case-by-case assessment by the IPF Medical Commission. This appraisal will decide whether or not one year is enough time to curtail any possible advantage to the athlete in a women's competition. Additional information and/or research results may be sought before a final decision is reached.

The rules as per total testosterone levels in serum and free testosterone levels apply for the duration of the time the athlete wishes to compete in a female competition category.
The athlete's compliance with these stipulations will be overseen by testing at intervals set by the MC.

The athlete will be suspended immediately in the event of non-compliance. Reapplication for entry into female competition categories will then be necessary.
In the IPL's active approach to creating a completely non-discriminatory environment for all, it has been decided that if an athlete is not deemed suitable to compete in female competitions, they're then permitted to compete in male categories. For transgender male athletes, testosterone levels need to fall within the normal range for males, between 10 to 35 nmol/L. It may not exceed this.
USA Powerlifting (USAPL) Transgender Policy
The USAPL does not allow transgender competitors. This decision was made due to the use of testosterone in the transition process and specific natural advantages in male-to-female athletes.
Here is more detail on both factors:
The use of testosterone or other androgens in the transition process from female to male. Because these compounds are anabolic in nature, they are disallowed. No Therapeutic Use Exemption is extended to any would-be competitor, even if they have a medical condition which needs to be treated with androgens.
Concerning male-to-female transgender competitors, it's been found by an analysis of how maturation is impacted by the presence of naturally-occurring androgens that significant advantages result. These include, but are not limited to, an increase in body density, body and muscle mass, connective tissue, and bone structure.
Furthermore, these benefits are not mitigated by reducing serum androgens like testosterone. The potential advantage by those who have undergone maturation as males before transitioning to female is thus deemed too high, particularly in strength sports like powerlifting.
International Olympic Committee (IOC) Transgender Policy
The IOC's Framework on Fairness, Inclusion and Non-Discrimination on the Basis of Gender Identity and Sex Variations has outlined an approach consisting of 10 principles to help top-level competition organisers establish criteria for transgender inclusion. As a result, Olympic policies for transgender athlete can vary based on the sport.
Regulations should reflect:
Inclusion
Prevention of Harm
Non-Discrimination
Fairness
No Presumption of Advantage
An Evidence-Based Approach
The Primacy of Health and Bodily Autonomy
A Stakeholder-Centred Approach
The Right to Privacy
The willingness to make Periodic Reviews
Sports bodies are also urged to take any relevant specific cultural, ethical, legal, and social factors into account when making their decisions.
International Weightlifting Federation (IWF) Transgender Policy
The IWF fully supports gender equity and, while it has published no guidelines as per trans athletes' participation as a body, it has committed to using the principles outlined by the IOC as a guideline going forward. This essentially means that transgender competitors will be permitted as long as their hormone levels are provably fair and offer them no unfair advantage.
World Drug-Free Powerlifting Federation (WDFPF) Transgender Policy
The WDFPF has officially recognized the studies conducted by the IOC regarding transgender athlete participation. It plans to follow the guidelines as per their recommendations but has also added its own criteria related to transgender athletes.
These criteria are:
Transgender lifters will be grouped according to the sex they are legally registered as.
When undergoing drug testing, trans athletes will be tested by Officers of the same sex as they identify with.
Concerning athletes reassigning from female to male, the lifter will need to provide a TUE to the National Federation they belong to outlining which medication has been prescribed.
If male to female reassignment has been actioned, the lifter must provide both a TUE as well as proof that their testosterone levels are no higher than 5 nmol/L as per the recommendations published by the IOC for transgender competitors.
Results of drug testing will take the contents of TUE applications into consideration, including the medication indicated and the levels per dosage necessary for treatment.
Revolution Powerlifting Syndicate (RPS) Transgender Policy
In 2019, the RPS permitted trans lifters to take part in competitions according to the gender they identified as.
Here's their original announcement: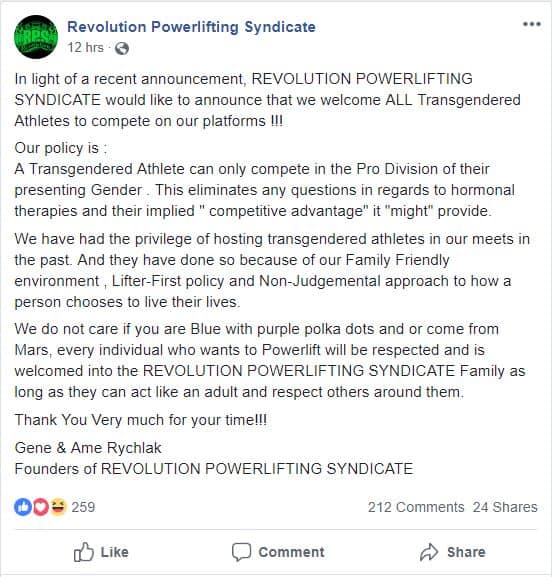 However, public outcry and a number of death threats lead to their reversing of this policy in a matter of days. The Syndicate has, however, taken a step towards inclusion by creating a category specifically for trans lifters.
Here is their follow up announcement, posted just days later: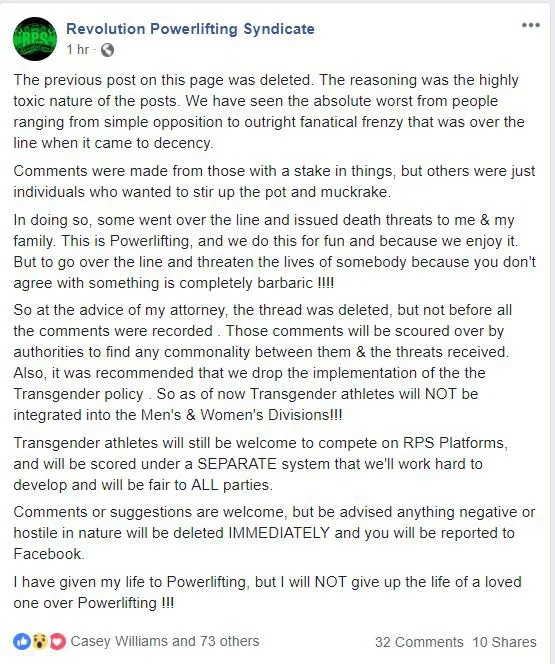 While trans athletes can otherwise only take part in contests as per their presenting gender, the RPS policy specifically outlines that they welcome everyone to compete on their platform. Transgender males can only participate in male division competitions, but transgender females may compete in male and female contests.
Fairness is the First Priority
With such a huge focus on fairness and equality, drug testing is naturally coming under the spotlight too. Even if a federation has no specific transgender policy in place, drug tests can include the checking of testosterone levels. If these levels are found to be too high, this could lead to a restriction on a competitor, or even an outright ban.
At the time of writing, the three powerlifting federations that test for gender-related substances in would-be competitors are the IPF, the WDFPF, and the WPF, although the WPF does not outline transgender regulations specifically.
There are several federations that do not test, including:
Global Powerlifting Alliance (GPA)
International Powerlifting League (IPL)
International Raw Powerlifting (IRP)
World Powerlifting Alliance (WPA)
World Powerlifting Congress (WPC)
World United Amateur Powerlifting (WUAP)
These, along with many other federations, are, however, providing much clearer regulations for transgender participation. As the sport evolves and more trans athletes want to compete, having clear rules is going to be essential.