Apollon Nutrition is known for hard-hitting products with high-quality formulations. They're also unafraid to reformulate for an even more potent result. This version of Chaos marks the fourth edition, which faces many changes over the third (more information under the ingredient section).
This potent thermogenic, fat metabolism, appetite suppression-based product results in more significant energy expenditure, causing weight loss. I recommend this product to individuals looking to help maintain a calorie deficit during a body re-composition. It was fruitful in my experience, even at the twice-daily dosage.
Thank you, Jake from Nutricartel, for sending this full product for review!
Best All Around Thermogenic Fat Burner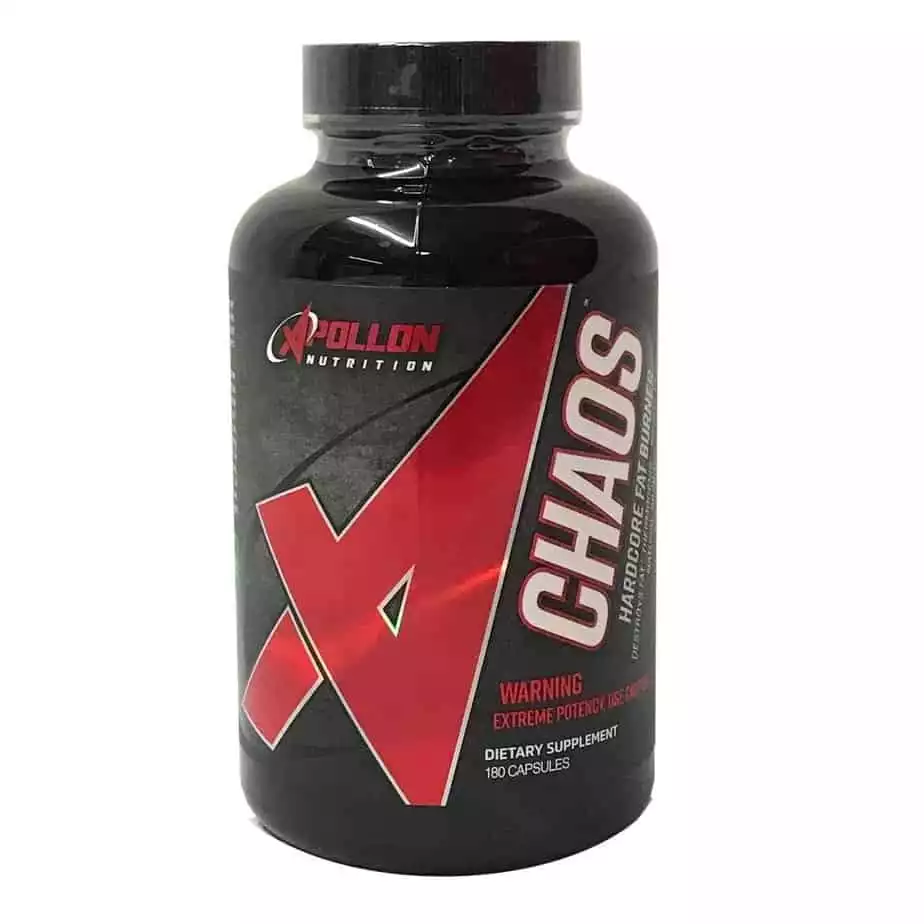 Chaos Fat Burner - Apollon Nutrition
With several clinically dosed fat burning ingredients + 300 mg of caffeine, Chaos is an excellent value fat burner and thermogenic pre workout choice.
Discount codes:
LIFTVAULT = 15% off at Nutrition Cartel
LIFTVAULT15 = 15% off at Supp Kingz
Mitroburn: 500 mg
Cocoabuterol: 200 mg
Shop Nutri Cartel
Lift Vault earns a commission if you click this link and make a purchase at no extra cost to you.
Where to Buy Chaos by Apollon Nutrition
You can buy Chaos by Apollon Nutrition from the following retailers:
Experience
Capsule products typically take around 30 minutes for effects to begin relative to one's digestion. Chaos surprises with effects starting 15 minutes from initial serving. A buzz of energy developed along with clear focus at a level of 3 which grew to a 5 over 40 minutes, and I needed to move. Near the 50-minute mark, a noticeable GBB effect started beneath my eyes, producing a slight thermogenic effect similar to cold chills.
Unlike many fat burners, this one will cause a passive energy level due to fat loading into the mitochondria. Chaos, like other products, use high stimulants to help maintain energy in a calorie deficit, while also suppressing appetite. I felt my appetite curb around a level of seven. The level of thermogenesis comes in several phases based on activity.
25 mg of GBB is potent for many users, and 50 is quite a lot to take in as well. Don't expect to spend much time sitting down. The product made me want to move more, while producing great levels of energy, and causing me to sweat quite a bit. I personally enjoy GBB, and some of my favorite pre-workouts have included this ingredient. When I go to the gym I like to have a productive sweat.
I did notice that the diuresis of fluid in my body was increased, more so than the use of high stimulants alone. In addition, saliva production increased which seems to happen with my consumption of GBB. Since this product does not include any form of yohimbine, there are no jittes.
I experienced a smooth level of energy ramping up in the first hour before plateauing, and then this product truly shines with its appetite suppression. Afterwards the cold sweating does occur, which reminds me of my usage with dnp in the past.
Nasal drainage was present as well, and continued with the cold sweats for hours after. In the past, I have had some symptoms of GERD, aka acid reflux, from the ingestion of capsicum but not with this product. After five hours, the cold sweating calms down and the appetite suppression loosens it's effect down to a level of three. I have successfully used this product to shed some weight in excess of five pounds while returning into my ketovore diet plan.
Side Effects
I didn't experience any adverse effects from using this product. Let it be known that you will experience potent effects of GBB, including cold chills.
Dose/Serving Size
The formulation of active ingredients adds up to 2,125 mg. When I weigh the capsules all together, it comes closer than many capsule-based products I have reviewed this year. I mention this because capsule products might have an unequal filling, although I assume there is a standard margin percentage for packing pills.
The label suggests taking either four capsules daily in one dose or split up into two. I started with two capsules before advancing to four but split them into two servings on my work days to keep the effects less potent.
A proper fat metabolism formulation such as this works just fine as a split dosage, given you don't take it too late in the day, affecting your sleep. It could be added into a stack with a non-stimulant or low-dosed pre-workout or to help increase the effectiveness of a lagging product if you use a pre-workout while utilizing a fat burner consistently.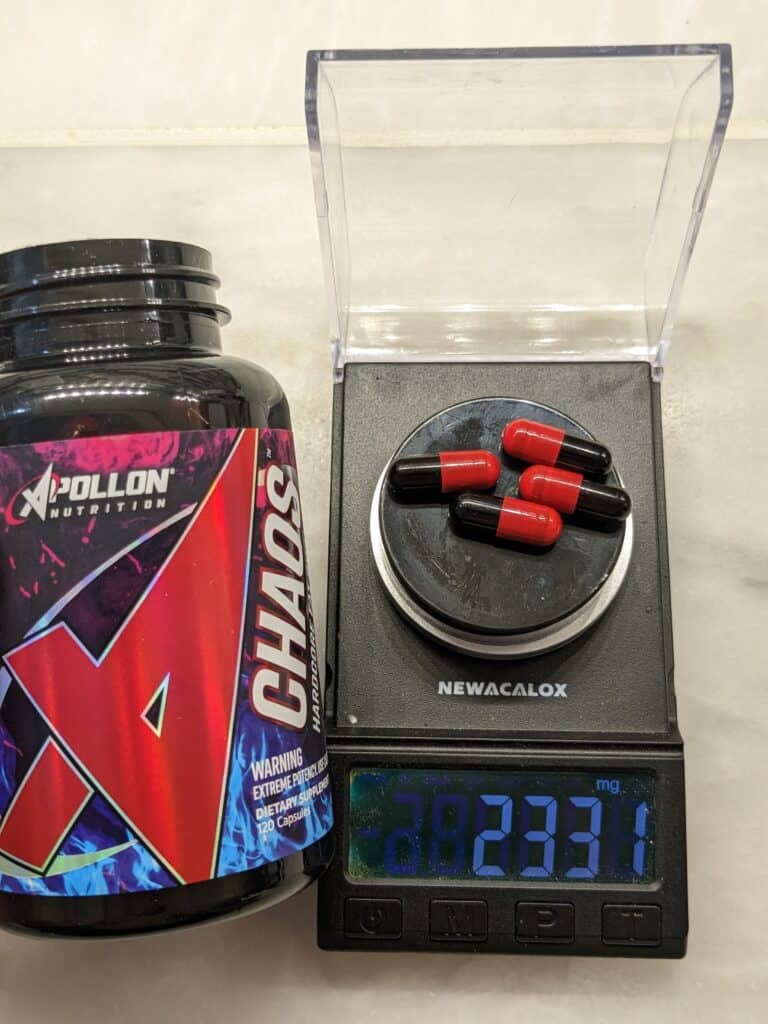 Ingredients
This is the fourth version of Chaos, which includes many changes, but of note: Addition of mitroburn and cocoabuterol, increased capsicum/gbb/caffeine, removed caffeine citrate and other ingredients. The changes Apollon has made were good, especially with the caffeine dosage, as the tolerance build-up can be difficult to handle with multiple doses daily.
I have reviewed products in the past that caused my tolerance to build up, which led to midday crashes toward the end of the product review. I typically take a week off from caffeine after reviewing fat burners, especially if I can run it consistently, as I did here.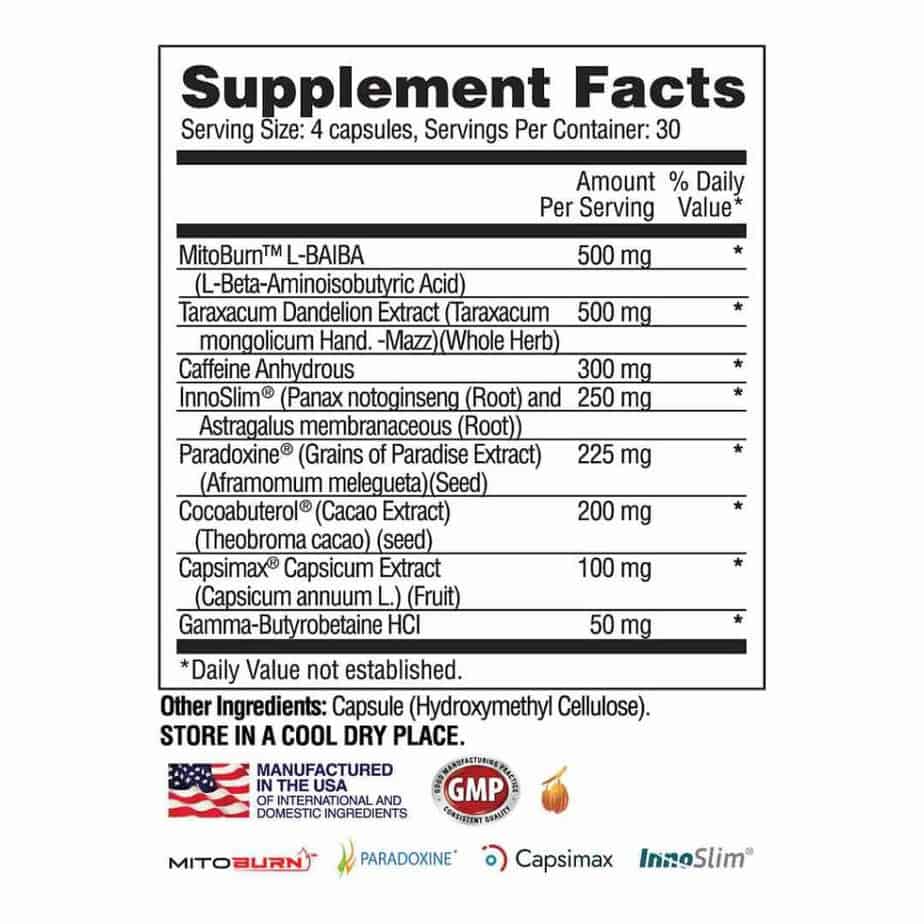 MitoBurn L-Baiba – 500 mg
MitoBurn, also known as L-BAIBA (L-beta-aminoisobutyric acid), is a naturally occurring amino acid that has gained attention in exercise physiology and metabolic research. It is sometimes called an "exercise-induced myokine" because its levels in the body tend to increase in response to physical activity, particularly aerobic exercise.
MitoBurn has been studied for its potential role in promoting metabolic health and fat oxidation. Some research suggests that it may help enhance the body's ability to burn fat for energy, potentially benefit weight management and exercise performance. It is believed to have anti-inflammatory properties, which can benefit overall health and reduce the risk of chronic inflammation-related diseases.
Studies have shown that levels of L-BAIBA increase during and after exercise. It is thought to be released by muscle tissue during physical activity, and some researchers believe it may contribute to the positive effects of exercise on metabolism and overall health.
Here is the manufacturer's description:
MitoBurn™ is L-BAIBA, which the muscles produce during exercise. It is an amino acid metabolite of L-valine and is triggered by the PGC-1α protein from exercising muscles. Known as an "exercise factor," increased levels of L-BAIBA are associated with many of exercise's numerous benefits. For example, L-BAIBA helps regulate metabolism, increase energy expenditure, manage fuel selection, and more. Until now, the best way to increase levels of BAIBA was through intense exercise…but that all changes with MitoBurn, designed to help ignite the metabolic fire within!
BAIBA has been shown to initiate the "browning" of white adipose tissue and brown adipose tissue to increase energy expenditure, improve insulin sensitivity, and help regulate weight management.
MitoBurn™ L-BAIBA is excellent for athletes trying to get the most out of their training, casually active individuals looking to support their healthy, active lifestyle, and those looking for healthy ways to support their efforts to get lean and fit. Read more about it here.
Taraxacum Dandelion Extract – 500 mg
Dandelion extract is a concentrated form of compounds derived from the dandelion plant (Taraxacum officinale). They are common wildflowers and weeds in many parts of the world and have even been used as soup/porridge. While they are often considered nuisances in lawns and gardens, they have a long history of medicinal and culinary uses.
Dandelion extract can be obtained from various plant parts, including the leaves, roots, and flowers. Each piece of the dandelion contains different bioactive compounds and is used for multiple purposes. Here are some potential benefits and uses of dandelion extract: liver health, digestive health, anti-inflammatory, antioxidant, weight management, glucose management, and skin health.
Recent research from Healthline indicates that dandelions and their compounds may support weight control, though the data isn't conclusive. One study involving mice suggests that dandelion extract may aid weight management by reducing fat absorption (PubMed). Another study in mice found that chlorogenic acid, a compound found in dandelions, reduced body weight, decreased fat accumulation, and altered levels of specific proteins involved in weight control.
Caffeine Anhydrous – 300 mg
Caffeine anhydrous is the standard form of caffeine, known for increasing energy, alertness, motivation, reducing the perception of fatigue, and improving concentration and mood. It is a powdered form of caffeine commonly used as a supplement and in various products, including energy drinks, pre-workout supplements, and over-the-counter medications. "Anhydrous" means without water, so caffeine anhydrous is essentially dehydrated caffeine, typically a white, odorless, and bitter-tasting powder.
The caffeine content varies for each product. The 350-450 range is the typical dosage for sports supplements, 200-300 for fat burners, and some products may contain other forms or stimulants.
Caffeine works by blocking the action of adenosine, a neurotransmitter that promotes relaxation and sleepiness. This increases the release of neurotransmitters like dopamine and norepinephrine, which contribute to heightened alertness. Less is more, as your dependency will lead to diminishing returns as you increase your intake. The overall combination of many factors, such as sleep, when you take caffeine, diet, and nutrition, affect how much you will need.
Recent attention on caffeine consumption within 90 minutes of waking has been made by Dr. Andrew Hubberman, which he said causes the delay of clearing of adenosine. Ingestion of caffeine upon waking will likely produce a mid-day crash, according to his research, so plan your consumption accordingly.
InnoSlim (Panax notoginseng, Astragalus membranaceous) – 250 mg
InnoSlim is a patented ingredient developed by nulivscience. It is often marketed as a natural and effective way to support weight loss and improve metabolic health. It is claimed to help regulate blood sugar levels by promoting glucose uptake in cells and reducing insulin resistance.
This can help prevent blood sugar spikes and crashes, benefiting weight management and overall health. It is also believed to support the body's ability to burn fat by increasing the activity of enzymes involved in fat metabolism. This may contribute to increased energy expenditure and, subsequently, weight loss. Read more here.
Paradoxine (Grains of Paradise) – 225 mg
Grains of Paradise, also known as aframomum melegueta, is a spice that belongs to the ginger family (Zingiberaceae). It is sometimes referred to as Melegueta, alligator, or Guinea pepper. Grains of Paradise are native to West Africa, particularly regions like Nigeria, Ghana, and the Ivory Coast. This spice has a long history of use in traditional medicine and culinary applications.
Grains of Paradise has some promising research but needs additional evidence to support its fat loss effects. With that said, some exciting research shows it can activate brown adipose tissue, which can help increase a body's metabolism, burning more calories. At 12.5% 6-Paradol, the 20 mg dosage is the same used in human clinical trials that have shown up to a 5% increase in energy expenditure (source).
Traditionally, it has been used in herbal medicine for its potential digestive and anti-inflammatory properties. It has also been used as an aphrodisiac and to treat various ailments, although scientific evidence supporting these claims is limited.
Cocoabuterol (Cacao Extract) – 200 mg
According to Cocoabuterol.com, the suggested benefits of cocabuterol are decreased fat mass, direct muscle growth, improved muscular endurance, muscular power output, neuroprotectivity, and improved cardiovascular health.
Because Cocoabuterol manufactures the ingredient, their claims must be taken with a grain of salt. With that being said, Examine states that blood flow appears to be increased in the body reliably, as assessed by flow-mediated vasodilation (FMD) by around 2%, affecting both healthy and unhealthy people.
Cocoa products appear to reduce LDL cholesterol due to their flavonoid component, with a mild reduction in LDL-C. Cacao extract, cocoa extract, or cacao liquor extract, is a concentrated form of compounds derived from cacao beans (theobroma cacao). This comes from the plant from which chocolate products are made, and it has a rich history of culinary and medicinal uses.
It is produced by processing cacao beans to extract the naturally occurring bioactive compounds. It typically contains a combination of the following components or benefits: caffeine, theobromine, flavanols, and PEA's. It is also known for these benefits: neurotransmitter function, antioxidant effects, cardiovascular health, cognitive function, mood enhancement, and skin health.
Capsimax Capsicum Extract – 100 mg
Capsicum supplements, often containing capsaicin or other compounds derived from chili peppers, are believed to offer several potential health benefits when consumed in moderation.
These benefits include Weight Management, pain relief, heart health, appetite suppression, anti-inflammatory, digestive health, and pain management through topical usage. Some studies suggest that capsaicin may help with weight management by increasing metabolism and reducing appetite, although the effects may vary among individuals.
Gamma-Butyrobetaine HCl – 50 mg
Gamma-Butyrobetaine Ethyl Ester Chloride (GBB) is a molecule converted to carnitine in the body. This process can support fat loss, increase vasodilation, and increase body temperature. The recommended dosage of GBB is 25-50 mg, which the former could be taken twice daily. Mike from PricePlow provides an excellent breakdown of GBB (Link).
Gamma-butyrobetaine (GBB) is a naturally occurring compound that plays a role in carnitine biosynthesis in the human body. Carnitine is a molecule transporting fatty acids into the mitochondria, which can be used as an energy source. GBB is a precursor to carnitine, a compound the body uses to produce carnitine.
Chaos Fat Burner Review
Summary
This product is highly effective and contains potent thermogenic effects, energy production, and appetite suppression. If you are comfortable with sweating and cool chills, this is a reliable fat burner that you can incorporate into your regimen. I always enjoyed thermo-based products, and I think this is a great option for those effects.
Pros
Strong appetite suppression
Increased energy
Diuretic effect
Potent thermogenic
Improved focus
Clinical and efficient dosing
Several patented ingredients
GMP facility
Made in USA
Cons
Potent thermogenic not for everyone