Ripper Fat Burner is a hardcore fat burning supplement from Dark Labs. Notable ingredients include 100 mg of DMAA, three types of Yohimbine, 50 mg of synephrine, and 50 mg of GBB HCL.
Dark Labs has been in the spotlight since releasing acclaimed pre workout supplements Crack and Flame. As such, Ripper is a highly anticipated release from this popular supplement brand.
You can find an ingredient breakdown of this fat burner below, along with a review from the man himself: Garage Gym Homie.
If you want to check it out, there is a discount code below.
DMAA Fat Burner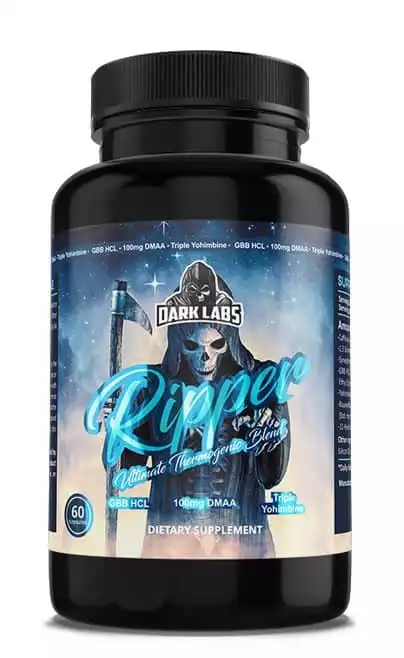 Ripper Fat Burner - Dark Labs
Back in Stock 9/24! Act fast before it's gone.
Get ready to sweat with this thermogenic DMAA fat burner from the legendary Dark Labs (makers of Crack and Flame).
Discount codes:
LIFTVAULT15 = 15% off at Muscle Players
Caffeine: 250 mg
DMAA: 100 mg
Alpha Yohimbine: 5 mg
GBB HCL: 50 mg
Shop Dark Labs
Shop Muscle Players
Lift Vault earns a commission if you click this link and make a purchase at no extra cost to you.
Where to Buy Ripper
Ripper often goes out of stock, but can occasionally be found at the following retailers:
Ripper Ingredients Label
Check out the ingredients label for Dark Labs Ripper below.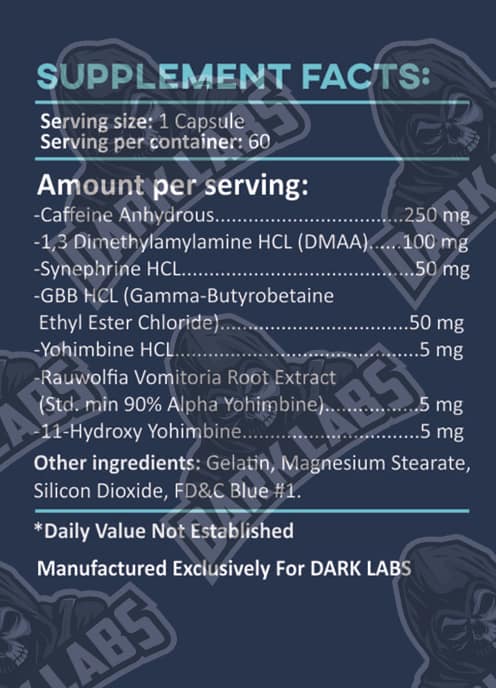 Caffeine Anhydrous – 250 mg
Caffeine anhydrous is the typical form of caffeine, well known for increasing energy, power, and focus.
Ripper contains 250 mg of caffeine anhydrous, which is a somewhat low dosage compared with the pre workouts I'm used to taking. This is made up by the inclusion of other stimulants, though. 😉
DMAA – 100 mg
DMAA is an amphetamine derivative (i.e. a stimulant) that is known for delivering focus, energy, mood enhancement, and some mild appetite suppression.
100 mg of DMAA is a very high dosage "on label," but honestly you can get all sorts of different effects from products.
DMAA doses in pre workout tend to range from 50 mg to 75 mg, so seeing 120 mg of DMAA in Crack is definitely a surprise.
Related: Best DMAA Fat Burners
Synephrine HCL – 50 mg
Synephrine is a well-researched ingredient that has been shown to aid in weight loss.
"In general, bitter orange extract alone (p-synephrine) or in combination with other herbal ingredients did not produce significant adverse events as an increase in heart rate or blood pressure, or alter electrocardiographic data, serum chemistry, blood cell counts or urinalysis. p-Synephrine alone as well as in combination products were shown to increase resting metabolic rate and energy expenditure, and modest increases in weight loss were observed with bitter orange extract/p-synephrine-containing products when given for six to 12 weeks."

Synephrine Meta Analysis
50 mg of synephrine is a solid dosage for fat burning effects.
GBB HCL – 50 mg
GBB is a "super carnitine" that is converted into L-Carnitine in the body. It also has reported thermogenic effects, causing lots of sweat if taken before working out.
50 mg is a significant dose, on the upper end of typical supplement dosages.
Yohimbine HCL – 5 mg
Yohimbine HCL helps promote fat loss, an effect noted for obese and lean people.
"Yohimbine's ability to block the alpha-2 adrenergic receptors located in fat cells could, in theory, lead to increased fat loss and weight loss. Several controlled studies have evaluated this and found mixed results."
5 mg is a decent dosage compared to most fat burning and pre workout supplements, but keep in mind there are two more kinds of Yohimbine included below.
Alpha Yohimbine – 5 mg
Rauwolfia, also known as Alpha Yo, is a diastereoisomer of Yohimbine. In other words, it is a specific part of Yohimbine that is known for its stimulant effects.
5 mg is an extremely high dosage of rauwolfia. Those who are sensitive to alpha yohimbine may want to steer clear of this product.
11-Hydroxy Yohimbine – 5 mg
11-Hydroxy Yohimbine is the active metabolite of Yohimbine; it is what Yohimbine is broken down into in the body's liver. It has a significantly longer half life than Yohimbine HCL: 8 hours vs. 2 hours.
This version of Yohimbine is not typically seen in supplements and there wasn't much research on it that I could find. Here's the PubChem entry on it if you're so inclined.
Second Opinions
Garage Gym Homie
Check out Garage Gym Homie on Dark Labs Ripper fat burner.
Fitness Deal News
The OG himself, TJ at Fitness Deal News, weighs in on Ripper.