Pyro is a fat-burner supplement from DNM Nutra. It is powered by 400 mg Eria Jarensis, 250 mg Theobromine, 100 mg Hordenine, 50 mg Grains of Paradise, 50 mg Isopropylsynephrine, 30 mg Noopept, and 3 mg Yohimbine HCl. Pyro will give you the energy, focus, and mood elevation for nearly any workout as long as you like to sweat.
I took Pyro just one time, but it was enough to know that this is one of the best nootropic fat burners I've had in a long while!
As a nootropic fat burner, I could recommend this for beginners but only as a stepping stone into higher stim products but starting at just one capsule. For more advanced users, I could easily recommend this to those who want to reduce their DM-something tolerance by having an almost DM-like experience.
Read on for additional details of my experience, the best prices for the Pyro fat-burner, and a breakdown of its ingredient label.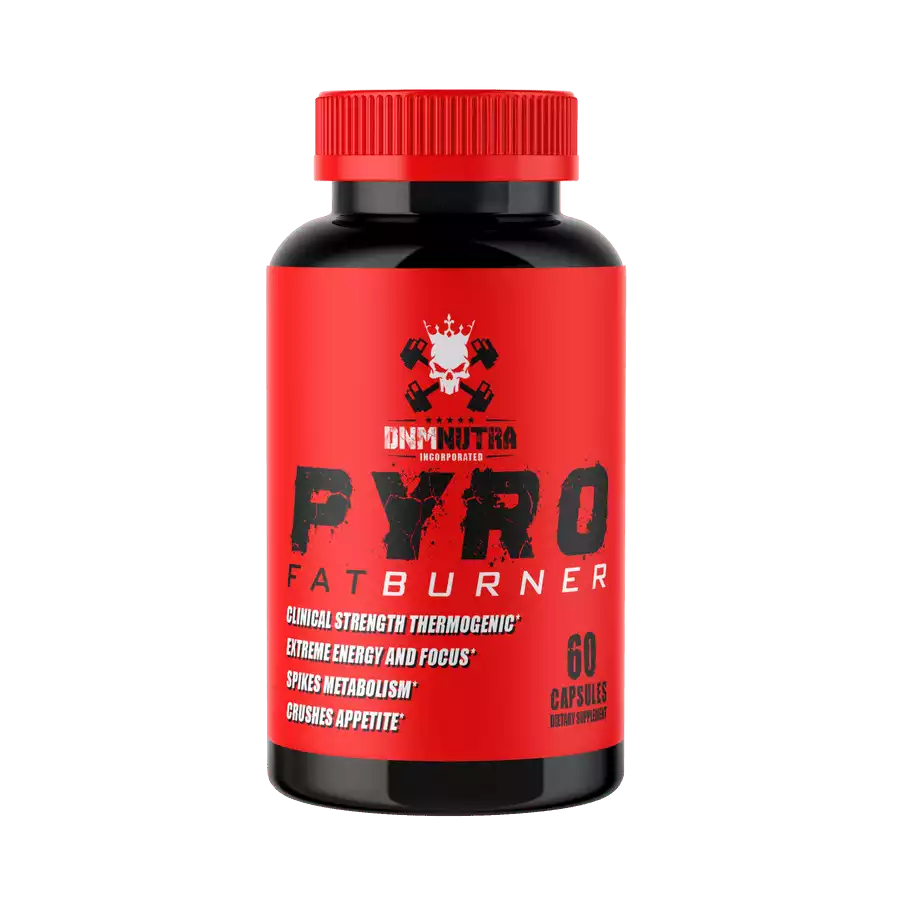 Pyro Fat Burner - DNM Nutra
Discount code:
LIFTVAULT15 = 15% off at Supps Central
Caffeine: 300 mg
Eria Jarensis: 400 mg
Grains of Paradise: 50 mg
Yohimbine HCL: 3 mg
Shop Supps Central
Lift Vault earns a commission if you click this link and make a purchase at no extra cost to you.
Where to Buy Pyro
You can purchase Pyro fat burner from the following online retailers:
My Experience
Pyro surprised me as the amount of focus was genuinely incredible. With only 300 mg caffeine, energy lasted for a 5-hour workout. This has become one of my favorite fat burners as the nootropic benefits are outstanding.
Effects
Within 20 minutes, robust and consistent energy began and lasted for a good 4 hours with a good head buzz for another 3 hours with absolutely zero crash.
Within 30 minutes, an intense tunnel vision, indeed DMHA-esque focus, began and lasted easily throughout the 5-hour workout.
There was a pronounced thermogenic effect during the workout, which made me sweat far more than average, but it wasn't uncomfortable at all.
There was a slight mood elevation post-workout, but the focus was so strong that the mood elevation couldn't come through as strong.
No adverse side effects at all.
Flavor
The capsules are easy enough to swallow.
Scoop Size
A whole serving is two capsules, weighing roughly 1.4-grams in total.
Related: Best Thermogenic Pre Workout Supplements
Ingredients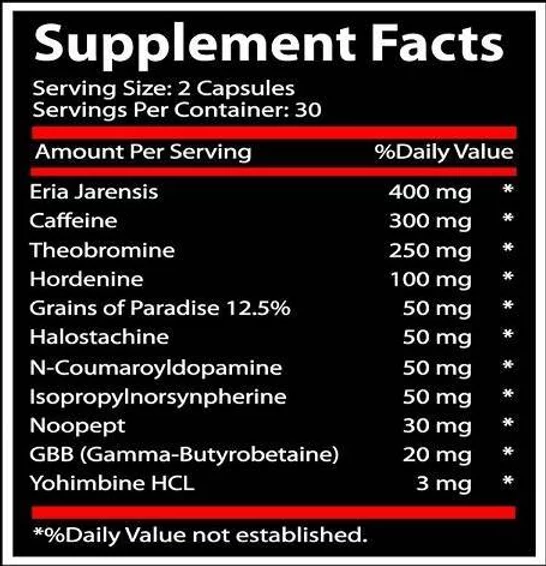 N-Phenethyl Dimethylamine Citrate – 400 mg
This is more commonly known as Eria Jarensis. Eria Jarensis is a stimulant widely seen alongside DMHA in high stim pre-workouts.
400 mg is an incredible dosage for this ingredient. It's the most Eria Jarensis I've ever seen in a pre-workout other than the 500 mg in Flame Pre Workout (which is impressive).
Caffeine Anhydrous – 300 mg
The Grand-Daddy of stimulant supplements. It's in your coffee, tea, soda, heck; it may even be in your sweets and gum (some confectioners add caffeine to their sweets for a kick). Well known for increasing energy, power, and focus, it's the staple ingredient in all stim-based products.
The 300 mg included is on the upper end that you'll see for fat burners and nootropics, which ranges between 100 mg and upwards of 400 mg (but usually 200-300 mg).
Theobromine – 250 mg
Theobromine is a stimulant that is a "caffeine light" ingredient found in chocolate, some tea plants, and the Kola Nut. Its name means "Food of the Gods," Greek "theo" meaning gods, and "broma" meaning food. As anyone with a sugar craving, you can sort of understand why.
Most doses range from 100 mg-400 mg, so this is in the middle end.
Hordenine – 100mg
Hordenine (N, N-dimethyltyramine) is a stimulant that is often included in recent "nootropic" products. It is not widely researched, so much of the information available comes from anecdotal accounts. Typically dosed between 10mg and upwards of 150mg, 100mg is well within "normal" standards. One study shows that Hordenine is an MAO (monoamine oxidase) inhibitor that may lengthen the feeling of energy and mood elevation.
Grains of Paradise Extract Std 12.5% – 50 mg
Grains of Paradise has some up-and-coming research around it but still needs additional evidence to support its fat loss effects. With that said, some exciting research shows it can activate brown adipose tissue, which can help increase a body's metabolism and lead to increased weight loss.
Different ingredient sources will use Grains of Paradise with varying percentages of 6-Paradol, the active ingredient in Grains of Paradise with metabolic effects.
Clinical trials used 50 mg at 12.5% purity, so you should use that as a guide when seeing how much is present in any thermogenic fat burners you're comparing.
Halostachine – 50 mg
Halostachine is an alkaloid structurally similar to β-PEA, more commonly seen in pre-workout supplements. It acts as a stimulant and can enhance focus and mood.
N-Coumaroyldopamine – 50 mg
From Massive Joes, N-Coumaroyldopamine is a naturally occurring compound commonly found in various plants, including cocoa (also known as Theobroma cacao L.). Benefits of N-Coumaroyldopamine include increased blood flow, increased metabolic rate, and lipolysis.
Typical doses are 20-40 mg per day, meaning the 50 mg included is above and beyond the standard dose.
Isopropylnorsynephrine – 50 mg
Isopropylnorsynephrine is a lipolytic agent, meaning it helps break down fat into glycerol (energy). It is a "fat burner." It may also possess energizing effects and be stronger than synephrine (bitter orange extract).
There is not a lot of research around dosage, but 50 mg should be enough to get at least you going.
Noopept – 30 mg
N-Phenylacetyl-L-prolylglycine ethyl ester, also known as Noopept, is a synthetic nootropic ingredient with cognitive boosting and psychostimulatory effects. Typical doses range from 20 mg to 50 mg, putting Pyro in the range.
Gamma-Butyrobetaine HCL – 20 mg
Gamma-Butyrobetaine Ethyl Ester Chloride (GBB) is a molecule that is converted to carnitine in the body. This process can support fat loss and the increase of body temperature.
In other words: you're going to sweat.
20 mg is a bit lower than the recommended range for GBB (25-50 mg).
Yohimbine HCL – 3 mg per serving
Yohimbine HCL helps promote fat loss, an effect noted for obese and lean people.
"Yohimbine's ability to block the alpha-2 adrenergic receptors located in fat cells could, in theory, lead to increased fat loss and weight loss. Several controlled studies have evaluated this and found mixed results."
3 mg is a proper dosage compared to most fat-burning and pre-workout supplements.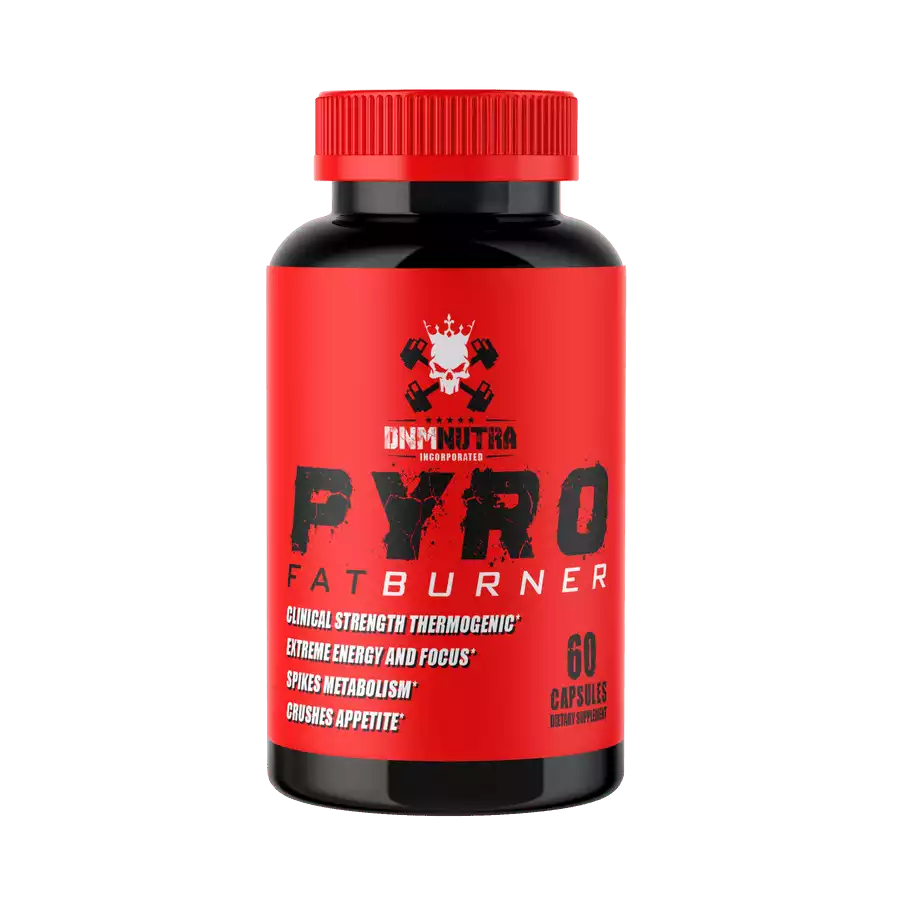 Pyro Fat Burner - DNM Nutra
Discount code:
LIFTVAULT15 = 15% off at Supps Central
Caffeine: 300 mg
Eria Jarensis: 400 mg
Grains of Paradise: 50 mg
Yohimbine HCL: 3 mg
Shop Supps Central
Lift Vault earns a commission if you click this link and make a purchase at no extra cost to you.
Pyro Fat Burner Review (DNM Nutra)
Summary
Pyro by DNM Nutra is a fat-burner and surprised me. Although it doesn't have DMHA, the 400 mg Eria Jarensis and 30 mg Noopept made it feel as if Pyro had DMHA with the intense tunnel vision focus.
Pros
Open-label

Intense, tunnel vision (DMHA-esque) focus

Strong, consistent, and not overbearing energy that lasted 5+ hours

No adverse side effects

30 servings

Thermogenic effects were smooth and not uncomfortable

Well-dosed ingredients

Ability to take fewer capsules if needed
Cons
Not much mood enhancement, as the focus is that strong