Shogun is a high stim fat burner supplement from Apollon Nutrition. Notable ingredients include 400 mg of caffeine, 200 mg of grains of paradise, 200 mg of DMHA, and 200 mg of Eria Jarensis.
Supp Kingz was kind enough to send me some samples of this product to try out and review.
The verdict?
Shogun absolutely delivers long lasting energy and thermogenesis. If you want to kill a workout and sweat it out, Shogun is a great choice. It's probably the strongest fat burner I've tried that still felt good to take. It didn't make me feel terrible and out of control like Red Sky.
Appetite suppression is notable, but not super intense, which is fine with me. You'll still need to exercise some self control if you're trying to reduce your caloric intake, but Shogun should help a bit.
Overall, I was impressed with the product and would recommend it for advanced users. Those with less experience with fat burners may prefer Chaos, which is also made by Apollon Nutrition and is a bit less intense than Shogun (Chaos still has 300 mg of caffeine though, so be warned).
Read on for more details of my experience and a full ingredient breakdown.
#1 Strongest Fat Burner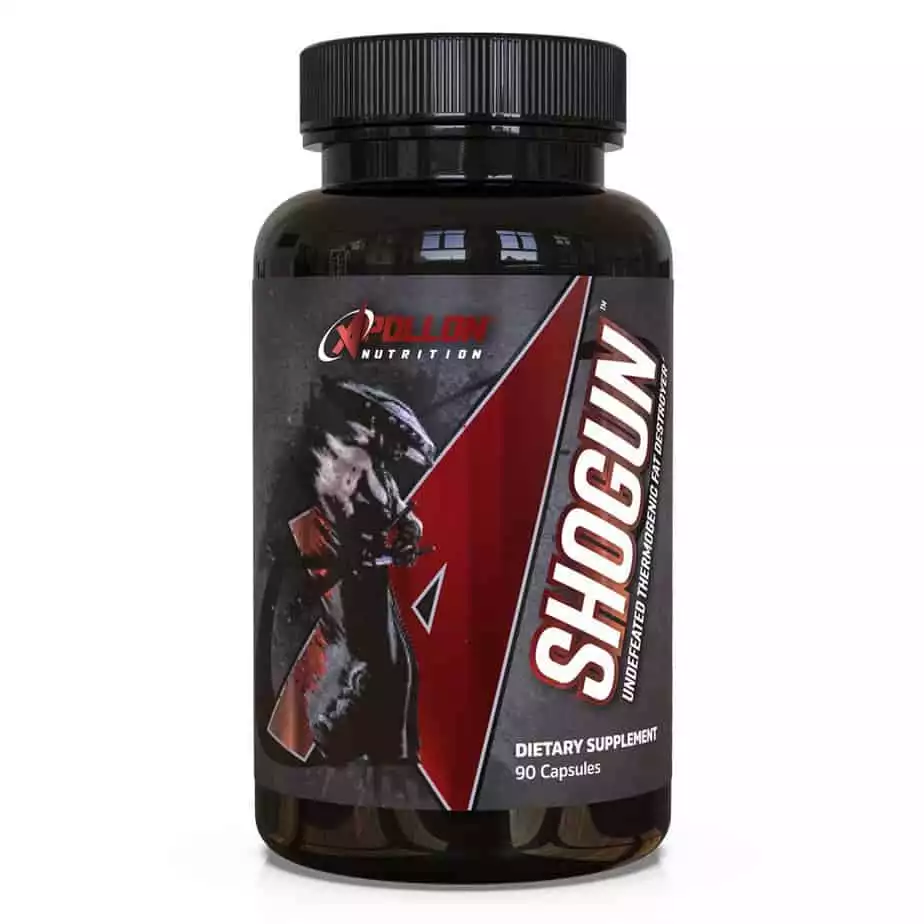 Shogun Fat Burner - Apollon Nutrition
Shogun delivers sky high energy, intense thermogenesis, and tons of sweat.
If you've tried the rest, get ready to try the best.
Discount codes:
LIFTVAULT15 = 15% off at Supp Kingz
LIFTVAULT = 15% off at Nutri Cartel
Caffeine: 400 mg
DMHA: 200 mg
Grains of Paradise: 200 mg
Shop Supp Kingz
Shop Nutri Cartel
Lift Vault earns a commission if you click this link and make a purchase at no extra cost to you.
Where to Buy Shogun Fat Burner
You can find Shogun at the following retailers:
My Experience with Shogun Fat Burner
This is definitely a hard hitting fat burner, let's just clear that up right now. It's definitely one of the strongest fat burners I've tried.
The most pronounced feelings are energy and thermogenic effects. I could feel my body heat rising and was sweating more than usual during my workout. This is likely because of the grains of paradise.
With 200 mg of DMHA, 200 mg of Eria Jarensis, and 400 mg of caffeine, it shouldn't be surprising that Shogun delivers heaps of energy.
I did feel some mild appetite suppression with Shogun, but I was still able to eat on my regular schedule.
Dosage
Another thing I enjoy about Shogun is that full serving is two pills, which makes taking a half serving simple. I've tried both a half serving and a full serving and a half serving is plenty to start with.
Taking one in the morning and another at midday would mean all day energy for most people. For advanced users, a full serving should be a crowd pleaser.
Side Effects
As with most fat burners, I wouldn't recommend taking Shogun on an empty stomach. Definitely take it with food.
Aside from that, I didn't notice any signifiant side effects in terms of mood or crash. Still, I'd recommend grabbing Shogun's sister fat burner, Chaos, and alternating the two products to help avoid building a significant stimulant tolerance by only taking Shogun.
Shogun vs. Chaos Fat Burner
Chaos is a very, very nice fat burner that has some similarities with Shogun. Both include similar amounts of Grains of Paradise and Gamma-Butyrobetaine HCL.
Both are effective thermogenics that will make you drip sweat.
Shogun has a much higher stimulant effects, featuring DMHA, Eria Jarensis, more caffeine, Hordenine, and Alpha Yohimbine. Chaos still packs a nice energy punch, but its ingredients are focused more on burning calories.
If you're just looking for a really effective fat burner, Chaos may be the right choice for most people. For those who want a high stim experience with their fat burner, then Shogun is the one to go with.
Both are extremely solid products.
Best All Around Thermogenic Fat Burner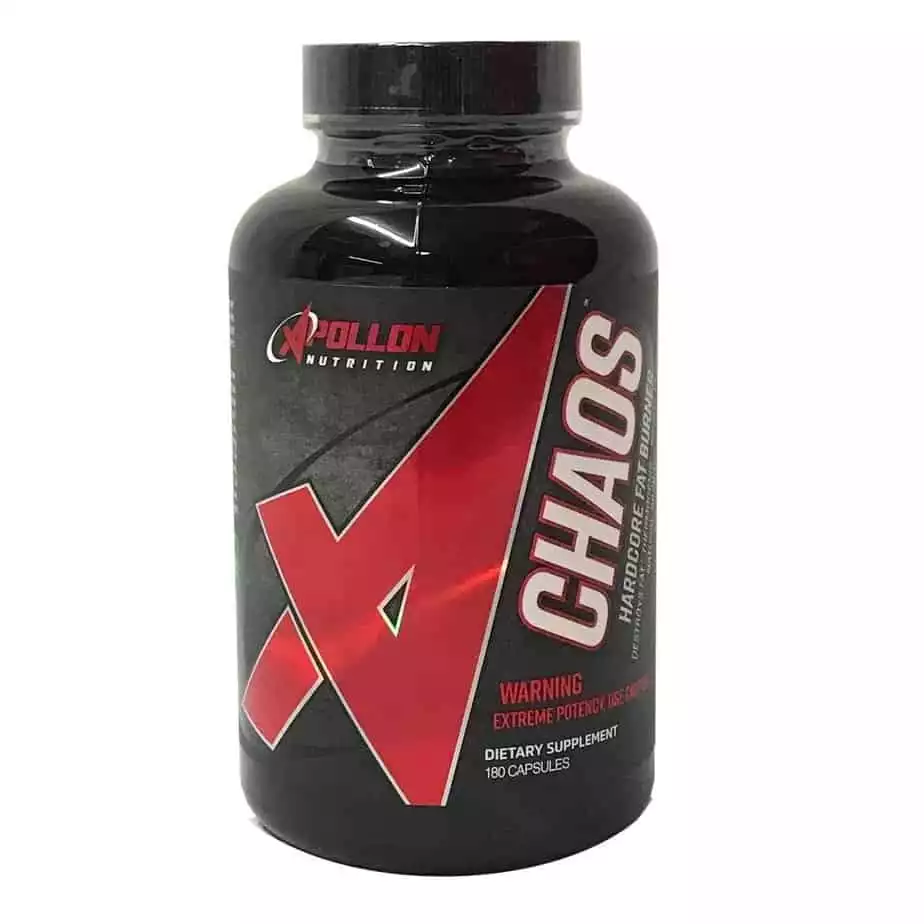 Chaos Fat Burner - Apollon Nutrition
With several clinically dosed fat burning ingredients + 300 mg of caffeine, Chaos is an excellent value fat burner and thermogenic pre workout choice.
Discount codes:
LIFTVAULT = 15% off at Nutrition Cartel
LIFTVAULT15 = 15% off at Supp Kingz
Shop Nutrition Cartel
Shop Supp Kingz
Lift Vault earns a commission if you click this link and make a purchase at no extra cost to you.
Related: Best Thermogenic Pre Workout
Shogun Ingredients Label
As with most Apollon Nutrition products, Shogun delivers an overloaded ingredient label, fully dosed and effective.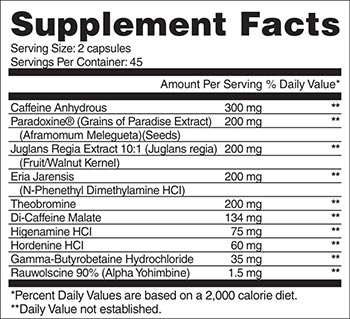 Caffeine Anhydrous – 300 mg
Caffeine anhydrous is the standard form of caffeine found in coffee, tea, and energy drinks. It's an excellent performance and strength enhancer in the gym and will even boost mood, productivity, and motivation.
300 mg is a high caffeine dose for most people. If you are relatively sensitive to caffeine, I highly recommend starting with a half dosage to assess your tolerance.
Paradoxine (Grains of Paradise Extract) – 200 mg
Grains of Paradise has some very promising research around it, but still needs additional evidence to support its fat loss effects. With that said, there is some interesting research that shows it can activate brown adipose tissue, which can help increase a body's metabolism and lead to increased weight loss.
Different ingredient sources will use Grains of Paradise that have different percentages of 6-Paradol, the active ingredient in Grains of Paradise with metabolic effects.
Clinical trials used 40 mg at 12.5% purity, so you should use that as a guide when seeing how much is present in any thermogenic fat burners you're comparing.
Shogun uses the patented form of Grains of Paradise, the same kind used in clinical trials. 200 mg is a massive dosage and way above what most other products provide.
Juglans Regia Extract (DMHA) – 200 mg
DMHA is a stimulant, similar to DMAA, known for boosting energy, focus, and mood. It comes in many different forms, of which Juglans Regia Extract is one. Others include 2-aminoisoheptane and kigelia africana.
Learn more: DMAA vs DMHA
Eria Jarensis – 200 mg
Eria Jarensis is a stimulant that is commonly seen alongside DMHA in high stim pre workouts. When combined with caffeine, Eria Jarensis can be quite an effective stimulant.
Doses tend to range between 200 and 300 mg, so 200 mg is within the expected range for Shogun.
Theobromine – 200 mg
Theobromine is a compound, structurally similar to caffeine, naturally found in dark chocolate, coffee beans, and guarana berries. It lowers blood pressure, acts as a milder, longer lasting stimulant than caffeine, and may positive impact mood (source, source).
200 mg is pretty good for a theobromine dosage to achieve some stimulant effects. Researched doses usually range between 200 and 400 mg (source).
Di-Caffeine Malate – 134 mg
Di-caffeine malate is a combination of caffeine anhydrous and malic acid. This compound delays the release of the caffeine, making it act as an "extended release" version.
The compound is 75% caffeine and 25% malic acid, meaning 134 mg effectively yields 100 mg of caffeine. This brings the total amount of caffeine in a full serving of Shogun up to 400 mg.
Higenamine – 75 mg
Higenamine is thought to have similar mechanisms to ephedrine, which has led to usage as a fat burner, though this is not well researched.
Examine says it is typically taken in doses of 20 mg to 30 mg two to three times daily, so 75 mg is effectively a full daily dose delivered all at once.
Hordenine HCL – 60 mg
Hordenine (N,N-dimethyltyramine) is a stimulant that is often included in recent "nootropic" products. It is not widely researched, so much of the information available comes from anecdotal accounts.
According to those account, "effective" doses start around 20 mg, so the 60 mg included in Shogun is more than enough to feel the focus effects touted by proponents of Hordenine.
Gamma-Butyrobetaine HCL – 35 mg
Gamma-Butyrobetaine Ethyl Ester Chloride (GBB) is a molecule that is converted to carnitine in the body. This process can support fat loss and the increase of body temperature.
In other words: you're going to sweat.
35 mg is within the recommended range for GBB.
Rauwolscine 90% (Alpha Yohimbine) – 1.5 mg
Alpha Yohimbine, also known as "alpha yo," is a polarizing stimulant. Some individuals are particularly sensitive to alpha yohimbine and will always avoid any pre workout containing it. Common negative side effects can include anxiety, headaches, chills, sweating, frequent urination, excessive salivation, and increased blood pressure.
I felt some of these effects, especially excessive salivation and sweating. The alpha yohimbine in this product is super high quality. If you don't enjoy alpha yohimbine, I'd stay away.
Still, the effects felt manageable. They were not nearly as bad as Herolean from Dark Labs, which was simply too much for me.
Shogun Fat Burner Review
Summary
Shogun Fat Burner is a long lasting fat burner that delivers tons of energy and thermogenic effects. If you like to sweat and want long lasting energy, you'll love Shogun.
Pros
Extraordinary energy
Impressive thermogenic effects
Lasts 5+ hours
Cons
May be too strong for some people
Contains Alpha Yohimbine, which some people do not enjoy