EPH Bomb by Goldstar is a Fat Burner of yesteryear, with a formulation of an ephedra derivative and DMAA. The advertised effects include Thermogenic, Insane Energy, and Appetite Suppression.
Thank you, Musclefactory SC, for providing this product for my review. Unless you are competing in the natural division of a bodybuilding show, I recommend this fat burner for anyone who wants help with calorie-restricted diets. It might not be a perfect fit for everyone, but it was a good fit for my purposes.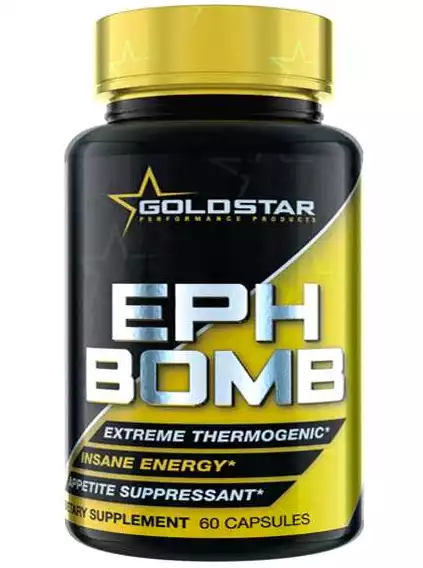 EPH Bomb Fat-Burner - GoldStar
EPH Bomb by Goldstar is a fat-burner, appetite suppressant.
Discount Code:
LV5 = $5 OFF
Di-Caffeine Malate: 404 mg
Shop Muscle Factory SC
Lift Vault earns a commission if you click this link and make a purchase at no extra cost to you.
Where to Buy EPH Bomb Fat-Burner
Experience
Within the first 25 minutes, I could feel some energy at around a 2/10 intensity. Twenty minutes later the energy rose to a 4/10. About one hour in, the energy was consistently at a level of 6/10 and the yohimbine effects were noticeable. Aggression escalated as determined by my heart rate.
Shortly after the one-hour mark, the thermogenic effects began. Similar to a niacin flush, my whole body temperature experienced an increased warmth. While the warmness was dialing up, my mood levels were positive with happy feelings that put a smile on my face. The appetite suppression was noticeable for approximately three hours before it dissipated.
I have used EPH Bomb over a course of 35 days, while being on intermittent fasting mainly, but also while having a standard fasted workout with only water and EPH. The effects I describe above were consistent, with the thermogenic effects missing on two occasions. EPH Bomb was helpful with maintaining my diet for this period, calorie restriction, and keeping my mood elevated. On average, with water fluctuations, I lost a four pounds.
Running a fat burner can be complicated when you want to use a stimulant-based pre-workout alongside it. A stimulant-free product might be a better choice with EPH Bomb. I did change my workout times to the afternoon for two weeks, as I was able to take the product in the morning and a pre-workout in the afternoon. Since the supplement contains 50 mg of ephedra leaf on the label, I don't suggest taking two capsules at any one time, especially since the dosages aren't disclosed on the yohimbine.
Overall, I did enjoy my review of EPH Bomb as it didn't cause any problems for me, and it did aid me in losing some weight.
Side Effects
The only noticeable side effect was nasal decongestion, similar to Sudafed, as described above. Worthy of mentioning because this is different from DMAA or other stimulant usages in my experience. Something of note, there isn't anything on the Goldstar website for this product, nor is there an expiration date or lot number.
Dose
This product is suggested as a one-capsule serving size, with a second capsule in the afternoon as an optional dose. I have run it in this fashion and also once as a two-capsule dose to gauge the effects. Measuring capsules don't always weigh out to the correct dosages. However, while using my calibrated mg jewelry scale and a second mg scale, it appears the measured weights ranged from 461-475mg. Adding the disclosed dosages of the two blends give you 779, which doesn't account for the other ingredients added to prevent caking: silicon dioxide, rice flour, and gelatin. The difference between the two capsules and the calculated 779 dosages would be short 50 mg but would come out to 25mg of anti-caking ingredients. I propose this because two capsules, in my opinion, look like the actual label, but nothing could be verified.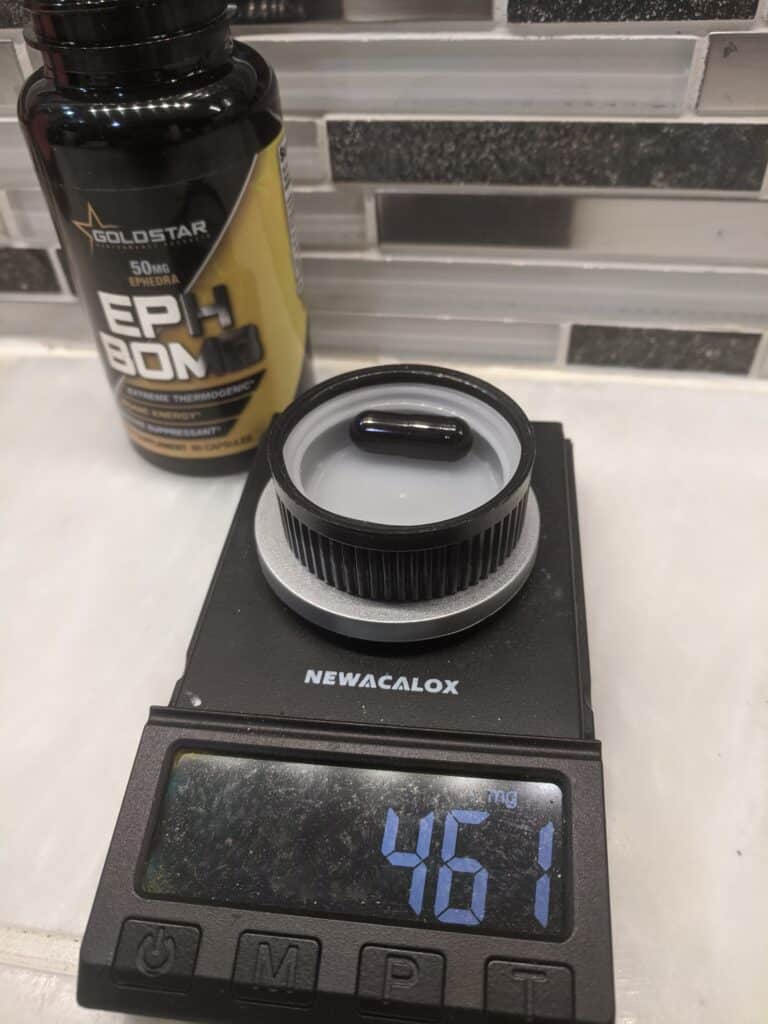 Ingredients
Ephedra content is the only ingredient disclosed. The dosage of the other ingredients DMAA, yohimbine HCl, nettle, Synephrine HCl, and PEA does not appear. The ephedra viridis, which is ephedra leaf, shows 50 mg on the label and says it is "legal in all 50 states". Technically, ephedra viridis doesn't contain any of the alkaloids that typically result in energy, fat-burning, and appetite suppression. However, similar to a lot of products on the market, I would suspect there is a low, permissible percentage of the ephedra alkaloids.
Dosed in the one-serving capsule, you can see these ingredients aren't at clinical levels, but they should be great for the above-mentioned effects. Typically, Di-Caffeine Malate or Infinergy is dosed with Caffeine Anhydrous, so seeing this as a single ingredient is interesting. I suspect this is done so the PEA will give the immediate energy before the Infinergy kicks in.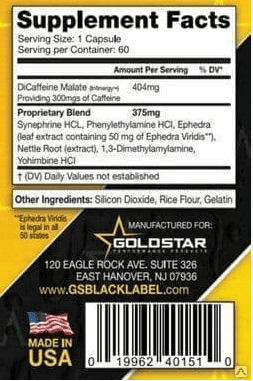 DiCaffeine Malate (Infinergy) – 404 mg
Di-Caffeine malate is the "extended-release" version of caffeine. Combined with caffeine anhydrous, di-caffeine malate extends the effects of caffeine and supports offset crash effects of high-caffeine doses.
EPH uses "Infinergy," a patented form of di-caffeine malate. Theoretically, this should give you more confidence that it is a high-quality ingredient.
Di-Caffeine Malate yields 74% of actual caffeine, meaning you get 300 mg of caffeine from this source.
Synephrine HCl
Synephrine is a well-researched ingredient that has been shown to aid in weight loss.
"In general, bitter orange extract alone (p-synephrine) or in combination with other herbal ingredients did not produce significant adverse events such as an increase in heart rate or blood pressure or alter electrocardiographic data, serum chemistry, blood cell counts, or urinalysis. p-Synephrine alone and in combination products were shown to increase resting metabolic rate and energy expenditure, and modest increases in weight loss were observed with bitter orange extract/p-synephrine-containing products when given for six to 12 weeks."
Synephrine Meta-Analysis
The typical range for synephrine is 10-50mg, which is supported by evidence for fat-burning effects.
Phenylethylamine HCl
B-Phenylethylamine (Beta PEA) is a neurotransmitter that inhibits uptake and efflux (i.e., removal) of dopamine, norepinephrine, and serotonin levels (2008 study). It is included in Unleashed to increase focus and motivation.
This ingredient needs additional research to be better understood. 200 mg is a low dose. It is important to note that WADA bans it.
Ephedra Viridis – 50 mg
Ephedra, also known as ma huang or Mormon Tea, is a fat-burning ingredient with strong stimulant effects due to the secretion of the adrenals.
The FDA banned it in April 2004 due to adverse side effects. These side effects include high blood pressure, heart palpitations, fatal arrhythmia, etc. After the FDA ruling, supplement manufacturers removed the ephedrine alkaloids from the ephedra extract, leaving the remaining compounds.
Roidrage lists this ingredient standardized to 0% alkaloids, which is the active component for the notable effects. We can't say how refined or pure this extract is, though. Most ephedra fat burners remove ephedrine alkaloids during manufacturing to stay within FDA regulations.
Here's what else is in ephedra extract other than ephedrine alkaloids:
epicatechins
polyphenols
catechins
ephedrans (glycans)
tannins
These ingredients, epicatechins, polyphenols, and catechins, can have mild weight-loss benefits. Unfortunately, we are unlikely to receive any active components or amount of ephedra in each serving to achieve weight loss.
Nettle Root
Stinging nettle root contains has been used for centuries for many benefits. The main purpose for including this ingredient would be the potential blood pressure control it can provide, which could be increased due to the ephedra and DMAA. Since it is included in the proprietary blend of 375 mg, we don't know what the actual dosage is, but we know it isn't at efficient levels. You can read more about Nettle here on Healthline.
1,3-Dimethylamylamine
DMAA can be extracted from geranium, which is why this ingredient is on the label. 1,3-dimethylamylamine, aka DMAA, is a stimulant that induces feelings of energy, euphoria, and motivation. After coming under scrutiny from the FDA in 2015, there were a few years when DMAA disappeared entirely from pre-workouts. While DMAA has been listed in some products recently, it may also appear as an extract or stems and leaves; however, this product lists it as the chemical name.
Check out LiftVault's in-depth comparison of DMAA vs. DMHA, plus much more information.
Yohimbine HCl
Yohimbine HCL helps promote fat loss, an effect noted for obese and lean people. "Yohimbine's ability to block the alpha-2 adrenergic receptors located in fat cells could, in theory, lead to increased fat loss and weight loss. Several controlled studies have evaluated this and found mixed results." Three mg is a proper dosage in most fat-burning and pre-workout supplements; while we don't know the dosage for this product, it isn't overly powered.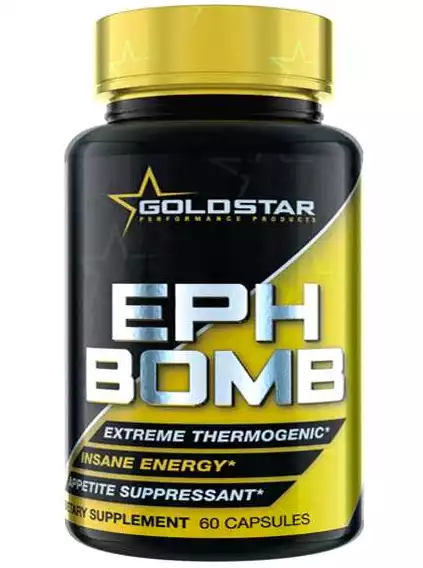 EPH Bomb Fat-Burner - GoldStar
EPH Bomb by Goldstar is a fat-burner, appetite suppressant.
Discount Code:
LV5 = $5 OFF
Di-Caffeine Malate: 404 mg
Shop Muscle Factory SC
Lift Vault earns a commission if you click this link and make a purchase at no extra cost to you.
EPH Bomb Fat-Burner Review (Goldstar)
Summary
Overall, EPH was good for a fat burner regarding appetite suppression, good energy, and  thermogenic effects. I have run this product in a combination of factors to give it the most suitable chance for effectiveness, which can be hard when you want more intensity in the gym and only have a fat burner for your pre-workout needs. I did enjoy the positive happy vibes that I received from this product, along with the thermogenic effects. Lastly, the measured milligram weight of the capsules didn't add up to the serving size, which slightly affected the score.
Pros
Long-lasting focus
Thermogenic effect
No energy crash
Increased energy
Appetite suppression
Ephedra and caffeine dosage disclosed
Great cardio aid
Improved breathing
Made in the USA
Cons
Proprietary Blend
Dosages not all disclosed
NDA restrictive ingredients
Sudafed-like effects
No lot or expiration
Scale weight doesn't measure out correctly to dosage