Ephedra Shred is a take on the supplemental version of the ECA stack with white willow extract to replace aspirin and DMHA to give you a bit of mood elevation.
This product isn't for tested competitors since it contains banned ingredients. I recommend this for anyone looking for an ephedra-based fat burner with good results.
Thank you, Muscle Factory SC, for sending this full product for review!
Where to Buy Ephedra Shred
As of October 2023, Ephedra Shred does not appear to be available for purchase at any retailers.
Instead, consider checking out our recommendations for the strongest fat burners still available.
Experience
Typical for capsules which take time to digest, no effects were felt in the first 30 minutes. I felt some alertness at a 4/10 and a little energy at 2/10. Little improvement was felt for another 25 to 30 minutes, just a slow, smooth, steady state of energy. Breathing improved without any heart rate increase. Mood elevation was small but noticeable, around a level of 3.5/10.
After an hour and fifteen minutes, I felt a total level of energy close to 4 out of 10. Since this product contains 50 mg of ephedra on the label, an experienced user would want to avoid adding a second capsule. Based on these mild effects, it's unclear if the capsule contains 50 mg. I felt around 10 mg of ephedra to my best guess, based on my experience of ECA (ephedra caffeine aspirin) stacking.
I had improved alertness, improved breathing, a small energy increase, slight mood elevation, and a small amount of focus. This is a fat-burner, not a pre-workout, so one does not need to feel cracked out. This product could be taken in two capsules, however, upon measuring the capsules, there were inconsistent weights, which may cause concern about overdosing on some ingredients.
The white willow bark extract is dosed at 200 mg, which is more than enough in a general ECA stack with the replacement of aspirin. So, I couldn't imagine having 400 mg; side effects can be similar to higher amounts of aspirin. It is possible that my high caffeine tolerance impacted the intensity, but I felt the effects were smooth and comfortable. Notably, after 1.5 hours, thermogenic effects with more improved energy and heart rate increase 10 bpm over normal resting.
Side Effects
This is a hardcore fat-burner energy pill; if you try to abuse or overuse it, you will experience issues. I didn't have any issues while running this product.
Dose/Serving Size
The serving size is one capsule with up to three daily as you would on an actual ECA stack. The total serving amount adds up to 760 mg of active ingredients, and considering the capsule, it weighs around 120 mg alone (I emptied and weighed it).
I mention this because I have measured more than half of the capsules in the bottle, and the weights vary from 550 to 630 mg. I assume there is a standard margin percentage for packing capsules. The mean was close to 630 mg, and as you can see, the amounts can't add up to the formulation on the label in these tiny capsules at two servings. As such, it's a mystery who what you would be getting.
I always took one capsule each time, as I felt this was a fat-burner and not a direct energy pill; it would perform best in this manner. And I could evaluate it effectively. It could be added to a non-stimulant stack or lowly dosed pre-workout. However, don't stack it with yohimbine/yohimbe/alpha yo.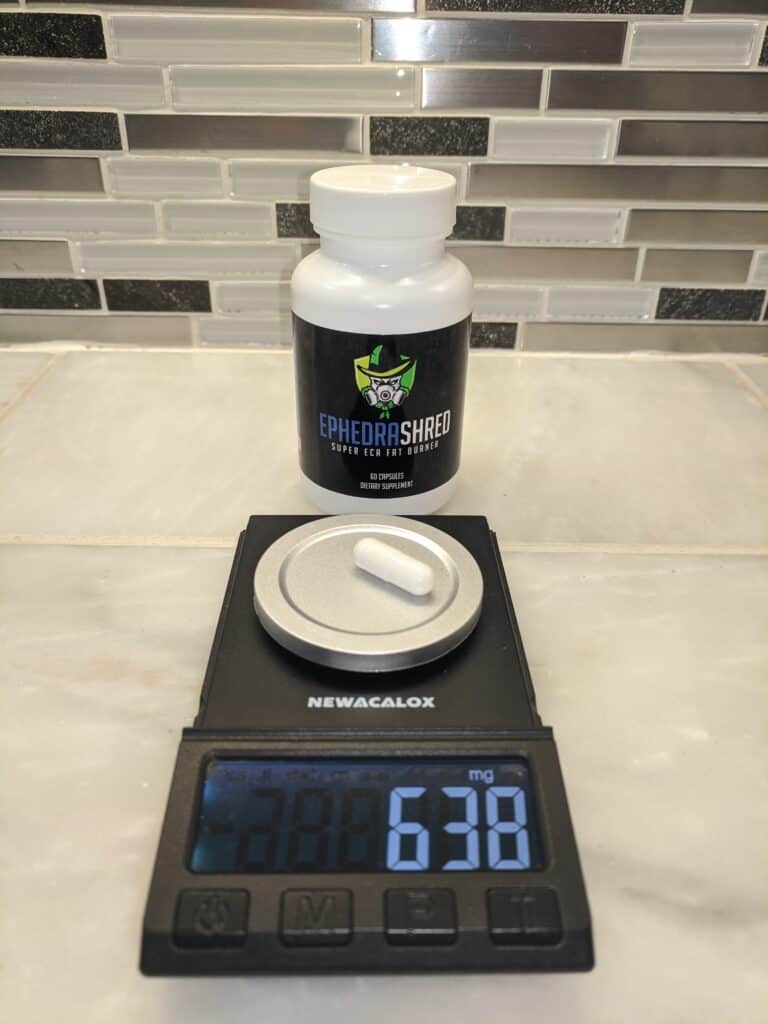 Ingredients
The unique formulation and dosages are adequate on a fat metabolism basis. I would've liked to see more DMHA and more specific ingredient information on the label.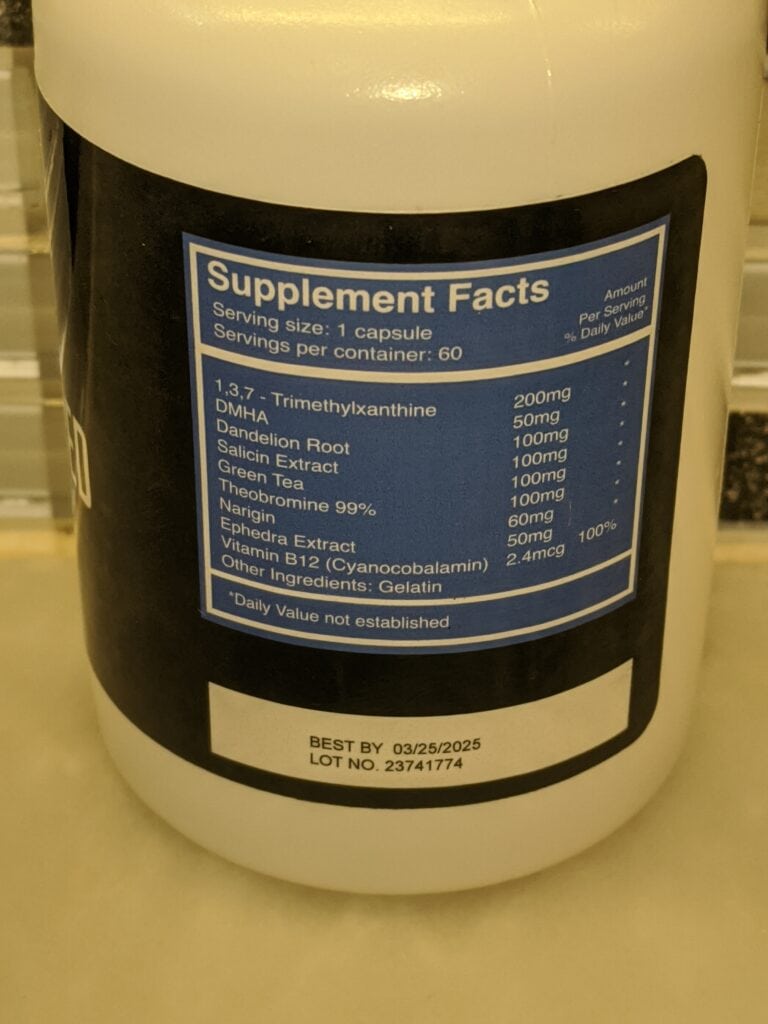 1,3,7 Trimethylxanthine – 200 mg
Caffeine anhydrous is the standard form for increasing energy, alertness, motivation, and mood. The caffeine content varies for each product. The 350-450 range is the typical dosage for sports supplements and around 200 mg for fat burners. Some products may contain other caffeine or stimulants, which give you less need for more such as below.
Less is more, as your dependency will lead to diminishing returns while intake increases. The overall combination of many factors, such as sleep, caffeine timing, diet, and nutrition, affects how much you will need. The dosage doesn't always indicate how strong a product is, so look for other stimulants like DMHA and others found in the ephedra shred below.
DMHA – 50 mg
This is DMHA, a stimulant similar to DMAA, which boosts energy, focus, and mood. DMHA shares similar effects as DMAA but requires a larger dosage. This made it a popular pre-workout ingredient for replacing DMAA in DMHA pre-workout supplements.
It comes in many different forms: juglans regia extract, English walnut extract, 2-aminoisoheptane, kigelia africana, octodrine, 2-amino-5-methylhexane, 2-amino-6-methylheptane, 6-amino-2-methylheptane, 2-isooctyl amine, 2-heptylamine, 6-methyl-, 2-metil-6-amino-eptano, amidrine, vaporpac, 1,5-DMHA, and 1,5-dimethylhexylamine. Read about the comparison of DMAA vs. DMHA here.
The dosage in ephedra shred is 50 mg, below the industry standard even with fat burners, but varies based on the product. However, just because it says something on the label doesn't necessarily mean you will always "feel" it due to different sourcing purities. It isn't often at all anymore to find this ingredient with DMAA, so try lightly if you are not used to hardcore supplements like this.
Dandelion Root – 100 mg
Recent research from Healthline indicates that dandelions and their compounds may support weight control, though the data isn't conclusive.
One study involving mice suggests that dandelion extract may aid weight management by reducing fat absorption (PubMed).
Another study in mice found that chlorogenic acid, a compound found in dandelions, reduced body weight, decreased fat accumulation, and altered levels of specific proteins involved in weight control.
Salicin Extract – 100 mg
MedIndia reports that white willow bark enhances the activity of other supplemental ingredients and increases body metabolism, which promotes weight loss. Many weight loss supplements are mixed with white willow extracts to enhance results, but can also be utilized in place of aspirin, such as an ECA stack.
White willow bark contains salicin, which has been suggested to deliver the same results as ephedra. It should be noted that ephedra contains ephedrine, a compound banned in the United States for having a direct link to cardiac deaths. Although many studies have not concluded that it aids in weight loss, white willow bark is relatively safe and often used in fat burners.
Green Tea – 100 mg
GCG (epigallocatechin gallate) is a plant-based compound called catechin. Catechins are natural phenols and antioxidants with a wide array of effects. Familiar sources include white tea extract and green tea extract. It's often simply referred to as green tea extract.
EGCG acts as a fat burner by inhibiting catechol-0-methyltransferase (COMT), an enzyme that degrades catecholamines. By inhibiting COMT, catecholamine levels elevate. Catecholamines help break down fat stores. By inhibiting COMT, EGCG allows catecholamines to do their thing for extended periods, leading to increased levels of fat removal.
In terms of dosage, most people should aim for 400 to 500 mg of green tea extract per day. This is more of a bonus ingredient, whereas most fat burners would add this for fat loss. It is included for energy, which the fat-burning effect would be underdosed.
Theobromine 99% – 100 mg
Theobromine is a "caffeine light" stimulant ingredient found in chocolate, some tea plants, and the kola nut. Its name means "Food of the Gods." Greek "theo" means gods, and "broma" means food.
Some anecdotal evidence suggests that theobromine can affect mood elevation, focus, and stimulation. Most doses range from 100 to 400 mg, leaving ephedra shred on the lower end. It is a bitter alkaloid compound naturally found in various plants, most notably in cocoa beans used to make chocolate products. It is a chemical relative of caffeine and is classified as a xanthine alkaloid.
It is known for its stimulant effects, although its impact is generally milder than caffeine. It stimulates the central nervous system and has diuretic effects, which means it can increase urine production. It also relaxes smooth muscles, which can lead to bronchodilation and relaxation of blood vessels.
Theobromine has been studied for its potential health benefits. Some research suggests that it positively affects cardiovascular health by improving blood flow and reducing blood pressure. It has also been explored for its potential role in cognitive function and mood enhancement.
Narigin – 60 mg
Grapefruit seed extract is made from grapefruit seeds (Citrus x paradisi). This popular product is a natural remedy for several health problems, including infections and other skin concerns. Also known as GSE, grapefruit seed extract is often used in personal-care products. It is sold as a liquid and dietary supplement (tablet or capsule).
From Examine.com, there appears to be a weight-reducing effect of grapefruit consumption relative to isocaloric controls, so it may do well with appetite suppression, which I felt.
Ephedra Extract – 50 mg
Ephedra, also known as ma huang or Mormon Tea, is a fat-burning ingredient with strong stimulant effects due to the secretion of the adrenals.
The FDA banned it in April 2004 due to adverse side effects. These side effects include high blood pressure, heart palpitations, fatal arrhythmia, etc. After the FDA ruling, supplement manufacturers removed the ephedrine alkaloids from the ephedra extract, leaving the remaining compounds.
It isn't listed to what exact percent this is standardized to for the alkaloids, which is the active component for the notable effects. We can't say how refined or pure this extract is, though. Most ephedra fat burners remove ephedrine alkaloids during manufacturing to stay within FDA regulations.
Here's what else is in ephedra extract other than ephedrine alkaloids:
epicatechins
polyphenols
catechins
ephedrans (glycans)
tannins
These ingredients, epicatechins, polyphenols, and catechins, can have mild weight loss benefits. Unfortunately, we are unlikely to receive any active components or amount of ephedra in each serving to achieve weight loss.
Vitamin B12 – 2.4 mcg
Vitamin B12, or cobalamin, is a water-soluble vitamin crucial in various bodily functions. It is an essential nutrient, meaning that the body requires it for proper functioning but cannot produce it independently, so it must be obtained through diet or supplements. Here are some critical aspects of vitamin B12: red blood cell formation, nervous system support, DNA synthesis, and fat metabolism.
Vitamin B12 is naturally found in animal products such as meat, fish, poultry, eggs, and dairy products. It is generally not present in plant-based foods unless fortified with B12. Some plant-based foods, such as certain breakfast cereals and plant-based milk alternatives, are fortified with vitamin B12 to help individuals who follow vegetarian or vegan diets meet their B12 requirements.
Ephedra Shred Fat Burner Review
Summary
This was a good experience with smooth, sustainable energy that improved my breathing. While the capsule serving size doesn't add up to the label in mg dosages, it did provide enjoyable levels that weren't over the top.
Pros
Improved breathing
Increased energy
Excellent appetite suppression
Slight thermogenic
Increased alertness
Elevated mood
Cons
Measured capsule weights inconsistent