MyProtein is bringing another type of protein powder for your enjoyment and muscle-building needs, Clear Whey Isolate!
Thank you, MyProtein, for providing this product for my review. I recommend this product to those looking to meet their dietary protein needs or looking for unique flavor. 
In fact, it's even recognized as one of the best clear whey protein powders.
Best Budget Clear Protein Powder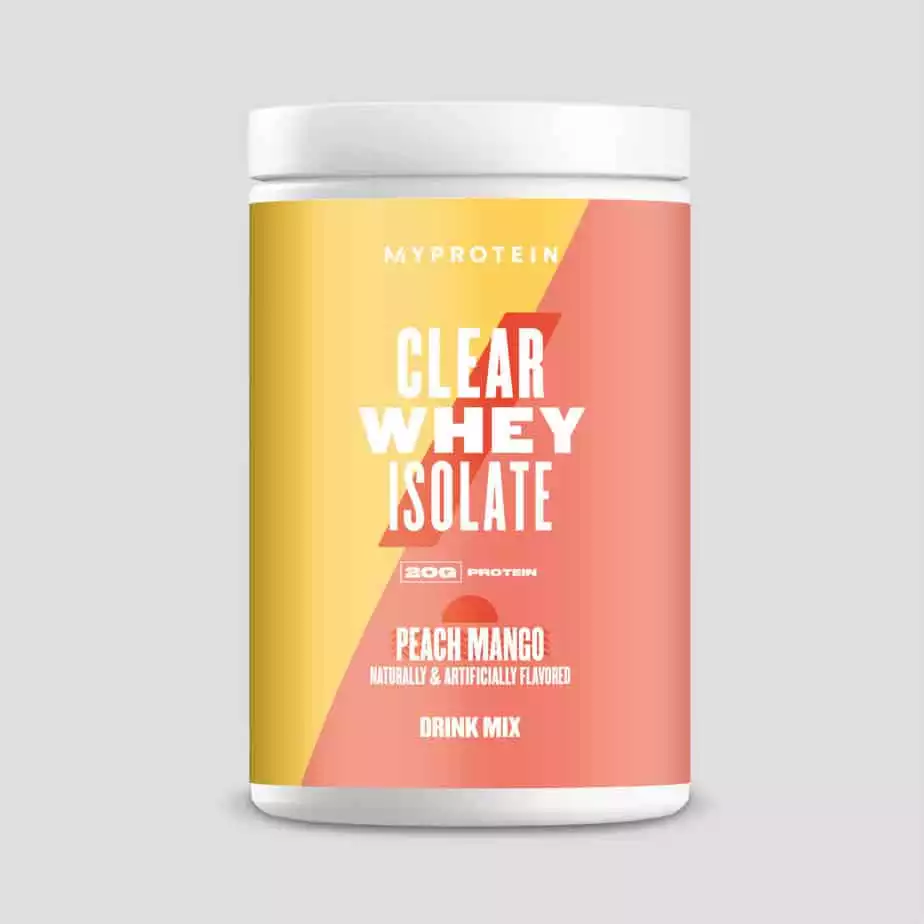 Clear Whey Protein Isolate - Myprotein
With a wide variety of flavors available at about $1.30/serving, Myprotein's Clear Whey Isolate is a solid option for those looking for refreshing protein supplementation that won't break the bank.
Contains 20 grams of whey protein isolate per serving.
Discount codes:
MYPLIFTVAULT = 35% off + free US shipping
Shop Myprotein
Lift Vault earns a commission if you click this link and make a purchase at no extra cost to you.
Where to Buy Clear Whey Isolate
You can buy Clear Whey Isolate by MyProtein the following retailers:
MyProtein

MYPLIFTVAULT = 35% off + free shipping in US
Experience
I have had a few flavors of Clear Whey Isolate, but it's nice to break away from the typical, chocolate, whey protein flavors I have used in the past. As with most Clear Protein alternatives, this product has very few ingredients. Some products add digestion aids, which aren't always necessary for isolates as they contain much less lactose per serving.
I've been using MyProtein's Clear Whey Isolate protein powder over the last several weeks, and I have really enjoyed it, especially since I have purchased this exact product several times in the past. I usually take it after my workouts, when I need to meet my daily protein intake, to help my recovery, or if I'm still hungry after dinner.
All these flavors contain sucralose, which is by far the most common sugar alternative for sports supplements. It is artificial and sweeter than many other options.
Digestion
I've had no issues digesting this protein powder. While following the keto die years ago, I had digestion issues with whey concentrate protein powders. Although digestion issues are not uncommon while following keto, even after I stopped I noticed the difference between using an isolate versus a concentrate. Overall, I always prefer an isolate, as it has no bloating or aches while the cost difference isn't too much greater.
And at about a dollar per serving, it's really a fair deal compared to other clear protein powder options.
Mixability
Most protein powders don't have many mixability issues, but this product was one of the most frothy drinks I have ever shaken in my shaker bottle and took several minutes to settle. I will note that the directions include, "After shaking, wait about 15 seconds for the natural foaming to settle.."
Flavor
The flavors I was sent for review and the flavors I have purchased myself in the past are described below.
Lemonade – Country Time lemonade, but tarter.
Tropical Dragonfruit – Tastes as the name suggests, which was a pleasant flavor.
Peach Mango – Probably the best flavor of the lot, not too peachy, but I really enjoyed it.
Screaming Sour Cherry – Very tart cherry flavor, which was just like the candy and also very sweet.
As with any flavor, it can taste different to anyone and is very subjective. Clear protein often has a unique aftertaste, and MyProtein's Clear Whey Isolate was no different, but a pleasant experience overall.
Dose/Scoop Size
At a slightly below-level scoop, the 25-gram serving was adequate for my use generally. Taking the 20 grams of protein divided by the 25-gram serving size, we have 80% protein per serving, which is a mid-range ratio for similar products. When comparing clear protein products to normal protein products, the clear option is typically 80% protein per serving, whereas normal protein products can range from 60-94% per serving. Mixing it with 10-12 ounces per the instructions was adequate to maintain the desired flavor. However, some flavors were better with more water due to their tartness.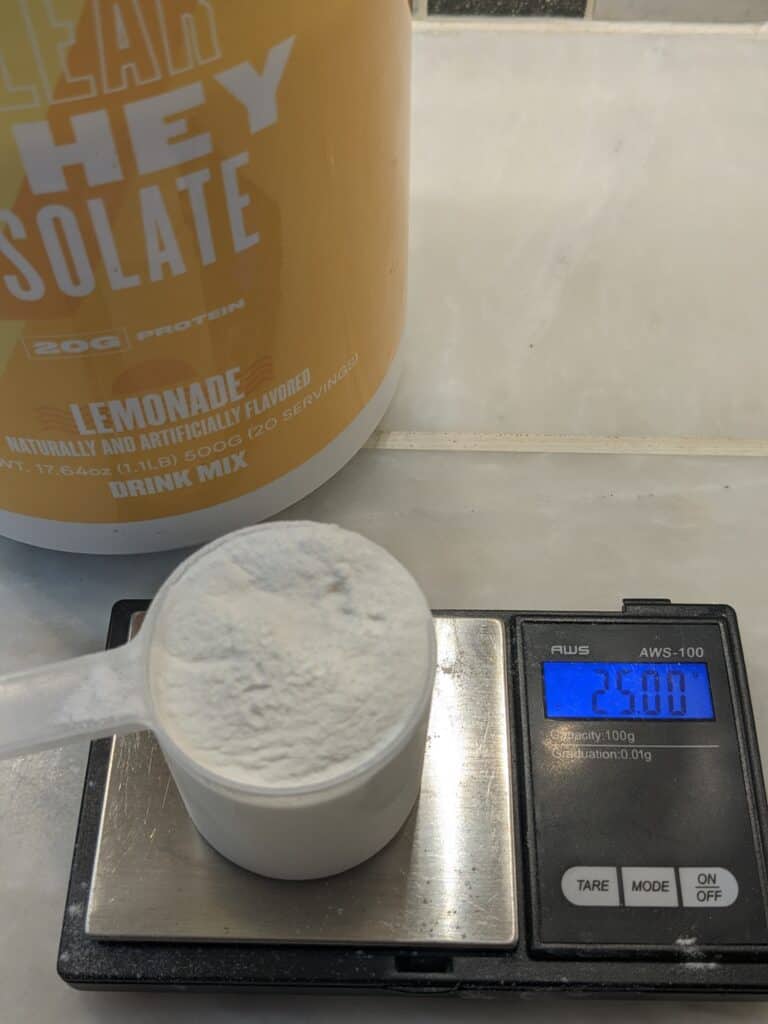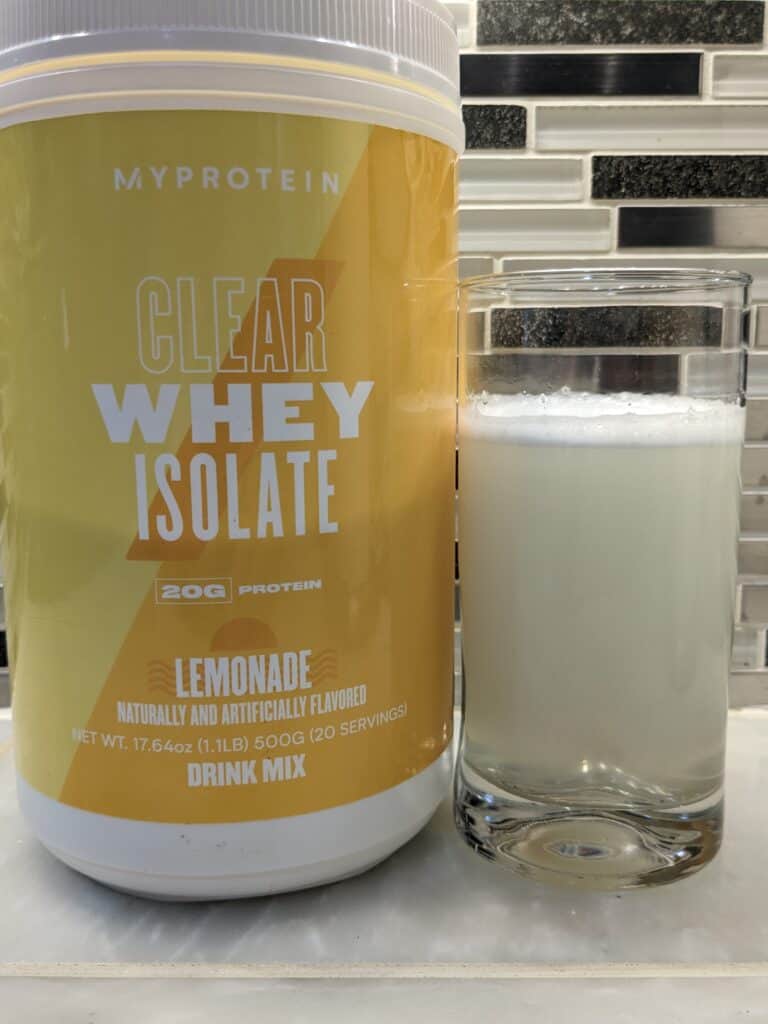 Ingredients
Below is MyProtein's Clear Whey Isolate protein powder ingredient label for the lemonade flavor. The ingredient profile is similar for all flavors, with the same calories.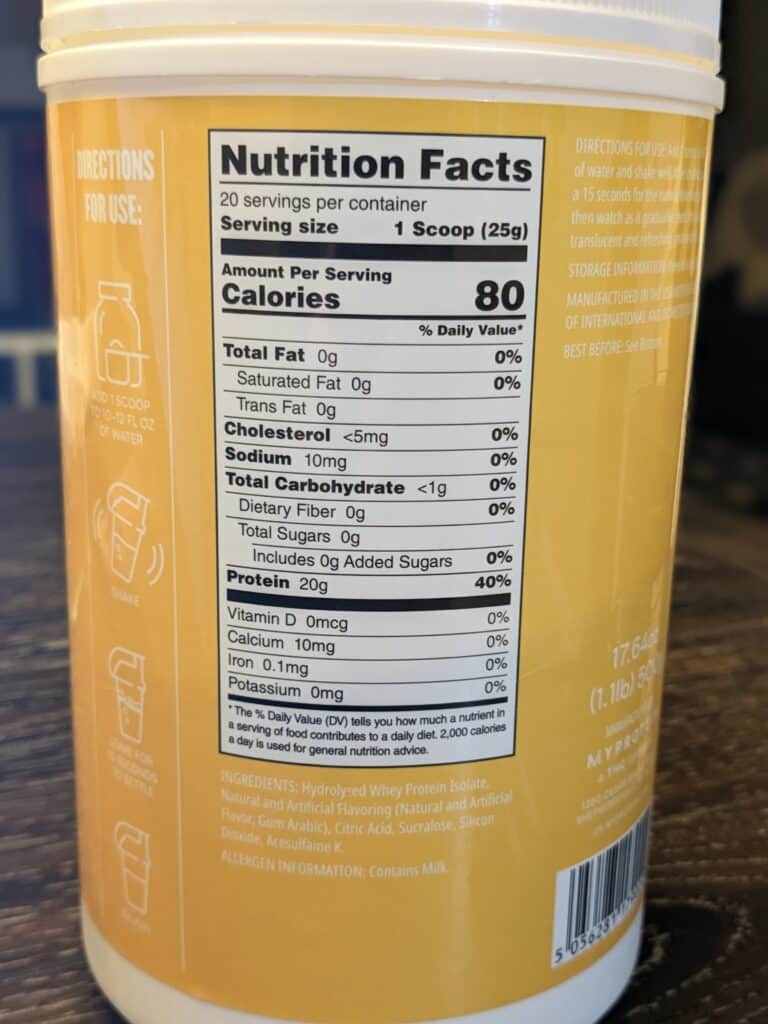 Looking at protein powders, I like to meet a few requirements:
Have Protein
Contain simple ingredients
Taste somewhere between pretty good to great
Easy on the digestion
And by those measures, the whey protein isolate from MyProtein definitely delivers. It's a great protein option at a better-than-market price on clear protein powders when on sale. All while not causing any gas, bloating, indigestion, etc.
Fat (0 g)
MyProtein's Clear Whey Isolate is definitely a lean protein powder supplement, containing 0 grams of fat per serving, which is the normal on fruit flavors, especially with Isolates.
Carbs (0 g)
This protein powder is a good choice for those looking to keep their carb intake to a minimum. Each serving contains <1 gram of carbohydrates, lower than other clear protein powders. As a point of comparison, Optimum Nutrition's Gold Standard Whey Concentrate has 4 grams of carbs, and Isopure contains 2 grams.
Sugar (0 g)
Somehow MyProtein has made this product with 0 grams of sugar per serving, below the average current on the market. I'm surprised it's so low, as the protein powder is still quite sweet. When a product is considered food, they are more regulated for label accuracy. With natural and artificial flavoring, you could potentially have actual sugar.
Protein (20 g)
When looking for a clear protein powder, the amount of protein per serving is less than a normal whey protein powder. Here we have 20 grams of Hydrolyzed Whey Protein Isolate, which, as the name indicates, is whey-based in the form of an isolate. You could add other liquids besides water to increase your overall protein amount, such as almond milk, which is a unique combination.
Clear Whey Isolate by MyProtein: 4.6 / 5
I have enjoyed reviewing this particular protein powder. Although it's a diversion away from typical protein varieties, it was a unique experience with different flavors. I like having a protein powder on hand for the versatility of meeting macros. Something healthier than dessert yet ticks the right boxes can aid your dietary goals. I would recommend this product to those looking to meet their protein goals or someone wanting to try a new innovative way to enjoy their protein even while it is hot this upcoming summer!
Clear Whey Isolate by MyProtein
Summary
Although it's a diversion away from typical protein varieties, it was a unique experience with different flavors.
Pros
Great tasting flavors

Lower than market carbs

High-quality protein

Doesn't cause bloating, gas, indigestion, etc.

<1 gram of Carbs

80% protein per serving
Cons
Frothing mixability issues