I'm always on the lookout for tasty, high-protein snacks. After years of looking, I honestly still haven't found "the one."
Usually, they either taste terrible or contain a lot of sugar alcohols that make them difficult to digest. For those not in the know, "difficult to digest" is code for "makes me gassy."
Alright well now that we know each other a bit better, I'm happy to share that Naked Nutrition's oatmeal protein cookies are super tasty and leave my bathroom intact.
A true protein cookie miracle.
I also shared these with my girlfriend and I think she summed it up better than I ever could:
"They're good for a protein cookie. The consistency is a little different than a normal cookie, but there's no icky protein taste. They're way better than Quest's protein cookies. Those were gross."
There you have it.
If you want more details on my experience or the ingredients, read on!
My Experience with Naked Oatmeal Protein Cookies
Below you'll find more details of my thoughts on the Naked Oatmeal Raisin Protein Cookies.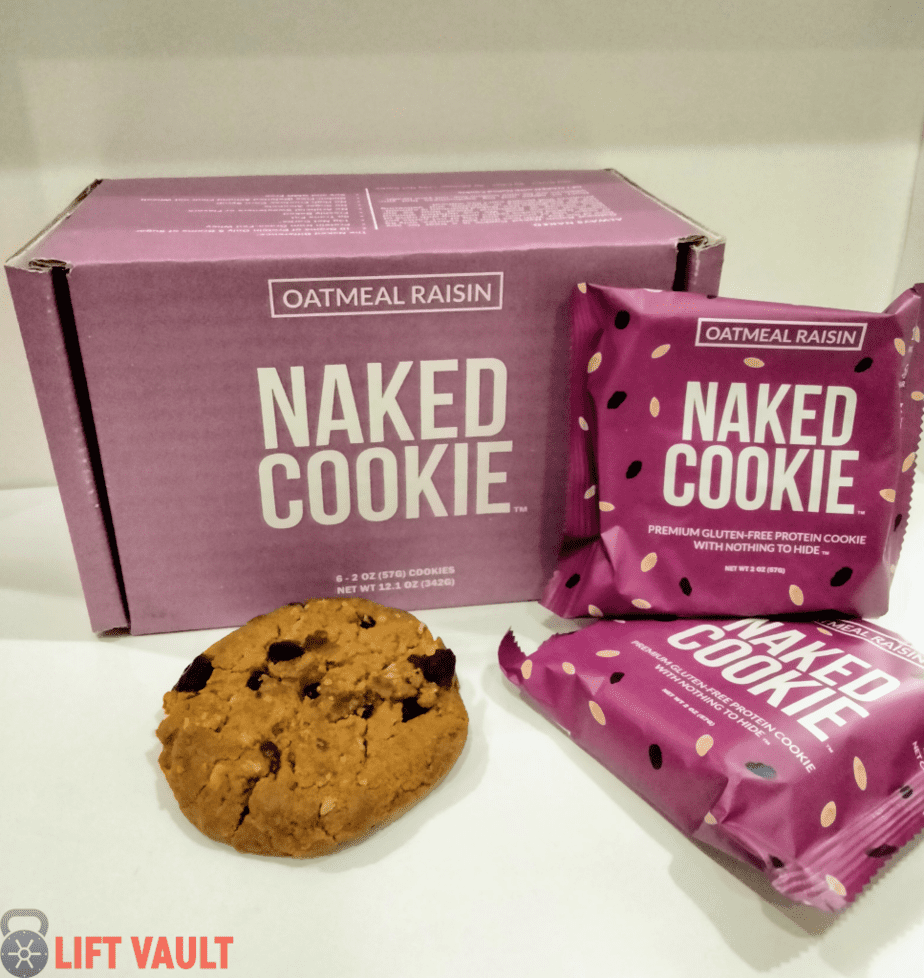 Naked Nutrition sent me a box of their oatmeal protein cookies to eat and review.
I ate the whole box.
Actually, my girlfriend finished them, but either way, the box is now empty. Sometimes I rattle it just to make sure I didn't forget one. Now that I've written this review, I should throw that box away…
Alright so really there's not much to break down here aside from taste and side effects, so let's get to it.
Taste
As far as protein cookies go, these probably get a 9/10 for flavor. I'm reserving the mythical 10/10 score for "I would have sworn up and down that this was a regular cookie," but really these tasted pretty great.
You will still know that this is a protein cookie, mainly because the texture is a little different than a typical cookie. They're still soft and chewy, but they just seem a little "different." Not in a bad way, but I should point it out.
There is no gross protein taste.
If I was hungry and saw these next to some Quest protein cookies, I'd buy these every single time. No question.
Side Effects
Like I mentioned earlier, it's common for high-protein snacks to include sugar alcohols. This is because they contain fewer calories than traditional sugar and don't need to be listed as "sugar" on the Nutrition Facts label.
Naked cookies do include allulose, which is a naturally-occurring low-calorie sweetener. It is not a sugar alcohol, but it also is not required to be listed as sugar on the Nutrition Facts label.
More importantly, I didn't notice any gassy side effects from these cookies, which I attribute to the lack of sugar alcohols. So if you were worried about that, I'd give Naked cookies a shot. They were fine for me.
Naked Oatmeal Protein Cookie Ingredients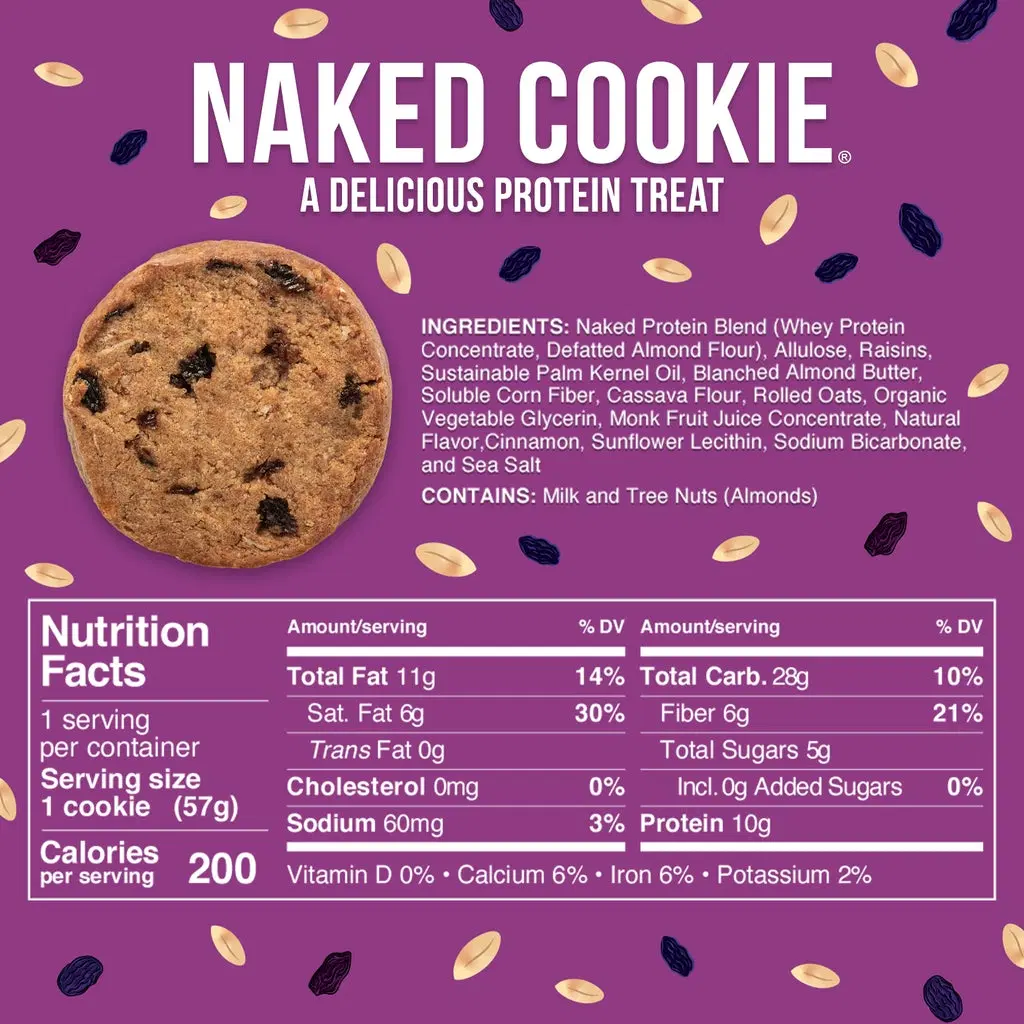 Naked Protein Blend
Allulose
Allulose is a low-calorie, naturally-occurring sweetener. It's typically produced from corn, but can be found in beets, raisins, figs, and wheat.
Raisins
Just regular ol' raisins.
Palm Kernel Oil
Palm kernel oil is sourced from the kernels of the oil palm tree. It is a source of saturated fat and is likely included to improve the flavor profile of the cookie.
Blanched Almond Butter
Blanched almonds have been soaked and had their outer skin removed, which improves the consistency and flavor of the almond butter.
Soluble Corn Fiber
Soluble corn fiber is a nondigestible carbohydrate that is typically included in foods to improve the texture and thickness.
Cassava Flour
Cassava flour is a popular gluten-free, grain-free flour.
Rolled Oats
Rolled oats are regular oats, rolled flat by machines.
Organic Vegetable Glycerin
Organic vegetable glycerin is often included in foods as a natural sweetener and to help oil and water-based ingredients blend together.
Monk Fruit Juice Concentrate
Monk fruit juice is a very sweet natural fruit juice.
Natural Flavor
Flavors that are natural. Idk.
Cinnamon
Cinnamon is a popular spice used for flavoring.
Sunflower Lecithin
Sunflower lecithin is an emulsifier. Like vegetable glycerin, it can help two immiscible liquids (e.g. oil and water) combine in suspension.
In other words, it helps hold the cookie ingredients together.
Sodium Bicarbonate
Sodium bicarbonate is also known as baking soda.
Sea Salt
Salt. From the sea. Sea salt.
Naked Oatmeal Protein Cookie - Naked Nutrition
Summary
The oatmeal raisin Naked Cookies are a top-quality protein cookie that still tastes excellent. It has a deliciously chewy texture with no gross protein flavor. At $2.00 per serving, they're not cheap but are generally in line with similar protein snack prices.
Pros
Great taste
10 g of protein per serving
Only 200 calories per serving
Easy to digest
Filling
Cons
Expensive
Not as good as a traditional cookie