Appropriately named Transparent Labs was one of the first companies to fully disclose their labels. Bulk Black, unlike the name suggests, isn't about bulking season but rather a daily adventurous grind.
This is a wonderful product that I would suggest to those looking to elevate their training without the use of hard stimulants. If you are looking for a daily driver pre-workout, this is the product for you. It will help keep your caffeine intake and tolerance lower with its amazing beta-alanine tingles.
Thank you, Transparent Labs, for sending this full product for review!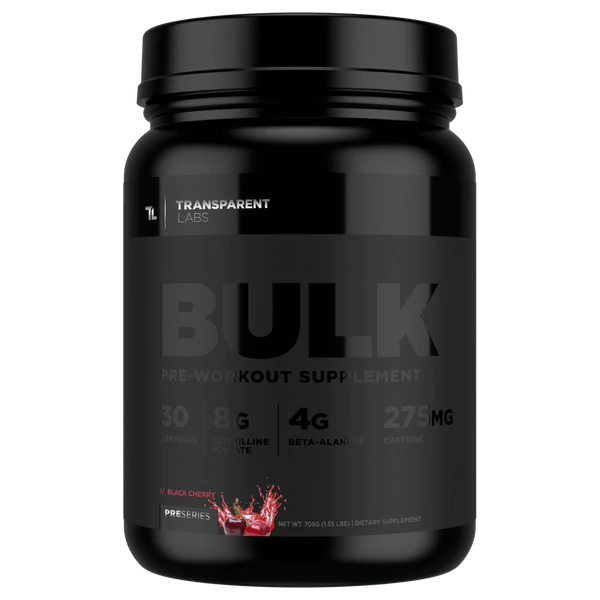 Bulk Black - Transparent Labs
Appropriately named, Transparent Labs was one of the first companies to fully disclose their labels. Bulk Black, unlike the name suggests, isn't about bulking season but rather a daily adventurous grind.
Discount code:
LV10 = 10% off at Transparent Labs
Betaine Anhydrous: 2,500 mg
L-Tyrosine: 1,000 mg
Recommended for: strong daily driver, stim junkies taking a break from the hard stuff
Caffeine Anhydrous: 275 mg
Di-Caffeine Malate: 30 mg
Shop Transparent Labs
Lift Vault earns a commission if you click this link and make a purchase at no extra cost to you.
Related:
Where to Buy Bulk Black
You can buy Bulk Black by Transparent Labs from the following retailer:
Experience
Almost immediately I was feeling subtl beta alanine paraesthesia tingles around my lips and brow line around a 3 out of 10, which dramatically increased over the next 20 to 25 minutes. This isn't a lightweight version of beta alanine, as Transparent Labs ensured excellent potency!
The tingles ramped up for 45 total minutes, leveling out at 8.5 out of 10 intensity. Back when pre-workouts first came out, this is what euphoria was like before high stimulants made it on scene.
Heading into the gym Iimmediately felt a thermogenic effect. I felt the muscle contractions before doing any exercise, and I was ready to go. During my training, I noticed an improvement in endurance and stamina.
I felt the pump was good, but not as noticeable due to the high beta alanine dosages. Vascularity wasn't noticeable at all. Beta-alanine also contributed to focus. This is meant to be a daily driver without pinpoint focus, but I did feel less distracted.
Later after the gym, I felt very relaxed without a noticeable crash. To me, it felt like the l-theanine starts to shine, which would be a good thing if you were taking this later in the day. Although energy levels do come down, it seems to level off steadily, most likely due to the dicaffeine malate.
Side Effects
I didn't experience any effects that were negative while using this product.
Flavor
"Black Cherry" was the flavor I was sent for review, very tasty, dark cherry, tangy tones. The flavor was about an 8/10 regarding desirability, as it is very sweet. The suggested amount of water is eight to ten ounces, and I enjoyed it most around 16 ounces of water, as it was a bit too sweet.
I have tasted Transparent Labs products in the past, and their flavors are always very sweet. This isn't a bad thing, but I enjoy it a bit more when I add extra water.
Dose/Scoop Size
The serving size is 21.2 grams, which is larger than the average. The total serving amount comes to a less-than-level scoop, about to the manufacturer line on my scooper. With its many ingredients, I would aim for a little below the flat line.
With each serving of this pre-workout, I used the full scoop, which hit well enough to review it adequately. Transparent Labs give an amazing 30 servings in the container, which is well above the market standard. The mixability was fair, with a medium amount of sediment toward the end of the cup, but a swirl and swallow took care of it.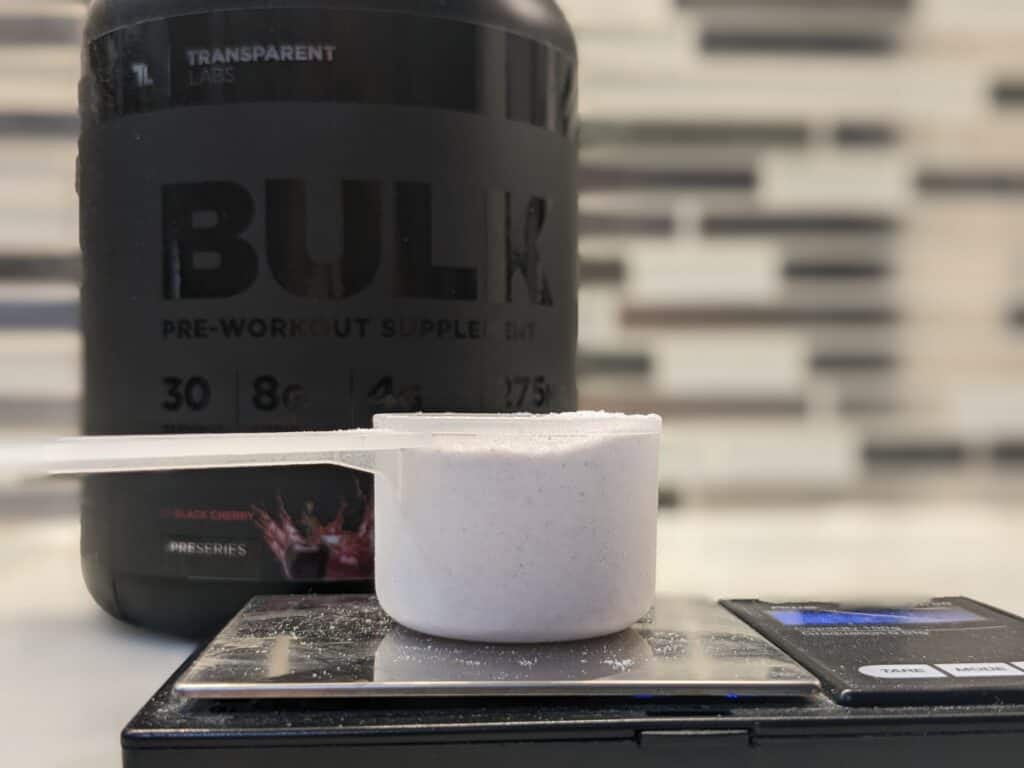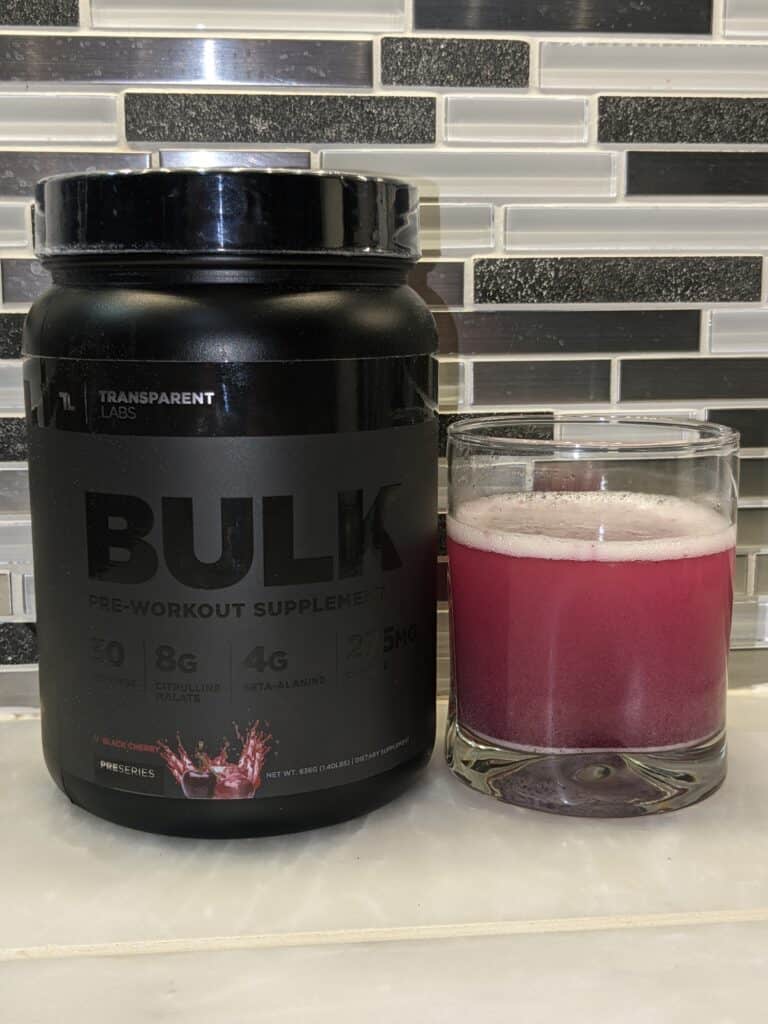 Ingredients
Transparent Labs have two preseries bulk options, the Black version and the regular option. I am not sure if Black is going to be around very long or if it will be permanent. Kyle has broken down the differences in this article, but it boils down to slight vitamin variations, 97 mg more caffeine, removal of Senactiv (panax notoginseng, rosa roxburghii), swapping bioperine for astragin, exchanging purcaf caffeine for plain anhydrous, and fewer flavor options currently.
This all-inclusive daily driver pre-workout is a great option for those to use while lowering their caffeine dependency or for newer users of sports supplements. It is very well formulated other than the l-theanine, which seems unneccessary.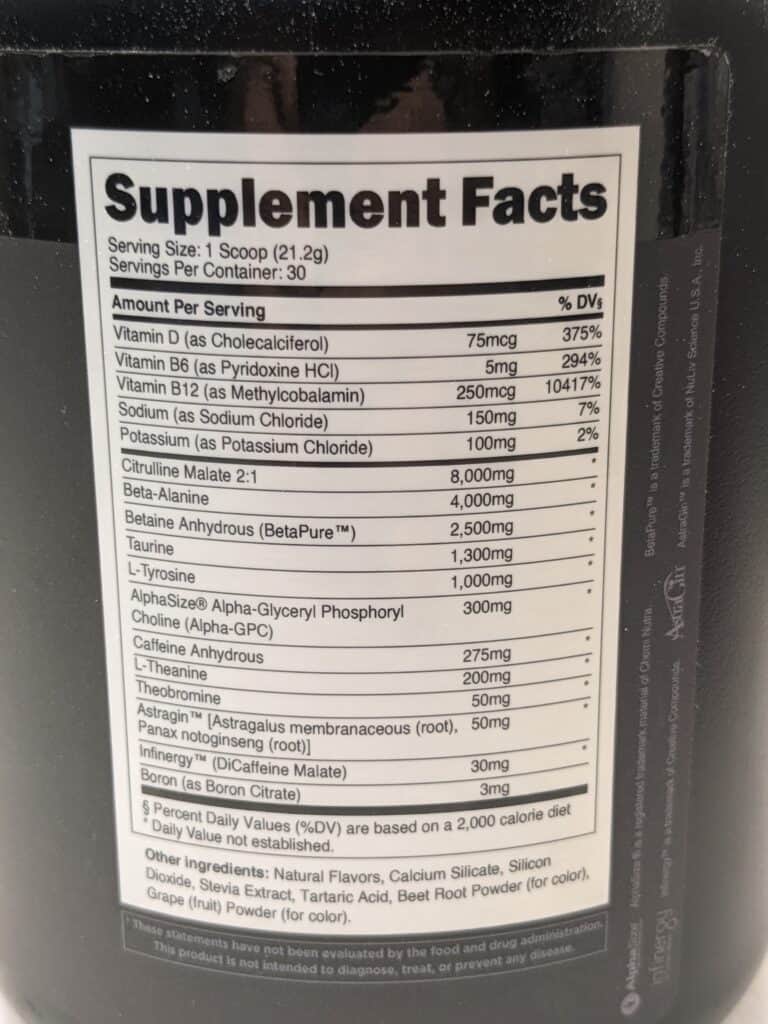 Sodium – 150 mg
Salt helps retain water, enabling you to achieve fuller muscle bellies during your workout. This can help prevent muscle spasms and allow for a good contraction.
100 mg is a lower dosage for this ingredient; however, it is diet dependent as not everyone will need higher amounts (for comparison, FSU Dyehard has 300 mg, and Hooligan Bare Knuckle has 250 mg).
It also contains essential electrolytes! More info can be found at Supplements in Review.
Citrulline Malate 2:1 – 8 g
L-citrulline is one of the most common pre-workout ingredients. Extensive evidence supports its ability to increase nitric oxide production, power output, pumps, blood flow, and endurance. It is typical for this ingredient to contain malic acid mixed in a 2:1 ratio per the clinical studies. Malic acid has some benefits similar to beta-alanine, and these ingredients aren't in a chemical bond, and some products may list malic acid as a separate ingredient.
You want four to six grams of pure l-citrulline for proper clinical dosage. If the ratio is on the label as 2:1, an 8-gram dose would contain close to 5.28 grams. Per the clinical trials, daily supplementation is required to obtain the full benefits.
Beta-Alanine – 4 g
Beta-alanine has been shown to support muscular endurance and act as a lactic acid buffer. Depending on the source of this ingredient, you may feel the paresthesias tingling effect. This feeling is often desirable in the sports community, as it makes you feel the intensity after ingestion. This may be negated by diet and intake of beta-alanine.
Beta-alanine requires regular intake to be effective, akin to creatine. Daily beta-alanine supplementation is recommended to become effective, with a three to five weeks loading period. Three to four grams is the recommended daily dosage for beta-alanine, putting bulk at the higher end of the clinical dose range.
Betaine Anhydrous (BetaPure) – 2.5 g
Betaine is included to help increase your power output. However, research needs to be more consistent around this claim. The typical range for betaine is between 1.5 g and 5 g, but generally, 2.5 grams is on the high end for what is in the market. Per the clinical trials, daily supplementation is required to obtain the full benefits.
L-Taurine – 1.3 g
Taurine is a common ingredient with many positive effects, such as enhanced physical performance, improved DOMS (delayed onset muscle soreness), improved blood pressure via higher cardiac output, possible reduction of cholesterol and triglyceride levels, increased uptake of glycogen to mitochondria for energy utilization (Examine).
Taurine supplementation might block beta-alanine uptake as they are antagonistic, which wouldn't be an issue if used aside from pre-workout. It is not commonly known that beta-alanine/carnosine is a taurine-depleting antagonist (Examine). A 1.3-gram taurine dose is fair (one to six grams daily in studies); however, more would amplify the benefits.
L-Tyrosine – 1 g
L-Tyrosine boosts cognitive performance in stressful environments. Pre-workouts include it as a focus ingredient and help achieve anti-stress effects. The typical dosage range is 500 mg to 2,000 mg for exercise.
Alpha GPC – 300 mg
Alpha GPC is a cholinergic compound that is produced within the body. It is used for enhancing cognition and increasing power output. Based on several studies, Alpha GPC dosages should be between 300 and 600 mg. At 300 mg, bulk is in the middle of the range.
Caffeine Anhydrous – 275 mg
Caffeine anhydrous is the standard form of caffeine, known for increasing energy, alertness, motivation, and mood. The caffeine content varies for each product. The 350-450 range is the typical dosage for sports supplements, and some products may contain other forms such as below di-caffeine malate bringing the total caffeine content to 297 mg.
Less is more, as your dependency will lead to diminishing returns as you increase your intake. The overall combinations of many factors, such as sleep, when you take caffeine, diet, and nutrition, affect how much you will need.
L-Theanine – 200 mg
Taken from Healthline, in a review of five randomized controlled trials that included 104 participants, four trials linked L-theanine with reduced stress and anxiety in people experiencing stressful situations (ScienceDirect). This is dosed on the low end of the recommended 300-500 mg range for relaxation, which is great to have in a sleep aid and is often included in high stimulant pre-workouts to nullify the side effects.
Typically it isn't needed in regular caffeine-based pre-workouts, and unfortunately, we are given 200 mg here, which is more than some sleep aid supplements.
Theobromine 98% – 50 mg
Theobromine is a "caffeine light" stimulant ingredient found in chocolate, some tea plants, and the kola nut. Its name means "Food of the Gods." Greek "theo" means gods, and "broma" means food.
Some anecdotal evidence suggests that theobromine can affect mood elevation, focus, and stimulation. Most doses range from 100 to 400 mg, leaving bulk black on the very low end.
Astragin – 50 mg
Astragin is a patented ingredient that increases the bioavailability of nutritional supplements. In other words, it helps your body absorb more of the ingredients in the product, which helps the effectiveness of the ingredients. As the serving size increases, so does the need for a digestion aid.
Di-Caffeine Malate – 30 mg
Di-caffeine malate is the extended-release version of caffeine, which usually slowly releases and adds to energy/focus later in the workout, delaying or preventing a crash depending on the formulation of stimulants in the pre-workout. Typically, 75% caffeine anhydrous and 25% malic acid, meaning 30 mg, would yield 22.5 mg of caffeine anhydrous.
Infinergy™ represents a precise combination of Caffeine and Malic Acid into an ionic bonded compound. By combining the well-established properties of Caffeine and Malic Acid, Infinergy™ offers a multi-dimensional ingredient that not only optimizes energy levels but also stimulates thermogenesis while promoting mental focus.
Boron – 3 mg
Boron is known for its testosterone-boosting effects, but more research is needed. I will say that many testosterone replacement clinics will utilize this supplement, which I believe they wouldn't suggest without seeing much effect on the labs they require. For more information, check out Examine here.
Bulk Black Pre-Workout Review
Summary
I feel Transparent Labs did an excellent job with this version, as I have reviewed several of their pre-workouts in the past. I think bulk black really shines with the intensity of the beta alley tingles, as it was very therapeutic and contributed some great workouts. I would recommend this to anyone looking for an everyday use pre-workout, as the formulation is very safe and effective.
Pros
Insane beta-alanine tingles
Improved endurance
High-quality and potent ingredients
Good pumps
Improved muscle contractions
Added electrolytes, vitamins
Very tasty flavor
Improved breathing
Good focus
Excellent clinical and efficient dosages
Cons
Tingles might be too intense for some
A bit too sweet of flavor
Contains l-theanine