DECIM8 is a pre-workout supplement from ELEV8 Supps. It contains 2 g L-Tyrosine, 600 mg Alpha GPC, 300 mg Theobromine, 325 mg total caffeine from three different sources, 200 mg DMHA, 200 mg Eria Jarensis, 100 mg Neurofactor, and 30 mg Noopept. DECIM8 provides the focus and energy needed for a long workout.
I would only recommend this product for advanced pre-workout users due to the included stims and for "stim-junkies" who want a great pre-workout without having to go too strong.
Read on for additional details of my experience, the best prices for the DECIM8 pre-workout, and a breakdown of its ingredient label.
Long-Lasting Focus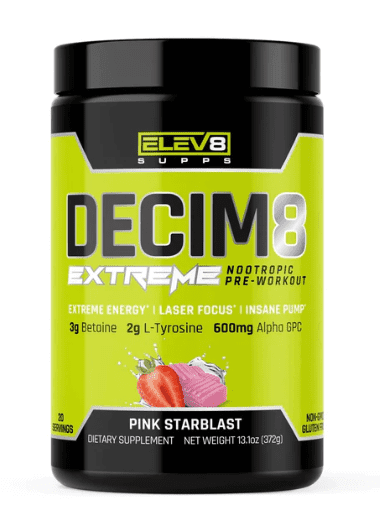 Decmi8 Pre-Workout - Elev8 Supps
DECIM8 Pre-Workout delivers long-lasting focus and energy with a great post-workout buzz. If you like mood elevation and focus in your pre-workout, then DECIM8 is definitely worth a try.
Discount codes:
LIFTVAULT15 = 15% off at Supp Kingz
DMHA: 200 mg
L-Tyrosine: 2,000 mg
Caffeine Anhydrous: 250 mg
Di-Caffeine Malate: 100 mg (yields 75 mg)
Caffeine Citrate: 100 mg (yields 50 mg)
Shop Supp Kingz
Lift Vault earns a commission if you click this link and make a purchase at no extra cost to you.
Where to buy it
You can buy DECMI8 Pre-Workout by ELEV8 Supps at the following retailers:
My Experience
I've taken DECIM8 four different times across two weeks, and it has quickly become one of my favorite pre-workouts. The focus, energy, and mood hit just right.
Effects
DECIM8 improved my mood, focus, and energy.
Within 7 minutes, I began to feel the Beta-Alanine tingles. Although there is no digestion aid and the dose is not a full 3.2-grams, the tingling sensation was relatively intense. I would rate it about an 8.5 out of 10.
After taking DECIM8, I felt a wave of smooth energy. The energy only continued to build. It never felt too strong or not enough. Even after an intense workout, I had plenty of energy for the rest of the day.
Throughout the entirety of the workout, the focus was dialed in and strong. After the workout, the focus turned to a smooth, "head-buzz," and mood-elevating feeling, which along with the energy, lasted all day.
The pumps were decent enough; they got the job done but they weren't great.
No adverse effects were noted.
Flavor
I tried the Strawberry Lemonade flavor. It was reasonably sweet and not too sour. It had no chemical or bitter taste. I would rate it an 8 out of 10, only because I'm not a big fan of lemonade. One other flavor available for DECIM8 is Pink Starblast.
Scoop Size
A whole serving is 18.6-grams, which thankfully comes out to a dead-flat scoop. Here is what a full scoop looks like.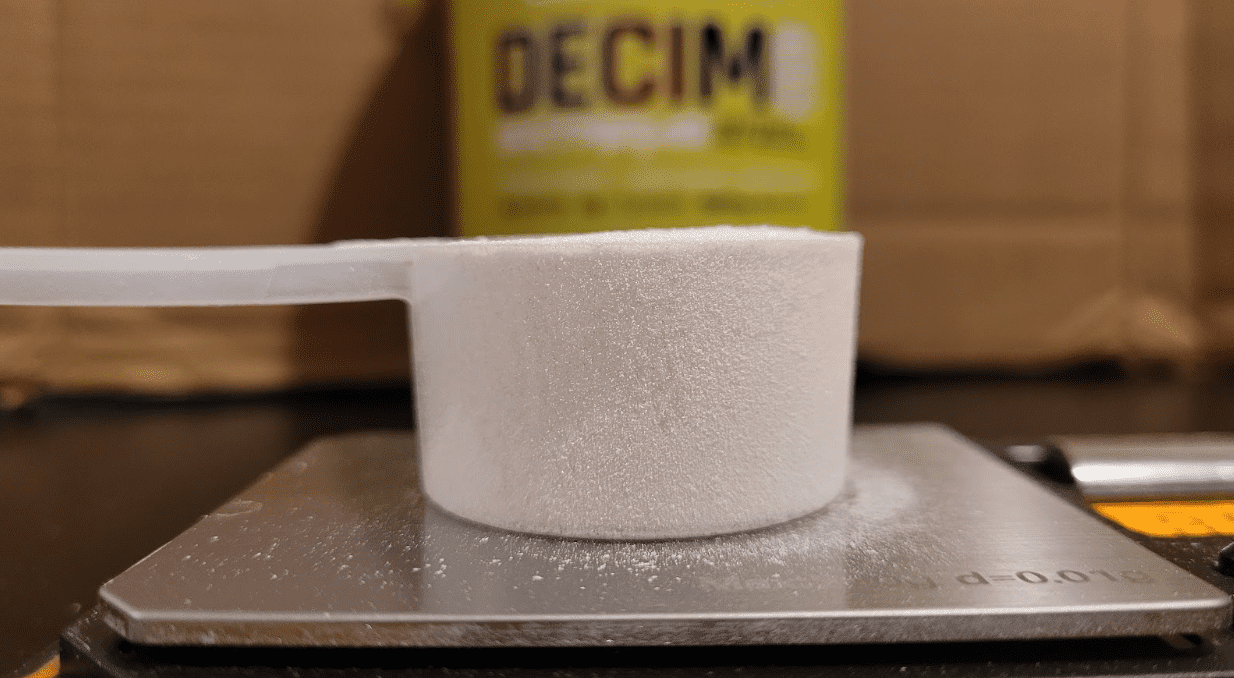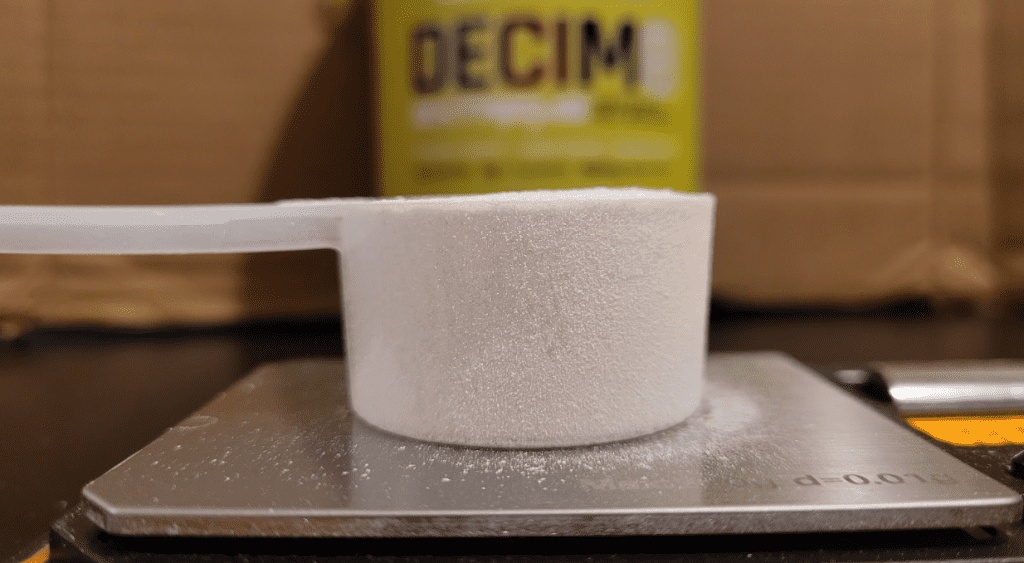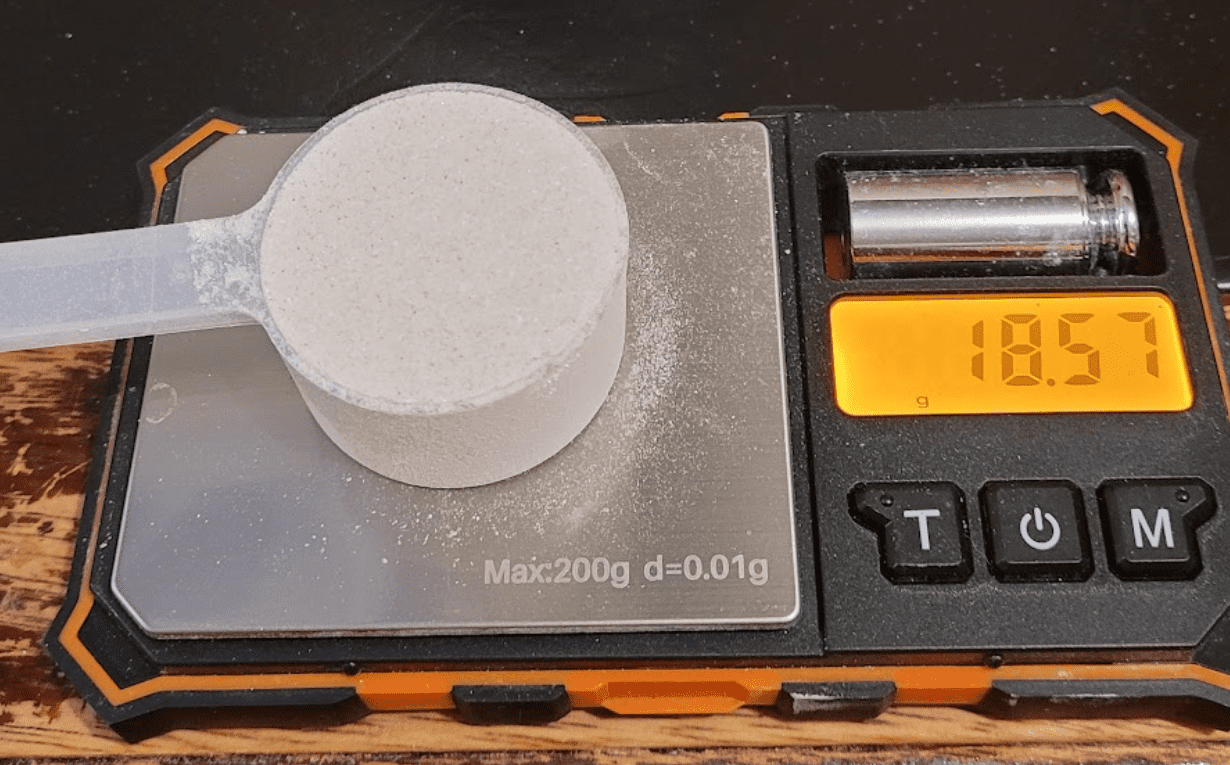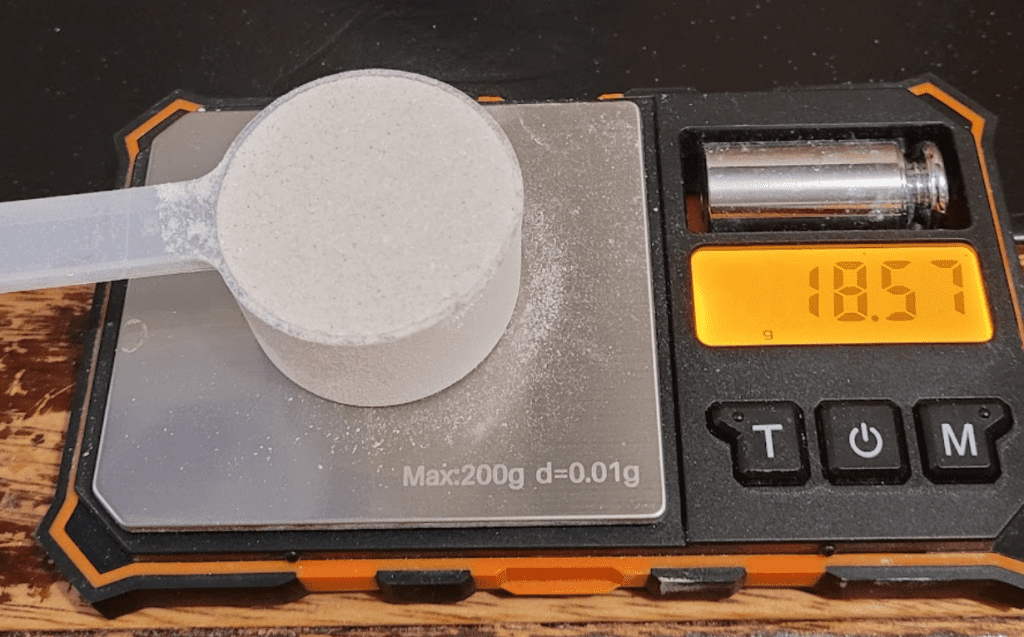 Ingredients
Below you'll find the ingredients label for DECIM8 by ELEV8 Supps pre-workout along with a breakdown of each ingredient.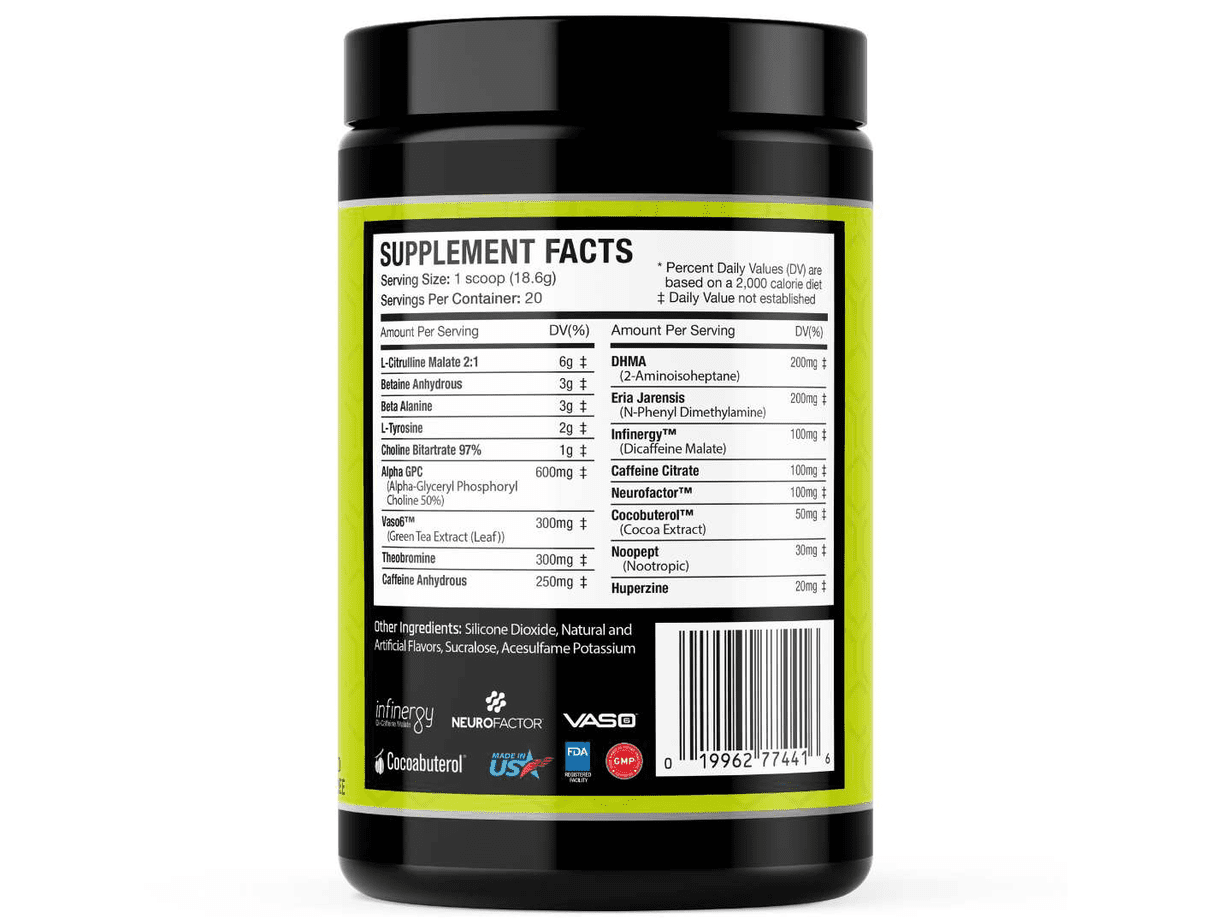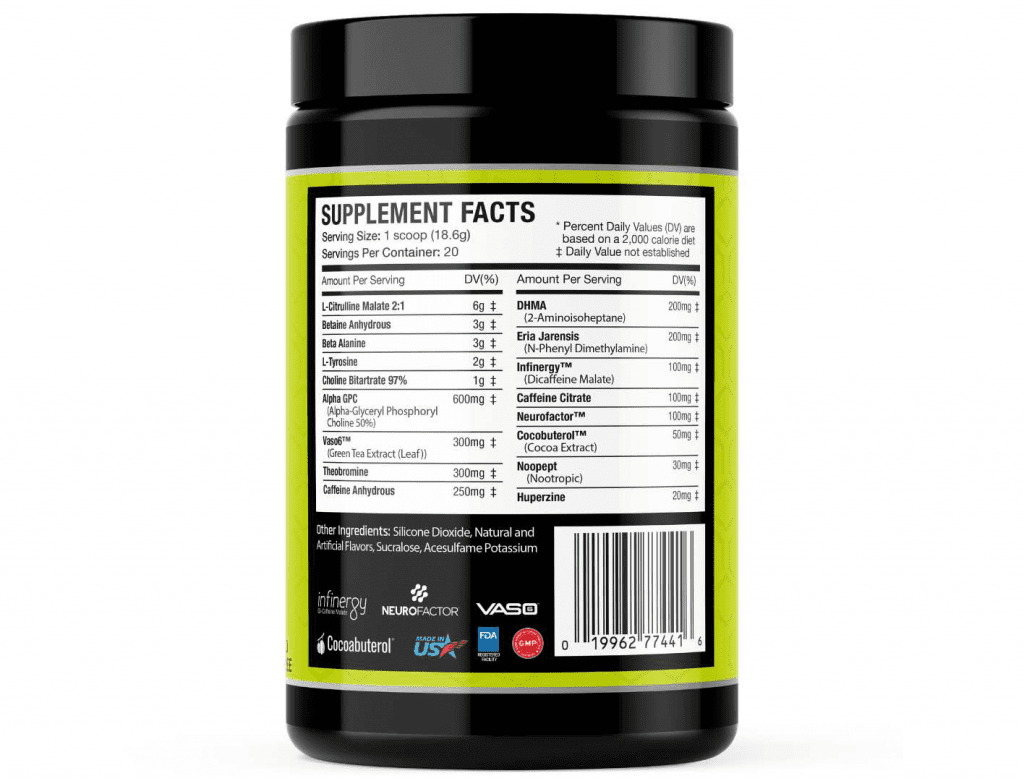 L-Citrulline Malate 2:1 – 6,000 mg
L-Citrulline Malate is one of the most common pre-workout ingredients. There is extensive evidence supporting its ability to increase nitric oxide production, power output, pumps, blood flow, and endurance.
Usually, L-Citrulline Malate has a 2:1 ratio of Citrulline to Malic Acid (aka Malate). There is an effective dose of 4 g pure L-Citrulline, which DECIM8 provides.
Betaine Anhydrous – 3,000 mg
Betaine helps increase your power output. However, research is pretty inconsistent around this claim. Since the typical range for Betaine is between 1.5 g and 5 g, the 3-gram dose is a perfect amount.
Beta-Alanine – 3,000 mg
Beta-alanine has been shown to support muscular endurance and can act as a lactic acid buffer.
However, beta-alanine requires regular intake to be effective, similar to creatine. Daily supplementation of beta-alanine is recommended, with a loading period of three to five weeks needed to be effective.
A typical range for Beta-Alanine that you'll see is between three and four grams.
L-Tyrosine – 2,000 mg
L-Tyrosine helps "smooth out" some of the harsher effects of stimulants and increases focus. Some limited research also shows it can act as a cognitive booster in stressful environments.
Two grams is an ideal dose and lands within the recommended range for use in an exercise setting. You'll typically see a dose between 500 mg and 3,000 mg.
Choline Bitartrate 97% – 1,000 mg
Choline is a focus ingredient and is a chlorogenic source. Compared with Alpha GPC, choline bitartrate may not be as effective as a nootropic (source). This is another potential area of improvement for the product formula.
Doses usually range between 500 mg and 2,000 mg. DECIM8 is in the middle of that range.
Alpha GPC – 600 mg
Alpha GPC creates choline, a molecule associated with increased cognition. It is naturally found in eggs. Alpha GPC is a unique ingredient found in the newest generation of Legion's Pulse pre-workout(300 mg) and Apollon Nutrition's Overtime Nootropic (600 mg).
Some early research suggests that a notable increase in power output may be achieved by Alpha GPC supplementation. (More info: Examine)
It is unclear if 600 mg is sufficient to achieve cognitive improvements. A 2015 study using 250 mg and 500 mg doses did not produce any measurable cognitive improvements in healthy test subjects.
Additionally, when evaluating Alpha GPC supplements, required doses are 300 mg after the yield (so 600 mg before). With that being said, I'm unsure if the 600 mg is before or after the yield.
VASO-6 – 300 mg
Short for vasorelaxant peak G6, VASO6 is a nitric oxide booster and vasodilator. It increases blood flow and relaxes the blood vessel walls, allowing them to grow.
For most supplements, 300 mg is the going rate for VASO-6 dosing, meaning DECIM8 gives you the standard dose.
Theobromine – 300 mg
Theobromine is a stimulant that is a "caffeine light" ingredient found in chocolate, some tea plants, and the Kola Nut. Its name means "Food of the Gods." Greek "theo" means gods and "broma" means food.
Most doses range from 100 mg-400 mg. DECIM8's 300mg dose is on the upper end of acceptable doses.
Caffeine Anhydrous – 250 mg
Caffeine needs no introduction, but it's one of the most researched sports supplements. Most pre-workouts will range between 175 mg (as with the great M2) and 600 mg (as with the smoothest Hooligan).
Typically, pre-workouts range from 250 to 450 mg. With a total of 325 mg of caffeine from three different sources, DECIM8 is right in the middle.
DMHA (2-aminoisoheptane) – 200 mg
2-Aminoisoheptane, DMHA, Kigelia Africana, Juglans Regia (J. Regia), Octodrine, and Dimethylhexylamine. DMHA is a stimulant, similar to DMAA, known for boosting energy, focus, and mood.
Typical doses range between 100 and 300mg. 200 mg is a pretty standard dose; however, it doesn't necessarily mean you'll "feel" it. I most definitely felt it when taking DECIM8.
Eria Jarensis (N-phenyl Dimethylamine) – 200 mg
N-Phenethyl Dimethylamine Citrate, aka Eria Jarensis. Eria Jarensis is a stimulant commonly seen alongside DMHA in high stim pre-workouts.
200 mg is in the middle range for the dose of this ingredient. Usual amounts range from 150 mg to 500 mg, as found in Flame Pre Workout (terrific).
Infinergy (™) (Dicaffeine Malate) – 100 mg
Di-Caffeine malate is the "extended-release" version of caffeine. Combined with caffeine anhydrous, di-caffeine malate extends the effects of a pre-workout and supports offset crash effects of high caffeine doses.
DECIM8 uses "Infinergy," apatented form of di-caffeine malate. In theory, this should give you more confidence that it is a high-quality ingredient.
Di-Caffeine Malate yields 75% of actual caffeine, meaning you get 75 mg of caffeine from this source.
Caffeine Citrate – 100 mg
Caffeine citrate is a faster-acting version of caffeine when compared to caffeine anhydrous. It's not common in supplements. Some popular pre-workouts, like Flame and M2, include this ingredient.
Caffeine Citrate is usually 50% Caffeine and 50% Citric Acid, and so it yields 50 mg of caffeine.
Neurofactor – 100 mg
NeuroFactor Whole Coffee Fruit Concentrate is a patented product from the whole fruit of the coffee plant, Coffea arabica. One dose of 100 mg of WCFC increased serum BDNF by 54% and exosomal BDNF by 206%. BDNF, Brain-Derived Nootropic Factor, is essential for learning, memory, alertness, mood, controlling body weight, and controlling energy metabolism (Scientific Research Open Access).
Cocobuterol (™) (Cocoa Extract) – 50 mg
According to Cocoabuterol.com, the suggested benefits of cocabuterol are decreased fat mass, direct muscle growth, improved muscular endurance, muscular power output, neuroprotectivity, and improved cardiovascular health.
Because Cocoabuterol is the manufacturer of the ingredient, their claims have to be taken with a grain of salt;. With that being said, Examine states that blood flow appears to be increased in the body very reliably as assessed by flow-mediated vasodilation (FMD) by around 2%, affecting both healthy and unhealthy people.
Also, Cocoa products appear to reduce LDL cholesterol due to their flavonoid component, with the reduction in LDL-C being mild.
Noopept – 30 mg
Noopept, also known as N-Phenylacetyl-L-prolyglycine ethyl ester, is a synthetic nootropic ingredient with cognitive boosting and psychostimulatory effects. It's in the racetam family of nootropics. In terms of focus ingredients, this is the star of this formula.
30 mg is a substantial dose of noopept and a typical amount for pre-workouts. There is some evidence for neuroprotective health (Alzheimer's Discovery Organization)
Huperzine – 20 mg
Like Choline Bitartrate, Huperzine A is cholinergic and acts as a cognitive enhancer. It tends to be taken in doses of 50 mcg to 200 mcg. The amount found in DECIM8 does land over the clinically effective range. As an acetylcholinesterase inhibitor, It helps lengthen the half-life of cholinergic sources (Examine).
Typically Huperzine is at a 1% yield. At 200 mcg yield, that is a very high dose. You don't see such a dose very often since it is twice the highest typical dose.
Long-Lasting Focus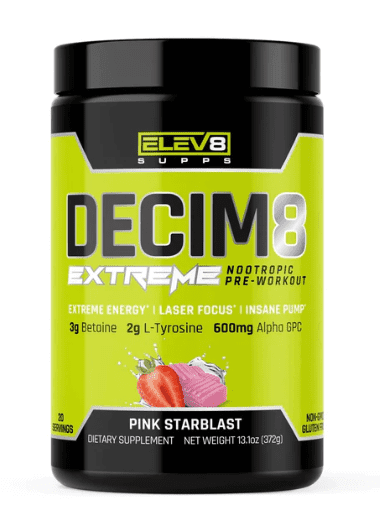 Decmi8 Pre-Workout - Elev8 Supps
DECIM8 Pre-Workout delivers long-lasting focus and energy with a great post-workout buzz. If you like mood elevation and focus in your pre-workout, then DECIM8 is definitely worth a try.
Discount codes:
LIFTVAULT15 = 15% off at Supp Kingz
DMHA: 200 mg
L-Tyrosine: 2,000 mg
Caffeine Anhydrous: 250 mg
Di-Caffeine Malate: 100 mg (yields 75 mg)
Caffeine Citrate: 100 mg (yields 50 mg)
Shop Supp Kingz
Lift Vault earns a commission if you click this link and make a purchase at no extra cost to you.
DECIM8 by ELEV8 Supps Pre-Workout Review
Summary
DECIM8 pre-workout has quickly become one of my absolute favorite pre-workouts (and with the sheer variety I have tried in the past, that's saying something). Whereas some focus formulas can be "too much" and cause a bit of brain fog, this particular formula is not too strong. The focus, mood, and energy effects are perfect.
Pros
Long-lasted energy (4+ hours)

Amazing focus

Significant post-workout head-buzz mood elevation.

Good flavor, considering the ingredients.
Cons
Maybe the use of a digestion aid

Only 20 servings.