Helios is a high-stim pre-workout supplement from DNM Nutra. The highlights of the ingredient profile are 3.2 g Beta-Alanine, 400 mg Caffeine, 250 mg Eria Jarensis, 250 mg DMHA, and 100 mg Octopamine.
If you are looking for pumps in your pre-workout, this isn't it. Helios is centered around energy, focus, and mood. Thankfully, it delivers on that. You're getting a massive wave of energy with focus and excellent mood enhancement without a crash.
Although I've only taken it just two times, both times it came through for focus, mood, and energy. I could only recommend this for intermediate pre-workouts or advanced users who've dealt with gray-market stims in their product and don't necessarily care about pumps.
Read on for additional details of my experience, the best prices for the Helios pre-workout, and a breakdown of its ingredient label.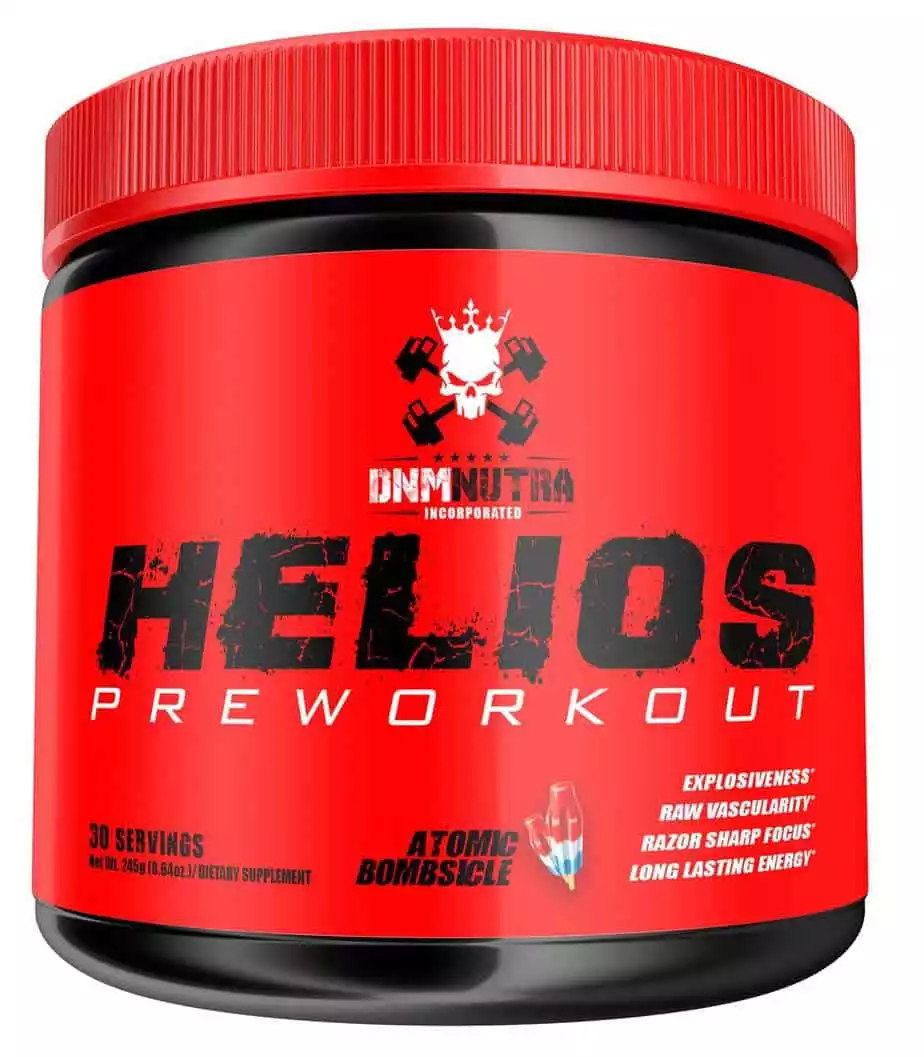 Where to Buy
You can find Helios at the following retailers:
Supp Kingz

LIFTVAULT15 = 15% off at Supp Kingz

Nutri Cartel

LIFTVAULT = 15% off at Nutri Cartel

Supps Central

LIFTVAULT10 = 10% off at Supps Central
My Experience
I took Helios twice, and it felt incredible.
The first time I took it by itself for a leg day, the second time I took it with a pump product (just pumps, no nootropics), and the effects were the same, intense focus, smooth energy, and excellent mood elevation.
Effects
The Beta-Alanine tingles started within 5 minutes and lasted a good 25 minutes. Out of 10 for intensity, I'd give it an 8.
Even with 400 mg Caffeine, 250 mg Eria, 250 mg DMHA, the energy was smooth, never got too intense or aggressive. The energy lasted a pleasant and smooth 4-5 hours.
With just 2,000 mg L-Citrulline, the pumps are minimal at best, but this is not the product you'd want for pumps, although the front of the tub declares "Raw Vascularity".
Within 20 minutes, the focus came on and was intense, a super dialed-in type of focus. Lasting the entire workout and then some.
Within 40 minutes, a delightful sense of mood elevation began and lasted for near 6 hours and a pleasant "head buzz" lasted nearly all day long.
There were no adverse effects I could feel.
Flavor
I tried Blue Razz flavor.
For a Blue Raspberry-Esque flavor, it was very mild and not sour. There was a significant bitter taste to it. Maybe a 6.5 or 7 out of 10.
Other flavors include Bombsicle, Fruit Punch, Orange Mango.
Scoop Size
A whole serving is 11.71 grams. As you can see, it's a significantly heaping scoop.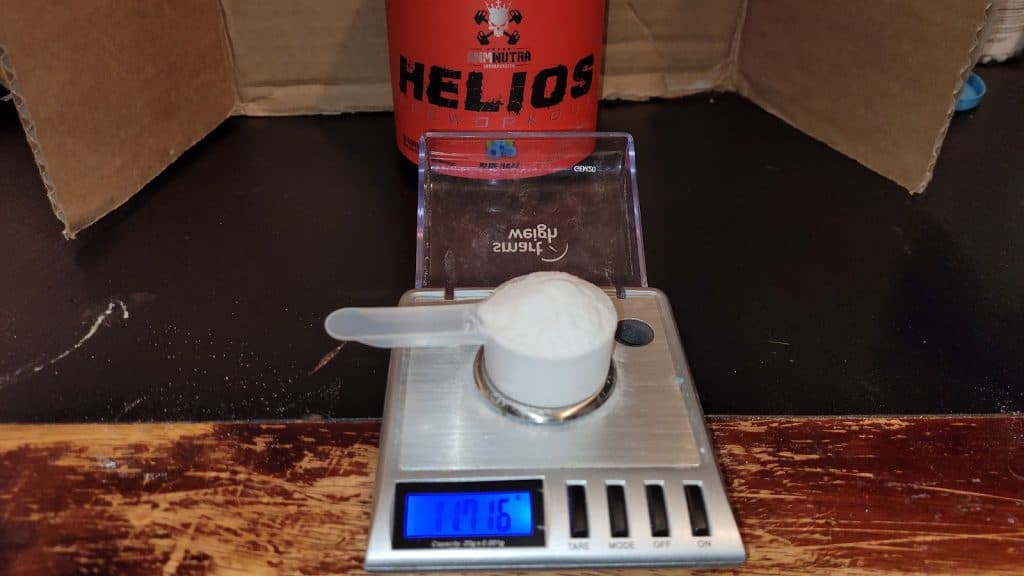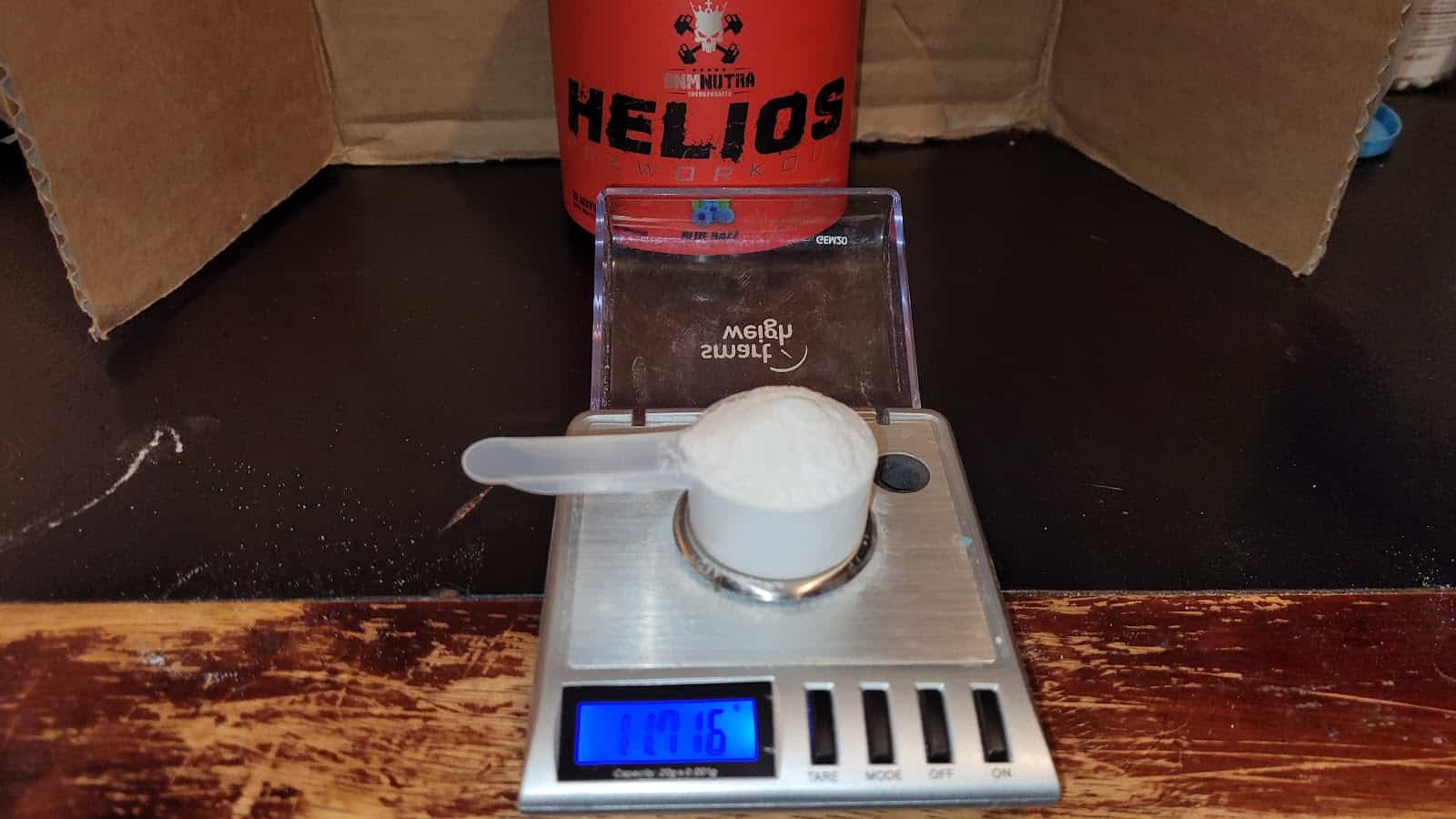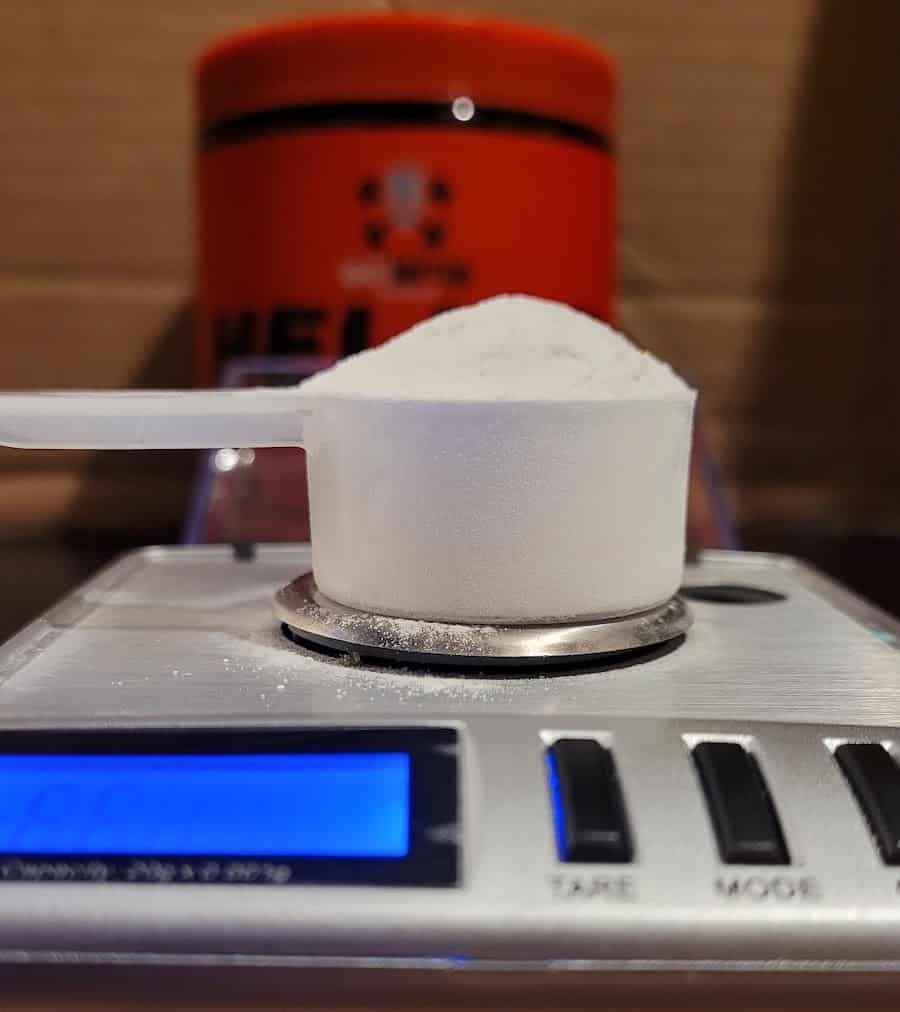 Ingredients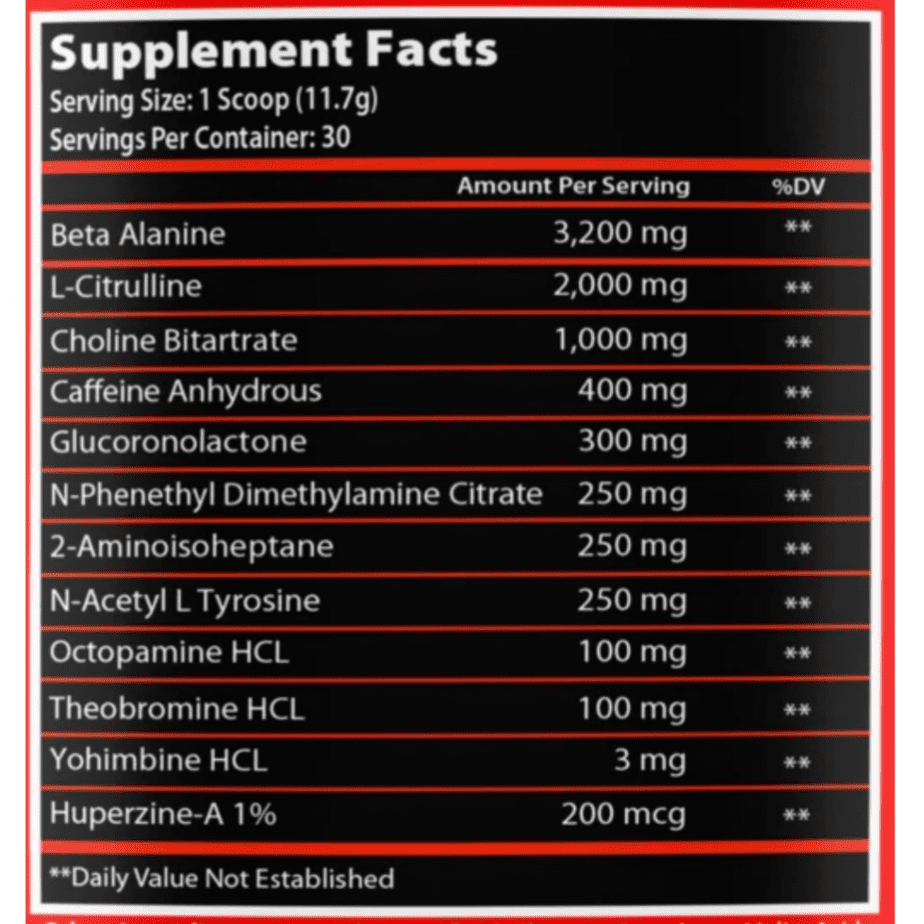 Beta-Alanine – 3,200 mg
This is the standard dose for beta-alanine, which, taken consistently, has been shown to improve muscular endurance by acting as a lactic acid buffer in muscles; this is the ingredient that gives you the "tingles."
L-Citrulline – 2,000 mg
L-Citrulline is one of the most common pre-workout ingredients. It has extensive evidence supporting its effects on increasing nitric oxide production, power output, and endurance, making it an essential pump pre-workout ingredient.
Four grams is the clinical dosage of L-Citrulline, so it's underdosed in Helios. But honestly, I doubt anyone is taking Helios for the pumps, especially as it's the only pump ingredient.
Choline Bitartrate – 1,000 mg
Choline is included as a focus ingredient. Compared with Alpha GPC, choline bitartrate may not be as effective as a nootropic (source).
The 1,000 mg of choline bitartrate included is in the middle that you'd typically see in other products, as doses usually range between 500 mg and upwards of 2,000 mg.
Caffeine Anhydrous – 400 mg
The Grand-Daddy of stimulant supplements. It's in your coffee, tea, soda, heck; it may even be in your sweets and gum (some confectioners add caffeine to their sweets for a kick). Well known for increasing energy, power, and focus, it's the staple ingredient in all stim-based products.
The 400 mg included is on the upper end that you'll see, which ranges between 175 mg and upwards of 700 mg (but usually 250-450 mg).
Glucuronolactone – 300 mg per serving
Though there is not much research on glucuronolactone, it is often included for detoxification and energizing purposes and is commonly found in energy drinks.
Some supplement manufacturers claim that glucuronolactone helps extend the effects of caffeine.
N-Phenethyl Dimethylamine Citrate – 250 mg
This is more commonly known as Eria Jarensis. Eria Jarensis is a stimulant widely seen alongside DMHA in high stim pre-workouts.
250 mg is a suitable dosage for this ingredient. The most Eria Jarensis I've ever seen in a pre-workout is 500 mg in Flame Pre Workout (which is impressive).
2-Aminoisoheptane – 250 mg
2-Aminoisoheptane, DMHA, Kigelia Africana, Juglans Regia (J. Regia), Octodrine, and Dimethylhexylamine. DMHA is a stimulant, similar to DMAA, known for boosting energy, focus, and mood.
250 mg is a reasonably high dose; however, just because it says something on the label doesn't necessarily mean you'll "feel" it. You will feel it here.
Here is Lift Vault's list of best DMHA pre-workouts.
N-Acetyl L-Tyrosine – 250 mg
While L-Tyrosine is an excellent ingredient for enhancing focus and reducing stress, NALT (N-Acetyl-L-Tyrosine) is less bioavailable than pure L-Tyrosine.
Transparent Labs claims that "…the acetylation improves the absorption and effective period of L-Tyrosine…", but Examine claims there is "limited practical evidence on NALT as an alternative to L-Tyrosine."
250 mg is not close to a clinical dosage for this ingredient. I'd love to see this replaced with 1 to 1.5 grams of pure L-Tyrosine.
Octopamine – 100 mg per serving
This stimulant may also have minor fat-burning properties (Examine). It is a metabolite of synephrine.
Theobromine – 100 mg per serving
Theobromine is a stimulant that is a "caffeine light" ingredient found in chocolate, some tea plants, and the Kola Nut. Its name means "Food of the Gods," Greek "theo" meaning gods, and "broma" meaning food. As anyone with a sugar craving, you can sort of understand why.
Most doses range from 100 mg-400 mg, so this is at the lower end.
Huperzine A 1% – 200 mcg per serving
Like Choline Bitartrate, Huperzine A is cholinergic and a cognitive enhancer. Doses tend to be 50 mcg to 200 mcg, so the amount found in Helios does land right at the upper-end of the clinically effective range. As an acetylcholinesterase inhibitor, It helps lengthen the half-life of cholinergic sources (Examine).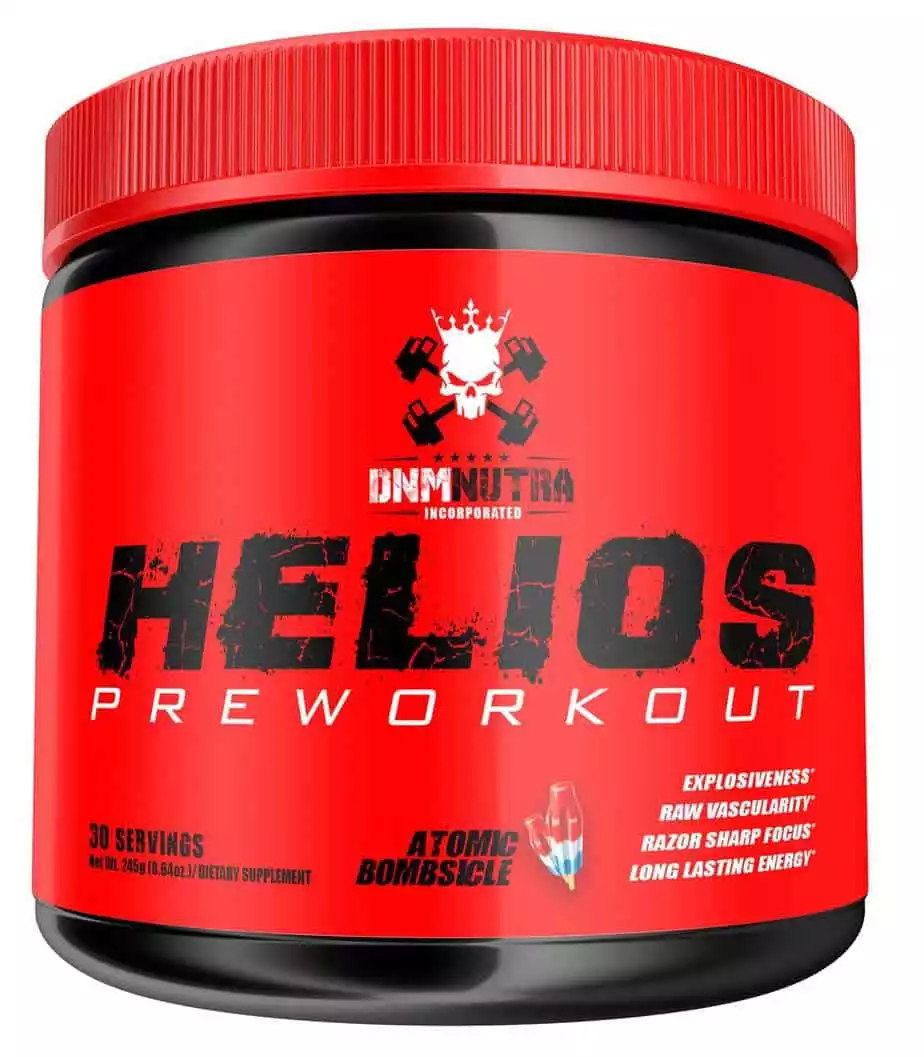 Helios Pre Workout Review
Summary
Helios is a high-stim pre-workout supplement by DNM Nutra. Although it advertises "raw vascularity" on the tub, the pumps or vascularity are not that prevalent. On the other hand, with 400 mg Caffeine, 250 mg Eria Jarensis, 250 mg DMHA, and 100 mg Octopamine, it does deliver focus, mood, and energy quite well. 
The score would have been higher if more pump ingredients were included (say 4-6 grams of L-Citrulline with 1 g Agmatine Sulfate or 2 g Glycerol). That being said, as an overall pre-workout (pumps included), I'd give an altered score of 3.5 out of 5. If I'm just judging it on stims, then it's a 4.2 out of 5.
I could only recommend this for intermediate pre-workouts or advanced users who've dealt with gray-market stims in their product and don't necessarily care about pumps.
Pros
Open label

30 servings

Amazing, long-lasting energy (4-5 hours)

Intense focus (lasting 6 hours)

Delightful mood elevation (lasting all day)

No adverse effects