Nuclear Pre is a pre-workout supplement from Peak Performance Labs. Comprised of a fully-loaded label containing 8g L-Citrulline, 3.5 g Beta-Alanine, 2 g Glycerol, 1 g Ornithine, and 300 mg AmentoPump ™ for pumps, 2 g L-Tyrosine, 500 mg Rhodelia Rosea, 400 mg Caffeine, 250 mg Eria Jarensis for energy, focus, and mood, Nuclear Pre is a well-rounded product.
I've taken Nuclear Pre and the energy is smooth enough for a heavy leg/lower body training day and high enough for a high volume upper body training day.
I could recommend this for intermediate users for almost a daily-driver type, for "stim-junkies" looking for a well-rounded product and keeping their stim tolerance down, and for those who've taken conventional stims and are looking to dip their toes into a higher stim product.
Read on for additional details of my experience, the best prices for the Nuclear Pre pre-workout, and a breakdown of its ingredient label.
Well-Rounded, Hard Hitting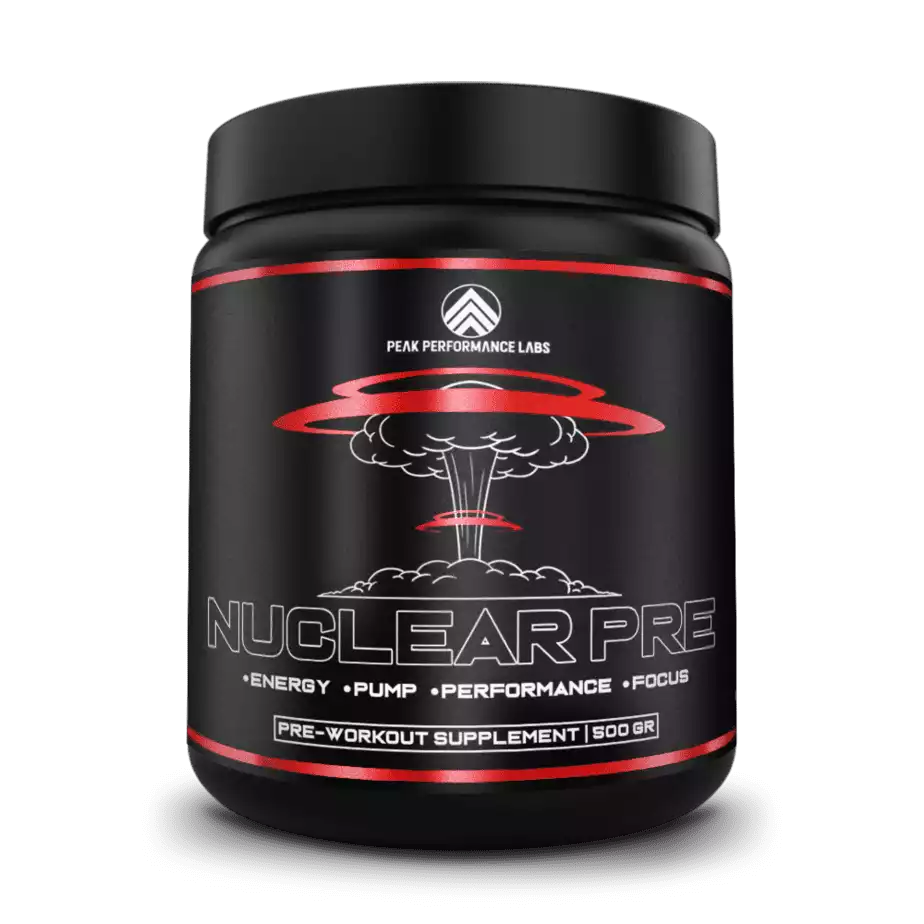 Nuclear Pre Workout - Peak Performance Labs
Sitting somewhere between a daily driver and a high-stim treat, Nuclear Pre is a great choice for stim-junkies looking to take a break from harder stimulants or regular pre-workout users looking to try something a little more intense.
Discount code:
LIFTVAULT15 = 15% off at Supp Kingz
Caffeine: 400 mg
L-Citrulline: 8,000 mg
Eria Jarensis: 250 mg
L-Tyrosine: 2,000 mg
Servings: 20
Beta-Alanine: 3,500 mg
Shop Supp Kingz
Lift Vault earns a commission if you click this link and make a purchase at no extra cost to you.
Where to Buy
You can buy Nuclear Pre from the following retailers:
My Experience
Over a few weeks, I took Nuclear Pre four different times. The effects were incredible energy, fantastic focus, spectacular pumps, and even a slight mood elevation afterward. Nuclear Pre is one of the best overall, well-rounded pre-workouts on the market.
Effects
The main aspects of this product are energy, focus, and pumps, with a bit of mood elevation and thermogenic.
Within 20 minutes, I felt the tingles from the Beta-Alanine, and it lasts for another 20 minutes. In terms of intensity, I'd give it a 7.5 out of 10.
Within 30 minutes, you feel a sense of urgency and energy flowing through me. It wasn't heart-racing style energy, but smooth, consistent energy that lasted a substantial 6+ hours.
Once the energy hit, just a few minutes passed by until a spectacular level of focus came over me, and it lasted until after the workout. Once the focus passed, a light head-buzz/mood elevation lasted another few hours.
There is a moderate thermogenic feel with caffeine, NMT, and Hordenine. I sweated more than average and drank more water.
No adverse effects; no uneasy or queasy feeling whatsoever.
Flavor
The flavor I tried was Orange Mango, and as of now, it is the only one available. The flavor was quite good, with no chemical or gritty taste. Out of 10, I'd give it an 8.5.
Scoop Size
A whole serving is two scoops of 12.5-grams each, with one scoop being a heaping scoop.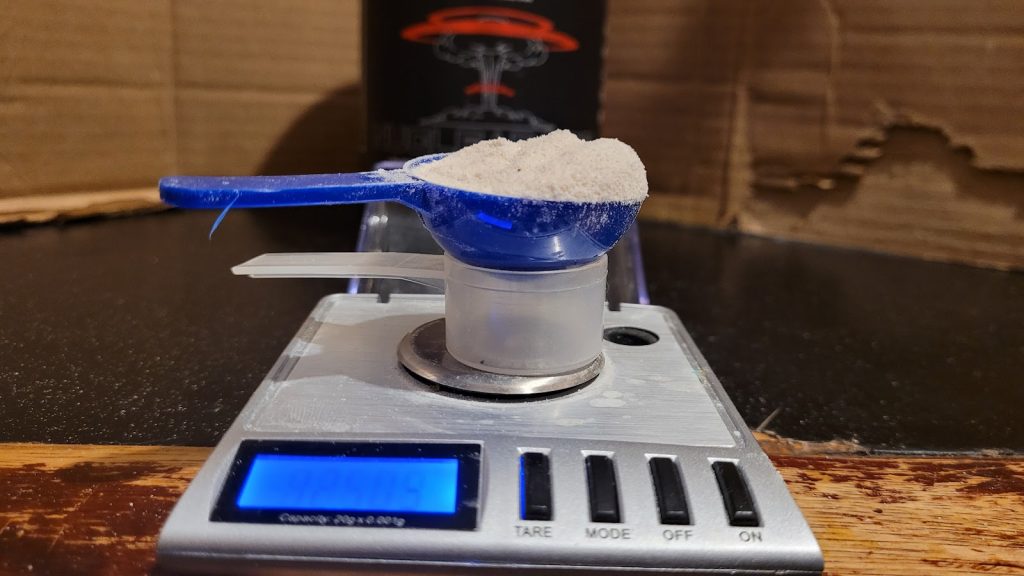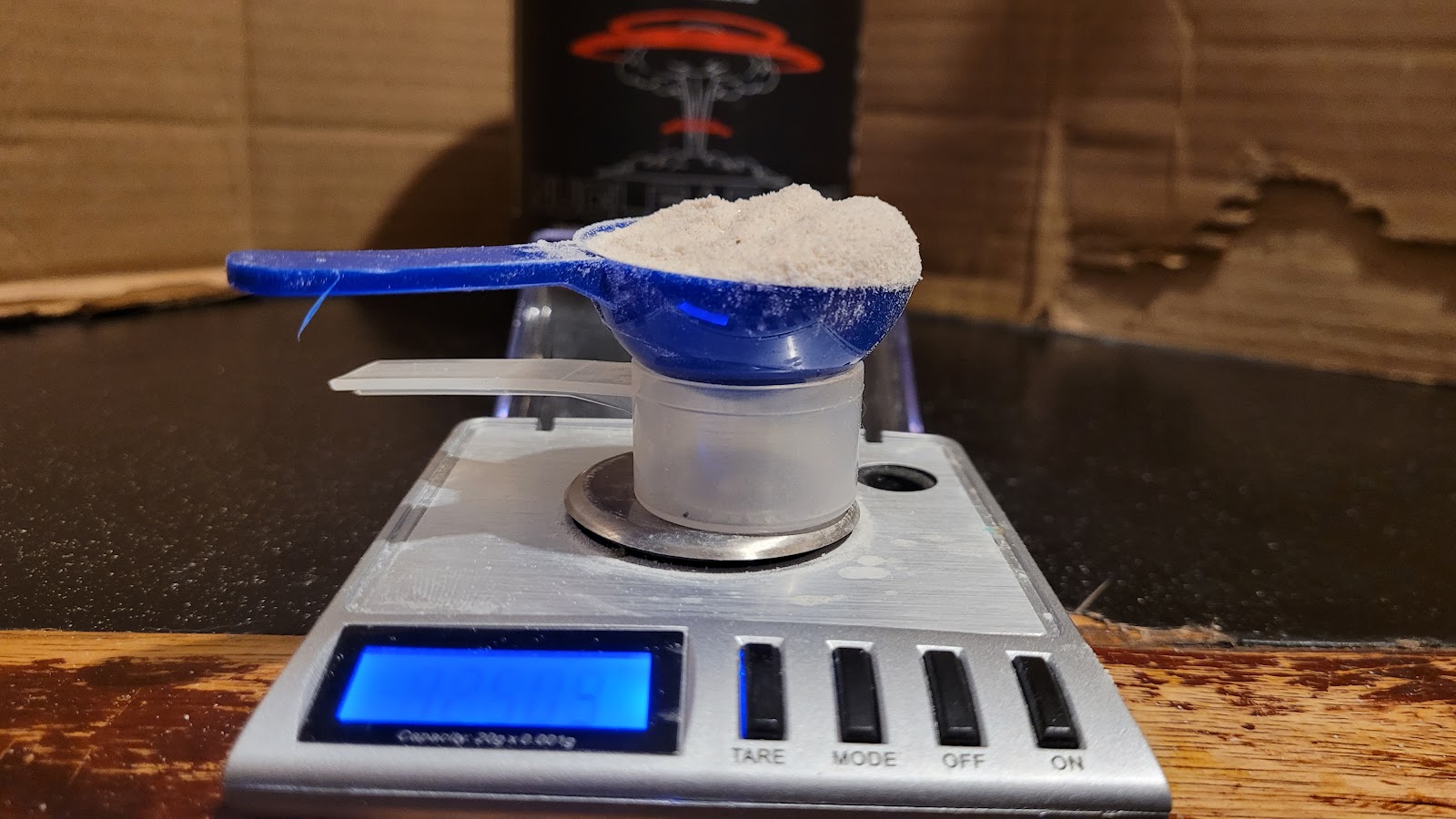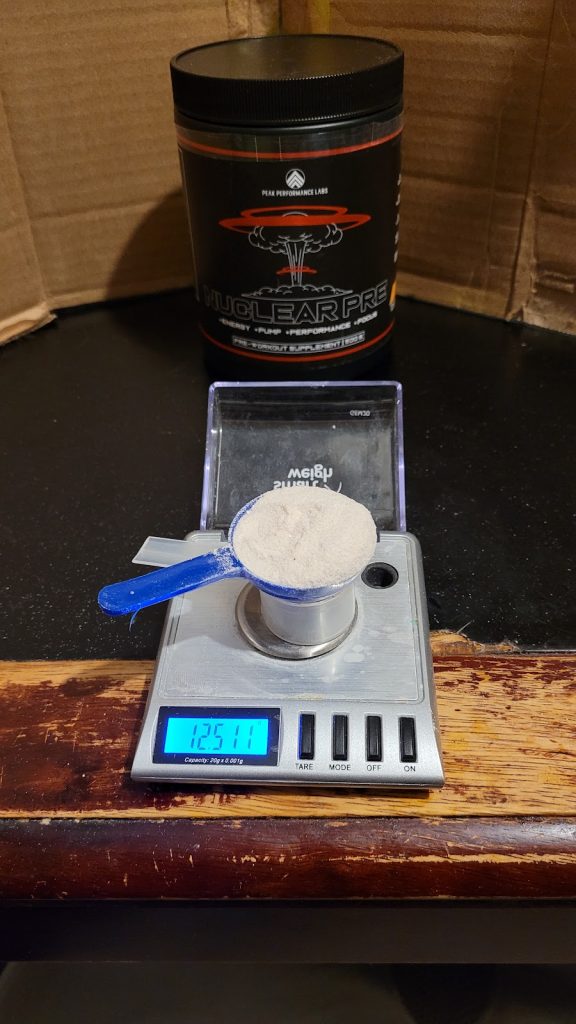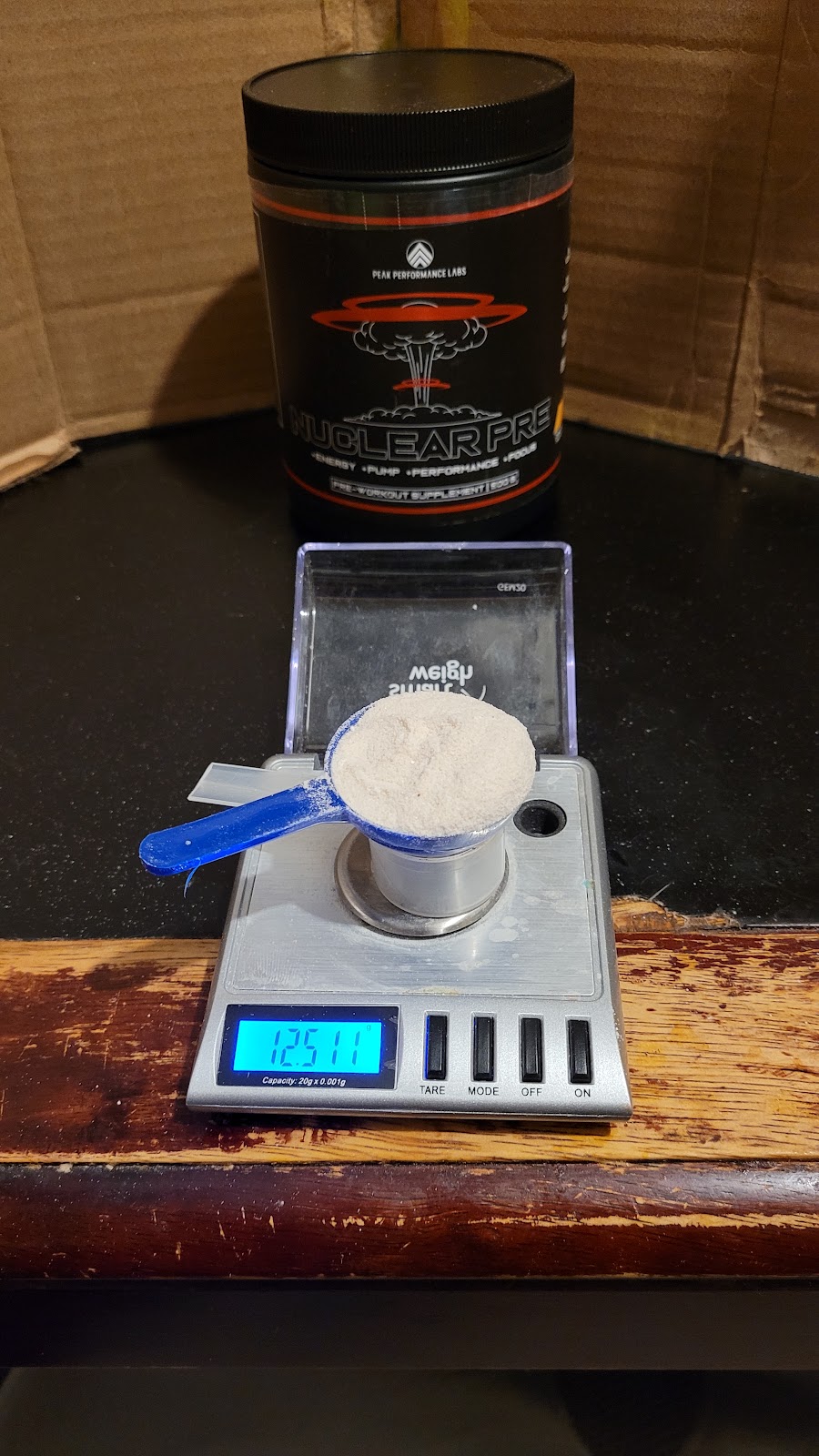 Ingredients
Below you'll find the ingredients for Nuclear Pre, along with a breakdown of each ingredient.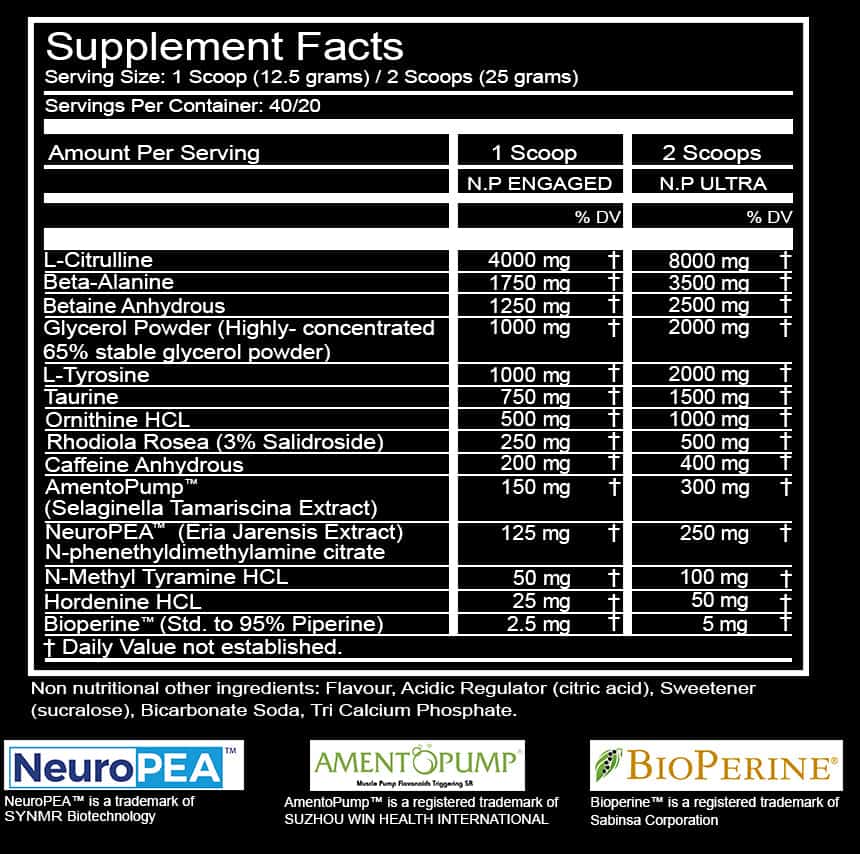 L-Citrulline – 8,000 mg
L-Citrulline is one of the most common pre-workout ingredients. It has extensive evidence supporting its effects on increasing nitric oxide production, power output, and endurance.
Although most research uses a variation known as L-Citrulline Malate (2:1), anecdotal evidence supports that L-Citrulline delivers much of the same benefit.
When included as pure L-Citrulline, we like to see 4 grams as the dosage, but Bare Knuckle provides a whopping 8-gram dose, twice the effective dose. This is definitely on the upper end of amounts I've seen.
Beta-Alanine – 3,500 mg
Beta-Alanine has been repeatedly shown to increase maximal strength levels when taken regularly. Like Citrulline Malate, it is one of the most common and best-researched pre-workout ingredients on the market today.
3.5 grams is just over the clinical dose of 3.2 grams, and you begin to feel it about 20 minutes after taking it, and it lasts for another 20 minutes. In terms of intensity, I'd give it a 7.5 out of 10.
Betaine Anhydrous – 2,500 mg
Betaine is included to help increase your power output. However, research is pretty inconsistent around this claim. 2.5 grams is a pretty high dose of this ingredient, which typically ranges between 1.5 g and 2.5 grams
Glycerol Powder (Highly-concentrated 65% stable glycerol powder) –2,000 mg
Glycerol powder assists with hydration and allows the body to absorb more water than it usually would. This helps stave off dehydration and can have mild improvements in endurance.
But the real reason it is often included in pre-workout supplements is that all of this extra water absorption can help your muscles swell up, giving you a "swole" look.
Two grams is a solid dosage of Glycerol Powder. It usually ranges from 2 to 3 grams per serving in good supplements.
One slight side-effect of glycerol is clumping inside of the tub.
L-Tyrosine – 2,000 mg
L-Tyrosine has been shown to boost cognitive performance in stressful environments. It is typically included in pre-workouts as a focus ingredient.
2,000 mg is an excellent dosage of L-Tyrosine for achieving any anti-stress effects. It is also beyond the upper bound of the typical dosage range (500 mg to 2,000 mg) for exercise.
This is always an excellent ingredient to see, and I'm impressed with the dosage.
Taurine – 1,500 mg
Taurine is a "miscellaneous" pre-workout ingredient with a range of potential, albeit limited, physical benefits. It can aid blood flow, reduce cramping, and boost antioxidant defense systems (Examine). It's a pretty insignificant ingredient in pre-workout compared to other components but doesn't hurt anything either.
Nuclear Pre gives you 1.5-grams, which is a solid dosage of taurine to achieve any effects it has to offer. Usually, other products have 500 mg to 2 grams.
Ornithine HCL – 1,000 mg
From Xtend Life, the benefits of Ornithine HCL are anxiety management (as Ornithine passed the blood-brain barrier), support skin repair (due to ornithine's role in collagen production), and for the benefit of why it's in this product, exercise support (as early research shows that oral supplementation with ornithine can support strength, power, and speed.
However, not much is known about the dosage needed to achieve these effects.
Rhodelia Rosea (3% Salidroside) – 500 mg
From Examine, Rhodelia Rosea is used as an anti-fatigue agent and adaptogen compound. Rhodiola appears to significantly reduce the fatigue and 'burnout' that come from stress and anxiety; numerous trials suggest meaningful effects, particularly in people with stress and anxiety issues.
This may extend to exercise since there's some evidence that acute supplementation before exercise can reduce fatigue, but more research is needed before being confident in that.
Usage of rhodelia as a daily preventative against fatigue has been reported to be effective in doses as low as 50mg. In contrast, acute usage of rhodelia for fatigue and anti-stress has been noted to be taken in the 288-680mg range. With that, Nuclear Pre gives you well enough Rhodelia to see these effects.
Caffeine Anhydrous – 400 mg
Caffeine needs no introduction, right? Energy, focus, increased performance, etc., are all delivered by caffeine. It's one of the most researched sports supplements.
At 400 mg, Nuclear Pre gives you the energy needed without being overwhelming. Typically in other pre-workouts, you'll see between 250 and 450 mg of caffeine, with extremes being 150 to upwards of 700 mg.
AmentoPump ™ (Selaginella Tamariscina Extract) – 300 mg
Very little is known about this ingredient, including doses.
AmentoPump® is the plant essence of Selaginella tamariscina containing amentoflavone, which enhances strength directly. It has some interesting properties, ranging from increased fat breakdown to vasodilation, which may also increase the body's ability to get nutrients into muscle cells. AmentoPump® is an incredibly potent and multifunctional ingredient. It has the added benefits for fat loss and insulin sensitivity improving, making it an optimal ingredient in any pre-workout or fat burner."
NeuroPEA (Eria Jarensis Whole Plant Extract) – 250 mg
NeuroPEA is the trademark version of Eria Jarensis (N-Phenethyl Dimethylamine), a stimulant that is becoming a popular alternative to DMAA or DMHA. It increases levels of dopamine and noradrenaline in the user and can enhance mood, increase motivation, and dial in concentration. Eria and other stimulants are based on the purity of the ingredient itself.
Sometimes a product with 150 mg Eria can feel 20x better than one with 400 mg Eria. That being said, 250 mg is an excellent dose; as usual, amounts range from 150 mg up to 500 mg as found in Flame Pre Workout (which is fantastic).
N-Methyltyramine HCL – 100 mg
NMT is a focus enhancer and stimulant, similar to synephrine, banned by the World Anti-Doping Agency (WADA). NMT is also used for weight loss.
Typically included at a dosage around 200 mg in supplements, the 100 mg included is quite unsatisfactory.
Hordenine HCL – 50 mg
Hordenine (N, N-dimethyltyramine) is a stimulant that is often included in recent "nootropic" products. It is not widely researched, so much of the information available comes from anecdotal accounts.
It is typically dosed between 10 mg and upwards of 150 mg, putting the 50 mg in the range. One study shows that Hordenine is an MAO (monoamine oxidase) inhibitor that may lengthen the feeling of energy and mood elevation.
Bioperine – 5 mg
Bioperine is just a patented form of black pepper extract. It helps your body absorb nutrients (i.e., all of the stuff in Nuclear Pre).
Nuclear Pre Workout Review (Peak Performance Labs)