Panda Supplements bring you another collaboration with Blackmarket in the form of Panda versus Gorilla. This unique team-up highlights their top-level pre-workouts, combining excellent clinical dosages with quality ingredients.
I highly recommend this product for those sensitive to high stimulants. I could also recommend this to people looking to reduce their tolerance to high-stimulant pre-workouts.
Thank you, Supps Central, for sending this full product for review!
Great Endurance!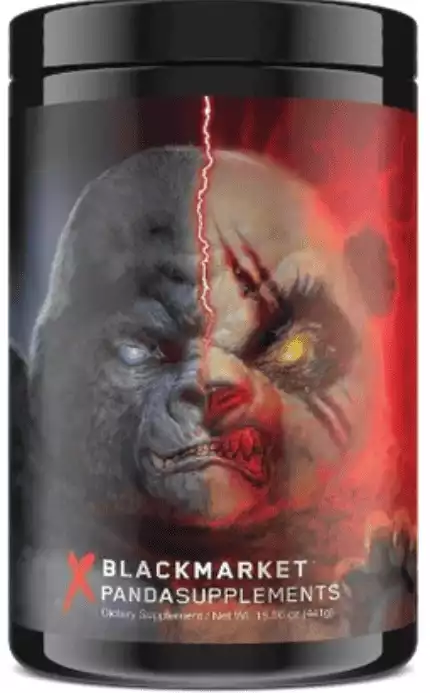 Panda x Gorilla Pre-Workout
Panda Supplements bring you another collaboration with Black Market in the form of Panda versus Gorilla. This unique team-up highlights their top-level pre-workouts, combining excellent clinical dosages with quality ingredients.
Discount Code:
LIFTVAULT15 = 15% off at Supps Central
LIFTVAULT = 15% off at Nutri Cartel
Alpha GPC: 600 mg
Lions Mane: 500 mg
Caffeine Anhydrous: 300 mg
AstraGin: 50 mg
Shop Nutri Cartel
Lift Vault earns a commission if you click this link and make a purchase at no extra cost to you.
Where to Buy Panda x Gorilla
You can buy Panda x Gorilla by Blackmarket X PandaSupplements from the following retailer:
Experience
After the first 15 minutes, I felt mild beta-alanine paresthesia crossing over my head. The feeling seemed to disappear over the next 20 minutes, while the energy and focus increased. Once I began my workout, I felt improved stamina and endurance with each rep.
The pump was good, similar to the pandemic pre-workout by Panda. Vascularity occurred intermittently. At the time of review, it was summer and dehydration might have played a role. I enjoyed a good pump feeling, aided by the improved endurance.
Everything seemed to dial down after 1.5-2 hours, depending on what I was training. No crash and the nootropic effects seemed to linger into the 3-hour mark. This was a very enjoyable pre-workout I could recommend for everyday use when training, although the caffeine content is at 400 mg.
Side Effects
I didn't experience any negative effects while using this product.
Flavor
Bloody Peach Gummy was the flavor I was sent for review, which was very delicious. The flavor was about a 9/10 regarding the desirability, starting very sweet and finishing with a slight taste of lion's mane. It had a juicy taste, similar to a fuzzy navel-flavored soda. The suggested amount of water is 10-12 ounces of water, and I enjoyed it most, around 10 ounces of water to reduce sweetness.
Dose/Scoop Size
The serving size is 11 grams for a half serving and 22 grams for a full serving. The full serving amount comes to a slightly below-level scoop. I wouldn't recommend rounding a scoop because the l-citrulline is so well-dosed that heading to the restroom in the middle of training might become an issue.
With each serving of this pre-workout, I used one whole serving, as this is well-dosed for an everyday, driver pre-workout. We are given an excellent 20 servings, which is currently the market standard. The mixability did have sediment, and I had to swirl or stir toward the end of the cup.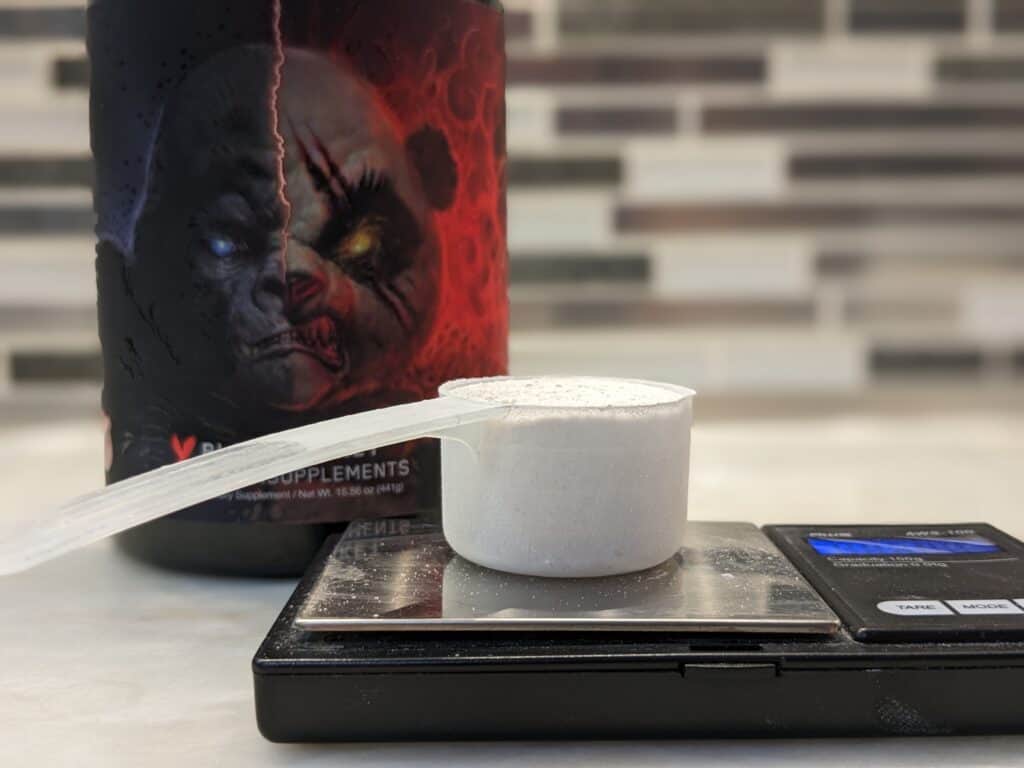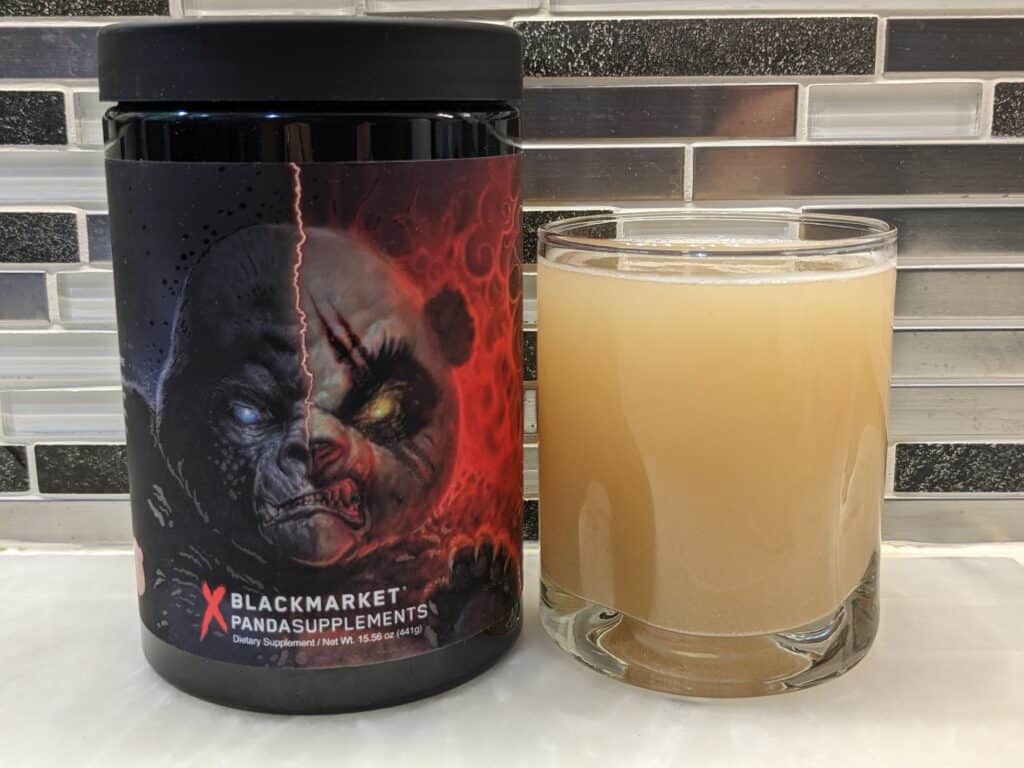 Ingredients
Anyone familiar with Panda Supplements will recognize this label, as it is mostly formulated with their pandemic pre-workout in mind with a little added focus.
Everything in this product is well-dosed and is formulated for a high stamina/endurance training style with a good mental focus. I typically prefer a more bioavailable form of choline bitartrate, but the many cognitive enhancers in addition to the alpha gpc makes that unnecessary.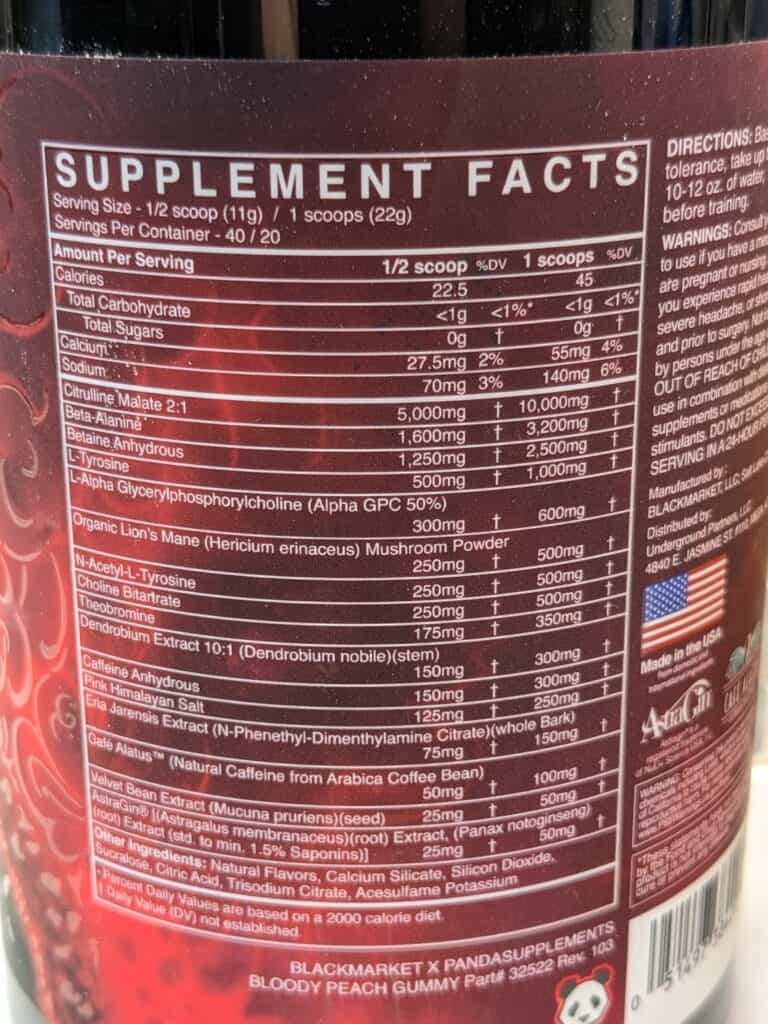 Citrulline Malate 2:1 – 10 g
L-citrulline is one of the most common pre-workout ingredients. Extensive evidence supports its ability to increase nitric oxide production, power output, pumps, blood flow, and endurance. It is typical for this ingredient to contain malic acid in malate, which has some benefits similar to beta-alanine. However, you want six to eight grams of pure l-citrulline for proper clinical dosage, and some products may list the malic acid as a separate ingredient.
Beta-Alanine – 3.2 g
Beta-alanine has been shown to support muscular endurance and act as a lactic acid buffer. Depending on the source of this ingredient, you may feel the paresthesias tingling effect. This feeling is often desirable in the sports community, as it makes you feel the intensity after ingestion. This may be negated by diet and intake of beta-alanine.
Beta-alanine requires regular intake to be effective, akin to creatine. Daily beta-alanine supplementation is recommended to become effective, with a three to five weeks loading period. Three to four grams is the recommended daily dosage for beta-alanine, putting panda x gorilla in the standard clinical dose range.
Betaine Anhydrous – 2.5 g
Betaine is included to help increase your power output. However, research needs to be more consistent around this claim. The typical range for betaine is between 1.5 g and 5 g, but generally, 2.5 g is on the high end for what is in the market.
L-Tyrosine – 1 g
L-Tyrosine boosts cognitive performance in stressful environments. Pre-workouts include it as a focus ingredient and help achieve anti-stress effects. The typical dosage range is 500 mg to 2,000 mg for exercise.
L-Alpha Glycerylphosphorylcholine (Alpha GPC 50%) – 600 mg
Alpha gpc is a cholinergic compound that is produced within the body. It is used for enhancing cognition and increasing power output. Based on several studies, alpha gpc dosages should be between 300 and 600 mg. At 600 mg, panda x gorilla hits the high dosage.
Organic Lion's Mane (Hericium Erinaceus) – 500 mg
Lion's Mane (yamabushitake) is a relatively new nootropic, with some research supporting anti-anxiety, cognition boosting, and general well-being effects.
According to Examine, there has only been a single human study involving lion's mane. The individuals orally consumed 1 gram three times a day. While that dosage appeared effective, it is unknown if this is optimal.
Panda x gorilla contains 500 mg of lion's mane, but there isn't enough research to determine if this is an effective dose. Additional research is needed to confirm lion's mane's benefits and optimal dosage.
N-Acetyl L-Tyrosine – 500 mg
While l-tyrosine is an excellent ingredient for enhancing focus and reducing stress, NALT (N-Acetyl-L-Tyrosine) is less bioavailable than pure l-tyrosine. Examine claims of "limited practical evidence on NALT as an alternative to l-tyrosine." The typical dose is between 500 mg and two grams.
Choline Bitartrate – 500 mg
Choline is a focus ingredient and chlorogenic source. Compared with alpha gpc, choline bitartrate may be less effective as a nootropic.
Dosages usually range between 500 and 2,000 mg, so the 500 mg included is about midway on the low end, but users may still experience the benefits of choline. Being that alpha gpc is included in this product, the synergistic effect of this ingredient will amplify each other.
Theobromine – 350 mg
Theobromine is a "caffeine light" stimulant ingredient found in chocolate, some tea plants, and the kola nut. Its name means "Food of the Gods." Greek "theo" means gods, and "broma" means food.
Some anecdotal evidence suggests that theobromine can affect mood elevation, focus, and stimulation.
Most doses range from 100 to 400 mg, leaving panda x gorilla on the high end.
Dendrobium Extract 10:1 (Dendrobium Nobile Stem) – 300 mg
Some claims have been that dendrobium extracts can contain phenylethylamines (PEAs), a stimulant with effects similar to amphetamines. So far, however, no reliable evidence indicates that PEAs occur naturally in dendrobium. To read more about this ingredient, visit the clinical studies located here.
Caffeine Anhydrous – 300 mg
Caffeine anhydrous is the standard form of caffeine, known for increasing energy, alertness, motivation, and mood. The caffeine content varies for each product. The 350-450 range is the typical dosage for sports supplements today.
Pink Himalayan Salt – 250 mg
Salt helps retain water, enabling you to achieve a swole look during your workout.
250 mg is a good dosage for this ingredient; however, it is diet dependent as not everyone will need higher amounts (for comparison, FSU Dyehard has 300 mg, and Hooligan Bare Knuckle has 250 mg).
It also contains essential electrolytes! More info can be found at Supplements in Review.
Eria Jarensis Extract (N-Phenethyl-Dimethylamine Citrate) – 150 mg
Eria jarensis is a stimulant frequently seen alongside DMHA in high-stim pre-workouts.
150 mg is a decent dosage for this ingredient but isn't currently in the high range on the market. The most eria jarensis I've ever seen in a pre-workout is 500 mg in Flame Pre Workout (which is fantastic).
Cafe Alatus™ (Natural Caffeine from Arabica Coffee Bean) – 100 mg
This natural caffeine source from arabica coffee beans is known for less of a comedown or crash for energy production. This brings the total caffeine to 400 mg in this pre-workout.
Velvet Bean Extract (Mucuna Pruriens) – 50 mg
Also known as velvet bean, mucuna pruriens extract is a traditional herbal supplement with minor dopamine-increasing and cortisol-reducing effects, among other things. One of its more reliable effects is a noticeable reduction in parkinson's disease symptoms, though that is irrelevant here.
AstraGin® (Panax Notoginseng) – 50 mg
Like Bioperine (a black pepper extract), AstraGin® increases the bioavailability of nutritional supplements. In other words, it helps your body absorb more of the ingredients in the product, which helps the effectiveness of the ingredients. As the serving size increases, so does the need for a digestion aid.
Panda vs. Gorilla Pre-workout Review
Summary
This pre-workout is only available for a limited time, although it is not the first time Panda Supplements has collaborated with another supplement company. I have purchased products from Panda, which is a great addition to their mini products. I recommend this product to anyone looking for more effective workouts with higher endurance and stamina. Coupled with focusing without distractions, this was a great experience.
Pros
Excellent endurance
Sustained stamina
No crash post-workout
Some Vascularity
Good pump
Great tasting flavor
Made in USA
Excellent clinical and efficient dosages
Everyday driver formulation