If you train in MMA, you'll definitely agree that combat sports are amongst the most rigorous activities out there – and they certainly can be tough on your body and energy levels!
Want to maximize your MMA training sessions by having more energy and mental focus to perform at your best?
For mixed martial arts specifically, a solid pre-workout supplement might be just what you need to go from a good MMA fighter to an elite MMA fighter.
So, how do you choose the best pre-workout for MMA?
Not all supplements are created equally, so it's essential that you pick the right one to help you achieve the results you desire.
In this guide, you'll find the top tried-and-tested pre-workouts on the market, how they can benefit you, and more tips for finding the best MMA supplements. (But if you're short on time – you can't go wrong with Assassin Lionheart by Apollon Nutrition!)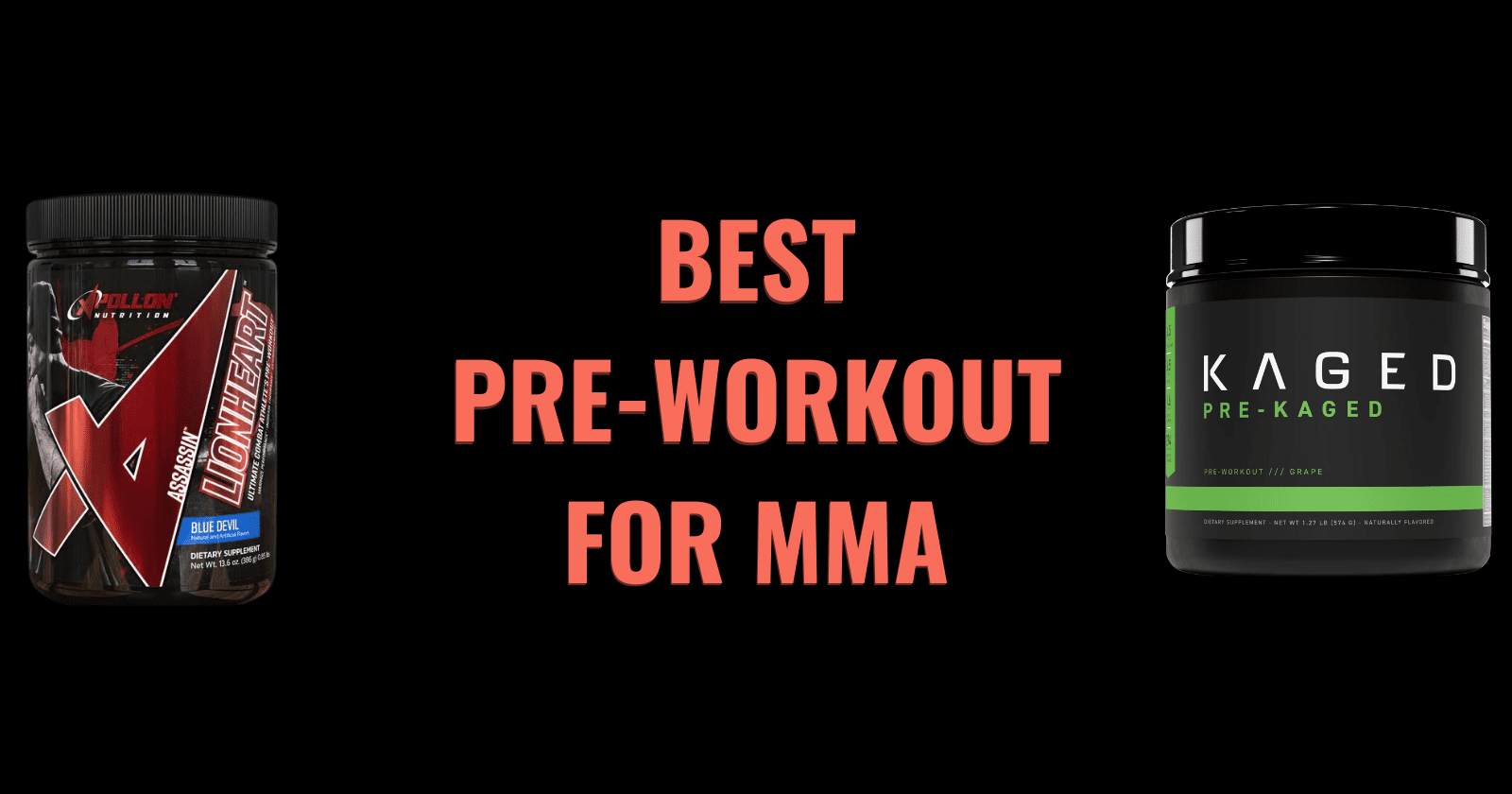 The Best Pre-Workout Supplements For MMA
Assassin Lionheart – Apollon Nutrition
Pre-Kaged – Kaged
Bomba EAA Intra-Workout
DVST8 Global – Inspired Nutraceutical
Formula XII – Huge Supplements
Assassin Lionheart – Apollon Nutrition
Lionheart, the "ultimate combat athlete's pre-workout", is hands down the best pre-workout for MMA (or any form of combat sports).
It's jam-packed with ingredients to maximize your performance, energy levels, endurance, focus, stamina, and oxygen uptake during training. Plus, it's fairly low-stim (so if you want to cycle off your high-stim supplements, this would be an awesome option.).
If you consider yourself a serious athlete, Lionheart is all you could want in a pre-workout and more!
Key Ingredients:
Beta-Alanine – 3200mg
Taurine – 2000mg
Tyrosine – 2000mg
Peak O2 – 2000mg
Betaine Nitrate – 2000mg
Betaine Anhydrous – 1250mg
Coconut Water – 1000mg
Alpha GPC – 600mg
Caffeine Anhydrous – 200mg
Theobromine – 200mg
ElavATP – 150mg
Di-Caffeine Malate – 100mg
CoffeeBerry – 100mg
Senactiv – 100mg
AstraGin – 50mg
Pre-Kaged – Kaged
If your goals are to boost your energy and endurance, increase your muscle pumps, heighten your mental focus, and reduce your muscle fatigue – Pre-Kaged does exactly that!
And it certainly deserved an honorable mention in this list.
Besides boasting premium, patented, and 3rd party tested ingredients, this supplement is vegan-friendly, non-GMO, gluten-free, contains no artificial sweeteners or colors, and it's Informed-Sport certified. (There are no cons to be found here!)
Key Ingredients:
L-Citrulline – 6.5g
L-Leucine – 4.75g
L-Isoleucine – 875mg
L-Valine – 875mg
BetaPower (Betaine Anhydrous) – 2.5g
CarnoSyn (Beta-Alanine) – 1.6g
Patented Creatine HCl – 1.5g
Coconut Water Powder – 500mg
SPECTRA Total ORAC Blend – 100mg
Taurine – 2g
N-Acetyl-L-Tyrosine – 1g
PurCaf Organic Caffeine – 274mg
Sodium – 50mg
Vitamin B12 – 500mcg
Vitamin B6 – 25mg
Niacin – 30mg
Bomba EAA Intra-Workout – ASC Supplements
Hunting for a pre-workout that won't give you the jitters or an energy crash after its effects have worn off?
If you're sensitive to stimulants, Bomba is the very best non-stim pre-workout for MMA fighters.
A single dose will provide you with 7g of BCAAs (branched-chain amino acids) and EAAs (essential amino acids), a much-needed hydration complex with electrolytes, adaptogens, and even antioxidants from 29 vegetables, fruits, and herbs!
This supplement's also great for taking in a fasted-state – it won't break your fast.
Key Ingredients:
L-Leucine – 3g
L-Isoleucine – 1.5g
L-Valine – 1.5g
L-Lysine – 300mg
L-Threonine – 300mg
L-Phenylalanine – 300mg
L-Tryptophan – 50mg
L-Histidine – 25mg
L-Methionine – 25mg
Taurine – 1g
Coconut Water Powder – 500mg
PeakO2 – 1g
Spectra Total ORAC Blend – 100mg
Absorption Matrix (AstraGin) – 25mg
Magnesium – 110mg
Sodium – 200mg
Potassium – 60mg
DVST8 Global – Inspired Nutraceutical
Not a fan of the tingling sensation that usually comes with taking a pre-workout?
No problem – DVST8 Global has got your back as the best pre-workout without beta-alanine!
What separates this from other MMA supplements?
It's the pioneer in using 3D Pump Breakthrough technology and NO-3T nitrates to boost vasodilation, nitric oxide production, strength, hydration, power, and recovery.
These top-class formulas are combined with Peak O2, CoLEAN, and adaptogenic mushrooms for the ultimate workout boost.
Plus, MMA fighters who compete can take it without a problem as it contains no WADA-banned substances.
Key Ingredients:
Choline – 200mg
3D Pump Breakthrough (L-Citrulline, Glycerol, Amla) – 3g
Betaine Nitrate – 1g
PeakO2 – 500mg
Betaine Anhydrous – 500mg
L-Tyrosine – 500mg
CoLEAN (Alpha GPC) – 500mg
Caffeine Anhydrous – 162.5mg
SYNapsis – 66mg
Methylliberine – 62.5mg
Theobromine – 25mg
Formula XII – Huge Supplements
And thelast one on our list isFormula XII – the best pre-workout that also doubles as a pre-workout meal replacement.
This supplement formula is carb-based to assist with replenishing your glycogen stores as you burn energy – making sure your body gets absolutely all the nutrients it requires to optimize your training.
Besides providing you with maximum energy and power, Formula XII can accelerate muscle growth and muscle recovery after intense exercise.
Not to mention, the Candy Apple flavor will have you hooked!
Key Ingredients:
Cluster Dextrin – 10g
Creatine Monohydrate – 5g
Organic ModCarb – 5g
Beta-Alanine – 3.2g
Betaine Anhydrous – 3g
L-Ornithine HCL – 2g
D-Ribose – 1g
Potassium Citrate – 150mg
Grape Seed Extract – 125mg
Alpha Lipoic Acid – 100mg
Magnesium Citrate – 40mg
Bioperine – 5mg
What to Look for When Buying a Pre-Workout Supplement for MMA
Fully Disclosed Ingredient Label
It's essential that the pre-workout supplement you choose has a fully disclosed formula. (Bonus points if the company has a non-proprietary blend policy in place!)
What does that mean?
Supplement companies need to be fully transparent about the ingredients used in their products and the exact doses of each one.
Brands that use quality, safe ingredients in their supplements won't have a reason to hide anything (like underdosed or harmful ingredients) in a vague "special proprietary blend".
If the label has an FDA or GMP (Good Manufacturing Practice) certification, you can trust the quality and safety of the ingredients listed on the bottle.
Decide How Much Caffeine You Want
Most pre-workouts contain caffeine – and a lot of it.
The caffeine content typically ranges from 150 to 300 mg per serving, which may not mean anything to you, but to give you more of an idea, it's roughly equivalent to three cups of coffee.
If you're someone who gets the jitters after a strong cup of joe (low caffeine tolerance), you might want to look for a pre-workout supplement that's stimulant-free or take a smaller amount.
Ingredients That Can Improve Performance In A Fight
The following ingredients are proven to be excellent for improving performance in combat sports:
Caffeine – for boosting energy levels, improving focus, and bettering performance.
Beta-alanine – for increasing capacity for high-intensity exercises, reducing muscle fatigue, and enhancing recovery.
Creatine – for increasing strength, boosting energy and building lean muscle mass.
Amino acids (branched-chain amino acids) – for promoting muscle growth, encouraging muscle recovery, and increasing lean muscle mass.
Peak02 – for training harder for longer and enhancing mental performance.
ElevATP – for improving body composition and supporting muscle strength.
L-Citrulline – for accelerating post-workout recovery and boosting performance.
Dextrose or ModCarb – for elevating blood sugar levels (especially good for days when you can't have a pre-training meal with carbs).
Electrolytes (magnesium, potassium, sodium) – for keeping you hydrated for optimal performance.
Recommendations From Training Partners
Do you train with other MMA fighters who use a pre-workout supplement?
If so, they'll be sure to give you some honest recommendations based on what works for them when it comes to martial arts training.
However, it's still important to do your own research before deciding on the right supplement for you.
Go With A Brand You Trust
A trustworthy, legit dietary supplement brand should have the following:
Online reviews (preferably across multiple platforms)
An official company website with contact details (contact number and email address)
The product is available at multiple retailers
It's recommended by experts and professionals in the industry
What Are The Benefits of Pre-Workout For MMA Fighters?
Increased Energy
A good pre-workout will not only give you an intense boost of energy at the start of your training, but it will also provide you with the fuel you need to sustain yourself through your workout and even afterward.
Higher energy levels mean you can train harder, push further, and maintain optimal performance levels for longer – which is especially important for combat athletes.
Enhanced Endurance/Stamina
Besides having adequate energy, your body requires certain nutrients, vitamins, and minerals to be capable of training harder for longer.
Certain ingredients commonly added to pre-workouts are highly beneficial in increasing exercise endurance.
For example, creatine helps to produce ATP, a chemical that generates muscle energy. Nitrate assists with sending more nutrients and essential amino acids to your muscles – resulting in enhanced strength.
Other common performance-enhancing ingredients added to pre-workouts are caffeine, B vitamins, BCAAs (branched-chain amino acids), and beta-alanine.
Better Focus and Mental Clarity
Besides the physical aspects of contact sports, mixed martial arts fighters also need to have intense focus and mental clarity to be successful.
Why?
If you're not in the right headspace, it can feel impossible to make it through to the end of a challenging training session.
Mental clarity is also key to maintaining proper form (thus preventing potential injuries).
FAQs About Pre-Workout Supplements
Should you take pre-workout on an empty stomach?
Some people prefer to take their pre-workout on an empty stomach as it enters the bloodstream quicker that way. (It doesn't get slowed down by food in the gut.)
However, having a small snack a few hours before you take the supplement will ensure that your energy and blood sugar levels are elevated so you can train even harder!
If you have a low tolerance to stimulants or suffer from GI issues, you should avoid taking pre-workout in a fasted state.
Is it okay to take pre-workout every day?
While it is safe to take pre-workout daily, it's in your best interest to cycle your supplement.
Why?
After taking pre-workout on a regular basis, your body will develop a tolerance to the effects of the stimulants. This means they won't be as effective as they were initially.
Every six to eight weeks, you should take a break to give your body a chance to reset.
Pro tip: A stimulant-free pre-workout is excellent for taking every day or for those days you're taking a break from your regular pre-workout.
How long does pre-workout take to kick in?
If you want to perform your best from the very start of your workout, the ideal time to take your pre-workout is about 30 minutes to an hour before you begin training.
You'll have to experiment to find your sweet spot because everyone is different. It all depends on how long it takes to enter your bloodstream.
Conclusion
All the products listed above are by far the superior pre-workout supplements for MMA on the market right now. Each one guarantees monster energy, insane performance, crazy power, intense focus, and everything else you could wish for in the perfect pre-workout.
But, if we had to pick just one from this awesome list…
Assassin Lionheart by Apollon Nutrition wins the fight!
Followed closely by:
DVST8 Global – Inspired Nutraceutical (the best pre-workout without beta-alanine).
Bomba EAA Intra-Workout (the best non-stim pre-workout for MMA).
The best one for you will depend entirely on your needs, goals, and preferences!
Every supplement mentioned in this guide ticks all the boxes of the ideal pre-workout supplement for maximum performance:
Fully disclosed ingredient label.
Third-party tested.
Effective premium ingredients in sufficient doses.
Brand reliability and countless excellent reviews.
Ready to UP YOUR GAME? The products on this list are sure to take your MMA training to the next level!