Defiant Unleashed Limited Edition by Muscleforce is the harder-hitting, high-stimulant version of their Nootropic focused pre-workout. The "limited edition" version is seasonal, available around Halloween, Christmas, and the 4th of July.
Thank you, Supps Central, for providing this product for my review! I would recommend this product to anyone looking for a head buzzing DMHA pre-workout with Nootropic effects to give you an amazingly intense workout!
If you haven't had Defiant Unleashed before, I recommend this product. Additionally, if you're looking for the more potent version of the series, definitely try this product!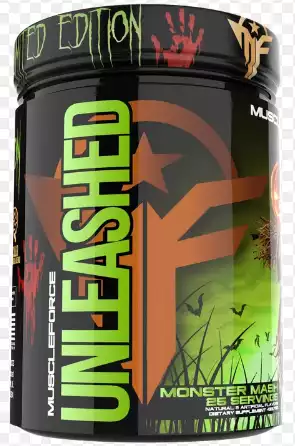 Defiant Unleashed Limited Edition Pre-Workout - Muscle Force
Defiant Unleashed is a head buzzing DMHA pre-workout with Nootropic effects to give you an amazingly intense workout.
Discount Code:
LIFTVAULT15 = 15% OFF
Citrulline Malate 2:1: 8000 mg
Beta-Alanine: 3500 mg
Lions Mane: 500 mg
Caffeine Anhydrous: 450 mg
Beta Phenylethlamine: 200 mg
Shop Supps Central
Lift Vault earns a commission if you click this link and make a purchase at no extra cost to you.
Where to Buy Defiant Unleashed Pre-Workout
Experience
The first 10 minutes after ingestion, I felt some energy begin to develop and at the 15-minute mark, the Beta-Alanine started to take effect. Fortunately, I have reviewed plenty of pre-workouts containing Beta-Alanine, which means my saturation levels are well up there around 80% of the time. Your saturation levels can affect the intensity of the tingles you will feel, which can be good or bad. I personally love the tingles as they get me more amped up to hit the gym. I could feel the tingles move over my brow line and to the crown of my head, down my neck, and flowing into my back.
In the following 30 minutes, I felt the focus dialing in. It escalated up all the way to the 1-hour mark, which speaks to how much focus it produced. I felt enough effects to start working out sooner than the hour mark, but the head buzz wasn't as good until about 1 hour. It took about 1 hour to peak, but it wasn't negative having to wait if you wanted that strong intensity. Once the head buzz kicked in, it was game on! I felt a head buzz that rivaled my best experiences, as it was a 9.5/10 at the peak!
Each time using this product, I felt almost euphoricI still felt I was missing something, which could be due to the L-Theanine compared to Yayo. I don't think having a complete euphoria is necessary, nor is it highly productive overall, but it is something I want once in a while to break up my routine. The pump was decent, and I did not experience any skin bursting sensation that would have prevented the next rep. In fact, the intensity probably made the pump more effective than the ingredients for this product alone.
I enjoyed the intensity so much of this product, as it would drive me to push further into the workout, with a mind-clearing focus that didn't distract from the workout but instead drove it. I had some of my best workouts for the year while using this product! Amazing focus, mind-clearing! The intensity improved breathing and endurance and eliminated random thoughts and anxiety.
Side Effects
I experienced no side effects while using this product. However, this product is intense, and long-lasting energy with focus should be expected. Even though the L-Theanine is at a higher dosage, I didn't feel it negated the effects of stimulation.
Flavor
Muscleforce Unleashed has several different flavors and seasonal options to choose from. I have kept my eye on this product for some time, but Sour Christmas Candy's flavor sounds delicious! The flavor I received is Monster Mash, which is difficult to describe in terms of taste. It is enjoyable, sour, and similar to a Halloween punch. I enjoyed drinking this flavor and found the suggested 9-10 ounces of water to be perfect including for mixability. I haven't had the pleasure of tasting the various versions other than Yayo. Still, in terms of taste, they responded similarly, where the formula of these special editions is enhanced formulas where the taste may be affected.
Dose/Scoop Size
Unleashed Monster Mash comes in at 17.4 g per whole serving, which is a pretty heaping rounded scoop. This is my favorite sized scoop, as it helps prevent overdosing on the product. I still recommend taking an mg scale to measure this product and others with high stimulants, such as Unleashed. I started reviewing with just a ½ serving and then the following times with a whole serving. I used this product after taking a week off stimulants, taking this 3 days apart several times, and twice consecutive days in a row for experimental reasons. I suggest keeping strong products like this one for use once a week or two.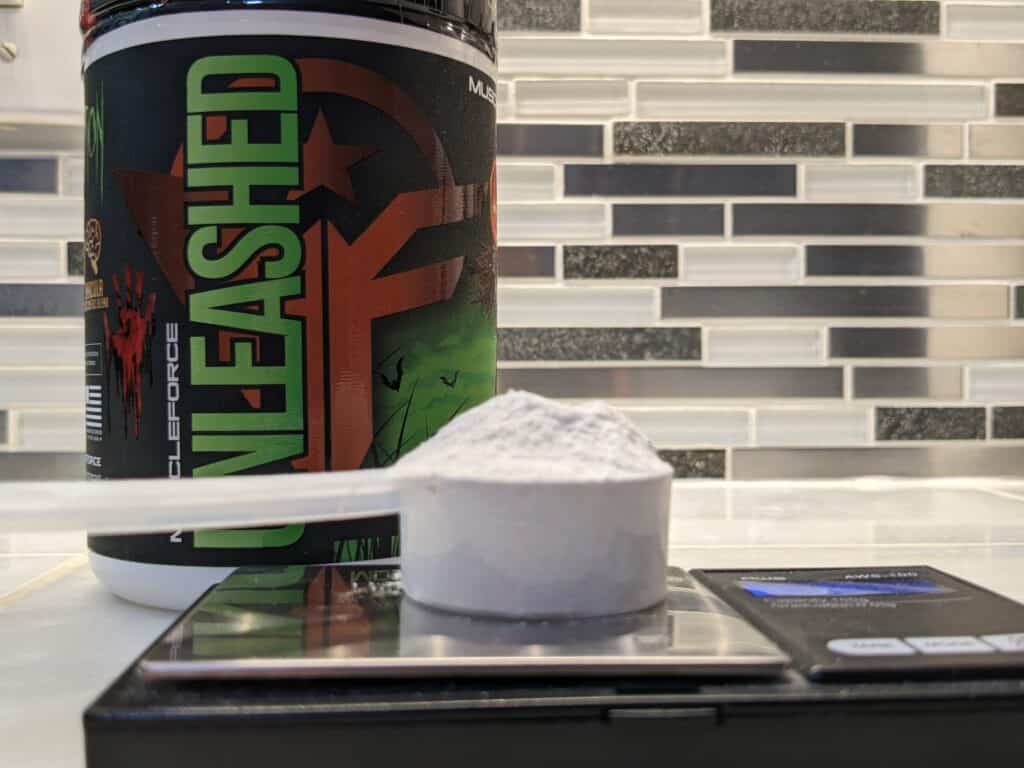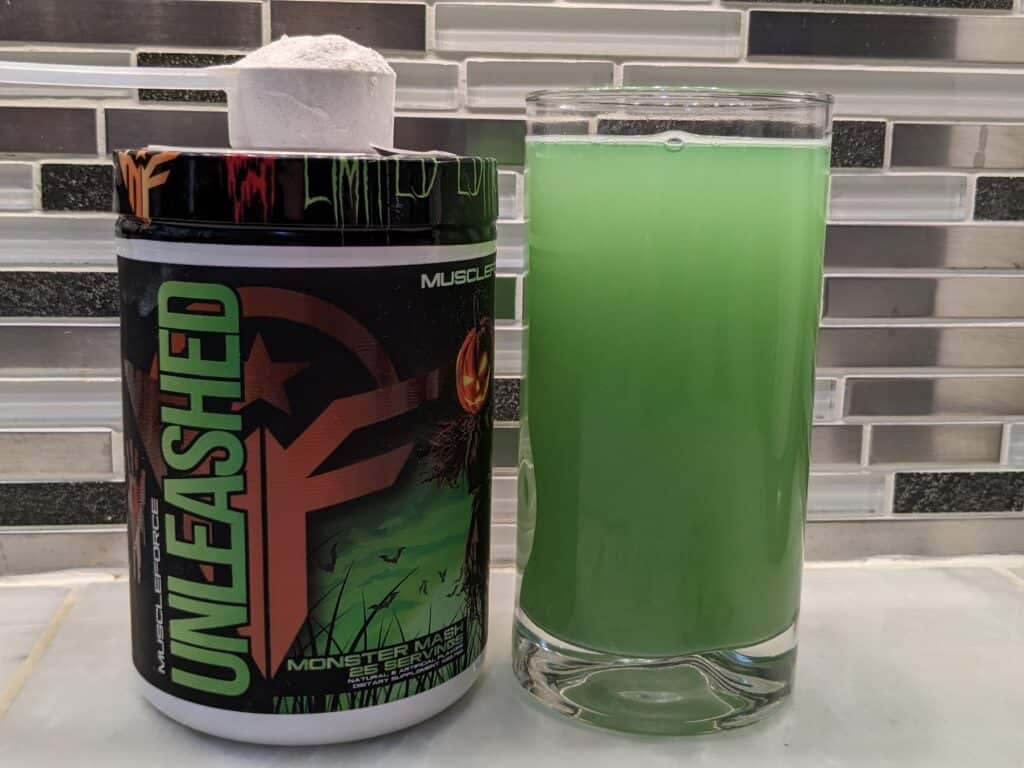 Ingredients
This limited edition version, which includes the Halloween and Christmas editions plus others, has a limited formulation making it a more potent pre-workout. Compared to the Yayo I recently reviewed, Unleashed has 50 mg less DMHA and the addition of L-Theanine. While I have had negative experiences with L-Theanine in pre-workout in the past, this product, as described above, was used without any issues. It must be that the DMHA, Noopept, with Eria dosage contained, is well formulated to work synergistically. A few dosages are dosed a little low on paper; however, as read above, they are very effectively dosed. I love how well-formulated and balanced Muscleforce has done on this limited edition, but I wish they would allow this formulation to exist year-round!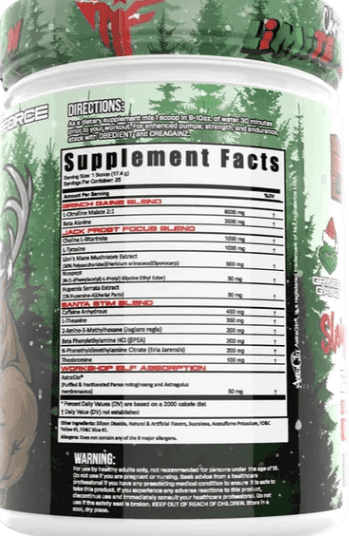 L-Citrulline Malate 2:1 – 8 g
L-Citrulline Malate is one of the most common pre-workout ingredients. Extensive evidence supports its ability to increase nitric oxide production, power output, pumps, blood flow, and endurance.
The standard ratio is 2:1 malate acid. The clinically studied dosage would be 6-8 grams of L-Citrulline Malate in a 2:1 ratio, providing nearly 4-6 grams of L-Citrulline, which meets the high-end range of this product.
Beta-Alanine – 3.5 g
Beta-Alanine supports muscular endurance and acts as a lactic acid buffer.
However, beta-alanine requires regular intake to be effective, akin to creatine. Daily beta-alanine supplementation is recommended to become effective, with a loading period of three to five weeks.
3 to 4 grams is the recommended daily dosage for beta-alanine, putting Unleashed in the standard clinically dosed range.
Choline L-Bitartrate – 1 g
Choline is a focus ingredient and chlorogenic source. Compared with Alpha GPC, choline bitartrate may not be as effective as a nootropic.
Doses usually range between 500 mg and 2,000 mg, so the 1,000 mg included is midrange but will be enough to experience the benefits of choline. However, this is an excellent dosage since the bioavailability is less than that of Alpha GPC or CDP.
L-Tyrosine – 1 g
L-Tyrosine boosts cognitive performance in stressful environments. It is included in pre-workouts as a focus ingredient.
1,000 mg is a suitable dosage of L-Tyrosine that should also help achieve its anti-stress effects. It is in the middle of the typical dosage range (500 mg to 2,000 mg) for exercise.
Lion's Mane – 500 mg
Lion's Mane (yamabushitake) is a relatively new nootropic, with some research supporting anti-anxiety, cognition boosting, and general well-being effects.
According to Examine, there has only been a single human study involving Lion's Mane. The individuals orally consumed 1 gram three times a day. While that dosage appeared effective, it is unknown if this is optimal.
Unleashed contains 500 mg of lion's mane, but there isn't enough research to determine if this is an effective dose. Additional research is needed to confirm Lion's Mane's benefits and optimal dosage.
Noopept – 30 mg
Noopept, known as N-Phenylacetyl-L-prolyglycine ethyl ester, is a synthetic nootropic ingredient with cognitive boosting and psychostimulatory effects. 30 mg is a substantial dose of noopept and is at the top of the effective range.
Huperzia Serrata Extract (1% Huperzine-A) – 30 mg
Huperzine A is cholinergic and acts as a cognitive enhancer. As an acetylcholinesterase inhibitor, it helps lengthen the half-life of cholinergic sources (Examine).
Depending on the extract percentage, it tends to be taken in doses of 50 mcg to 200 mcg. Unleashed contains 30 mg of huperzia serrata, standardized to 1% huperzine A, which yields 300 mcg making it a highly effective dose.
Caffeine Anhydrous – 450 mg
Caffeine anhydrous is the standard form of caffeine, known for increasing energy, alertness, motivation, and mood. The caffeine content varies for each product. The 350-450 range is the typical dosage for sports supplements on the market today.
L-Theanine – 350 mg
Taken from Healthline, in a review of five randomized controlled trials that included 104 participants, four trials linked L-theanine with reduced stress and anxiety in people experiencing stressful situations (ScienceDirect). This is the high end of the recommended 300-500 mg range, which is great to have in a sleep aid and is often included in high stimulant pre-workouts to nullify the side effects.
2-Amino-5-Methylhexane (Juglans Regia Extract) – 200 mg
DMHA is a stimulant similar to DMAA, which boosts energy, focus, and mood. It comes in many forms, including Juglans Regia Extract, English Walnut Extract, 2-aminoisoheptane, kigelia africana, Octodrine, 2-Amino-5-Methylhexane, 2-amino-6-methylheptane, 6-Amino-2-methylheptane, 2-Isooctyl amine, 2-Heptylamine, 6-methyl-, 2-Metil-6-amino-eptano, Amidrine, Vaporpac, 1,5-DMHA, and 1,5-Dimethylhexylamine. Read about the comparison of DMAA vs DMHA here.
200 mg is above the standard dose as it does vary based on sourcing, but 200 or more is a potent dosage of this ingredient. However, just because it says something on the label doesn't necessarily mean you'll "feel" it.
DMHA is quite similar to DMAA regarding effects, yet it requires a larger dosage. This made it a popular pre-workout ingredient for replacing DMAA, giving rise to the popularity of DMHA pre-workout supplements.
Phenylethylamine HCl – 200 mg
B-Phenylethylamine (Beta PEA) is a neurotransmitter that inhibits uptake and efflux (i.e., removal) of dopamine, norepinephrine, and serotonin levels (2008 study). It is included in Unleashed to increase focus and motivation.
This ingredient needs additional research to be better understood. 200 mg is a low dose. It is important to note that WADA bans it.
Eria Jarensis (N-Phenethyl Dimethylamine) – 200 mg
Eria Jarensis is a stimulant frequently seen alongside DMHA in high-stim pre-workouts.
200 mg is a suitable dosage for this ingredient but isn't the highest on the market currently. The most eria jarensis I've ever seen in a pre-workout is 500 mg in Flame Pre Workout (which is fantastic).
Theobromine – 100 mg
Theobromine is a "caffeine light" stimulant ingredient found in chocolate, some tea plants, and the Kola Nut. Its name means "Food of the Gods." Greek "theo" means gods, and "broma" means food.
Some anecdotal evidence suggests that Theobromine can affect mood elevation, focus, and stimulation.
Most doses range from 100 to 400 mg, leaving Unleashed on the low end.
AstraGin – 50 mg
Like Bioperine (a black pepper extract), AstraGin helps absorb nutrients. 50 mg is the standard dosage for this ingredient.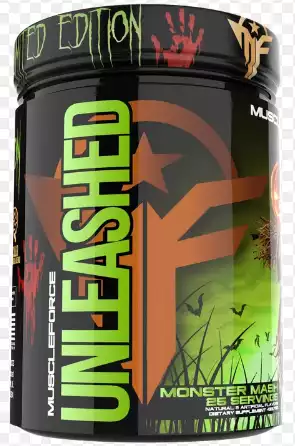 Defiant Unleashed Limited Edition Pre-Workout - Muscle Force
Defiant Unleashed is a head buzzing DMHA pre-workout with Nootropic effects to give you an amazingly intense workout.
Discount Code:
LIFTVAULT15 = 15% OFF
Citrulline Malate 2:1: 8000 mg
Beta-Alanine: 3500 mg
Lions Mane: 500 mg
Caffeine Anhydrous: 450 mg
Beta Phenylethlamine: 200 mg
Shop Supps Central
Lift Vault earns a commission if you click this link and make a purchase at no extra cost to you.
Defiant Unleashed Pre-Workout Review (Muscle Force)
Summary
I enjoyed reviewing this product, as it gave me amazingly intense focus, excellent energy, and excellent workouts! I recommend this product for anyone looking to break up their routine with a high stimulant product without the negatives. This is a powerhouse of a pre-workout that is also great for those stim junkies. 
Pros
Great energy

Intense head buzz

Nootropic high

Mind clearing

Improved breathing 

Excellent intensity 

Stim sweats

Long-lasting energy 

No energy crash
Cons
Lacking pumps

Contains L-Theanine