Blackstone Labs is a brand that came out many years ago and was known for hardcore supplements. After I reviewed this product, I'm glad to see that it is still the same high-quality and potency I remember.
This product features many well-known ingredients for fat metabolism and high stimulants to suppress your appetite and provide long-lasting energy. This is a potent product I cannot recommend for beginners. My recommendation for this fat burner is for those who are not sensitive to yohimbine and stimulant junkies who are looking for the extra 5% help in shedding a few pounds.
Thank you, Supps Central, for sending this full product for review!
Most Effective for Weight Loss!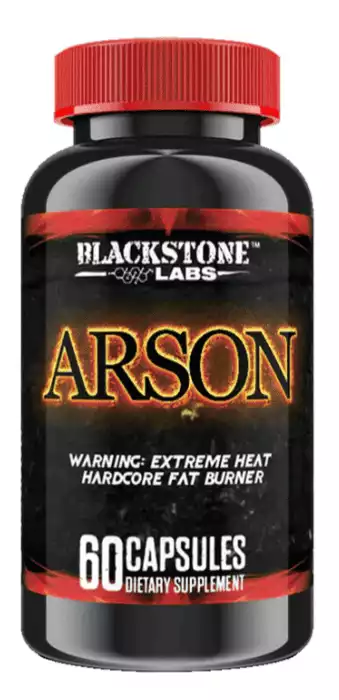 Blackstone Labs ARSON
Potent but effective for fat-loss and appetite suppression. It uses a proprietary ingredient blend, so the exact amount of ingredients is unknown.
Discount Code:
LIFTVAULT15 = 15% off when purchased from Supps Central
Eria Jarensis: unknown
Caffeine Anhydrous: unknown
DMHA: unknown
Green Tea Extract: unknown
Shop Supps Central
Lift Vault earns a commission if you click this link and make a purchase at no extra cost to you.
Where to Buy Arson by Blackstone Labs
You can buy Arson by Blackstone Labs from the following retailer:
Experience
After 20 minutes, I started to feel a small amount of energy, with a slight improvement in breathing. The energy sneaks up slowly until 40 minutes and then drastically comes in strong. Mind-clearing focus with a nootropic head high and high energy dials in at a level of 8/10. This energy level continues for four hours, with a 6/10 on appetite suppression.
After the first hour, the thermogenic effects come on strong with sensations around my shoulders reminescent of niacin. My lips tingled in a similar way an hour after consumption. The heat provided intense sweating that intensified during cardio and training. Tingles were more noticeable at work with decreased activity, versus sweating when high activity occurred. I had no jittery feelings from the yohimbine, which is a plus since I took this consistently at work.
The focus increased about 1.5 hours later, encapsulating my entire head. I felt the most enjoyable effect for any pill-based, fat burner product I tested this year. Since it was during the summer, I was in a cutting phase and falling into a more ketogenic diet. My weight-loss increased, with a noticeable 4 lbs of mostly fat loss.
I highly recommend this product for those looking for a thermogenic fat burner that will suppress your appetite and provide increased energy levels to help maintain the calorie deficit. I enjoyed the focus and nootropic head high that came with it as well. While maintaining a baseline, the weight-loss was noticeable.
Side Effects
This is a hardcore, fat-burner pill; if you try to abuse or overuse it, you will experience issues.
Dose/Serving Size
The serving size is one capsule, and the two proprietary blends contain 601 mg of active ingredients. I weigh my pills for the review to verify consistency, results, and dosages. Melt capsule weights varied between 590-700 mg, which is more densely packed than most capsule products.
However, your experience can vary greatly with a 100 mg deviation over or under, and may affect the results you seek. It is common for capsules to be within 10% of their targeted dosage. Melt contains some heavy-hitter ingredients, so I suggest weighing your capsules.
I always took one capsule each time, as I felt the effects were plenty potent at this serving, and I could evaluate it effectively. It can be added to a non-stimulant stack or low-dose pre-workout, or help increase effectiveness of a lagging product.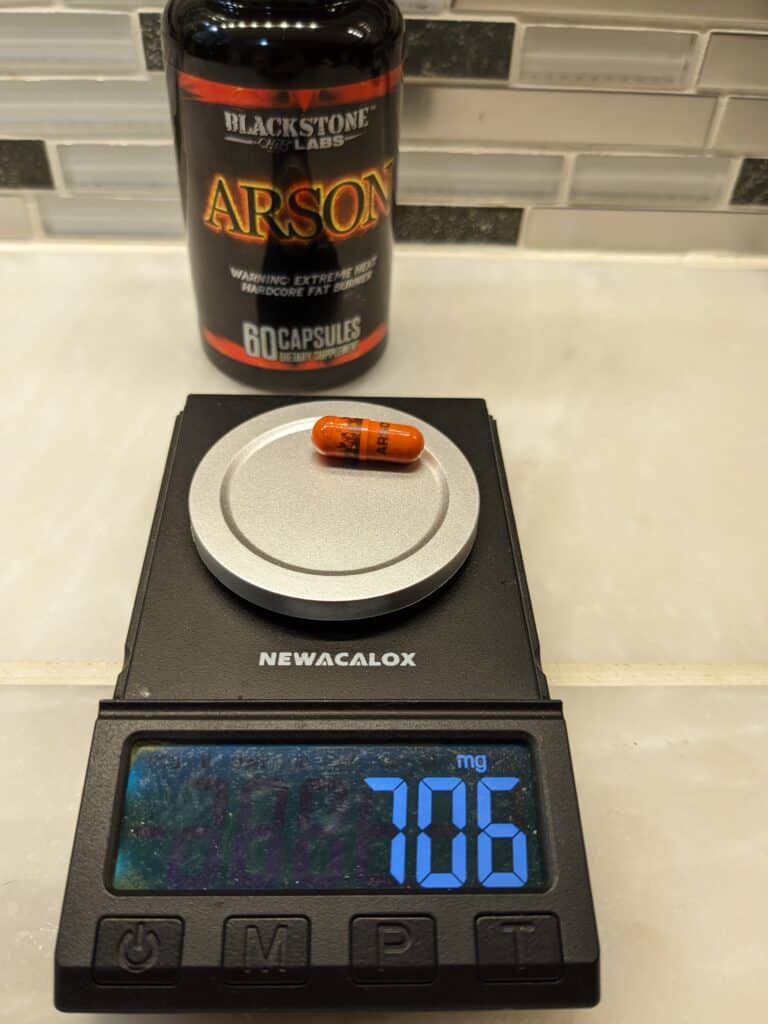 Ingredients
They start by saying the two proprietary blends do not disclose any of the dosages, not even the caffeine or the yohimbine. None of these dosages will be clinical, as this is a one-pill and not a very large one. This is an extremely potent fat burner, and I don't think the clinical efficacy of these ingredients matters much for this product. There are many well-known, fat-burning ingredients in this label, mostly stimulants to help with mood and appetite suppression. My only recommendation is to fully disclose the label and use a two-capsule formula to maximize efficiency and dosing for all users. As you have read above, this is very strong and not recommended for everyone.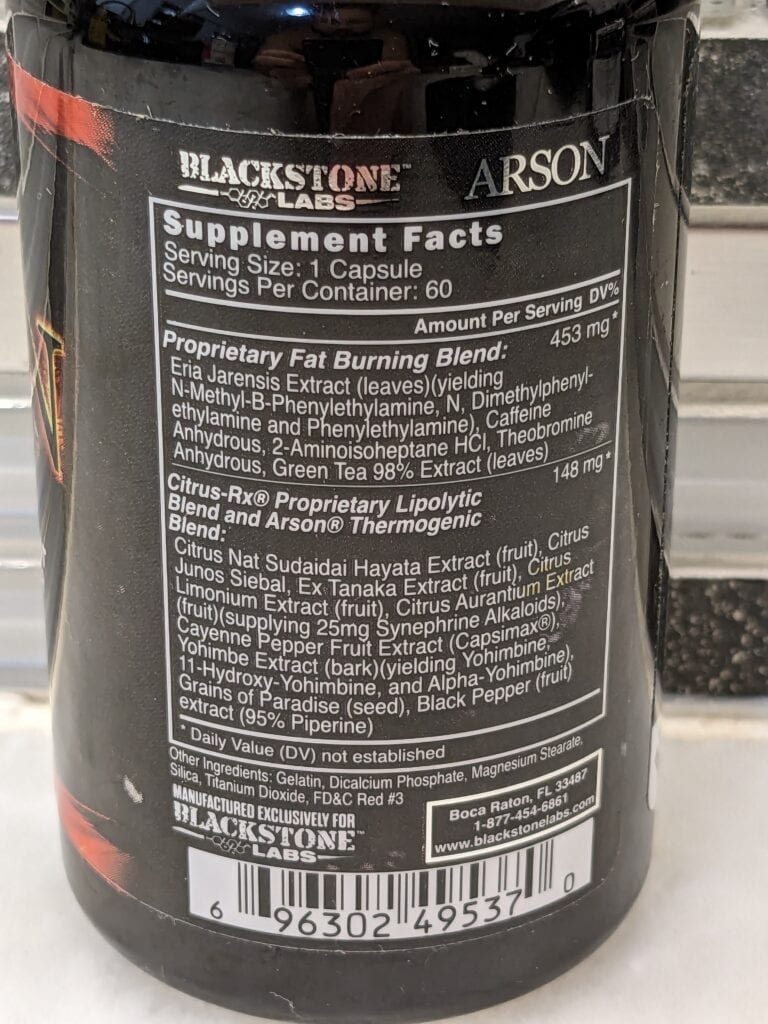 Eria Jarensis Extract
(yielding N-Methyl-B-Phenylethylamine, N, Dimethylphenyl-ethylamine, and Phenylethylamine).
Eria jarensis is a stimulant frequently seen alongside DMHA in high-stim pre-workouts.
200 mg is a medium dosage for this ingredient, but it isn't the current highest on the market. The most eria jarensis I've ever seen in a pre-workout or fat burner is 500 mg in Flame Pre Workout (which is fantastic). When combined with other stimulants, it may be warranted to have less instead of more.
Caffeine Anhydrous
Caffeine anhydrous is the standard form of caffeine, known for increasing energy, alertness, motivation, and mood. The caffeine content varies for each product. The 350-450 range is the typical dosage for sports supplements, and some products may contain other forms, such as di-caffeine malate or citrate.
Less is more, as your dependency will lead to diminishing returns as you increase your intake. The overall combinations of many factors, such as sleep, when you take caffeine, diet, and nutrition, affect how much you will need. Don't let the dosage confuse you on how strong a product is, along with other caffeine forms, but look for other stimulants like the DMHA and others found in arson.
2-Aminoisoheptane HCl
This is DMHA, a stimulant similar to DMAA, which boosts energy, focus, and mood. DMHA shares similar effects as DMAA but requires a larger dosage. This made it a popular pre-workout ingredient for replacing DMAA in DMHA pre-workout supplements.
It comes in many different forms: juglans regia extract, English walnut extract, 2-aminoisoheptane, kigelia africana, octodrine, 2-amino-5-methylhexane, 2-amino-6-methylheptane, 6-amino-2-methylheptane, 2-isooctyl amine, 2-heptylamine, 6-methyl-, 2-metil-6-amino-eptano, amidrine, vaporpac, 1,5-DMHA, and 1,5-dimethylhexylamine. Read about the comparison of DMAA vs. DMHA here.
The dosage found in arson is unknown, but the industry standard is around 150-250 mg. However, just because it says something on the label doesn't necessarily mean you will always "feel" it due to different sourcing purities or counteracting ingredients. This is a potent source contained, so tread lightly if you are not used to hardcore supplements like this.
Theobromine
Theobromine is a "caffeine light" stimulant ingredient found in chocolate, some tea plants, and the kola nut. Its name means "Food of the Gods." Greek "theo" means gods, and "broma" means food.
Some anecdotal evidence suggests that theobromine can affect mood elevation, focus, and stimulation. Most doses range from 100 to 400 mg, leaving arson on the low end.
Green Tea Extract (98%)
GCG (epigallocatechin gallate) is a plant-based compound called catechin. Catechins are natural phenols and antioxidants with a wide array of effects. Familiar sources include white tea extract and green tea extract. It's often simply referred to as green tea extract.
EGCG acts as a fat burner by inhibiting catechol-0-methyltransferase (COMT), an enzyme that degrades catecholamines. By inhibiting COMT, catecholamine levels elevate. Catecholamines help break down fat stores. By inhibiting COMT, EGCG allows catecholamines to do their thing for extended periods, leading to increased levels of fat removal. Depending on the quality and extract, less of this compound may be contained in green tea extract.
In terms of dosage, most people should aim for 400 to 500 mg of green tea extract per day. This is more of a bonus ingredient, whereas most fat burners would add this for fat loss. It also provides some energy, which the fat-burning effect would be underdosed here.
Citrus Nat Sudaidai Hayata Extract, Citrus Junos Siebal, Ex Tanaka Extract
Citrus flavonoids scavenge free radicals from NCBI, improve glucose tolerance and insulin sensitivity, modulate lipid metabolism and adipocyte differentiation, suppress inflammation and apoptosis, and improve endothelial dysfunction.
Although citrus flavonoids possess multiple beneficial effects, their mechanisms of action are not entirely established.
Citrus Limonium Extract
Limon extract is used in our application here for astringent, appetite suppression effects, and possible fat metabolism. More information can be found here. Not much information was found. See above on citrus.
Citrus Aurantium Extract (25% Synephrine Alkaloids)
Synephrine is a well-researched ingredient shown to aid in weight loss. "In general, bitter orange extract alone (p-synephrine) or in combination with other herbal ingredients did not produce significant adverse events such as an increase in heart rate or blood pressure or alter electrocardiographic data, serum chemistry, blood cell counts, or urinalysis. p-Synephrine alone and in combination products were shown to increase resting metabolic rate and energy expenditure, and modest increases in weight loss were observed with bitter orange extract/p-synephrine-containing products when given for six to 12 weeks." Synephrine Meta-Analysis. The typical range for synephrine is 10-50mg, which is supported by evidence for fat-burning effects.
Cayenne Pepper Fruit Extract (Capsimax)
According to HealthLine, as cayenne pepper is a good source of capsaicin, it may help with athletic performance, pain relief, and reduced blood sugar levels.
"Research also suggests that capsaicin has anti-inflammatory and antioxidant properties. However, it's unclear whether the amounts of capsaicin consumed in normal servings of cayenne and other hot peppers have any meaningful benefits."
Yohimbe Extract (Yeilding yohimbe HCl, alpha yohimbine)
Yohimbe stimulant is a very popular ingredient in many supplements. It has a variety of uses and can serve as an appetite suppressant, fat burner, aphrodisiac, mood elevator, and performance and focus ingredient. Yohimbe is a tree native to central and western Africa, and the bark of the tree produces an alkaloid called yohimbine. Depending on the quality of the extract, it can be very potent, so dosing varies with different products or brands.
Grains of Paradise
Grains of Paradise has some up-and-coming research but still needs additional evidence to support its fat loss effects. Some exciting research shows it can activate brown adipose tissue, which can help increase a body's metabolism and lead to increased weight loss.
Different ingredient sources will use Grains of Paradise with varying percentages of 6-Paradol, the active ingredient in Grains of Paradise with metabolic effects. Clinical trials used 40 mg at 12.5% purity, so you should use that as a guide when seeing how much is present in any thermogenic fat burners.
Black Pepper Extract
Black pepper extract is an ingredient that increases the bioavailability of nutritional supplements. In other words, it helps your body absorb more of the ingredients in the product, which helps the effectiveness of the ingredients. As the serving size increases, so does the need for a digestion aid. Typically, you only find it dosed at 5 mg, but we are oddly given double the dosage, which can only be good.
Arson Fat Burner Review
Summary
Plenty of fat burners are on the market, energy pills, and now nootropic compounds. In the highly saturated category, I find Arson to be very effective in helping maintain a calorie deficit while increasing my energy to sustain weight loss. The proprietary blend is the only reason this didn't score perfectly, but based on effects alone, it would have. It is very potent and not for the faint of heart. My recommendation for this product is for those who are not sensitive to yohimbine, stimulant junkies, but not for beginners. If Blackstone Labs would use a two-capsule formula, I could recommend this fat burner for beginners.
Pros
Appetite suppression
Fat loss (4 lbs during review)
Increased energy
Highly effective thermogenic
Improved breathing
Head high (close to euphoric)
Elevated mood
Mind clearing focus
Nootropic head high
Effective cardio aid
Cons
 Measured capsule weights inconsistent