Are you ready for a little Roidrage? Let's be glad that this isn't Trenrage! Androgen Factory takes your workout to the limit with the intense stimulation of Ephedra, Geranium Extract, Eria Jarensis, and Yohimbine.
I recommend Roidrage for anyone looking for an aggressive pre-workout experience that dials in focus and takes the workout to a higher level. This is an excellent feeling pre-workout that pairs well with cardio as well, with thermogenic effects aiding in fat metabolism.
Thank you, Supps Central, for providing this product for my review.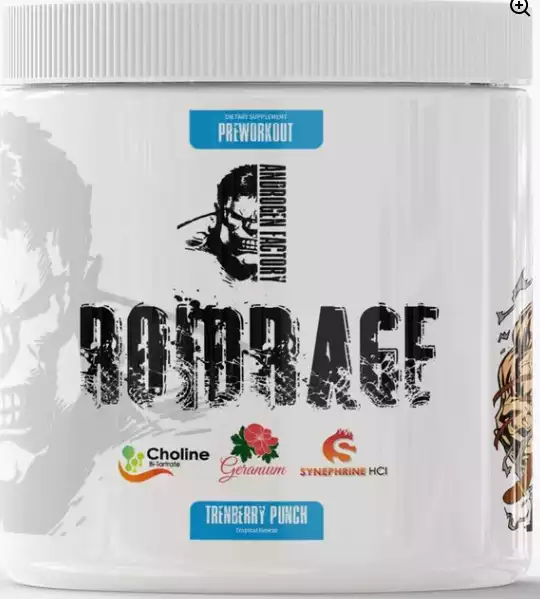 Roid Rage Pre Workout – Androgen Factory
Roid Rage is an intense stim pre-workout that delivers energy, focus and pumps.
Exact ingredient dosages are unknown because Roid Rage uses a proprietary blend.
Discount code:
LIFTVAULT15 = 15% off from Supps Central
Caffeine Anhydrous: unknown
Yohimbine: unknown
Huperzine: unknown
Ephedra Viridis: unknown
Shop Supps Central
Lift Vault earns a commission if you click this link and make a purchase at no extra cost to you.
Related:
Where to Buy Roidrage by Androgen Factory
Purchase Roidrage by Androgen Factory from the following retailers:
Experience
The first 25 minutes were less eventful than what occurred 25 minutes later. Initially, I could feel the energy start to develop, even before the paresthesia effects from the Beta Alanine. That feeling can vary from product to product due to the dosage, tolerance and sourcing. Across my brow line, I felt very well lit up as it began to overtake my scalp.
About this time, the focus was strong at 8.0/10 while it continued to build up. The energy was good for when I walked my dogs before doing some cardio at the gym. There was a slight increase in my baseline cardio heart rate, but nothing scary.
The motivation to hit the weights was strong due to the intense focus, very power-based but without the endurance from baseline. I felt driven, repping the weights and hitting higher numbers on various exercises. I didn't feel large amounts of yohimbine, but the ephedra was there with the increased adrenaline effects, minus anxiety.
There was a significant improvement in breathing throughout the experience, which aligns with my experience of running ECA (ephedra/caffeine/aspirin). I enjoy this feeling, especially with doing my cardio-based exercise.
Whilst hitting the weights aggressively, the thermogenesis was in full effect, sweating nicely during the gym but nothing noticeable after. Ephedra is a non-selective PDE5 inhibitor, which causes constriction of the vascular system leading to vascularity. The effect of this particular aspect was really good, as it helped lead to a good full pump that was more akin to a dry feeling. I enjoyed the whole experience of using this product, very good aggression with a great nootropic effect lasting many hours later.
Side Effects
There were no side effects that I experienced while using this product.
Flavor
Trenberry Punch is the flavor I received, which is one of two flavors, with the second being Methyl Punch. I liked this flavor because it had no bitterness or herbal quality. It starts off like a blue Hawaiian hurricane punch and finishes as a fruity punch. Eight to 10 ounces of water was great with the flavor, but your mileage may vary on how sweet you like it.
Dose/Scoop Size
We strongly recommend weighing this for accurate serving size, due to the intense ingredients with no serving sizes disclosed. Consider starting at a reduced serving size. I initially used this at a ½ serving, then transitioned to the whole 1 scoop serving at 9.12 grams. This came out to a slightly rounded, above-flat scoop, but depending on your humidity, it can be more compacted. Please make sure to shake this container before dosing.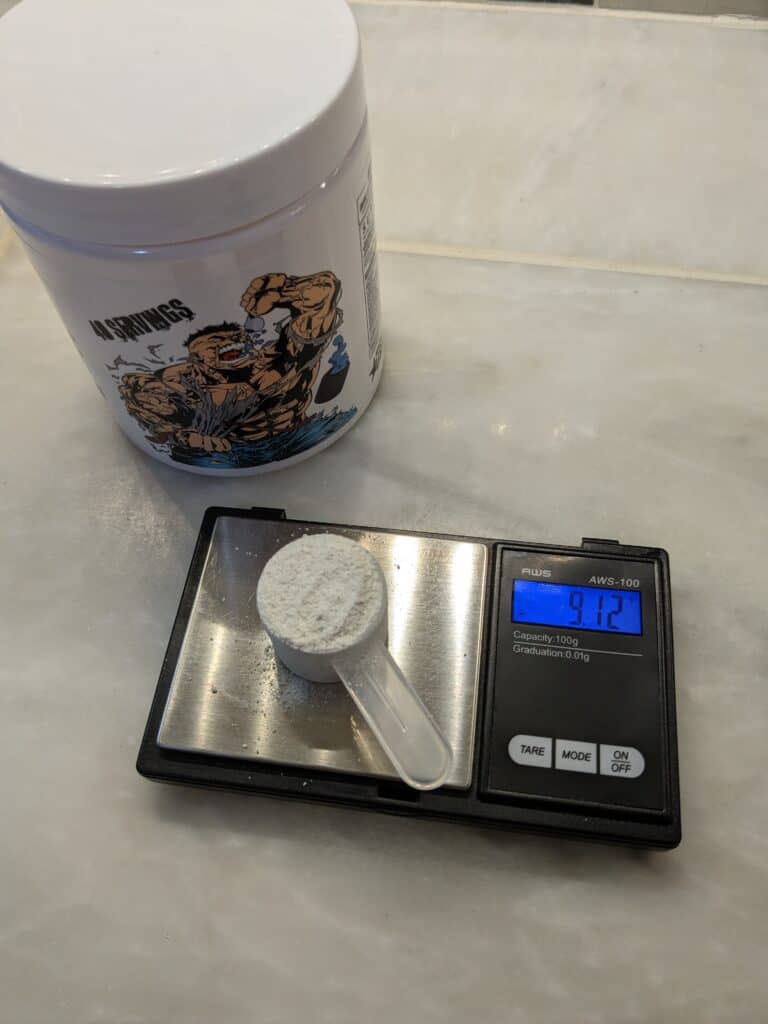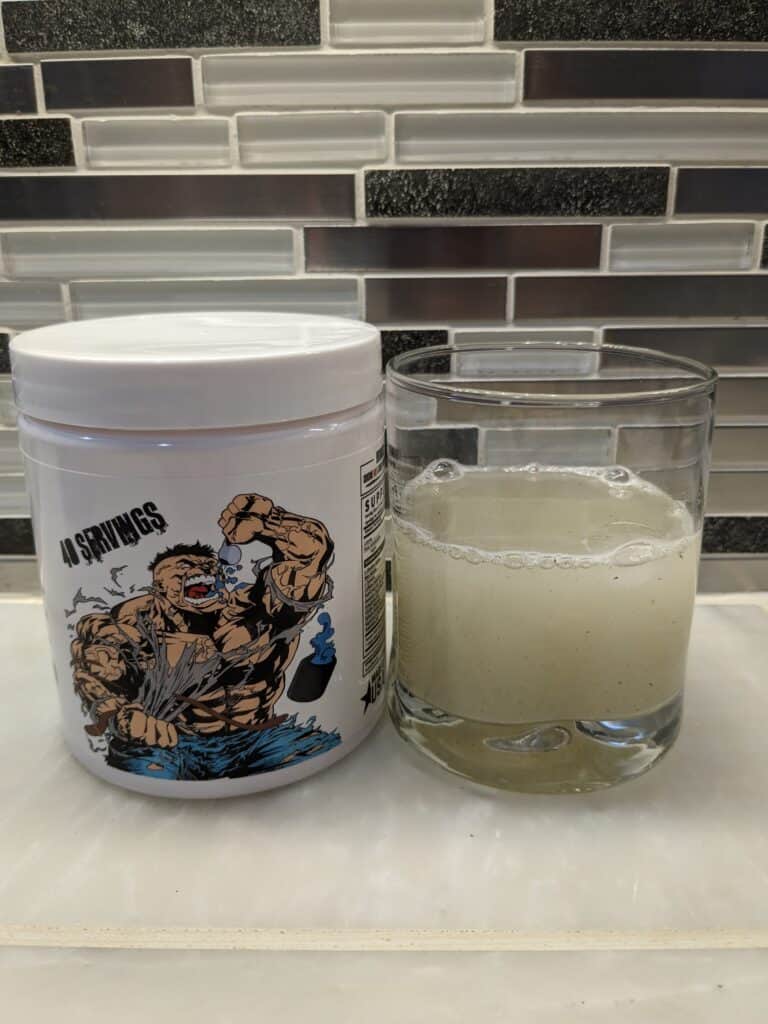 Ingredients
Ephedra, DMAA, DMHA, Yohimbine HCl, and Caffeine, just to name a few. None of them have disclosed dosages, neither do any of the ingredients. Even caffeine quantity is not disclosed due to the proprietary nature of the blend. Dosed at the one-scoop serving size, you can see these ingredients aren't at clinical levels, but they should be great for the heavy stimulant cocktail listed. I understand not having anything disclosed might seem more hardcore; however, I feel many people wouldn't pick it up for the same exact reason.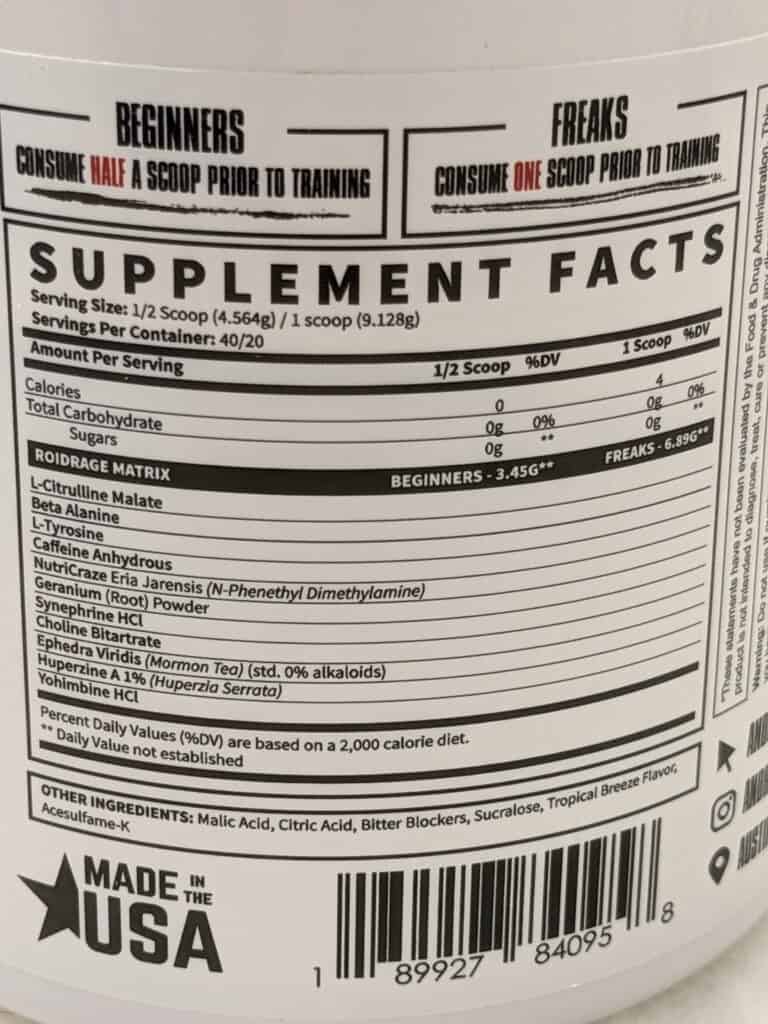 L-Citrulline Malate
L-Citrulline Malate is one of the most common pre-workout ingredients. Extensive evidence supports its ability to increase nitric oxide production, power output, pumps, blood flow, and endurance.
The standard ratio is 2:1 malate acid. The clinically studied dosage would be 6-8 grams of L-Citrulline Malate in a 2:1 ratio, providing nearly 4-6 grams of L-Citrulline.
Beta-Alanine
Beta-Alanine has been shown to support muscular endurance and act as a lactic acid buffer. Depending on the source of this ingredient, you may feel the paresthesias intensify. This feeling is often desirable in the sports community, as it does make you feel the intensity after ingestion and as you start training. This effect may be negated by diet and intake of beta-alanine.
Beta-alanine requires regular intake to be effective, akin to creatine. Daily supplementation of beta-alanine is recommended, with a loading period of three to five weeks, to become effective.
3 to 4 grams is the recommended daily dosage for beta-alanine.
L-Tyrosine
L-Tyrosine boosts cognitive performance in stressful environments. It is included in pre-workouts as a focus ingredient and helps achieve anti-stress effects. The typical dosage range is 500 mg to 2,000 mg for exercise.
Caffeine Anhydrous
Caffeine anhydrous is the standard form of caffeine, known for increasing energy, alertness, motivation, and mood. The caffeine content varies for each product. The 350-450 range is the typical dosage for sports supplements on the market today. Often, products list several forms of caffeine, which release faster or slower.
NutriCraze (Eria Jarensis/N-Phenethyl Dimethylamine)
Eria Jarensis is a stimulant frequently seen alongside DMHA in high-stim pre-workouts. 100-500 mg is a suitable dosage for this ingredient, depending on the sourcing. The most eria jarensis I've ever seen in a pre-workout is 500 mg in Flame Pre Workout (which is fantastic). I can't find any information for NutriCraze specifically, but one would assume it is a patented version.
Geranium (Root) Powder
DMAA can be extracted from geranium, which is why this ingredient is on the label. 1,3-dimethylamylamine, aka DMAA, is a stimulant that induces feelings of energy, euphoria, and motivation. After coming under scrutiny from the FDA in 2015, there were a few years when DMAA disappeared entirely from pre-workouts. While DMAA has been listed in some products recently, it can also appear as an extract or stems and leaves. However, this product lists it as Root. There is an old saying that you can't get high off of roots..
Check out Kyle's breakdown for an in-depth comparison of DMAA vs. DMHA, plus much more information.
Synephrine HCl
Synephrine is a well-researched ingredient that has been shown to aid in weight loss.
"In general, bitter orange extract alone (p-synephrine) or in combination with other herbal ingredients did not produce significant adverse events such as an increase in heart rate or blood pressure or alter electrocardiographic data, serum chemistry, blood cell counts, or urinalysis. p-Synephrine alone and in combination products were shown to increase resting metabolic rate and energy expenditure, and modest increases in weight loss were observed with bitter orange extract/p-synephrine-containing products when given for six to 12 weeks."
Synephrine Meta-Analysis
The typical range for synephrine is 10-50mg, which is supported by evidence for fat-burning effects.
Choline L-Bitartrate
Choline is a focus ingredient and chlorogenic source. Compared with Alpha GPC, choline bitartrate may not be as effective as a nootropic.
Dosages usually range between 500 mg and 2,000 mg, so a 1,000 mg dosage would be the normal but will be enough to experience the benefits of choline since the bioavailability is less than that of Alpha GPC or CDP.
Ephedra Viridis
Ephedra, also known as ma huang or Mormon Tea, is a fat-burning ingredient with strong stimulant effects due to the secretion of the adrenals.
The FDA banned it in April 2004 due to adverse side effects. These side effects include high blood pressure, heart palpitations, fatal arrhythmia, etc. After the FDA ruling, supplement manufacturers removed the ephedrine alkaloids from the ephedra extract, leaving the remaining compounds.
Roidrage lists this ingredient standardized to 0% alkaloids, which is the active component for the notable effects. We can't say how refined or pure this extract is, though. Most ephedra fat burners remove ephedrine alkaloids during manufacturing to stay within FDA regulations.
Here's what else is in ephedra extract other than ephedrine alkaloids:
epicatechins
polyphenols
catechins
ephedrans (glycans)
tannins
These ingredients, epicatechins, polyphenols, and catechins, can have mild weight loss benefits. Unfortunately, we are unlikely to receive any active components or amount of ephedra in each serving to achieve weight loss.
Huperzine-A (1%)
Huperzine A is cholinergic and acts as a cognitive enhancer. As an acetylcholinesterase inhibitor, it helps lengthen the half-life of cholinergic sources (Examine).
It tends to be taken in doses of 50 mcg to 200 mcg, depending on the extract percentage. A 10 mg dosage of huperzine, standardized to 1% huperzine A, would yield 100 mcg making it an effective dose.
Yohimbine HCl
Yohimbine HCL helps promote fat-loss, an effect noted for obese and lean people. "Yohimbine's ability to block the alpha-2 adrenergic receptors located in fat cells could, in theory, lead to increased fat loss and weight loss. Several controlled studies have evaluated this and found mixed results." 3 mg is a proper dosage in most fat-burning and pre-workout supplements; while we don't know the dosage for this product, it isn't overly powered.
Summary
I recommend Roidrage for anyone looking for an aggressive pre-workout experience that dials in their focus and takes the workout to a higher level. This is an excellent feeling pre-workout that pairs well with cardio as well, with the thermogenic effects aiding in fat metabolism. If you are looking for a strong focus pre-workout that carries into your day with long-lasting energy, this is the product for you! 
Pros
Long lasting focus 

Beta-Alanine tingles

Dry pumps

Thermogenic effect

Great tasting flavor

No energy crash
Increased energy 

Adrenaline response

Power output and strength 

Great cardio aid

Vascularity 

Made in the USA
Cons
Proprietary Blend

Dosages not disclosed

NDA restrictive ingredients