Lean40 is a fat burner supplement from First Choice Supplements.
Based on the label, which contains 250 mg Caffeine, 40 mg DMAA, 25 mg Ephedra Vulgaris (leaves), 50 mg Grains of Paradise, and 2 mg Alpha Yo, you'd expect this label would hit reasonably hard.
Sadly, I'm here to tell you that the label doesn't match the effects. I tried it once but only got energy and some thermogenic effects.
I cannot justify a way to recommend this to anyone. This is not for beginners as they claim DMAA and Ephedra, two illicit (and banned) ingredients. I also would not recommend this for intermediate or experienced users as they most likely won't feel a thing.
Read on for additional details of my experience, the best prices for the Lean40 fat-burner, and a breakdown of its ingredient label.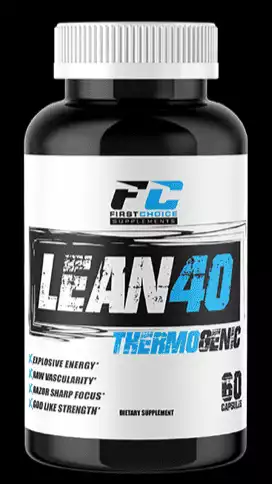 Where to Buy
You can buy Lean40 fat burner at the following retailers:
My Experience:
I took Lean40 just once. Sadly, even though it says it has 40 mg of DMAA, I don't feel it at all. It had a decent thermogenic effect and energy, but nothing spectacular or notable.
Effects
The main aspects of this product were energy and thermogenic effects.
Within 20 minutes, I felt a pleasant wave of energy. It lasted a decent 3-4 hours and was not over-powering.
About 15 minutes into my workout, I got a nice thermogenic/warming feeling. I wasn't sweating bullets or anything but felt warm.
I didn't feel any added mood or focus from this product.
Alpha Yo effects were mild, if at all.
No noticeable adverse effects.
Flavor
The two-pill serving size was easy enough to swallow.
Scoop Size:
A whole serving is two capsules. The capsules are small enough and very easy to swallow.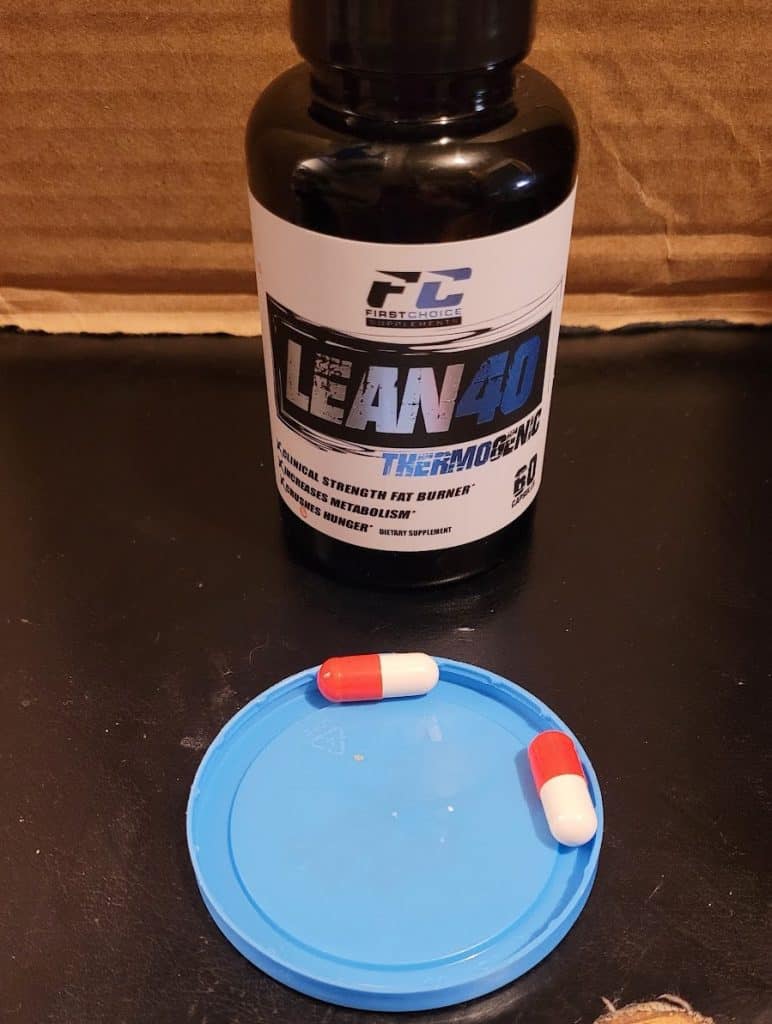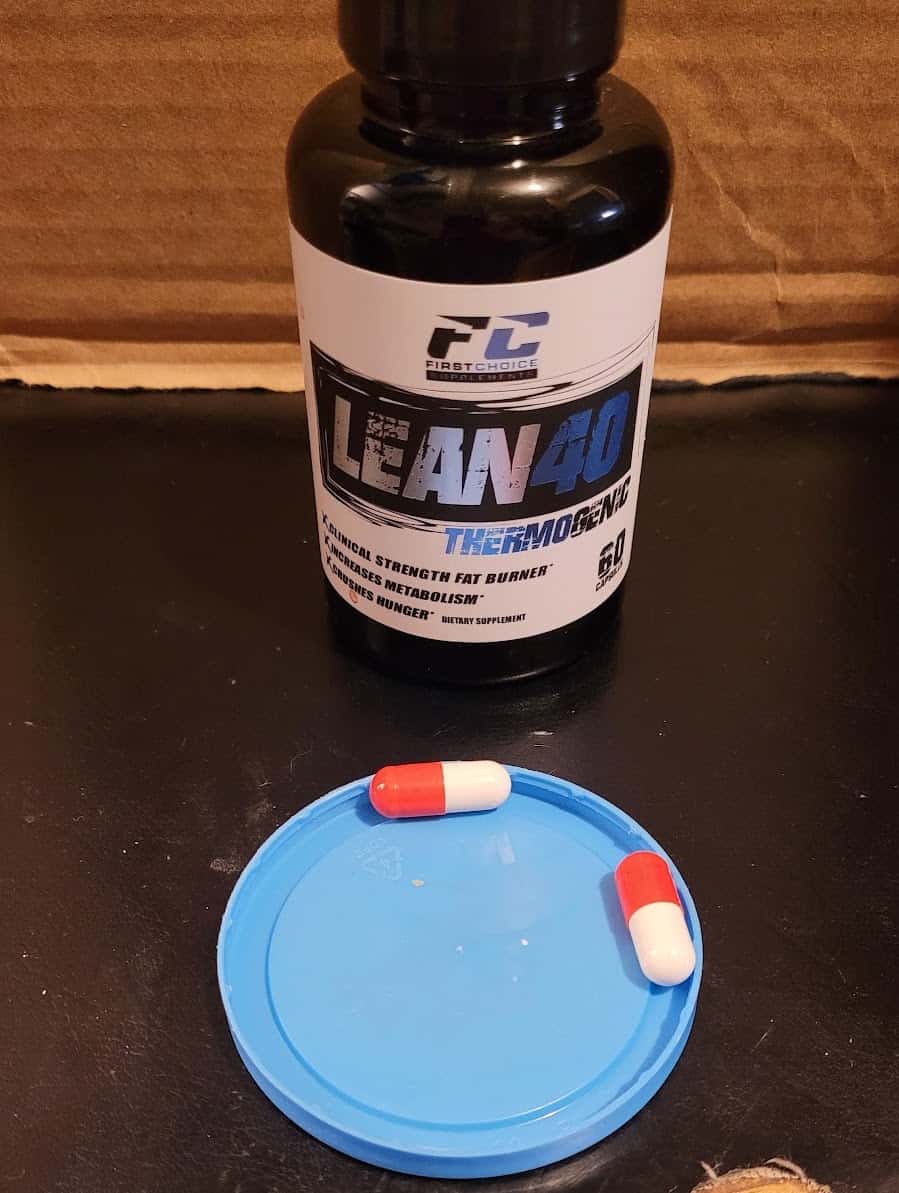 Ingredients
Below you'll find the ingredients for Lean40 fat burner, along with a breakdown of each ingredient and its dosage.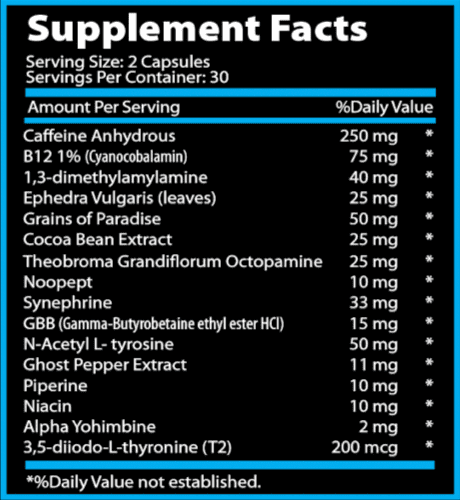 Caffeine Anhydrous – 250 mg
Caffeine anhydrous is the standard form of caffeine found in coffee, tea, and energy drinks. It's one of the most popular drugs globally, if not the most popular.
Acute effects include energy, focus, enhanced sports performance, and possibly even a will to live. Okay, I added that last one.
250 mg is a fairly normal dosage of caffeine anhydrous for a fat-burner, typically ranging from 100 mg to 350 mg.
1,3-dimethylamylamine – 40 mg
1,3-dimethylamylamine, aka DMAA, is a stimulant that induces feelings of energy, euphoria, and motivation in its users. After coming under scrutiny from the FDA around 2015, there were a few years where DMAA disappeared from pre-workouts. 40 mg is a fairly low dosage, but just because it says only 40 doesn't mean it'll like just 40. I've personally tried DMAA products that claim over 100 and felt not as good as once, which claim 60 or 70 mg.
I've taken quite a bit of DMAA pre-workouts before, and I didn't feel anything DMAA-related.
Ephedra Vulgaris – 25 mg
Ephedra, also known as ma huang, combined with 1,3 DMAA, is arguably the most enticing and provocative ingredient in Lean40.
This is because it can contain ephedrine alkaloids, which the FDA banned in April 2004 due to adverse health effects associated with ingestion. These side effects include high blood pressure, heart palpitations, fatal arrhythmia, etc.
It is unlikely that Lean40 contains these ephedrine alkaloids. We cannot say for sure, though. Most ephedra fat burners remove the ephedrine alkaloids during manufacturing to stay within FDA guidelines.
After the ruling by the FDA, supplement manufacturers began removing the ephedrine alkaloids from the ephedra extract, leaving the remaining compounds. This is likely what is contained within Lean40.
Here's what else is in ephedra extract other than ephedrine alkaloids:
epicatechins
polyphenols
catechins
ephedrans (glycans)
tannins
These ingredients, epicatechins, polyphenols, and catechins, can have mild weight loss benefits. Unfortunately, it's unlikely that the 25 mg of ephedra extra in each serving of Lipodrene will contain clinical dosages of these ingredients to achieve weight loss effects. It's likely on the label for "shock value."
Grains of Paradise Extract – 50 mg
Grains of Paradise has some up-and-coming research around it but still needs additional evidence to support its fat loss effects. With that said, some exciting research shows it can activate brown adipose tissue, which can help increase a body's metabolism and lead to increased weight loss.
Different ingredient sources will use Grains of Paradise with varying percentages of 6-Paradol, the active ingredient in Grains of Paradise with metabolic effects.
Clinical trials used 40 mg at 12.5% purity, so you should use that as a guide when seeing how much is present in any thermogenic fat burners you're comparing.
Related: Best Thermogenic Pre Workout Supplements
Cocoa Beans Extract – 25 mg
There is little information on cocoa beans extract exclusively, but plenty of details on cocoa extract.
From Herb Wisdom, "Cocoa beans are considered to be nature's anti-depressant. These beans contain dopamine, phenylethylamine (PEA), and serotonin, all of which promote positive mental health and moods. In addition to this, these beans also contain monoamine oxidase inhibitors and amino acid tryptophan.".
From Examine, one study using relatively high doses of cocoa flavanols (500mg) found an increased rate of calmness and well-being when compared to placebo in otherwise healthy subjects. This can help with your mood after ingesting.
Also, from the same article, Blood flow appears to increase in the body very reliably as assessed by flow-mediated vasodilation (FMD) by around 2%, affecting healthy and unhealthy people. This can help get blood to your muscles.
Theobroma Grandiflorum Octopamine – 25 mg
Theobromine is a compound structurally similar to caffeine, naturally found in dark chocolate, coffee beans, and guarana berries. It lowers blood pressure, acts as a milder, longer-lasting stimulant than caffeine, and may positively impact mood (source, source).
Grandiflorum
From NCBI, The chemical composition of P. grandiflorus was first studied by Japanese scholars in the early 20th century [7]. Further studies in modern pharmacology have shown that P. grandiflorus contains chemical compounds such as flavonoids, phenolic acids, triterpenoid saponins, polyacetylene, and sterols [8]. The main biological components show significant antitussive, antitumor, antioxidation, anti-inflammatory, hypoglycemic, anti-obesity, and immune enhancement effects.
There is no discernable dose of Grandiflorum.
Octopamine
Octopamine is a stimulant with minor fat-burning properties (Examine). It is a metabolite of synephrine.
100 mg is the dose you typically see in pre-workouts, so being part of the 25 mg included is relatively low.
N-Phenylacetyl-L-prolylglycine ethyl ester (Noopept) – 10 mg
N-Phenylacetyl-L-prolylglycine ethyl ester, more commonly known as Noopept, is a synthetic nootropic ingredient with cognitive boosting and psychostimulatory effects. Typical doses range from 20 mg to 50 mg, and at just 10 mg, it is half the minimum dose.
Synephrine – 33 mg
Synephrine is a well-researched ingredient that has been shown to aid in weight loss.
"In general, bitter orange extract alone (p-synephrine) or in combination with other herbal ingredients did not produce significant adverse events such as an increase in heart rate or blood pressure or alter electrocardiographic data, serum chemistry, blood cell counts, or urinalysis. p-Synephrine alone as well as in combination products were shown to increase resting metabolic rate and energy expenditure, and modest increases in weight loss were observed with bitter orange extract/p-synephrine-containing products when given for six to 12 weeks."

Synephrine Meta-Analysis
The typical dose dosage for fat-burning effects is between 40 and 100 mg, so at 33 mg, the synephrine is underdosed.
Gamma-Butyrobetaine HCL – 15 mg
Gamma-Butyrobetaine Ethyl Ester Chloride (GBB) is a molecule that is converted to carnitine in the body. This process can support fat loss and the increase of body temperature.
In other words: you're going to sweat.
15 mg is a bit lower than the recommended range for GBB (25-50 mg).
N-Acetyl L-Tyrosine – 50 mg
While L-Tyrosine is an excellent ingredient for enhancing focus and reducing stress, NALT (N-Acetyl-L-Tyrosine) is less bioavailable than pure L-Tyrosine.
Transparent Labs claims that "…the acetylation improves the absorption and effective period of L-Tyrosine…", but Examine claims there is "limited practical evidence on NALT as an alternative to L-Tyrosine."
50 mg is nowhere close to a clinical dosage for this ingredient. I'd love to see this replaced with 1 to 1.5 grams of pure L-Tyrosine.
I must be honest; I had zero ideas why First Choice decided to add it.
Ghost Pepper Extract – 11 mg
Ghost Pepper Extract is the ghost pepper extract (Bhut Jolokia). As one of the hottest peppers in the world at over 1 million Scoville Units, it is full of capsaicin.
From WebMD, Studies have found that capsaicin can increase your metabolism, which increases the rate at which you use energy and burn fat stores. It can also lower your appetite, which may help you eat less than you usually would. However, the dose is unknown to get such effects.
Piperine – 10 mg
This is black pepper extract and helps with the absorption of ingredients.
Niacin (Vitamin B-3, 10 mg)
Niacin, also known as vitamin B-3, has a wide array of benefits ranging from increasing HDL cholesterol (the "good" cholesterol) concentrations, reducing LDL cholesterol concentrations, and reducing the concentration of triglycerides.
Neat! So, why is it in a pre-workout? I can't say for sure, but it's probably because some research shows that niacin can increase blood flow through a variety of mechanisms. It's worth noting that the research around this effect is limited and conflicted, which is probably why niacin is rarely included in pre-workouts.
Niacin also helps your body produce optimal amounts of ATP, which is the source of energy for muscle contraction. Thus, making sure you have enough Niacin seems like a worthwhile endeavor for a pre-workout supplement.
10 mg of niacin is a low dose. It is above the recommended daily dosage for men (16 mg per day) and women (14 mg per day).
Alpha Yohimbine – 2 mg
Alpha Yohimbine, also known as "alpha yo," is a polarizing stimulant. Some individuals are susceptible to alpha yohimbine and avoid any pre-workout containing it. Common adverse side effects can include anxiety, headaches, chills, sweating, frequent urination, excessive salivation, and increased blood pressure.
I felt some of these effects, especially excessive salivation and sweating. The alpha yohimbine in this product is super high quality. If you don't enjoy alpha yohimbine, I will stay away.
Typical dose ranges between 1 and upwards of 5 mg.
Still, the effects felt manageable.
3,5-Diiodo-L-Thyronine (T2) – 200 mcgFrom Academic OUP, in a study with obese male mice, at a dose of 2.5 μg per gram of body weight, it showed a reduction in fat mass, increase in lean mass (aka not fat), and increase in energy expenditure.
Lean40 Fat Burner Review (First Choice Supplements)
Summary
Lean40 is a fat-burning supplement that supposedly has 40 mg DMAA, 25 mg Ephedra, 2 mg Alpha Yo, among others. I have to be honest here, and I don't usually give bad reviews, this label cannot be trusted as the effects do NOT match the label.  The only thing that might be true on the label would be the 250 mg caffeine and maybe some of the fat-burning elements, as that's all the effects I felt.  I cannot justify a way to recommend this to anyone. This is not for beginners as they claim DMAA and Ephedra, two illicit (and banned) ingredients. This is assuming the ephedra ingredient contains ephedrine, which may not be the case. I also would not recommend this for intermediate or experienced users as they most likely won't feel a thing.
Pros
Good energy (lasting 3-4 hours)

No crash

Sound thermogenic effects (you get a sweat going).

Open-label
Cons
SEVERELY underdosed ingredients

No mood elevation even with DMAA and Ephedra

It feels like they just wanted to fill up the label with the number of ingredients instead of the quality or amount of a

particular

ingredient.

Ingredients are not in order by amount.