Cannibal Riot Pre Workout is a pre workout supplement manufactured by Chaos and Pain. It is a sneaky-good daily driver pre workout for stim junkies that are looking to take a break from the hard stuff. It could also serve as a good introduction to stronger pre workouts for those who are still relatively inexperienced with pre workout supplements.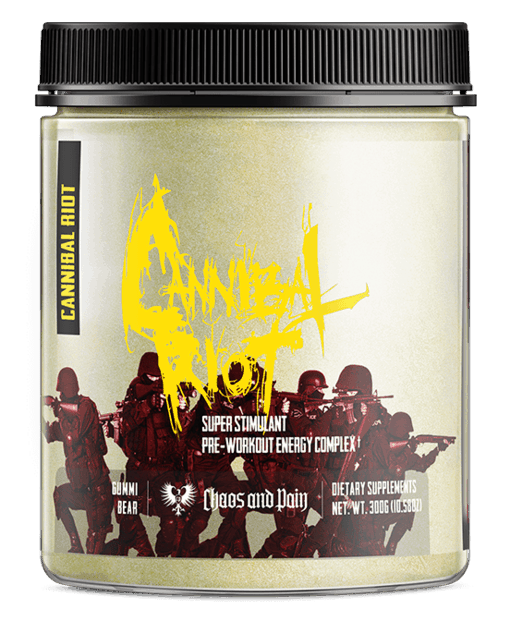 A friend over at Supp Kingz sent me a tub to try out and review for you, so let's get to it.
Hard Hitting Energy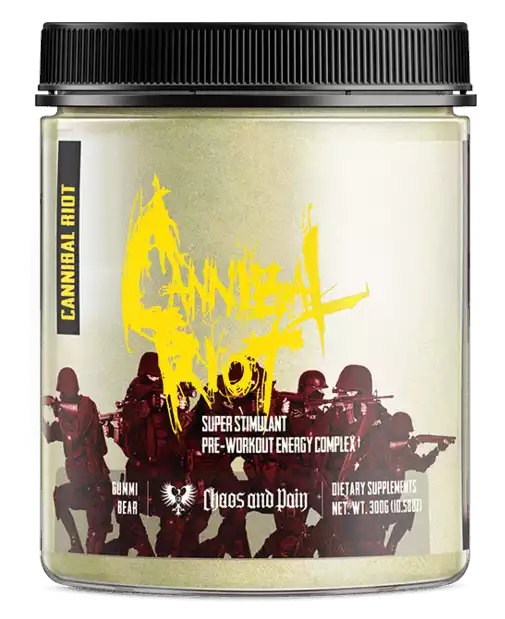 Cannibal Riot Pre Workout - Chaos & Pain
A sneaky-good daily driver pre workout for stim junkies or a good "intro" to stronger pre workouts for newcomers.
Discount codes:
LIFTVAULT = 30% off at Chaos & Pain
LIFTVAULT15 = 15% off at Supp Kingz (discount code)
Shop Chaos & Pain
Shop Supp Kingz
Lift Vault earns a commission if you click this link and make a purchase at no extra cost to you.
Where to Buy
You can get Cannibal Riot from the following retailers:
Supp Kingz

LIFTVAULT15 = 15% off at Supp Kingz (discount code)

Nutrition Cartel

LIFTVAULT = 15% off at Nutrition Cartel (discount code)

Muscle Players

LIFTVAULT15 = 15% off at Muscle Players (discount code)
My Experience
Overall I really enjoyed Cannibal Riot for its energy and motivation. This is a great choice for a strong daily driver pre workout. I'd say it's up there with Wrecked Pre Workout or maybe 90% of DVST8 of the Union.
Honestly I think I'd be happy to switching back and forth between DVST8 of the Union and this pre workout.
But yeah, it's a great daily driver that delivers nice, clean energy. It hits fast and hard, so make sure you take it like 15 minutes before working out.
Scoop Size
A serving of Cannibal Riot is a relatively small 10 grams. With the scooper provided in the tub, this equates to a level scoop. No "rounded scoop" needed.
Flavor
I had the blueberry acai flavor. It was pretty good. Definitely in the top 50% of pre workout flavors I've tried.
Effects
Man, the beta alanine tingling really kicks in quickly with this one. Within about 15 minutes I'm getting some pretty serious tingling & itching. This fades out relatively quickly, but seemed more pronounced than I was expecting.
The primary effects here are energy and motivation. It definitively feels productive and pretty long-lasting.
Any mood effects were slightly positive, but nothing remarkable. It has slightly positive impact on mood, probably from the 350 mg of caffeine, but nothing wild.
You won't get "tunnel vision" focus or any kind of rage, but you'll have the energy and motivation to get serious work done in the gym. It's just a nice, clean energy.
I really liked this one. This is a solid daily driver or "every day pre workout." For beginners, this would be extremely strong. For advanced users, this would get the job done without exposing you to any crazy stimulants.
Afterward
This pre workout wears off nicely. There's no crash or significant negative side effects.
Cannibal Riot Ingredients Label
Below you'll find the Cannibal Riot ingredients label and a full breakdown of each ingredient.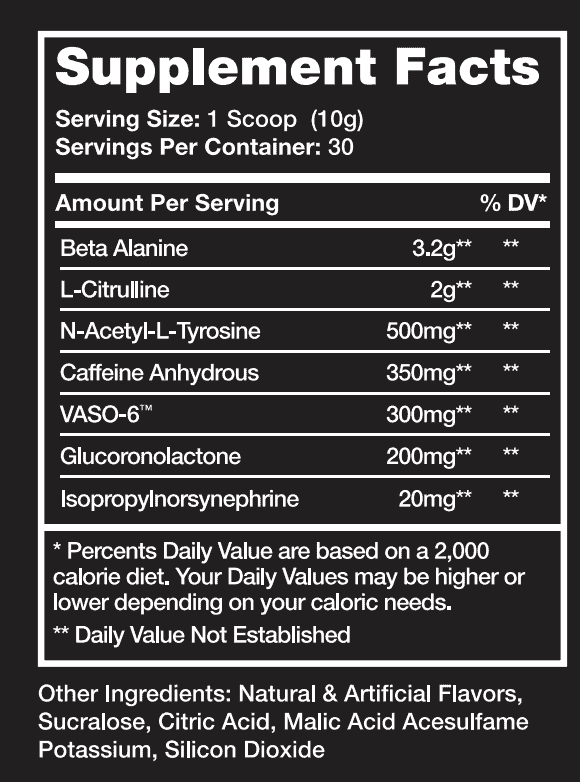 Beta Alanine (3.2 g)
3.2 grams is the standard clinical dosage of beta alanine. This is a great power enhancing supplement when taken daily.
L-Citrulline (2 g)
L-Citrulline is one of the most common pre workout ingredients. It has extensive evidence supporting its effects on increasing nitric oxide production, power output, and endurance.
Although most research uses a variation known as L-Citrulline Malate (2:1), anecdotal evidence supports that L-Citrulline delivers much of the same benefit.
When included as pure L-Citrulline, we like to see 4 grams as the dosage. Unfortunately, Cannibal Riot falls short of this, including only 2 grams of L-Citrulline.
N-Acetyl-L-Tyrosine (500 mg)
This is one of the missteps of Cannibal Riot. While L-Tyrosine is a great ingredient for enhancing focus and reducing stress, NALT (N-Acetyl-L-Tyrosine) is less bioavailable then pure L-Tyrosine.
Transparent Labs claims that "…the acetylation improves the absorption and effective period of L-Tyrosine…", but Examine claims there is "limited practical evidence on NALT as an alternative to L-Tyrosine."
Caffeine Anhydrous (350 mg)
This is the standard form of caffeine. You know what it is. It delivers all of the expected benefits: mental focus, energy, motivation, a will to live, etc.
350 mg is an excellent dosage. I really like my pre workouts to dose caffeine between 300 mg and 400 mg, so this was perfect for me.
One thing I'd love to see is the addition of di-caffeine-malate, maybe 100 mg of it, to help extend the legs on this pre workout a bit, but that's a minor gripe. As I said above, I was quite happy with the effects of Cannibal Riot.
VASO-6 (300 mg)
VASO6 is a patented ingredient to increase blood flow and nitric oxide production.
300 mg is a solid dosage of VASO-6 and helps make up for the 2 gram dosage of L-Citrulline, though I'd still like to see the L-Citrulline bumped up to 4 grams.
Glucuronolactone (200 mg)
Glucuronolactone is often included for detoxification and energizing purposes, though there frankly is not much research available on this ingredient.
Some supplement manufacturers claim that glucuronolactone helps extend the effects of caffeine.
Isopropylnorshynephrine (20 mg)
Isopropylnorsynephrine is a lipolytic agent, meaning it helps break down fat into glycerol (energy). It is a "fat burner." It may also possess energizing effects and is considered stronger than synephrine (bitter orange extract).
There is not a lot of research around dosage, but 20 mg should be enough to get you going.
Chaos and Pain Cannibal Riot Pre Workout Review