The clown posse is back at it again with a label that is sicker than the clown from the House of 1,000 Corpses. Chaotic Pump is another high-quality, well-formulated, and potent product from Mad House Innovations.
I would recommend this stimulant-free pre-workout to anyone looking to decrease their caffeine and stimulant tolerance without sacrificing the performance that you get while using them. This is an excellent combination of stimulant-free focus with sustained endurance and pump.
Thank you, Jake from Nutricartel, for sending this full product for review!
Non-Stim Pump!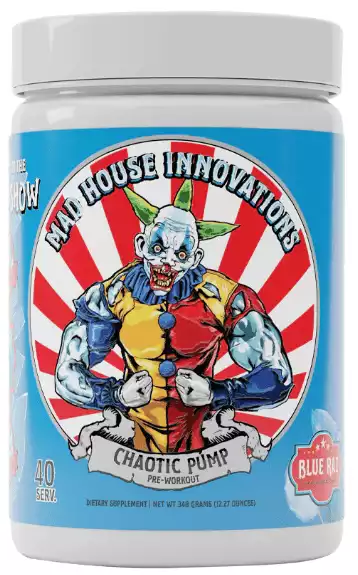 Chaotic Pump Pre Workout - Madhouse Supplements
Chaotic Pump is another high-quality, well-formulated, and potent product from Mad House Innovations.
Discount Codes:
LIFTVAULT = 15% off at Nutri Cartel
Glycersize: 3g
Alpha GPC: 400 mg
CognatiQ: 100 mg
Shop Nutri Cartel
Lift Vault earns a commission if you click this link and make a purchase at no extra cost to you.
Where to Buy Chaotic Pump by Mad House Innovations
You can buy Chaotic Pump by Mad House Innovations from the following retailers:
Experience
I enjoy using a non-stimulant pre-workout when I am looking to reduce my caffeine tolerance. Utilizing a pump formula can help increase recovery and muscle growth. Some products, such as Chaotic Pump, have additional ingredients that work well stacked with lower-dosed or non-heavy stimulants products.
Since this is a pump formula with a slight addition of focus, nothing much occurs until about 30-35 minutes post consumption when the focus peaked at about 3.5/10. Once at the gym, I could feel my blood flow improve, as my heart rate was steady even with high-intensity interval training. My endurance was unexpectedly excellent.
The muscle fullness was at a 8.4/10, which led to some excellent contractions with bountiful muscles that simply looked swole. When it came to visible vascularity, I didn't see much improvement even when hydrated, although this improved over time. Compared to similarly formulated products, I felt the included electrolytes, agmatine, and dosages made a difference.
Side Effects
I didn't experience any effects that were negative while using this product.
Flavor
"Blue Razz" was the flavor I was sent for review. It was an excellent blue raspberry flavor, very tasty and tangy. The flavor was about a 10/10 regarding desirability, as it starts very sweet and finishes fruity.
The suggested amount of water is six to eight ounces, and I enjoyed it most, around eight ounces of water.
Dose/Scoop Size
The serving size is 18.5 grams for a whole serving, which is quite a large serving for a pump product. The total serving amount comes to a less-than-level scoop at the manufacturer line on my scooper. Due to containing so many ingredients, I would aim for a little below the flat line.
With each serving of this pre-workout, I used the full scoop, which hit precisely how I needed it. Mad House gives a solid 20 servings (40 on the front) in the container, which is currently the market standard. If you compare the pump ingredients to other stimulant-free pre-workouts, the dosages are so good that it would be equivalent to about 30-40 servings on an equivalent. The mixability was good, with a minor amount of sediment toward the end of the cup.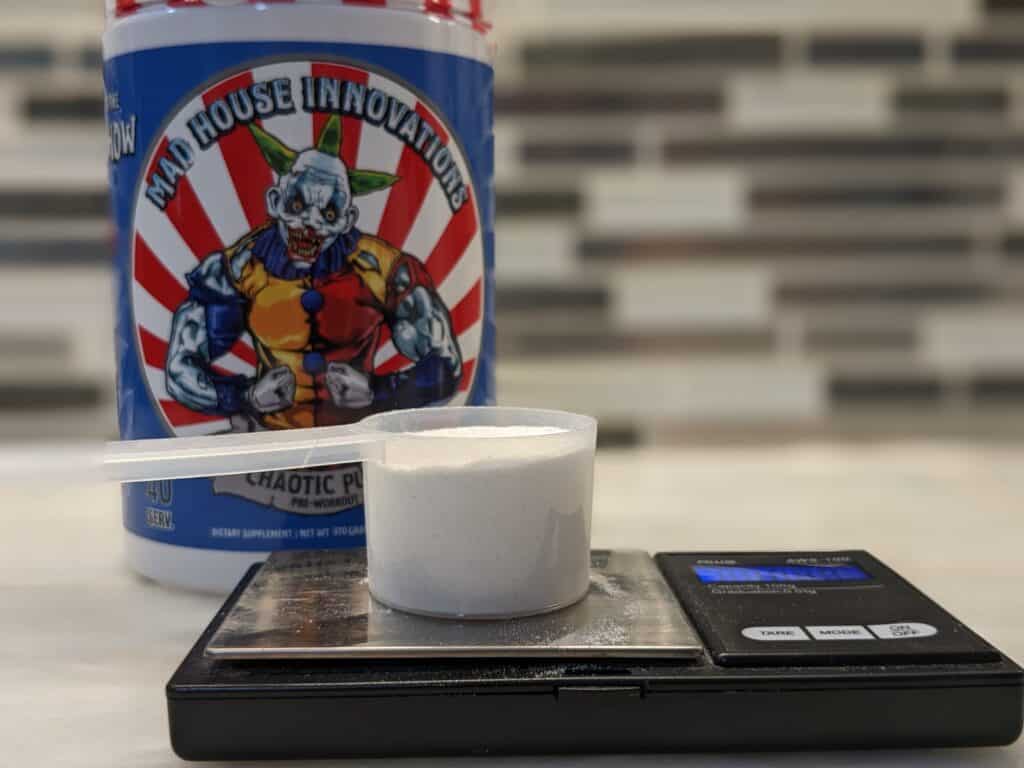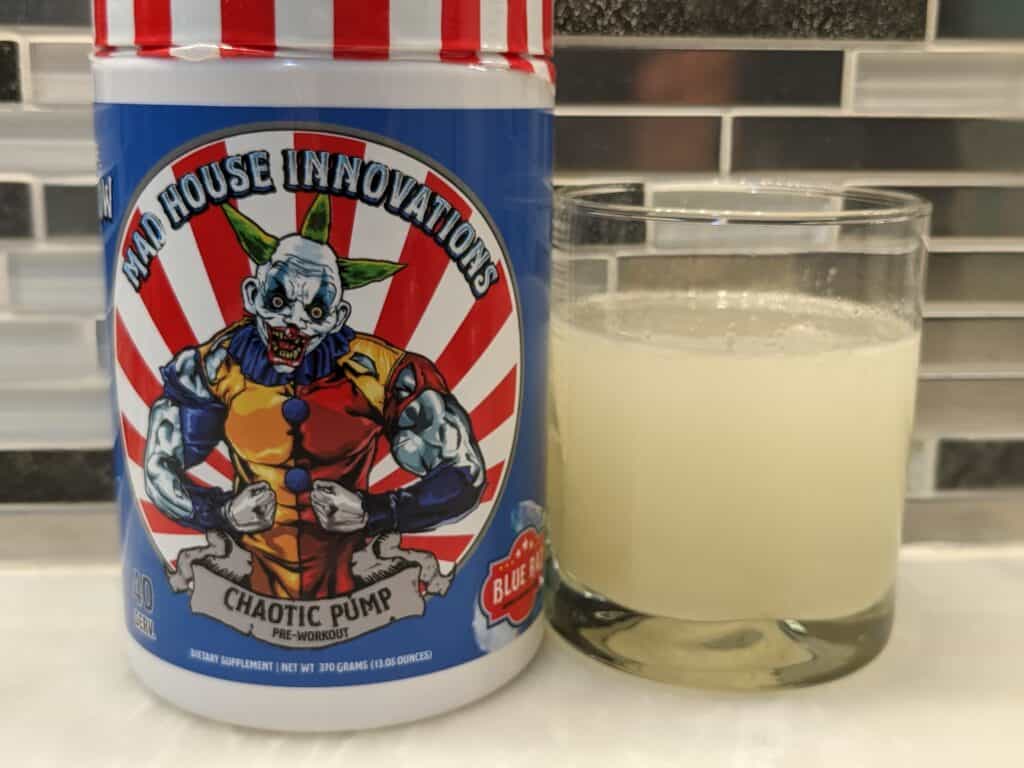 Ingredients
There are several electrolytes (magnesium, chloride, sodium, potassium) contained in this product, which is a great addition to give good muscle contraction leading to a better pump. I think this formula is great as is, and it allows for versatility in stacking with other products like their Chaotic Rage pre-workout.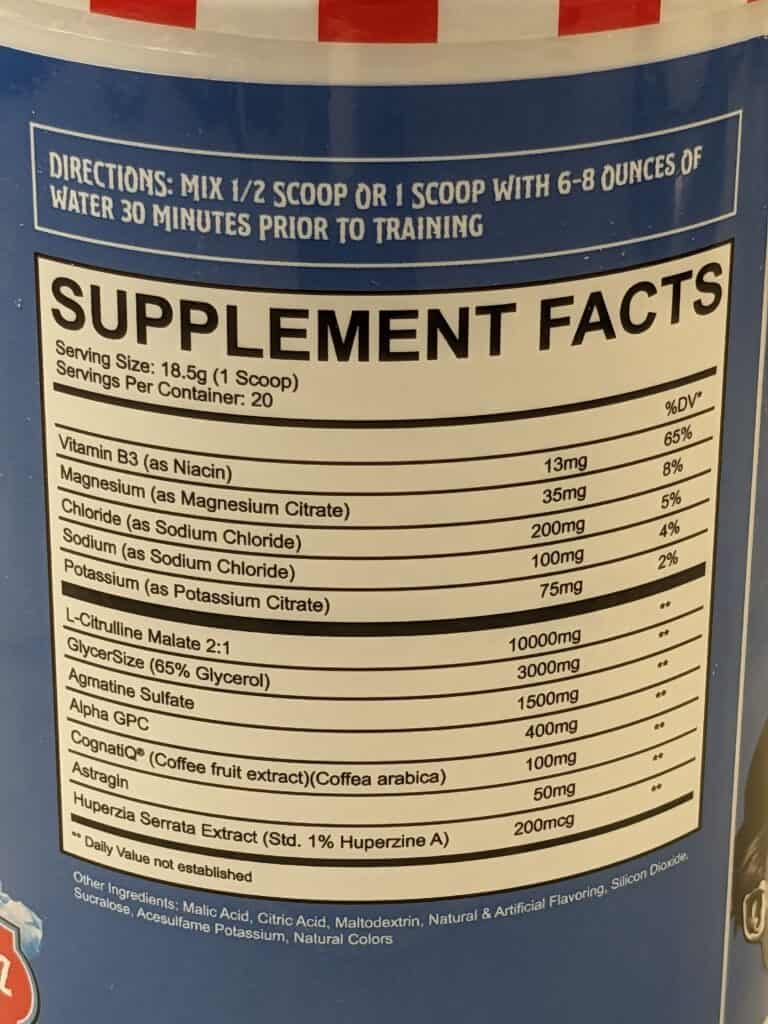 Sodium – 100 mg
Salt helps retain water, enabling you to achieve fuller muscle bellies during your workout. This can help prevent muscle spasms and allow for a good contraction.
100 mg is a lower dosage for this ingredient; however, it is diet dependent as not everyone will need higher amounts (for comparison, FSU Dyehard has 300 mg, and Hooligan Bare Knuckle has 250 mg).
It also contains essential electrolytes! More info can be found at Supplements in Review.
Citrulline Malate – 10 g
L-citrulline is one of the most common pre-workout ingredients. Extensive evidence supports its ability to increase nitric oxide production, power output, pumps, blood flow, and endurance. It is typical for this ingredient to contain malic acid mixed in a 2:1 ratio per the clinical studies. Malic acid has some benefits similar to beta-alanine, and these ingredients aren't in a chemical bond, and some products may list malic acid as a separate ingredient.
You want four to six grams of pure l-citrulline for proper clinical dosage. If the ratio is on the label as 2:1, a 10-gram dose would contain close to 6.6 grams. Per the clinical trials, daily supplementation is required to obtain the full benefits.
GlycerSize ( 65% Glycerol) – 3 g
GlycerSize is a highly concentrated powdered form of glycerol. It's broken down into 65% glycerol and 35% silica, and it is a more potent form of glycerol than glycerol monostearate. Noted benefits of GlycerSize are enhanced performance, increased muscular pumps, and supporting proper hydration levels.
From PubMed, the hyperhydration effect of glycerol can be used to fight off heat exhaustion. One gram should be noticeable with pumps, but three grams are found in chaotic pump.
Agmatine Sulfate – 1.5 g
Agmatine is often included in pre-workout supplements as a pump ingredient, but more research is needed to understand how reliable these claims are. Theoretically, since agmatine can increase endothelial nitric oxide, it can help boost nitric oxide in the body. A comparable dose in similar product categories would be 750-1,000 mg putting chaotic pump over the high end.
Alpha GPC – 400 mg
Alpha GPC is a cholinergic compound that is produced within the body. It is used for enhancing cognition and increasing power output. Based on several studies, Alpha GPC dosages should be between 300 and 600 mg. At 400 mg, chaotic pump is close to the middle of the range.
CognatiQ® (Coffee fruit extract) – 100 mg
CognatiQ is a patented product from the whole fruit of the coffee plant, coffea arabica. One dose of 100 mg of WCFC increased serum BDNF by 54% and exosomal BDNF by 206%. BDNF, Brain-Derived Nootropic Factor, is essential for learning, memory, alertness, mood, controlling body weight, and controlling energy metabolism (Scientific Research Open Access). It is also stimulant-free (Source).
Astragin – 50 mg
Astragin is a patented ingredient that increases the bioavailability of nutritional supplements. In other words, it helps your body absorb more of the ingredients in the product, which helps the effectiveness of the ingredients. As the serving size increases, so does the need for a digestion aid.
Huperzia Serrata Extract ( Std. 1% Huperzine A) – 200 mcg
Like Choline, Huperzine A is a cholinergic that acts as a cognitive enhancer. The occasional dose in other pre-workouts tends to be 50 mcg to 200 mcg. As an acetylcholinesterase inhibitor, It helps lengthen the half-life of cholinergic sources (such as Alpha GPC, Citicoline, CDP Choline) (Examine) and will keep your focus longer.
Chaotic Pump Pre-Workout
Summary
This is the second product I have reviewed from Mad House Innovations, and I am quite impressed with their portfolio thus far. I felt this stimulant-free pump pre-workout greatly aided in reducing my stimulant usage. I would recommend this product to anyone looking to give their adrenal glands a break from daily stimulant use but without making you feel weak in the gym.
Pros
Excellent endurance
High-quality and potent ingredients
Strong pumps
Powerful muscle contractions
Additional electrolytes
Amazing tasting flavor
Decent focus from a non-stimulant pre-workout
Excellent clinical and efficient dosages