Enjoy the Insanity is now called Enjoy the Hysteria. It is still manufactured by The Nutrition Store.
Please read our full Enjoy the Hysteria Pre-Workout Review.
In the meantime, here's the ingredient label for Enjoy the Hysteria, which looks very similar to Enjoy the Insanity. Personally, I'm thrilled to see this pre-workout continue and I look forward to trying the new version.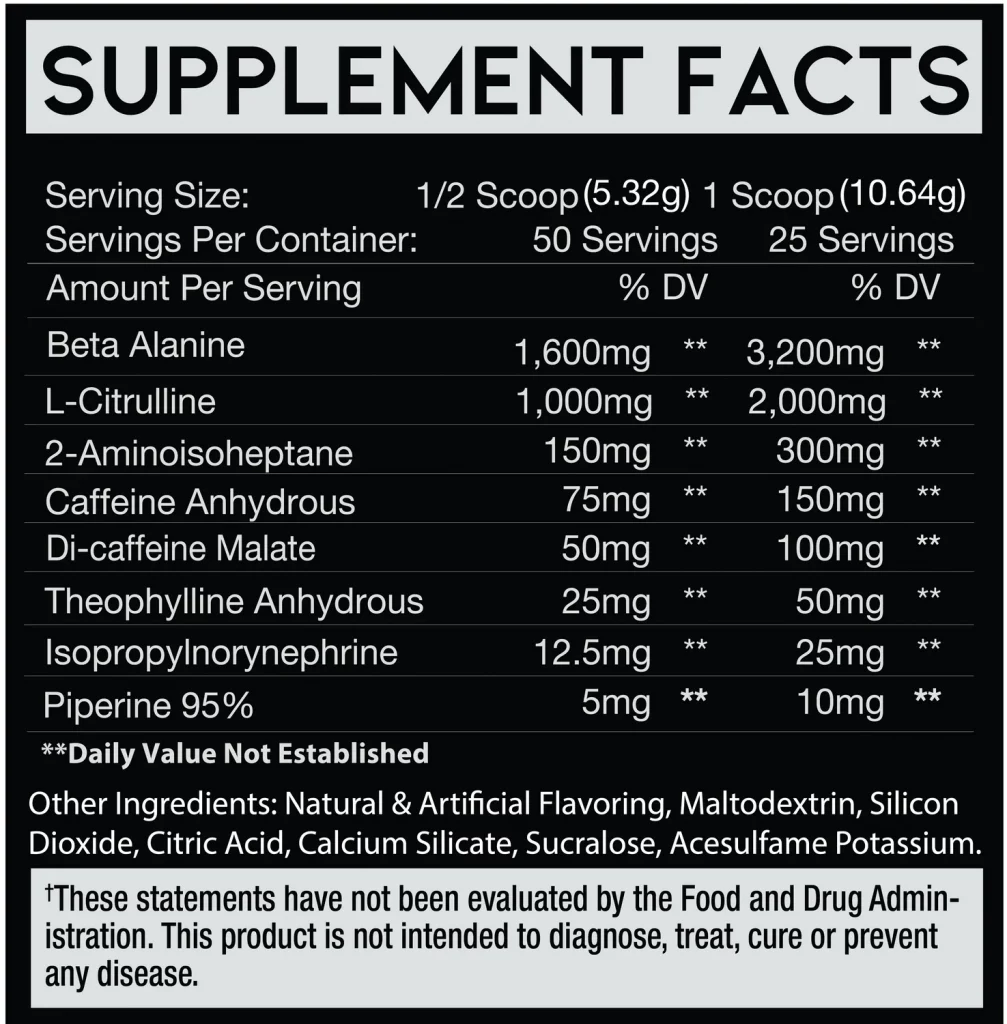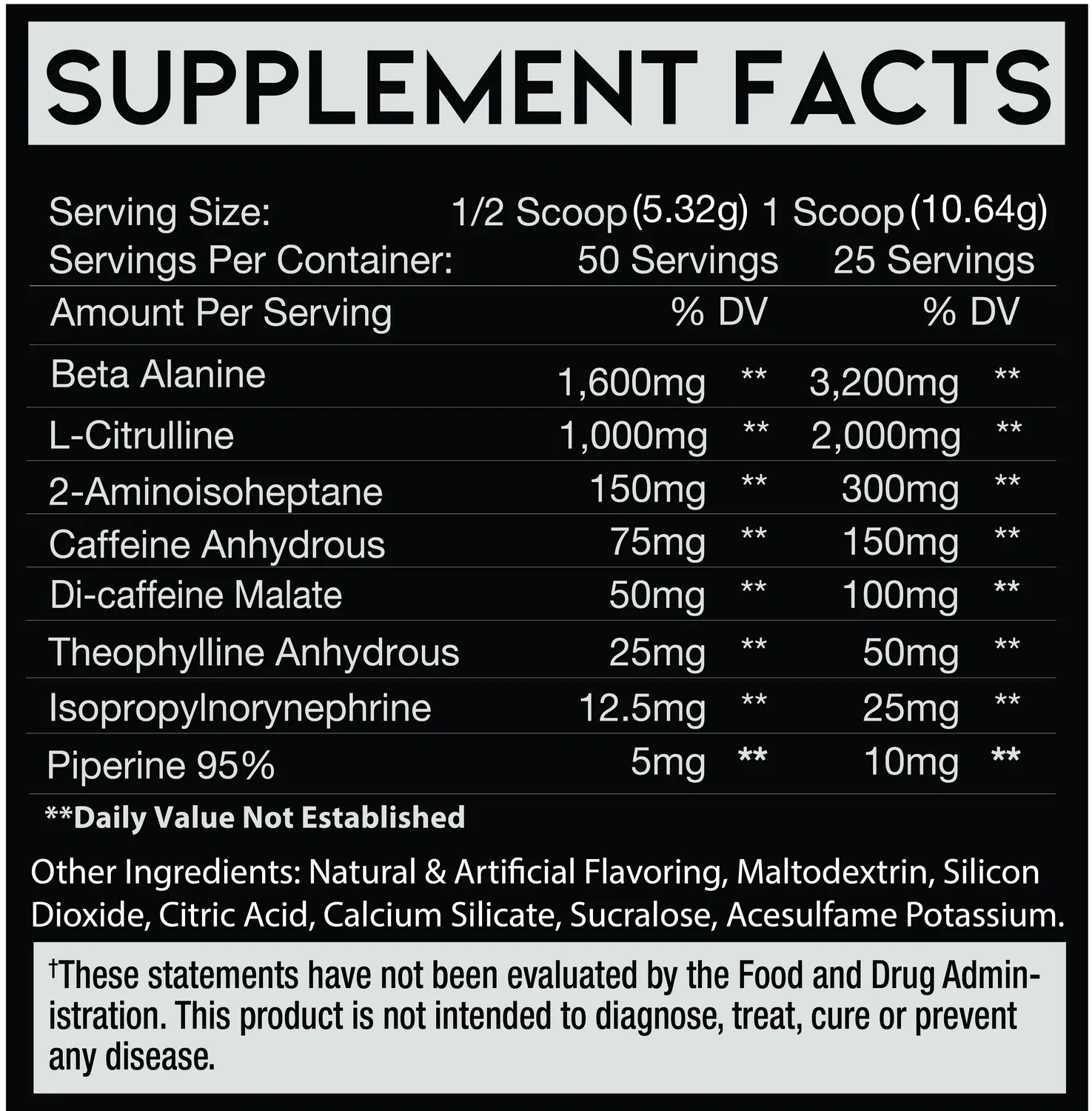 About Enjoy the Insanity Pre-Workout
Enjoy the Insanity is a pre workout supplement manufactured by The Nutrition Store. It is a DMHA pre workout, but is notable for containing less than 200 mg of caffeine, which is pretty low for a hardcore pre workout.
Supp Kingz was kind enough to send over a tub for me to review for you all.
Despite the somewhat over-the-top name, Enjoy the Insanity actually does deliver a uniquely euphoric experience. In fact, I'd say it's up there with Flame pre workout in terms of euphoria, but without the heart-pumping stimulants.
I would recommend this to anyone who wants a feel-good, happy pre-workout experience and does not want a high-stim, aggressive feel.
I would not take this before a max squat attempt, but would take this before a long volume day that I just needed to mentally "get through."
Read on for more details on my experience, the ingredients, and where you can pick up Enjoy the Insanity.
My Experience
Enjoy the Insanity felt a little different than any other pre workout I've tried before. While not a hard hitter, it elicited a happy head buzz that pleasantly surprised me.
Effects
After taking a full scoop, I felt a decent amount of beta alanine tingling on my face within 10 minutes. Next came a quick burst of energy and alertness from the caffeine anhydrous. It wasn't overwhelming, but enough to get me moving.
And then… not much. At least at first.
For the first 30 minutes, Enjoy the Insanity keeps a low profile. Then it takes it up a notch.
After 30 minutes, I felt a pleasant buzziness in my head. It's hard to describe. I felt slightly foggy-headed, nothing major, but just a little… altered.
I did not feel any aggressiveness or urgency to work out. Instead, I just felt energized and happy.
I then went and had a great workout. Was it because of the pre workout? Honestly, no, I don't think so. It just put me in a good mood and then I did the rest.
It's not magic, but I do think a lot of people will enjoy this one if they like pre workouts that make them feel happy. I think Enjoy the Insanity could be effective for combining with other pre workouts to give them a euphoric boost. Something to consider…
Flavor
I tried the "red rocket" flavor and it was pretty tasty. It's also available in "lightspeed lemonade."
Ingredients
Below you'll find the ingredient label for Enjoy the Insanity.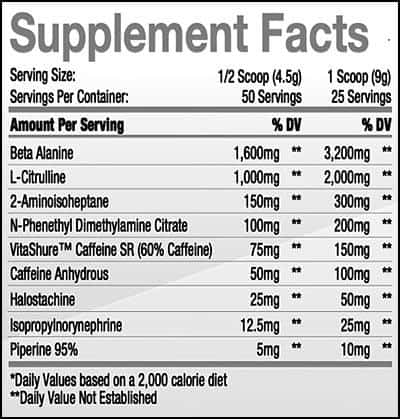 Beta Alanine – 3,200 mg
Beta Alanine has been repeatedly shown to increase maximal strength levels when taken regularly. Like Citrulline Malate, it is one of the most common and best researched pre workout ingredients on the market today.
3.2 grams falls within the accepted clinical daily dosage range.
L-Citrulline – 2,000 mg
L-Citrulline is one of the most common pre workout ingredients. It has extensive evidence supporting its effects on increasing nitric oxide production, power output, and endurance, making it an essential pump pre-workout ingredient.
4 grams is the clinical dosage of l-citrulline, so it's underdosed in Enjoy the Insanity. But honestly, I doubt anyone is taking Enjoy the Insanity for the pumps.
DMHA – 300 mg
DMHA is a stimulant, similar to DMAA (for more info, see: DMHA vs DMAA), known for boosting energy, focus, and mood. It comes in many different forms, of which 2-aminoisoheptane is one. This is an interesting choice, as it is most commonly included as juglans regia extract or English walnut extract.
300 mg is a pretty hefty dosage of DMHA. It's definitely above average, which usually ranges from 150 mg to 250 mg.
But with this ingredient, the source and quality of the raw ingredient is the most important factor, not the dosage.
Eria Jarensis – 200 mg
Eria Jarensis (N-Phenethyl Dimethylamine) is a stimulant that is becoming a popular alternative to DMAA or DMHA. It increases levels of dopamine and noradrenaline in the user and can enhance mood, increase motivation, and dial in concentration.
With Eria and other stimulants, it is based on the purity of the ingredient itself. Sometimes a product with 150 mg Eria can feel 20x better than one with 400 mg Eria. Usual doses range from 150 mg all the way up to 500 mg as found in Flame Pre Workout (which is amazing).
VitaShure Caffeine SR (60% Caffeine) – 150 mg
This is sustained release version of caffeine, presumably similar to di-caffeine malate. It is a patented form, appearing under the Vitashure brand name. I have not seen this particular form of caffeine before, which is always mildly interesting to see.
As this ingredient yields 60% caffeine, the effective amount of caffeine is 90 mg.
Caffeine Anhydrous – 100 mg
This is standard form of caffeine that we all know and love.
Combined with the 90 mg of sustained-release caffeine, Enjoy the Insanity contains a total of 190 mg of caffeine.
This is relatively low considering this product was most likely designed to appeal to stim junkies and other enthusiasts of high-powered pre workouts.
This could make Enjoy the Insanity appealing for those who are looking to cut down on their caffeine consumption.
Halostachine – 50 mg
Halostachine is an alkaloid that is structurally similar to β-PEA, which is a bit more commonly seen in pre workout supplements. It acts as a stimulant and can enhance focus and mood.
Isopropylnorsynephrine – 25 mg
Isopropylnorsynephrine is a lipolytic agent, meaning it helps break down fat into glycerol (energy). It is a "fat burner." It may also possess energizing effects.
There is not a ton of research available regarding isopropylnorsynephrine, but 25 mg seems like a decent dosage according to Stack3d.
Piperine 95% – 10 mg
This is black pepper extract and helps with the absorption of ingredients.
A++ Euphoria Experience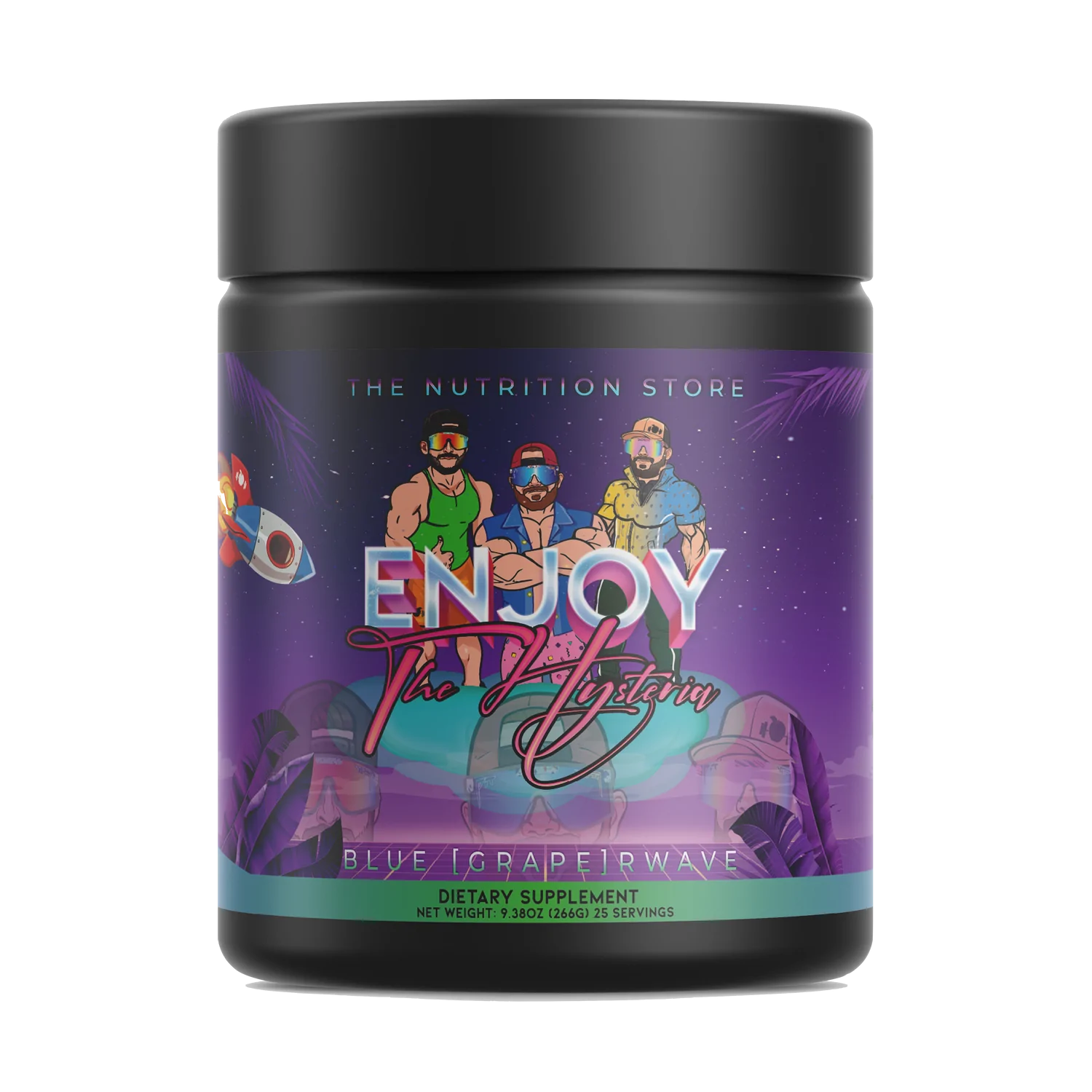 Enjoy the Insanity Pre Workout Review (The Nutrition Store)
Summary
Enjoy the Insanity is a euphoric pre workout that has a super unique effect profile. It's great for those who want a happy pre workout experience without intense stimulant effects or high caffeine content.
Pros
Phenomenal euphoria
No crash or adverse side effects
25 servings
Cons
Could have more energy
Could have more focus