Pump by Panda Supplements is fierce by nature and strong by results. A new entry in the world of non-stimulant pre-workouts, Pump features many patented & clinical ingredients, and has extremely efficient dosing!
I like to recommend pump products, or non-stimulant based ones to everyone that uses caffeine-based or high-stimulant pre-workouts. This is a good way to help decrease your caffeine tolerance build up, and adrenal fatigue that we get from day in and day out usage.
Thank you, Jake from Nutricartel, for sending this full product for review!
Strong Pumps!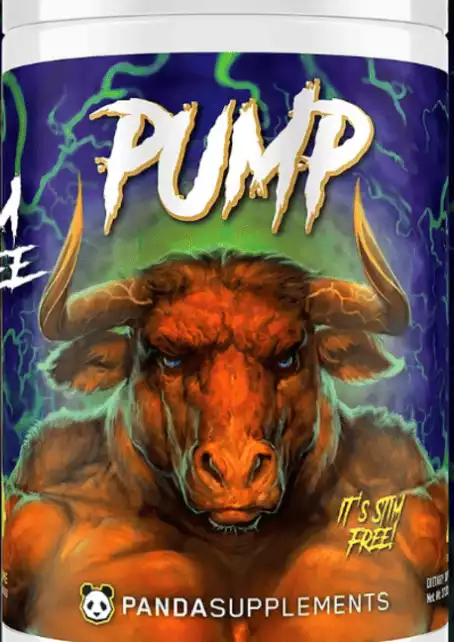 Pump Pre-Workout by Panda Supplements
A non-stimulant pump pre-workout for great vascularity while also keeping caffeine tolerance down.
Discount Codes:
LIFTVAULT = 15% off at Nutri Cartel
Glycerol Powder: 1.5g
Niacin:
Vitamin B12:
Lions Mane: 500 mg
Shop Nutri Cartel
Lift Vault earns a commission if you click this link and make a purchase at no extra cost to you.
Where to Buy Pump by Panda Supplements
You can buy Pump by Panda Supplements from the following retailers:
Experience
After consumption, things didn't really become noticeable until around 10 minutes when some flushness across my face began. The niacin started to make its way, giving a medium skin crawling tingle, enough to have you scratching around. After another 10 minutes I started to feel a slight focus creep in, around the level of 4.5/10. The rest was very subtle until I made it to the gym, which gave way to the actual effectiveness.
Something just hit me right about this product, because I had happy vibes flowing with a smile on my face. I worked through some warm-up exercises to get the saturation of ingredients, before pushing through volume. I noticed improvement in endurance, as I was able to push further through many sets. I felt an enhanced fullness in my muscles, providing some excellent wet, swole pumps.
I had surprising mind-to-muscle connection that resulted in DOMS (delayed onset muscle soreness). Interestingly, there was a thermogenic element to using this pre along with a sense of improved breathing. The rest of my experience with pump was consistently great, and helped me break through caffeine tolerance as I typically do every four to six weeks.
Side Effects
I didn't experience any negative effects while using this product.
Flavor
"Blackberry Lime" was the flavor I was sent for review. It was an interesting combination, very tart, tangy, and chalky. The flavor desirability was about a 7/10. If you like blackberry tea, this will taste amazing.
The suggested amount of water is eight to 16 ounces, and I enjoyed it most around 14 ounces of water, as it was very tart otherwise. Pay attention to hydration, as this product contains glycerol.
Dose/Scoop Size
The serving size is 18.7 grams for a whole two-scoop serving, which is a strong serving size for a pump product. The total serving amount per scoop is hard to measure due to the clumps seen in the photo, but it is a well-rounded scoop. Since this isn't a stimulant-based product, you will be safe to serve rounded scoops. I loaded my shaker cup on the scale because it was clumpy, and weighed it to 18.7 grams.
I used the full serving of two scoops, which hit precisely how I needed it. Panda gives a solid 40/20 serving split label on the container, currently the market standard for most products. If you compare the pump ingredients to other stimulant-free pre-workouts, the dosages are so good that it would be equivalent to about 30-40 servings on an equivalent. The mixability was good, with a minor amount of sediment toward the end of the shaker.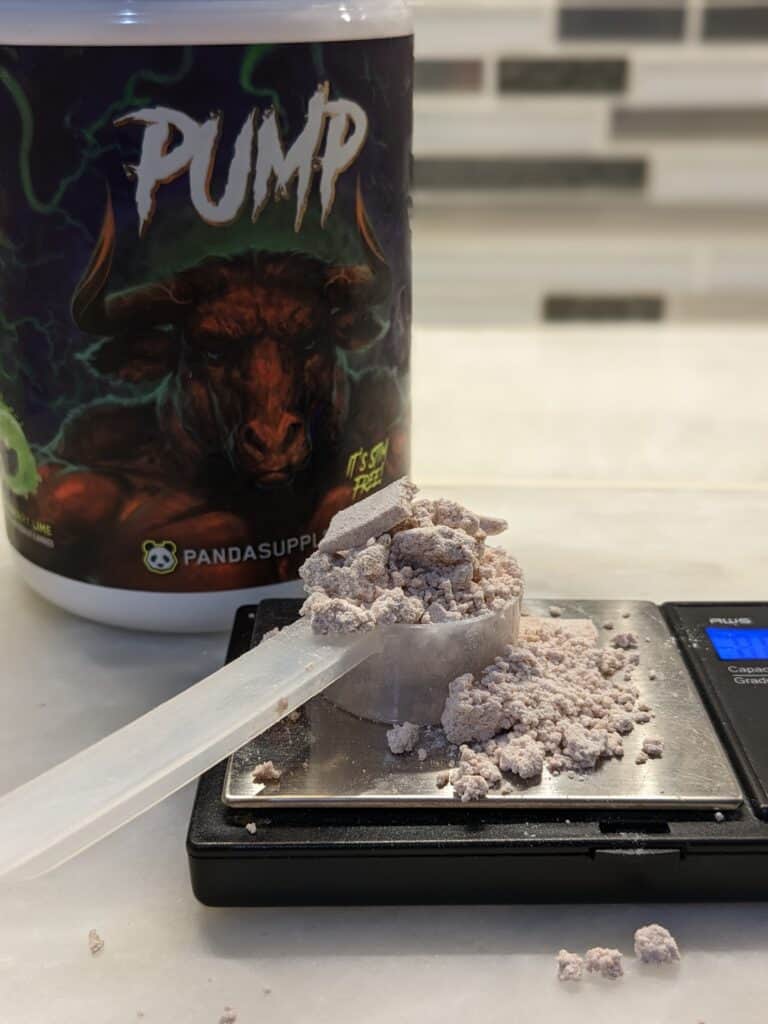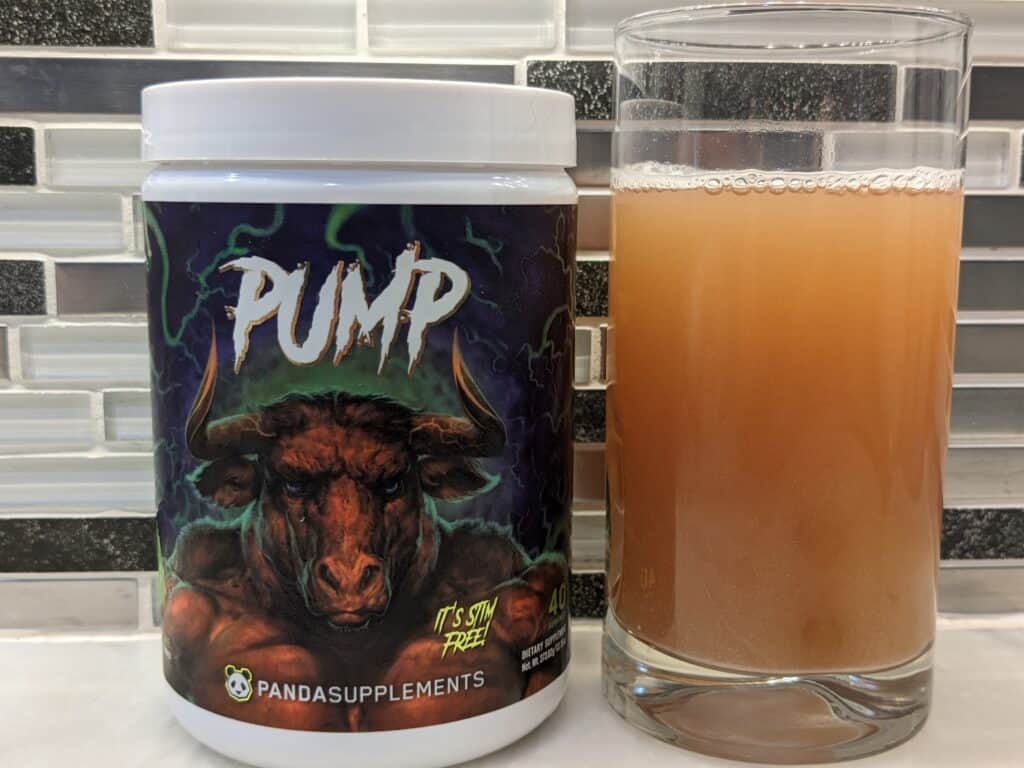 Ingredients
This is the most stacked label for a non-stimulant-based pump pre-workout that I have seen, as it is well-dosed for all the glorious pumps you need in the gym and post-workout. The vitamins are essential for many people, as we aren't all on the same diet. Although I enjoy the tingles from beta-alanine which isn't here, niacin is the next best thing. The full clinical dosages for the two-scoop serving size, are highly dosed compared to others on the pump market. Being a stim-free plus pump is a newer category, although we have had pump and non-stim products in the past.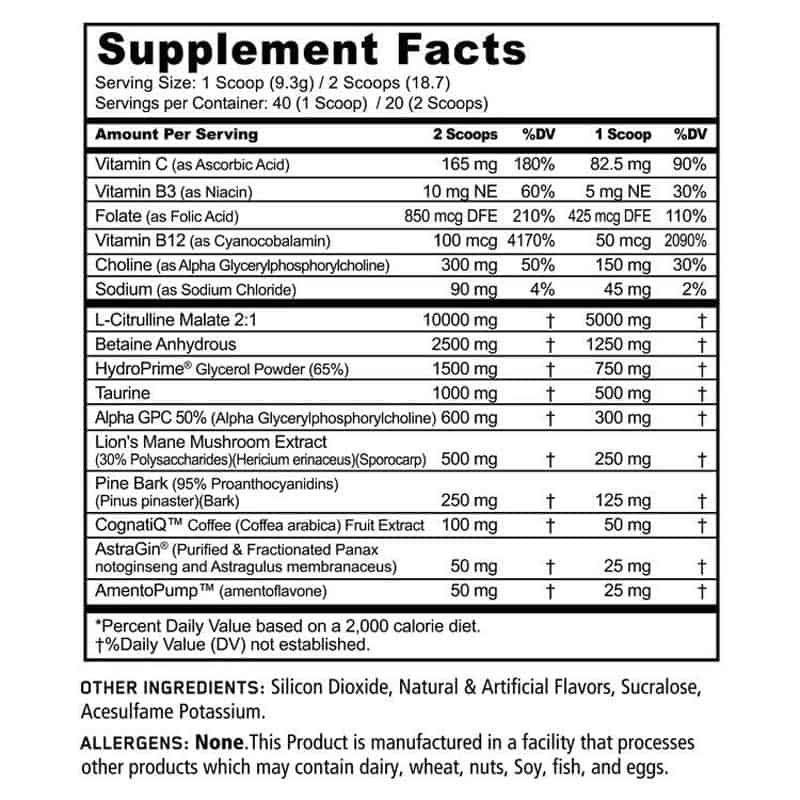 Vitamin B3 (Niacin) – 10 mg
Niacin, also known as vitamin B-3, has a wide array of benefits ranging from increasing HDL cholesterol (the "good" cholesterol) concentrations, reducing LDL cholesterol concentrations, and reducing the concentration of triglycerides.
Research shows niacin can increase blood flow through various mechanisms. The research is limited and conflicted, so niacin is rarely included in pre-workouts. Niacin also helps your body produce optimal amounts of ATP, the energy source for muscle contraction. Thus, making sure you have enough Niacin seems like a worthwhile endeavor for a pre-workout supplement. This will give you that flush feeling, similar to the paresthesia tingles from beta-alanine.
10 mg of niacin is a low but normal dose seen in supplements. It is less than the recommended daily dosage for men (16 mg per day) and women (14 mg per day), but you should be able to obtain the rest from a healthy diet. Good sources of niacin include fish, beef, chicken, turkey, mushrooms, and brown rice.
Vitamin B12 – 100 mcg
Vitamin B12 assists in the production of red blood cells. It helps deliver oxygen and nutrients to the muscle, boosting energy levels and muscle growth.
Sodium – 90 mg
Salt helps retain water, enabling you to achieve fuller muscle bellies during your workout. This can help prevent muscle spasms and allow for a good contraction.
90 mg is a lower dosage for this ingredient, However, it is diet dependent as not everyone will need higher amounts (for comparison, FSU Dyehard has 300 mg, and Hooligan Bare Knuckle has 250 mg).
It also contains essential electrolytes! More info can be found at Supplements in Review.
Citrulline Malate – 10 g
L-citrulline is one of the most common pre-workout ingredients. Extensive evidence supports its ability to increase nitric oxide production, power output, pumps, blood flow, and endurance. It is typical for this ingredient to contain malic acid mixed in a 2:1 ratio per the clinical studies. Malic acid has some benefits similar to beta-alanine, and these ingredients aren't in a chemical bond, and some products may list malic acid as a separate ingredient.
You want four to six grams of pure l-citrulline for proper clinical dosage. If the ratio is on the label as 2:1, a 10-gram dose would contain close to 6.6 grams. Per the clinical trials, daily supplementation is required to obtain the full benefits.
Betaine Anhydrous – 2.5 g
Betaine is included to help increase your power output. However, research needs to be more consistent around this claim. The typical range for betaine is between 1.5 g and 5 g, but generally, 2.5 grams is on the high end for what is in the market. Per the clinical trials, daily supplementation is required to obtain the full benefits.
HydroPrime Glycerol Powder (65% Glycerol) – 1.5 g
HydroPrime is a highly concentrated powdered form of glycerol. It's broken down into 65% glycerol and 35% silica, and it is a more potent form of glycerol than glycerol monostearate. Noted benefits of glycerol are enhanced performance, increased muscular pumps, and supporting proper hydration levels.
From PubMed, the hyperhydration effect of glycerol can be used to fight off heat exhaustion. One gram should be noticeable with pumps, but 1.5 grams are found in panda pump.
L-Taurine – 1 g
Taurine is a common ingredient with many positive effects, such as enhanced physical performance, improved DOMS (delayed onset muscle soreness), improved blood pressure via higher cardiac output, possible reduction of cholesterol and triglyceride levels, increased uptake of glycogen to mitochondria for energy utilization (Examine).
Taurine supplementation might block beta-alanine uptake as they are antagonistic, which wouldn't be an issue if used aside from pre-workout. It is not commonly known that beta-alanine/carnosine is a taurine-depleting antagonist (Examine). A one-gram taurine dose is fair (one to six grams daily in studies); however, more would amplify the benefits.
Alpha GPC – 600 mg
Alpha GPC is a cholinergic compound that is produced within the body. It is used for enhancing cognition and increasing power output. Based on several studies, Alpha GPC dosages should be between 300 and 600 mg. At 300 mg, panda pump is in the middle of the range.
Lion's Mane Mushroom Extract (30% Polysaccharides) (Hericium Erinaceus) – 500 mg
Lion's Mane (yamabushitake) is a relatively new nootropic, with some research supporting anti-anxiety, cognition boosting, and general well-being effects.
According to Examine, only a single human study has involved lion's mane. The individuals orally consumed one gram three times a day. While that dosage appeared effective, it is unknown if this is optimal.
Panda contains 500 mg of lion's mane, but there isn't enough research to determine if this is an effective dose. Additional research is needed to confirm lion's mane's benefits and optimal dosage.
Pine Bark Extract – 250 mg
Pycnogenol, the active ingredient in pine bark extract, has been reliably shown to create a notable increase in blood flow. 300 mg is the full dose. Panda Pump has 250 mg, and FSU Dyehard has 300 mg. This extract has anti-inflammatory effects, which may aid in recovery from muscle fiber breakdown. It also aids in blood flow to assist in erectile dysfunction as well.
CognatiQ® (Coffee fruit extract) – 100 mg
CognatiQ is a patented product from the whole fruit of the coffee plant, coffea arabica. One dose of 100 mg of WCFC increased serum BDNF by 54% and exosomal BDNF by 206%. BDNF, Brain-Derived Nootropic Factor, is essential for learning, memory, alertness, mood, controlling body weight, and controlling energy metabolism (Scientific Research Open Access). It is also stimulant-free (Source).
Astragin – 50 mg
Astragin is a patented ingredient that increases the bioavailability of nutritional supplements. In other words, it helps your body absorb more of the ingredients in the product, which helps the effectiveness of the ingredients. As the serving size increases, so does the need for a digestion aid.
AmentoPump (amentoflavone) – 50 mg
This is a manufactured ingredient, which is trademarked, and not much information is known.
AmentoPump is the plant essence of Selaginella tamariscina containing amentoflavone, which enhances strength directly. It has some interesting properties, ranging from increased fat breakdown to vasodilation, which may also increase the body's ability to get nutrients into muscle cells. AmentoPump is an incredibly potent and multifunctional ingredient. It has the added benefits of improving fat loss and insulin sensitivity, making it an optimal ingredient in any pre-workout or fat burner.
Pump by Panda Stimulant-Free Pre-Workout Review
Summary
I really enjoyed reviewing Pump by Panda, as it gave me the enhanced workouts that I was needing with my caffeine tolerance break. I would be glad to use this product in the future for this purpose, as I feel it helped deliver in all the marketed points. I can happily recommend this non-stimulant pump pre-workout to anyone looking to enhance their workouts, while keeping their caffeine tolerance down.
Pros
Improved endurance
Happy vibes
High-quality and potent ingredients
Strong, wet, swole pumps
Strong muscle contractions
Face and skin tingles
Good vascularity
Thermogenic
Light mind to muscle connection
Added necessary vitamins
Great tasting flavor
Good focus from a non-stimulant pre-workout
Made in USA
Excellent clinical and efficient dosages